Dismiss Notice
Dunkelweisse
| Wild Rose Brewery & Taproom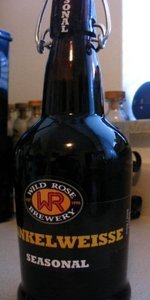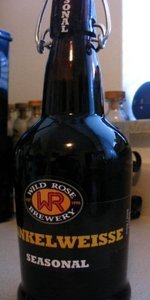 BEER INFO
Brewed by:
Wild Rose Brewery & Taproom
Alberta
,
Canada
wildrosebrewery.com
Style:
Dunkelweizen
Alcohol by volume (ABV):
5.50%
Availability:
Limited (brewed once)
Notes / Commercial Description:
Our "dunkel" is made from a mixed mash of wheat and barley malts as well as a special blend of caramelized and roasted malt expressing a rich colour and wonderful complexity. Notes of coffee and a hint of smoke join together to create a finish that lingers long after your glass is empty.
Added by wordemupg on 09-01-2009
This beer is retired; no longer brewed.
HISTOGRAM
Ratings: 9 | Reviews: 9
Reviews by wordemupg:

4.23
/5
rDev
+12.2%
look: 4 | smell: 3.5 | taste: 4.5 | feel: 4.5 | overall: 4.5
500ml swing top poured into Schneider Weisse glass on aug31 2009
A very cloudy deep reddish brown when held too the light. 3 finger tan head has very good retention but leaves little lace
S mild coffee and chocolate notes mingle together with some spice
T banana and clove become the dominant factors but the coffee and chocolate are still very noticeable. the flavors blend quite well together and the taste is stronger then the smell. i must admit the taste was better then i expected after putting my nose too it
M a little creamy and the right amount of carbonation, not a heavy as i thought it would be but this is a good thing
D a dark beer on a hot sunny day? apparently it can work quite well. my glass was empty in a hurry and i was trying too savor it what dose this tell you
this one's not as expensive as some of the other seasonal beers by wild rose. even at 8$Canadian for 500ml it's still not cheap, but sometimes you actually get what you pay for.
this one's a winner in my books
1,002 characters
More User Reviews:
3.53
/5
rDev
-6.4%
look: 4 | smell: 3.5 | taste: 3.5 | feel: 3.5 | overall: 3.5
Half-liter re-sealable bottle, simple seasonal label design for Wild Rose.
This beer pours muddy dark brown hue, with tan edges, and lots of creamy, foamy, light beige head, which leaves only a bit of sparse lace as it falls away. The aroma is cloves, bananas, wheat, and heavy caramel malt. The taste is lightly roasted, spicy dark wheat grain, a bit of musty coffee, and some mild bitter chocolate. The carbonation is moderate, the body a wee bit on the thin side, and it finishes mostly dry, with more mustiness invading the grain.
Overall, not too shabby, a decent accompaniment to the Turkey Day fixings.
611 characters
4.12
/5
rDev
+9.3%
look: 3.5 | smell: 4 | taste: 4.5 | feel: 3.5 | overall: 4
Appearance: Dark almost to the point of being a stout. I say growler as I bought this in the Wild Rose "Party Pig" which is 25 bottles of beer in a single go... woot! It's going to be a damn good week... these folks are 5 minutes from my house. I live a blessed life ladies and gents... one finger of tn head, thick and creamy a la an Irish widget can... in a mini keg. SHAPED LIKE A DAMN PIG!
Smell: Metallic. Predominantly metallic in the nose...some smooth wheatiness, dark and smooth in the nostrils....
Taste: Similar to their Stout, (AB Crude, had it earlier tonight with the matched brownie, OMG!!!,) but gentler. This is definitely a dunkel. This a dark wheat beer, spiked with the metallic profile which yields to the rich, and quickly finishing wheat taste covered off in the hop profile. Spicey and upfront, this quenches on the tongue and is refreshingly over and done with.
Mouthfeel: Points detract here. Thin, watery, not to my liking... this hints at the AB Crude stout from this brewery and has that same dark sexy finish, but the mouth is not as rich as you would want. Smooth, hoppy, but not what I was hoping for what with the nearly stout nature....
Drinkability: Win! Effing WINSAUCE!! Refreshing, clean and tried and true a good olld fashioned dunkel. I am so excited these guys are basically next door. This is great with the spiced ghouda and stilton I'm currently enjoying. This is a damn fine combo... were it summer, this would be my dark beer of choice....
Overall: delightful beer. If you're in the area, it is worthy, give it a spin, good gateway beer for your friends who were/are otherwise not given to craft brewery. Good beer, do it up folks!
-Curtis
1,691 characters

4
/5
rDev
+6.1%
look: 4 | smell: 4 | taste: 4 | feel: 4 | overall: 4
From a 500 ml brown swingtop bottle, picked up at Willow Park. Pours out a murky, cloudy opaque brown with a tall tight creamy beige head that settles slowly to a fairly thick cap.
Clean aroma, almost a hint of detergent, banana, clove, light coffee, hints of chocolate wafer.
Clean, contained flavour as well, Sweet malt and banana up front, dry wafery chocolate in the middle, dry coffee-like finish, with sweet banana and chocolate lingering on in the aftertaste.
Mouthfeel on the fuller side, not quite smooth as it's a little gritty and rough with the carbonation accentuating that aspect, but by no means unpleasant or detractable.
Great locally produced dunkelweizen, if only as a seasonal, worth enjoying while it lasts.
732 characters
3.14
/5
rDev
-16.7%
look: 4 | smell: 2.5 | taste: 3.5 | feel: 3 | overall: 3
500ml brought back from Calgary, typical Wild Rose seasonal labeling.
Pours a muddy brown, looks like a poorly made coffee, lots of grinds and pretty weak looking! Thin head, little lacing.
Nose is smokey. Some hickory, hints of spices, an odd vegetal note that I can't shake as cooked broccoli. Odd.
It's a drinkable brew but I can't help but wonder if perhaps there was something a little funny or slightly off here. Quite smokey which is not typical for a dunkel (almost to rauchbier levels), light brown malts in the back, light sweetness, hint of hops in the finish, weak coffee, hint of spices. No real notice of the banana I would expect, no real chocolate notes either. Smooth, perhaps under done, carbonation, fairly thin body. No vegetal notes in the taste.
Not really sure what was going on with this one. A smoky dunkel - was that the aim? In any light, I didn't really dig this one, seemed all over the place and nothing of note stood out to me.
964 characters

3.88
/5
rDev
+2.9%
look: 4 | smell: 3.5 | taste: 4 | feel: 4 | overall: 4
Seasonal specialty, from the Brewery. Served in a tall weizen glass.
Great looking beer, slightly murky, dark browm liquid covered by a thick tan head. Lots of stringy lace, nice retention. Aroma has some weizen spiciness, cloves, some fruity esters, but not the strong banana smells as in some weizen beers. Nice balanced flavor. Slightly wheaty and sweet, a bit spicy, some cocoa-like bitterness, then finished with a charred smokiness. Medium body, smooth almost creamy, appropriate carbonation keep it from being to fizzy.
A very good beer, lots of flavor. More on the smokey side, less fruity banana notes (than other dark hefeweizens). Glad I chased this one down before it is gone for the season.
703 characters
3.91
/5
rDev
+3.7%
look: 4.5 | smell: 3.5 | taste: 4 | feel: 4 | overall: 4
A: Great appearance on this beer. Poured with an average-sized, tan head. Good traces of lace left on the glass through drinking. Body is murky and cloudy (virtually opaque), and a dark brown color.
S: Aroma is a little weak, but I can detect traces of cloves, as well as some smokiness.
T: Chocolate comes through first, followed by cloves. A little banana in there too, I think. Flavor is overall moderately sweet with a medium-lasting duration.
M: Medium-bodied and creamy, with a soft carbonation.
D: Wow, this is a really good beer. Probably my favorite Wild Rose to date. Go get it on tap while it's still in season!
626 characters

4.05
/5
rDev
+7.4%
look: 4 | smell: 4 | taste: 4 | feel: 4.5 | overall: 4
A: Brownish-black with a tan head, good retention & lace.
S: Clove, tangy wheat, rye bread, cola & hints of banana.
T: Banana bread, dark caramel, cola, clove, hint of smoke, good bitterness
M: Moderate body has a smooth, velvety texture.
D: A good drinker.
261 characters
3.1
/5
rDev
-17.8%
look: 3 | smell: 3 | taste: 3 | feel: 3 | overall: 3.5
Found some old reviews in a box after moving, and after sifting through what I had and had not entered this one was in the not entered column, I think partially because I was a little disappointed in it after a string of successful seasonal from Wild Rose. I got in on the dunkelweisse when it was first released last summer.
Pours a cloudy brown with a finger of off-white head that fizzed to a patchy cap and left behind only a few spots of lace. Lots of smoke on the nose along with raw grain, sweet spice and the faintest hint of banana. The flavour is remarkably smoky for a dunkelweisse, and it makes me wonder if there's something wrong here. I shared the bottle with ritzkiss and he noticed the same thing. Some light graininess and perhaps the ghost of a banana, which is disappointing. Light body and short-lived carbonation.
I'm not sure what Wild Rose were trying to do with this one, and on an evening when we had some great German-style brews (Vitus, Korbinian, etc.), this one simply fell flat.
1,011 characters
Dunkelweisse from Wild Rose Brewery & Taproom
Beer rating:
3.77
out of
5
with
9
ratings