Belgian Style Dubbel
| Wild Rose Brewery & Taproom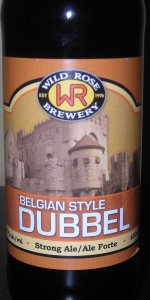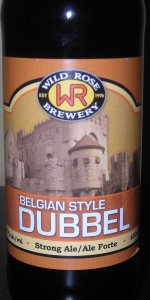 BEER INFO
Brewed by:
Wild Rose Brewery & Taproom
Alberta
,
Canada
wildrosebrewery.com
Style:
Belgian Dubbel
Alcohol by volume (ABV):
7.30%
Availability:
Winter
Notes / Commercial Description:
Brewed using the best Alberta-grown malted barley as a base - this beer is enhanced with a blend of three specialty malts that provide sweet notes of raisin and plum. On the tongue it is rich and malty with a nice balance of clove-like spice from the Belgian yeast used in fermentation. Full of flavour, this delicious brew is deceptively light on the palate. Enjoy one today!
Added by wordemupg on 01-13-2012
HISTOGRAM
Ratings: 11 | Reviews: 9
Reviews by ChrisCage:
4.06
/5
rDev
+4.1%
look: 5 | smell: 4 | taste: 3.75 | feel: 4.5 | overall: 4.25
A- Pours a lovely copper color with distinct red hues lingering in the background, and is semi hazed. It looks as though the carbonation is fine and lazily rises to the top of the glass....the head pours out a very dense and foamy three fingers thick and has excellent retention...it is also a beautiful light tan color. Lacing is quite superb as well, with lots of rich, creamy protein clinging to my glass! A very nice looking brew overall,,,full marks here!
S- The aromas are thick and malty sweet, with fruity esters following closely behind....banana in particular and perhaps some apricot kernel too. As well, along with some noticeable yeasty aromas, there is some modest spice as well...cloves and a mildly dry cinnamon bark smell. There is also an Earthy leafy hop finish.
T- I find this to pack quite the punch flavor wise, with lots of dried dark fruit...raisin and plum, as well as banana chips....concentrated fruit flavors. The alcohol has some zing on the palate and becomes more noticeable after the swallow....a little more of an edge than I'd like. The spices are there...mostly the clove, and it is balanced out by a biscuit like creaminess.
M- Solid medium body, with a smooth creamy carbonation in my opinion. Rather than bitter, this finishes rather dry and keeps me reaching for another sip....slightly astringent alcohol noted on the finish as well.
O- After the initial spicy wallop, this is actually quite an enjoyable beer. I don't think I'd want to have more than one 650ml bottle at a time, but this is a nicely balanced, flavorful beer. The alcohol on the palate is slightly more than I'd like to taste but it is a nice Canadian version of the style. This definitely warms the belly, and will definitely help one relax...especially after nearing the end of this one! I suggest giving this a go...Wild Rose has done another nice job!
1,867 characters
More User Reviews:
3.78
/5
rDev
-3.1%
look: 4 | smell: 3.5 | taste: 4 | feel: 4 | overall: 3.5
650ml bottle, nondescript Euro-castle/monastery imagery on the label. It ain't that cold out here, and yet Europe is freezing its collective Brussels sprouts off...time, then, for a dubbel from the Canadian prairies, I guess.
This beer pours a hazy, murky, dark golden amber colour, with bright reddish highlights, and two fingers of foamy, hilly pale beige head, which leaves some archipelago lace around the glass as it evenly subsides.
It smells of sharp biscuity, lightly roasted malt, some oily nuttiness, dark drupe fruitiness, muted brown sugar, and earthy yeast. The taste is just a more fleshed-out version of the aroma - more caramelized than toasted malt, dried pear, prune, nutty dry baker's chocolate, and low-key Belgian yeast. The notable omission is any booze warming - score!
The bubbles are fairly restrained, just a tingle here and there, the body a fasting medium weight, and generally unassailed in its smoothness. It finishes still with the sharp biscuit malt notes, muddled fruitiness, soft earthy yeast, and a mild party-crashing alcohol warming.
A genuinely nice beer to walk through, and well, just drink. Not as subtly complex as those wacky Low Countries monks' efforts, and with strong American brown ale leanings. Hey, the world is a mixed up place these days, both figuratively and literally, so I'm willing to welcome this appropriation of old world standards into our new one, no questions asked.
1,433 characters
3.72
/5
rDev
-4.6%
look: 3.5 | smell: 4 | taste: 3.5 | feel: 3.5 | overall: 4
From notes quite a while back
A - Deep brown, slightly hazy, decent thumb of head with good retention
S – yeasty esters of mild banana and berries with some grainy malt and mild spice
A - Tangy sour dark fruits and banana, clove spiciness with a prevalent but pleasant booziness
M – medium, creamy start with a touch of tartness and dryness
O – a very nice effort from a local brewer, not a fancy risk taking effort but a very drinkable dubbel, glad to see them putting out more seasonal and one-offs in bomber bottles
524 characters
3.87
/5
rDev
-0.8%
look: 3.75 | smell: 4.25 | taste: 3.75 | feel: 3.75 | overall: 3.75
Thanks wordemupg!
Appearance. pours a hazy, deep brown-orange with a finger of off-white head.
Smell. Brown sugar and caramel malts with a little spicy Belgian yeast. Not a lot going on but smells very nice.
Taste. Again, brown sugar and caramel, some sweet spices and a bit if Belgian yeast with a little bit of plum.
Mouthfeel. Medium+ body, medium carbonation.
Overall. A nice dubbel. Nothing fancy here but nothing offensive either.
443 characters

3.23
/5
rDev
-17.2%
look: 4 | smell: 3.5 | taste: 3 | feel: 3.5 | overall: 3
From a 650 ml brown bottle. Pours out a cloudy almond russet hue, thin cap of creamy beige head.
Aroma reveals toasted malt, some wafery chocolate, some nuttiness, dark yeasty phenols, even a bit of smokiness.
Toasty, nutty malt up front in the flavour, sweet cocoa in the middle, finishing with a character of Belgian yeasty dark dried fruit. Aftertaste is dry and clean.
Mouthfeel is medium-bodied, with a pin-prickly texture from the carbonation.
This seems more like a twist on a brown ale if it wasn't for the tell-tale Belgian yeast character that pops up near the finish. An entry level attempt for a Dubbel, but doesn't quite sell it style-wise, really is more like a Belgian style brown ale. Not a bad beer by any means, it's an okay malty offering, but just doesn't live up to style expectations.
812 characters

4.15
/5
rDev
+6.4%
look: 4.5 | smell: 4.5 | taste: 4 | feel: 4 | overall: 4
Dark reddish brown appearance with lots of bubbly head that slowly settles down leaving small lacing. Smell consists of various fruit (apples, bananas, plums), yeast, malt and a hint of brown sugar.
Taste is very similar to the smell, fruit flavors (apples and bananas) along with malt and various spices. Has a sweet brown sugar taste, almost like candy. Medium bodied with moderate carbonation. Aftertaste is a lingering sweet spicy, boozy taste.
Overall, this is a solid beer. Like that I'm drinking a Canadian Dubbel. This has some complex tastes and very sweet overall. I think the apperance and smell is the highlight though. Worth a try.
646 characters
4
/5
rDev
+2.6%
look: 4 | smell: 4 | taste: 4 | feel: 4 | overall: 4
Another shout out to joemcgrath27 for the hook-up. Super stoked to try a Wild Rose bomber.
A - Pours a slightly hazy ruby amber colour, thumb of big bubbled head, solid retention and sporadic lacing.
S - Quite sweet with cherries and black currant, cloves and bananas with a hint of orange citrus.
T - Metallic caramel, cloves, cherries and plums, hint of peppery spice and brown sugar. A bready caramel lingers.
M - Medium bodied, smooth and a touch of dryness on the finish.
O - A tasty dubbel, well worth seeking out if you're ever in Calgary. Pretty stoked to get a chance to try it and I'm glad to see Wild Rose venturing into some different styles.
659 characters
4.08
/5
rDev
+4.6%
look: 4 | smell: 3.5 | taste: 4.5 | feel: 4 | overall: 4
Appearance - Dark copper brown that pours with a finger width of cream-coloured head. Quite hazy.
Smell - Plum, passionfruit, kiwi with light spicy notes.
Taste - The plum and passionfruit comes through in the flavour. A little bit of a floral hops flavour as well. ABV not detectable in the taste. Light bitterness at the end.
Mouthfeel - Medium bodied with moderate carbonation. Smooth with a dry finish.
Overall - Good first attempt in the Dubbel style by Wild Rose. Very nice plum and passionfruit flavours. Easy to drink and ABV is well disguised. Worth picking up a bottle and trying for yourself - looking forward to seeing what Wild Rose does next.
661 characters

4.12
/5
rDev
+5.6%
look: 4 | smell: 4.5 | taste: 4 | feel: 4 | overall: 4
650ml bomber poured into tulip 12/1/12
A a darker shade of red with just enough clarity to see plenty of bubbles and some sediment, two fingers of beige foam that retains quite well and leaves some unorganized lace
S spicy yeast with lots of brewers candy or brown sugar, some dried fruit with faint bruised banana and even fainter booze. after a while I pick a little apple and plum pie, spices included pretty complex stuff here
T a little more sweet fruit then the smell, not quite as complex as the nose but still quite nice, a little licorice I didn't smell
M a little lighter then expected but well carbonated and a long lingering spicy aftertaste, just a little heat but its pleasantly warming
O I'm pretty happy with this one from Wild Rose, not the easiest style and I think they did a great job. I love the smell and every other area is solid, no complaints
I'm pretty pleased I'm getting more beer for less money then seasonals past. I'm not one to judge a book by its cover (or a beer by its label) but I think this bottle is a step backwards from the plain swing-top. It kinda looks like the labels from another era, the 70's perhaps? As long as they put good beers put in the bottle I don't care how tacky the label looks, keep em coming Wild Rose
1,283 characters

Belgian Style Dubbel from Wild Rose Brewery & Taproom
Beer rating:
3.9
out of
5
with
11
ratings