Foothillz Pilz
| Wild Rose Brewery & Taproom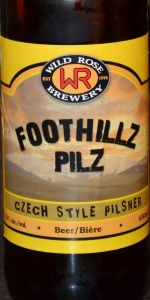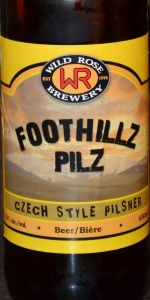 BEER INFO
Brewed by:
Wild Rose Brewery & Taproom
Alberta
,
Canada
wildrosebrewery.com
Style:
Czech Pilsener
Alcohol by volume (ABV):
5.20%
Availability:
Limited (brewed once)
Notes / Commercial Description:
Brewed using Canadian Superior Pilsen malt the generous addition of Saaz, Vanguard and Tettnanger hops provides a spicy, citrus aroma and a pleasant lingering bitterness. Like all good lagers our Foothillz Pilz has undergone an extensive cold aging period producing a smooth, complex beer.
Added by leaddog on 02-22-2012
This beer is retired; no longer brewed.
Ratings: 10 | Reviews: 7

3.3
/5
rDev
-13.8%
look: 3.5 | smell: 3.5 | taste: 3 | feel: 3.5 | overall: 3.5
From a 650 ml brown bottle. Pours out a bright clear straw colour, tall spongy white head with great retention. Thick rivulets of lacing.
Bready, biscuity malt on the nose, with some clean metallic character, and some grassy, leafy hops that also have some herbal hints.
Grainy malt up front in the flavour, spicy, herbal hops picking up shortly after and carrying things to the finish. Not much else going with any nuances.
Medium-bodied mouthfeel albeit on the lighter side, silky slick texture, with moderate carbonation.
Somewhat average for the style, not as clean as I would associate with this style, however it starts to grow on me in time, and I'll still be grabbing some more bottles of this while it's still available.
733 characters


3.63
/5
rDev
-5.2%
look: 4 | smell: 3.5 | taste: 3.5 | feel: 3.5 | overall: 4
On tap at the Brewery, another seasonal I had to try.
Arrives clear, straw colored, shimmering in the sun. Lots of thin bubble streams leave a large white head with suprisingly long lasting retention and lacing.
Slight citrus aroma to start. Smell of bready malt, mixed with some grassy or herbal hops. Clean refreshing smell, and the first sip is the same.
Crisp grainy malt flavor, then the hops come out at the end. Fresh and clean, no other odor or acidic flavors.
Medium to light body and mouthfeel, decent amount of carbonation.
Crisp, clean, refreshing, great to enjoy on the patio. It is a positive when there is nothing else to say about it, no off flavors, nothing sticks out.
687 characters
3.91
/5
rDev
+2.1%
look: 4.5 | smell: 3.5 | taste: 4 | feel: 4 | overall: 4
A - clear light straw golden, two fingers of soapy head retained with endless bubbles rising from the bottom, sticky lacing remained
S - light mineral and grassy hop aromas with a mix of biscuity and adjunct
T - starts with pale grainy and biscuity malts, crisp clean grassy hops with a hint of citrus
M - light and crisp, a minerally feel gives way to a light dry finish
O - once again happy to see Wild Rose expanding its bomber offerings, a simply classic take on a the style that leans on the malt backbone a little more than some, definitely worthy
553 characters
4.06
/5
rDev
+6%
look: 5 | smell: 4 | taste: 4 | feel: 4 | overall: 4
Reviewed this March 20th.
A- Extremly clear pale straw yellow in color, carbonation looks to be steady and strong. Head retention on this Pils is fantastic, oodles of lace covering my glass after its soft 3 finger bright white head settles. Very nice indeed!
S- Aroma is very floral and grassy, I detect a light fruity note as well, almost like a dry white wine. Not a lot of malt.
T- Maybe a little more malt in the flavor, but picking up on the hops again mainly. Finish is tart and bitter, dries the mouth out a bit.
M- Light bodied, perfect carbonation. Feels like how a Pils should feel.
O- Probably the best Pils I've tasted out of Canada, although I haven't had a lot since this isn't one of my favorite styles. Really fitting for the first day of spring, suns out, refreshing beer in my hand, BBQ time!
815 characters
4.11
/5
rDev
+7.3%
look: 4.5 | smell: 3.5 | taste: 4.5 | feel: 4 | overall: 4
650mL bottle from February 2012.
Appearance - Pours a pale light straw colour with a finger width of foamy white head. Nice transparency and moderate bubbles are present. Leaves a nice lacing on the glass.
Smell - Citrus fruit (lemon, orange), hint of pineapple, bready/grainy aromas, and light floral.
Taste - Bitter piney flavours blend well with the citrus fruit (as detected in the aroma). Light spiciness from the hops.
Mouthfeel - Light to medium bodied with moderate carbonation. Crisp and refreshing on the palate.
Overall - A nice Czech style pilsener by Wild Rose. The balance of the flavours and the refreshing quality make this a very enjoyable beer. Worth picking up and trying.
696 characters

4.11
/5
rDev
+7.3%
look: 5 | smell: 4 | taste: 4 | feel: 4.5 | overall: 4
650ml bomber poured into my never used beautiful crystal pilsner glass that the Hoff gave me 25/2/12
A clear straw yellow with tiny bubbles popping up from everywhere, even a gentle pour leaves me a massive bone white head that falls to a thumbs width of thick film and stays there right to the bottom, thick rings of lace well down the glass, this looks about as good as I could ask for
S grass and hay hit me right away with a little cardboard but it works well, a little lemon and biscuit
T more citrus in the mouth then the nose but everything else is quite similar, pretty good example of the style
M nice and light, very refreshing, crisp and a dry finish that's fairly clean with just a little grass flavor left behind
O pretty good beer and I don't think the bomber survived for more then a half hour so that should say something
I seem to remember liking this more then the last Czech Pil from Wild Rose, I'm assuming this is a different brew from the first seeing how the Alc% changed, someone correct me if I'm wrong
1,035 characters
4.22
/5
rDev
+10.2%
look: 4 | smell: 4.5 | taste: 4 | feel: 4 | overall: 4.5
650ml bottle. A nice reminder of a few things in my increasingly distant imbibing past...
This beer pours a crystal clear, pale golden hue, with two fingers of thinly foamy bone-white head, which is sloughed off rather lazily, leaving a nice fuzzy wall of stick-um lace around the glass in the process.
It smells of crisp grassy, wet hay, full stop, just like certain times of year at the ol' homestead in the Foothillz (sic) south of Cowtown. Niiice. The taste is a little more broad - somewhat sweet pale biscuity, grainy malt, a wee bit of aged lemon juice, and more settled, but still prominent, grassy summer farmer's field hops.
The carbonation is fairly restrained and respectful, the body a timid medium weight, and decidedly smooth. It finishes with a welcome rehash of everything up to this point.
Well, I can't really think of a better throwback to my early beer-drinking days - The Foothills of my Alberta youth, and the well-rendered Czech pilseners of my early barley beverage epiphany.
1,004 characters
Foothillz Pilz from Wild Rose Brewery & Taproom
Beer rating:
60%
out of
100
with
10
ratings