Rye Saison
| Wild Rose Brewery & Taproom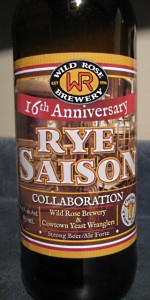 BEER INFO
Brewed by:
Wild Rose Brewery & Taproom
Alberta
,
Canada
wildrosebrewery.com
Style:
Saison / Farmhouse Ale
Alcohol by volume (ABV):
6.20%
Availability:
Limited (brewed once)
Notes / Commercial Description:
No notes at this time.
Added by wordemupg on 09-30-2012
This beer is retired; no longer brewed.
Reviews: 10 | Ratings: 15

3.67
/5
rDev
-8%
look: 4.25 | smell: 3.5 | taste: 3.5 | feel: 4.25 | overall: 3.75
From a 650 ml brown bottle. Pours out a hazed light golden orange hue, with two fingers width of white tight frothy head that settles to a thick cap.
The aroma is dry, with notes of spice, citrus and mild orchard fruit. Dry wafery malt as well.
The flavour starts out very dry from the rye malt, perking up in the middle with some sweet fruity esters, then drying out again towards the finish with peppery phenols. Clean aftertaste, although with some faint lingering astringency from the rye.
Medium-bodied mouthfeel, silky and slick, with a mild effervescent bubbly carbonation that helps offset (and yet accentuate) the dryness.
An interesting take on the style, while the rye (I'm sure intentionally) focuses on the drier aspects of Saison, it also helps make it somewhat lopsided in that respect as well. While a bit too dry for my tastes it is still a decent beer nonetheless, and a job well done by Wild Rose and the Yeast Wranglers.
★
945 characters

3.82
/5
rDev
-4.3%
look: 3.25 | smell: 3.75 | taste: 4 | feel: 3.75 | overall: 3.75
Poured from 650 mL bottle into rounded glass.
A-Pours with a large foamy white head. Colour is a lightly clouded gold amber colour.
S-Light malts and a bit of belgian yeast that seems to hint at a bit of peppery spice. Orange rind.
T-some sweet bread is quickly overcome by a peppery spice. Finishes quite dry with just a hint of bitterness.
M-Light and effervescent. Finishes dry with a moderate-high amount of carbonation.
O-A very nice beer. The sweet and pepper/spice notes seem to balance each other. The sweetness is kept in check by the dry finish making it a pretty refreshing quaff. I would say that it would be nice to have the spicyness toned down a bit as it blasts the palate a bit and that's all you get after the first couple of sips. That's just nitpicking of course and this was a thoroughly enjoyable beer thats seems to model the style well.
★
867 characters

4
/5
rDev
+0.3%
look: 4 | smell: 4 | taste: 4 | feel: 4 | overall: 4
I saw on Wild Rose's website that this was their current seasonal, lucky enough to find it on-tap on our latest excursion to Beer Revolution.
"COLLABORATION: Wild Rose Brewery & Cowtown Yeast Wranglers.
Our collaboration brew was created to celebrate 16 years of innovation and to recognize our strong connection to the homebrew community. Hazy, golden in colour this ale is brewed using the best Alberta malted rye and barley. A special Belgian farmhouse yeast provides a notes of fruit and pepper in aroma and flavour. The end result is an effervescent and refreshing ale for warm Alberta autumn days."
This beer arrived slightly hazy, shiny golden yellow color. Short, fluffy, white head that recede slowly leaving uneven but attractive lace.
Smell had the sharp spicy rye aroma present, along with some yeast, pepper and clove.
The taste has more of the rye combined with the other spiciness. Fruit come out more in the flavor than the smell, green apple and yeasty must.
Not overly carbonated, medium body, slightly prickly mouthfeel but as much from the rye aftertaste as the bubbles. It finishes dry, and clean.
Keep up the good work with your seasonal Wild Rose.
★
1,176 characters
4.05
/5
rDev
+1.5%
look: 4 | smell: 4 | taste: 4 | feel: 3.5 | overall: 4.5
650ml bottle.
This beer pours a bright, somewhat hazy golden yellow hue, with three fingers of puffy, silken white head, which leaves a nice broken painted wall of lace around the glass as it very lazily recedes.
It smells of spicy rye grain, like the whiskey sans the cloying sweetness, some biscuity, yeasty breadiness, mild black pepper, a bit of clove, and some understated, underripe drupe fruitiness. The taste is sharp rye grain, again tightly coupled to the spicy black pepper, with some decent fruity malt that adds balance by way of apple and pear notes, a thin yeastiness, and some further candied sugary character, quite on the down low.
The bubbles are fairly restrained in their goings about, the body on the light side, just, of medium weight, and a little too peppy and peppery to proclaim outright smooth, though. It finishes off-dry, barely, the malt still contending with the pepper and yeast, and the fact that it is itself, rye.
A damned tasty sort of blend of styles, both of which are heavily represented here. Like dipping artisanal rye bread in a decently delicate saison, which turns out much better than it may sound.
★
1,148 characters
4.13
/5
rDev
+3.5%
look: 4.5 | smell: 4 | taste: 4 | feel: 4 | overall: 4.5
Props to joemcgrath27 for including this in our most recent trade.
A - Pours a hazy golden colour with a copper hue, solid two thumbs of light fluffy head with solid retention, sheeting lacing and settles to nice chunky islands.
S - Nice citrus rind, sweet cloves, cane sugar, lemongrass and a musty caramel on the finish.
T - The rye comes through on the palette alongside a solid dose of sour citrus rind and a heavy dose of cloves and yeast esthers. The lemongrass lingers alongside sour dough and rye notes and a bitter leafy green flavour.
M - Lighter bodied with loads of carbonation and is prickly in the mouth, goes down smooth and finishes with a touch of dryness.
O - Loads of flavour, easy drinking, and the rye adds a uniqueness to the saison style. Really stoked I was able to give this one a try and it was certainly enjoyable. If you can still find a bottle, do yourself a favour and grab a few.
★
915 characters
4.15
/5
rDev
+4%
look: 4.25 | smell: 4.25 | taste: 4 | feel: 4.25 | overall: 4.25
Thanks for another one wordemupg!
Appearance. Pours a hazy yellow gold with a massive 4+ fingers of white head.
Smell. Spicy saison yeast, lemons and a little tropical fruit, light grainy malt. Smells pretty darn nice.
Taste. Lemon and pineapple, spicy yeast, some nice light malt (less grainy than the smell).
Mouthfeel. Below medium body with a medium-strong amount of soft carbonation.
Overall. A surprisingly nice saison. Would have to say it's the best Canadian version of the style that I've tried. Very nice.
★
521 characters

4.18
/5
rDev
+4.8%
look: 4.5 | smell: 4 | taste: 4 | feel: 4.5 | overall: 4.5
650ml bomber poured into tulip 29/9/12
A hazed golden orange that's glowing, not enough clarity to see many bubbles but there's a thick two finger cream colored head that falls slowly to a thin film leaving 5 distinct pencil thin rings of lace
S BIG spicy peppery rye notes, the yeast may be adding to the spice as well, candied pineapple and a little apple on its own, faint bubblegum and just a little banana
T much like the smell, spicy with some fruity notes, pretty tasty stuff if you like rye malt
M thick, rich, and creamy, the carbonations just right with a peppery, yeasty finish that lingers for ages
O almost a higher score for taste and smell so a little higher overall, another example of 4.25 being useful. I was digging this one as soon as I popped the cap and if you like spicy notes this one's for you
One of the better beers I've had from Wildrose in a while, at 7$ a bomber I'll crack a few of these before the snow flies. I'm just wishing I had some food to pair with this one, I could see it going well with lots of meals
★
1,075 characters
4.2
/5
rDev
+5.3%
look: 4 | smell: 4 | taste: 4.5 | feel: 4 | overall: 4
Appearance - Pours a cloudy amber with 2 fingers of fluffy white head.
Smell - Yeast, citrus, spices.
Taste - All flavours noted in the aroma, along with a rich rye flavour. A bit of tartness and moderate bitterness.
Mouthfeel - Medium bodied with moderate carbonation.
Overall - A well-crafted saison by Wild Rose and "Cowtown Yeast Wranglers". The style is spot on in terms of flavour. A great way to celebrate a happy 16th anniversary, Wild Rose!
★
455 characters
4.22
/5
rDev
+5.8%
look: 4 | smell: 4.5 | taste: 4 | feel: 4 | overall: 4.5
A - a hazy grainy golden, tall fluffy head retained very nicely leaving a few spots of lacing here and there
S - big yet delicate notes of fruity yeast esters including lots of banana, followed closely by spicy graininess, touch of grass at the end
T - the yeast flavours are intriguing with sour citrus, fresh banana, and a solid hit of spice, followed by toasted rye bread and a mineral quality
M - medium to light body with big carbonation, slight puckering feel gives way to a mildy dry grainy finish
O - very please with this offering, it is a great blend of two distinct characteristics that both work together and hold their own, will definitely be buying a few bottles
★
676 characters
4.51
/5
rDev
+13%
look: 4.25 | smell: 4.5 | taste: 4.5 | feel: 4.75 | overall: 4.5
A- Pours with a semi hazed golden color that has rusty/orange/red hues in the background. Plenty of yeast settlement so a good swirling was in order! Awesome white colored head that is pillow soft in texture, two fingers thick initially and with great retention...eventually settling into a very nice one finger thick cover. Carbonation is kind of hard to see but appears to be lumbering as it rises and as for lacing, it is modest....a few small patches slide gingerly back into the liquid.
S- Sweet orchard fruits are noted right away....peaches and/or apricots, along with a more astringent kernel aroma. I also detect a muted spicy dryness alongside a smooth creamed vanilla smell....there isn't really a hop bitterness on the finish either....smells like a summer sampler!
T- The flavors are interesting on this one....initial profile of orchard fruits again, muted sour citrus/lemon, Rye grain dryness, hints of yeasty biscuit and sweet malts on the body, followed by a crisp, slightly tart/spiced finish....again, no real bitter notes to speak of. It's quite nice!
M/O- This is of a medium/full body with super smooth carbonation and full on creamy foam....it's rather chewy but very welcome in this kind of style....its refreshing at the same time, making this a highly sociable brew and would work great with pub fare! Too bad this isn't part of Wild Roses' regular selection! Hope to see it again one day!
★
1,425 characters
Rye Saison from Wild Rose Brewery & Taproom
3.99
out of
5
based on
15
ratings.