Black Tree Dark Ale
| Tree Brewing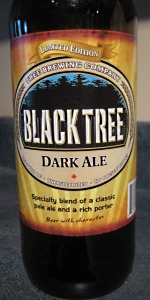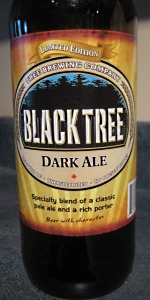 BEER INFO
Brewed by:
Tree Brewing
British Columbia
,
Canada
treebeer.com
Style:
Black & Tan
Alcohol by volume (ABV):
5.00%
Availability:
Limited (brewed once)
Notes / Commercial Description:
No notes at this time.
Added by wordemupg on 11-07-2009
This beer is retired; no longer brewed.
HISTOGRAM
Ratings: 14 | Reviews: 11
Reviews by wordemupg:

3.66
/5
rDev
-0.5%
look: 4.5 | smell: 3.5 | taste: 3.5 | feel: 3.5 | overall: 4
650ml bottle poured into pint glass nov6 2009
A clear brownish amber with lots of tiny bubbles and a massive head that has pretty good retention and leaves decent lace. as the foam slowly falls it forms an island and leaves lace well down the glass
S mild coffee and chocolate form a nice balance with the hops
T not far off the smell, but the dark aspect of the beer becomes a little more noticeable
M the carbonation keeps it from having a watery feel
D not bad overall better then I expected, black and tan has never been my thing but this ones pretty good
any one who lives or has family in the OK Valley has seen a black tree or two and I like the fact that Tree is putting money where their mouth is with the buck per bottle
737 characters
More User Reviews:
3.57
/5
rDev
-3%
look: 3.5 | smell: 4 | taste: 3.5 | feel: 3 | overall: 3.5
Pours a deep dark amber color with a thin head that has little retention. Roasty malt aroma with chocolate and some nuts. The taste is similar to the smell, with some light hop bitterness. Body is on the light side. Drinkability is decent, overall this is not bad but nothing amazing.
284 characters
3.53
/5
rDev
-4.1%
look: 4 | smell: 3.5 | taste: 3.5 | feel: 3.5 | overall: 3.5
This beer pours a clear dark cola hue, with a finger or so of thin foamy beige head, which leaves a drooping web of thin lace around the glass. It smells of lightly roasted biscuit malt, some bread, and grassy hops. The taste is roasted biscuit malt, some lemon, and floral, grassy hops. The carbonation is a bit biting at first, the body a bit on the thin side - more like a pale ale, and it finishes dry, the floral, weedy hops bringing the curtain down on this one.
It looks like a porter, tastes mostly like a English pale ale. Not bad, but the blend doesn't do a whole lot for either.
590 characters
3.75
/5
rDev
+1.9%
look: 4 | smell: 4 | taste: 3.5 | feel: 3.5 | overall: 4
A - a very deep brown amber, one finger of head dissipated to islands with a nice lace ring
S - rich nutty malt mixed with floral and citrus hop scents, hints of sweet chocolate
T - roasted nuttiness, dark chocolate and bitter coffee, hop accents are lighter than the smell suggests, and the nutty malt lingers
M - starting with an unexpected carbonation kick and a somewhat chewy feel, begins to dry and thin out with a slight bitterness
D - bottle states a blend of a pale ale and a rich porter, and I have to agree, with flavours and feels starting on the porter side with the pale qualities towards the finish, a interesting and worthy brew
644 characters
3.65
/5
rDev
-0.8%
look: 3.5 | smell: 3.5 | taste: 4 | feel: 3 | overall: 3.5
Relatively deep brown, but some light can pass through. Hard pour generated only a finger of head that falls quickly to a thin cap. Sheet of lacing left around the glass.
Rich maltiness of a porter seems to dominate the nose, but there is a certain citric sharpness that blends in with it.
Taste is actually a nice blend of the two styles. Maltier than a pale ale would usually be, but a touch crisper than a porter would regularly finish. Strong notes of caramel and citrus.
Medium bodied with a slightly prickly carbonation. Not a strong point for the beer, the mouthfeel doesn't quite seem to match the flavour profile.
This seems to be an easy drinker. Not terribly complex but interesting enough. Worth trying, and might work for a session beer.
754 characters

3.63
/5
rDev
-1.4%
look: 4 | smell: 3.5 | taste: 3.5 | feel: 3.5 | overall: 4
From the website ans neck label, "Kelowna's TREE Brewing is providing a donation to Tree Canada for every bottle of its "Black Tree" beer.
"As a locally-owned and active member of the Okanagan community, TREE Brewing is committed to helping to replace trees in local parks and forests," said Tod Melnyk, TREE Brewing President. "We have created Black Tree specifically to support this initiative, and hope to be able to recruit other members of the community to join us in redeveloping this beautiful region."
650ml bottle poured into pint glass.
Pours deep browm with reddish amber hilights, almost wine-like when held to the light. Solid inch of foam with good head retention and decent looking lace. Some mild sweet malt smell of coffee and chocolate, some sharp hops aroma as well.
Well balanced mix of malt and hops, as a black and tan should be. Good carbonation and mouthfeel. Overall a good tasting beer, and a good transition beer that demonstrates how a dark colored beer does not mean 'heavy' or 'strong'.
1,017 characters


3.55
/5
rDev
-3.5%
look: 3.5 | smell: 3.5 | taste: 3.5 | feel: 3 | overall: 4
A: Nut-brown with a light tan head, light retention, very little lace.
S: Toffee & nut with hints of biscuit & cocao.
T: Biscuit & nut with a pleasantly light cocao. Modest bitterness.
M: Body is a little thin, and carbonation is a little high for its weight.
D: A decent drinker.
284 characters
3.55
/5
rDev
-3.5%
look: 4 | smell: 4 | taste: 3 | feel: 3.5 | overall: 4
A - poured from a 650ml bottle into a pint glass. It pours clear red-amber with an off white head. The head leaves nice webs of lacing.
S - funky malt, slightly sweet, over ripe salmon berries and dried apricots
T - sweet malt, light burnt caramel, ripe fruits and flowers and a leathery finish
M - medium carbonation, medium body, semi sticky and a neutral finish
D - the lacing is great, as is the smell. The taste is decent.
431 characters
3.92
/5
rDev
+6.5%
look: 3.5 | smell: 4 | taste: 4 | feel: 3.5 | overall: 4
Appearance - Pours a dark nutty brown with a finger width of bubbly head.
Smell - Nutty aroma, fig, roasted malt, caramel.
Taste - Strong nuttiness that transforms into the roasted malt flavour. Roasty aftertaste. Hint of the fig and caramel.
Mouthfeel - Medium bodied with light carbonation. A tiny bit sticky.
Overall - A well-blended black & tan by Tree Brewing. The bottle's label stays true to the taste inside. Classic roasted porter flavours shine through. Worth a try!
482 characters

3.72
/5
rDev
+1.1%
look: 3.5 | smell: 4 | taste: 3.5 | feel: 3.5 | overall: 4
Black Tree Dark Ale looks like dark tree bark - and I feel like I've begun writing a children's book. In all seriousness though, it really does resemble the brownish bark of, say, a walnut tree and despite its deep tone it is not at all opaque. A decent sized soapy head produces sparkling lace which, along with the amber highlights, make it look most un-intimidating.
A Black and Tan is traditionally a blend of porter and pale ale and, as advertised, this smells about a fifty-fifty blend of the two. It has buttery pale malts and nutty toast as well as elements of dark toffee and debittered chocolate. It is neither sweet nor roasty, but a little bit of both. I'll be happy smelling this for the entire length of a 650ml bottle.
Generally I find this style to be as one-dimensional as Atari, but this offering has a plethora of flavours: buttery pecan pie, floral hops, toasty pale malts, pecans and walnuts, marshmallow and chocolate. Once again, I don't see any of this becoming tiresome before the conclusion of the bomber. Speaking of, my glass is already due for its first top-up.
I'm not a professional brewer so I can't be positive that what I'm tasting is a generous helping of diacetyl, but I'm pretty sure of it. No matter, there's enough floral, piny, hoppy bitterness to even it out. Besides that it's the enjoyable sweetness of nutty, chunky, biscuity malts that is tasted most on the aftertaste. The beer is marvelously drinkable.
Like Jerry Seinfeld said: "Nothing mixes better than vanilla and chocolate and yet somehow racial harmony eludes us. If people would only look to the (black and white) cookie all our problems would be solved." Or, in this case, look to the Black and Tan. Tree's offering wasn't my favourite example of the style but I thought it did a fine job at showcasing how two races of flavor can live side by side and unite to make for one delicious pint.
1,902 characters
3.67
/5
rDev
-0.3%
look: 3.5 | smell: 4 | taste: 3.5 | feel: 4 | overall: 3.5
Nice blend of Spy Porter and I'm assuming Cutthroat Pale Ale.
Ruby-brown, leaning a little bit more to the porter side of things. Mild, slightly off-white head.
Creamy biscuity-bready malt scent, very light hop bitterness. Some toffee and caramel in there.
Light dry cocoa and biscuit tastes; fresh baked bread and toffee. A little bit bitter, possibly from the hops in the pale ale.
A decent drinker - not the best but its always nice to try something new from Tree.
471 characters
Black Tree Dark Ale from Tree Brewing
Beer rating:
3.68
out of
5
with
14
ratings