Sunday's Honey Golden Ale
| Septem Microbrewery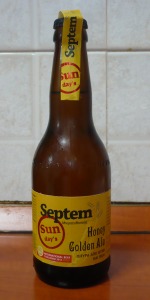 BEER INFO
Brewed by:
Septem Microbrewery
Greece
septem.gr
Style:
English Pale Ale
Alcohol by volume (ABV):
6.50%
Availability:
Year-round
Notes / Commercial Description:
No notes at this time.
Added by BEERchitect on 11-30-2011
Reviews: 9 | Ratings: 32

4.03
/5
rDev
+9.2%
look: 4.5 | smell: 4 | taste: 4 | feel: 4 | overall: 4
L: Clear amber color, four finger white head, thick lacing, loads of carbonation.
S: Hops, malts.
T: Malty, hoppy, piney, sweet. Slightly bitter on the back end.
F: Medium bodied, very drinkable.
O: Superb beer from Septem. Was very pleasantly surprised. Highly recommended.
278 characters
4.06
/5
rDev
+10%
look: 4 | smell: 4.25 | taste: 4 | feel: 3.5 | overall: 4.25
Very nice, solid beer, really crafted with style and great care. Color is amber yellow, with a huge head that lingers for a while. Smell is also nice, cloves, a lot of honey and certain citrus notes.
Taste is pretty solid too, even though it does not have an outstanding feel in the mouth, it's well balanced with a slightly bitter-sourish finish. Very good beer, overall.
373 characters

3.41
/5
rDev
-7.6%
look: 3.75 | smell: 3.25 | taste: 3.5 | feel: 3.5 | overall: 3.25
Septem Sunday's Honey Golden Ale in a 330 ml bottle with a BB date of 9-2015. Purchased and consumed in the Corinth area of Greece.
I was expecting a mild, lightly sweet golden ale, but this is notably hoppy and about equally bitter and sweet. In fact, the aroma clearly suggests and American style pale ale. Honey colored body with hints of honey in the taste.
365 characters

3.48
/5
rDev
-5.7%
look: 3.75 | smell: 3.75 | taste: 3.25 | feel: 4 | overall: 3.25
Pours a cloudy golden color body with a one finger bubbly white head.
Tropical fruit and citrus hop notes in the aroma, backed by subtle honey aroma.
Slight hop bitterness, slight tropical fruit and citrus notes on the tongue. Backed by a very subtle honey note. Reminds me of a hopped mead.
Great mouthfeel and good carbonation.
More honey would've been nice, but otherwise a decent beer.
393 characters
3.88
/5
rDev
+5.1%
look: 4 | smell: 4 | taste: 3.75 | feel: 3.75 | overall: 4
330ml bottle, my first non-Mythos beer from Greece. This is apparently part of a 'beer a day' shtick that this brewery has going on, and today being Sunday and all, it must be done.
This beer pours a clear pale golden straw hue, with a tower of puffy, silkily foamy, and somewhat creamy off-white head, which leaves some nice random sudsy cloud lace around the glass as it slowly fades away.
It smells of semi-sweet field and clover honey, bready caramel malt, sweet mixed orchard fruit, and lightly grassy, herbal hops. The taste is sharp, kind of musty honey, grainy caramel malt, a touch of biscuit, some pleasantly edgy citrus fruit, ethereal, and yet spicy yeast, a dry nuttiness, and floral, earthy hops.
The carbonation is quite tight, and a little sassy, the body a decent medium weight, and plainly smooth, the fine bubbles cutting into the dance a little too eagerly. It finishes off-dry, the honey taking a step back, as the fruity and hoppy bitterness starts to rev it up.
A tasty, mead-adjacent hoppy pale ale, is what this is. I've had braggots before, but they were all about the well-attenuated honey, and not much interested in any beer-like hop goodness. Not here - this appears to be a true blend, as in blend of ingredients, starting well early in the process. By chance, I recommended this to my favorite ex-pat Greek donair-slinger when I was buying this - I hope he likes it too.
1,406 characters

3.87
/5
rDev
+4.9%
look: 3.5 | smell: 4.5 | taste: 3.5 | feel: 3.75 | overall: 4
I let the beer warm out of the freeze a bit and served it at around 8 degrees Celsius (46 F) in a small pint glass.
Appearance: Light gold color; ½ inch white head of low retention
Smell: Wonderful smells of various citrus fruit (peaches, bergamot, orange) with hints of honey and yeast
Taste: There's a light sweetness but this is finely balanced by the citrus bitterness and the coarseness of the mouthfeel. After several sips, towards the end of the bottle, the sweetness becomes more prevalent.
Mouthfeel: Medium body with a coarse / grainy feel and medium carbonation. I would describe it as a syrupy stream in a coarse wrapping, that somehow scores points in the "refreshing" category as well.
Drinkability / overall: Not a "session beer" but certainly very enjoyable. The overall impression is of a beer demanding your attention, not to be drunk lightly.
873 characters
3.59
/5
rDev
-2.7%
look: 3.25 | smell: 3.5 | taste: 3.75 | feel: 3.5 | overall: 3.5
0.33 litre brown bottle: BBD 15 Oct 2013. Brought back from the beautiful island of Mykonos and opened at home on 5 Sep 2013.
Poured into an 'Augustijn' badged chalice: golden and clear, with a full white foaming head.
The aroma was fairly sweet, maybe some honey notes but floral hops definitely along with light malts.
One of the best Greek beers I've had (of around 20), interesting and flavoursome: hoppy, yet balanced, with a trace of honey lurking in the depths, some yeastiness also appears within the flavours which add another dimension to the overall enjoyment.
Paid over the odds for the bottle, but I really enjoyed drinking it.
644 characters
3.39
/5
rDev
-8.1%
look: 3.75 | smell: 3.5 | taste: 3.25 | feel: 3.25 | overall: 3.5
330ml from Athens, Greece:
Dark golden with a half cm, bubbly white head on top that holds well.
Sweet with a honey and sugar aroma along with some lighter malts and some nice, fruity notes. There is some earthy malts and caramel toward the end too but the smell overall is a very sweet and herbal one.
Mirroring the smell this one has a strong taste of honey with some very sweet malts and some lighter caramel notes. There is some spice and a touch of fruit as well towards the end.
A sticky smooth taste with a light medium body and a very sweet mouthfeel. Carbonation is moderate with this one and there is quite a bittersweet, lingering aftertaste.
Plenty of sweetness and honey coming across in both the taste and the smell. In addition to this, the caramel malts and touches of fruit help to give the beer a nice balance and stop it from becoming too sickening or sweet.
881 characters
3.42
/5
rDev
-7.3%
look: 3 | smell: 3.5 | taste: 3.5 | feel: 3 | overall: 3.5
At the foothills at Athen's Acroplis, a day's worth of pavement pounding results in the stumbling into the only non-pretentious coffee cafe and beer bar. My obvious inquiries about the beer selection allowed for the recommendation of this local Grecian ale.
With honey flavor, aromatics, and texture at the forefront, this non-descipt ale seems to take on English Pale Ale-like character except for the balance of hops. Instead, the bitterness is avoided in favor of honey sweetness that combines with caramel and biscuity malts for a deeply honeyish tone. Elevated honey flavor shies away from mead-like intensity, yet gives much more rich nutty, fruity, floral honey flavor than is typican in American honey ales- maybe to do in part of the deeply rooted honey culture that Greece enjoys. None better than in this sweeter Pale Ale.
836 characters
Sunday's Honey Golden Ale from Septem Microbrewery
3.69
out of
5
based on
32
ratings.