Mondo's Cream Ale
| Surf Brewery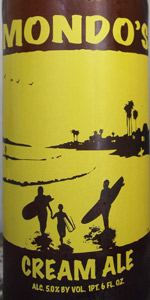 BEER INFO
Brewed by:
Surf Brewery
California
,
United States
surfbrewery.com
Style:
Cream Ale
Alcohol by volume (ABV):
5.75%
Availability:
Year-round
Notes / Commercial Description:
No notes at this time.
Added by augustgarage on 09-04-2011
Reviews: 8 | Ratings: 18
4.25
/5
rDev
+17.1%
Appearance: Clear light golden color. nice fluffy white head, with some lacing on glass. carbonation bubbles moving up the beer (4.75/5)
Smell: Lactic smell and a little like hay/grass with a slight hint of sweetness (3.75/5)
Mouthfeel: Very Nice. Thick and fluffy. Carbonation tingles the lips (4.75/5)
Taste: Not a lot of taste really. Simple and balanced. Hint of sweetness and ends with a slight bitter taste (3.75/5)
Overall: Good beer. Nothing stands out a ton though. 4.25
492 characters

3.97
/5
rDev
+9.4%
look: 4 | smell: 3.75 | taste: 4 | feel: 4.25 | overall: 4
Clear pale golden in the tall glass with a wealth of bubbles streaming up. Big foam-up to start, which subsides to a handsome pile of suds. Pleasant nose of faint resins and grain. A zingy mouthfeel.
The flavor immediately struck me as a Kölsch, with the perfumey flavor and flowery hop aromatics. Some cracker and white bread flavors. The slight resiny bitterness is just right for the finish. If we have to call this a Cream ale, it is a very light but sterling example of that category. A totally pleasant lip-smacking quaff. From the 22 oz bottle purchased at The Bottle Shop in Santa Barbara.
599 characters

3.92
/5
rDev
+8%
look: 4.25 | smell: 3.5 | taste: 4 | feel: 4.25 | overall: 4
22oz bottle into imperial pint glass.
A: Pours a pale golden yellow with a few fingers of dense, fluffy and bright-white foam that slowly faded into a rocky film and lasting collar.
S: Light notes of cracked grains, faint adjuncts, peppery yeast and herbal hops.
T: More dry roasted grains, wheat-like, maybe some corn, black pepper yeast, spicy herbal hops and faint minerals and lemon. Fruity aftertaste.
M: The best part about a good cream ale is the body. Nice thick fluffy body for such a light beer. The mouthfeel is creamy and heavy and the carbonation is thick and frothy. Drinks well.
O: A very solid and drinkable cream ale. This would go with almost any occasion. Well done.
690 characters

3.88
/5
rDev
+6.9%
look: 4 | smell: 3.5 | taste: 4 | feel: 4 | overall: 4
On-tap @ Blue Palms Brewhouse in Hollywood - served in a nonic.
Cloudy pale gold liquid with a bright fist of soapy ivory heaped up in sticky soft peaks, excellent retention. Delicate webs of lacing drop off in sudden sheets like an eroding cliff face at the beach.
Herbs and citrus (meyer lemon? lavender/thyme?) in the nose are joined by a faint almost-lactic tartness suggesting wheat may have been used as an adjunct instead of the (more traditional) corn.
Bright lightly tart palate entry with a unique light malt bill and distinctive (English?) hop flavors which are mostly herbal/floral with a hint of white grapefruit and scallion. Low bitterness overall.
Crisp, bold, light-bodied, with good carbonation which leaves your gums tingling when combined with the citrus/wheat(?) notes.
Refreshing, well crafted, zesty example of a style I don't see very often.
885 characters
3.68
/5
rDev
+1.4%
look: 4 | smell: 3.5 | taste: 4 | feel: 3 | overall: 3.5
Consumed November 5th, 2011 at the brewery. Reviewed from notes.
Beer is a clear light yellow with a nice white nitro head: dense, uniform and creamy.
The aroma is primarily a dairy affair: lactic.
Flavor starts with sweet, husky grain. Midtaste involves citrus notes (orange and lemon) and the finish is moderately bitter.
Mouthfeel is proper though otherwise unremarkable; I thought the nitro would make it more creamy and smooth, but the effects are only noticeable in the head's appearance, really.
Easy to put one of these away.
538 characters
3.5
/5
rDev
-3.6%
look: 3.5 | smell: 3.5 | taste: 3.5 | feel: 3.5 | overall: 3.5
On tap at Beer Belly in Los Angeles, CA.
Pours a slightly murky yellow with a foamy bone colored head that settles to wisps of lace on top of the beer. Foamy rings of lace form around the glass on the drink down. Smell is of malt, grain, corn, grass, and hay. Taste is much the same and has a very mild bitterness after each sip. This beer has a lower level of carbonation with a slightly crisp mouthfeel. Overall, this is a pretty good beer that is easy to drink but I don't think I would go for this one again.
513 characters

3.14
/5
rDev
-13.5%
look: 3.5 | smell: 3.25 | taste: 3 | feel: 3.5 | overall: 3
I love Irish Cream Ales (e.g. Kilkenny), but beeradvocate refuses to acknowledge the style. In any case, I'm aware of the differences between that style and this one. I'm excited to try this; it's great to see American breweries attempting this unpopular style. I want to love this. 5.5% according to me bottle. 1 pint 6 fl oz brown glass bottle with generic unbranded gold pressure cap served into a conical Samuel Smith's pint glass in me gaff in low altitude Los Feliz, Los Angeles, California. Reviewed live. Expectations are above average.
Served straight from the fridge. Side-poured with standard vigor as no carbonation issues are anticipated.
Not paired with food.
A: Pours a lovely beige colour head of nice froth, good cream, great thickness, and excellent (8+ minute) retention, though the ABV is merely average. Body colour is a clear pale yellow. Doesn't appear watery, though. Carbonation bubble quantity is roughly average. No yeast particles are visible. No bubble show. A pretty good appearance for the style. I'm excited to try it. It looks soft and light.
Sm: Cream, pale malts, light fleeting clean barley. Very light caramel. I get a definite cream soda character. A bit of balanced sweetness. Hay. Residual sugars. A mild strength light refreshing aroma that screams easy drinking. I'm excited to try it. It's simple, but that's to be expected. Grass, corn.
T: Pale malts and grass. Cream. Light butterscotch. Hints of light light caramel. It's a bit simple, but nevertheless balanced. No yeasty character or alcohol comes through. Lacks complexity and subtlety.
Mf: Soft, light, smooth, and wet. A bit weak, but not watery. Not at all chewy. Refreshing and silky. Suits the style but not the aroma per se; it does dry somewhat on the finish, reducing drinkability. Creamy. Carbonation is decent.
Dr: Drinkable, light, and pleasant. I could definitely have another. Hides its ABV well. Not at all a bad brew. I'm looking forward to trying other beers from this brewery, but I'm not horribly impressed by this beer. Still, it's by no means bad.
C+
2,084 characters
3.06
/5
rDev
-15.7%
look: 3.5 | smell: 3 | taste: 3 | feel: 3.25 | overall: 3
Although surfers walking along a beach is represented on the label, it's anything but a surfer's paradise tonight, as it is a very very cold night here in Orange County. Instead, I will be drinking a cream ale. On to the beer:
Starting with the evaluation is the head, which is over an inch thick and semi-creamy textured. Below is a clean bodied, pale yellow beer with some visible carbonation bubbles rising from bottom to top. The aroma is on the clean side, with a touch of sweetness. It also has a boiled cereal note, so who knows if this is going to taste more like a cream ale or a pale lager.
It actually has a clean taste. Not much sweetness, not much overall taste really. However it isn't really offensive either. I suspect this is much like beer purgatory, not good, but not bad. Its mouthfeel is decent; light bodied with a seltzer-like carbonation which buzzes the palate.
Hmmm...I didn't think much of it as a cream ale.
940 characters
Mondo's Cream Ale from Surf Brewery
3.63
out of
5
based on
18
ratings.