Full Malted Jacket Heaven Hill Barrel Aged
| Beachwood BBQ & Brewing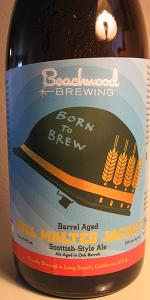 BEER INFO
Brewed by:
Beachwood BBQ & Brewing
California
,
United States
beachwoodbbq.com
Style:
Scotch Ale / Wee Heavy
Alcohol by volume (ABV):
12.00%
Availability:
Rotating
Notes / Commercial Description:
No notes at this time.
Added by OldPenguinHunter on 02-24-2013
Reviews: 11 | Ratings: 57
4.18
/5
rDev
-3.5%
look: 3.25 | smell: 4.5 | taste: 4.25 | feel: 3.5 | overall: 4.25
Bottle pour at the DTLA bottle share held at Beer Belly in Los Angeles, CA.
Pours a clear dark brown with a foamy dark khaki head that settles to wisps of film on top of the beer. Small dots of lace slowly drip into the remaining beer on the drink down. Smell is of malt, caramel, toffee, vanilla, bourbon, and wood aromas. Taste is much the same with caramel, vanilla, and bourbon flavors on the finish. There is a mild amount of woody bitterness on the palate with each sip. This beer has a lower level of carbonation with a slightly crisp and medium bodied mouthfeel. Overall, this is a very good beer with a great barrel aged presence all around.
651 characters

4.43
/5
rDev
+2.3%
look: 3.75 | smell: 4.5 | taste: 4.5 | feel: 4.25 | overall: 4.5
On tap for Beachwood Long Beach's Anniversary. Reviewed from notes.
A: Pours a dark crimson brown with reddish edges under a thin off-white head which fades quickly to the rim leaving trace spots.
N: Boozy, dark cherries, damp oak wood, sweetish bourbon, malty grains, fruity, vanilla, caramel, toffee. Crazy complex layers.
T: Sweet malty bourbon, oak, vanilla, slight char, lots of caramel, toffee. Wonderful balance.
M: Fully body and light carbonation. Sweetish bourbon and caramel finish.
O: Wonderfully complex and balanced. Warming. Should find a bottle.
566 characters

4.52
/5
rDev
+4.4%
look: 4 | smell: 4.5 | taste: 4.75 | feel: 4 | overall: 4.5
Large shared bottle.
Wow, this is really great. A relatively heavy load of bourbon and bourbon barrel flavors but these are of exceptional quality and blend nicely with the other components.
Smooth medium body.
Alcohol is evident bit seems much lower than 12 due to the mildly warm feel and smoke bourbon flavor.
Highly recommended.
332 characters
3.64
/5
rDev
-15.9%
look: 4 | smell: 3.75 | taste: 3.5 | feel: 3 | overall: 4
650 mL bottle poured into a snifter. Deep amber body. Medium off-white head. Lots of bourbon on the nose. Scotch ale comes through. Toffee. Butterscotch. Raisins. Wow, it's boozy. Strong bourbon. Booze. Toffee. Heavy oak. Dry finish. Heavy body. Boozy as hell. Tastes good, but I can't drink much of it.
319 characters
4.1
/5
rDev
-5.3%
look: 3.75 | smell: 4.25 | taste: 4.25 | feel: 3.5 | overall: 4
Bottle purchased at Beachwood BBQ and Brewery in Long Beach, CA.
This pours a mostly clear light brown, with basically no head or lacing- looks to be very uncarbonated.
Smells like heavy duty bourbon, bitter boozy and fruity, with peat, toffee, and dark fruit.
This is seriously barrel heavy- there's an almost overwhelming level of bourbon here, lots of oak, with a dope vanilla character. This almost feels like it was scotch barrel aged with how peaty it is. There's some slick caramel and brown malt.
This is very boozy- it's a slow supper. The carbonation level is quite low.
This is a bruiser- it's tough to drink but it's worth it.
643 characters
4.34
/5
rDev
+0.2%
look: 3.5 | smell: 4.5 | taste: 4.5 | feel: 4 | overall: 4.25
Dark mahogany in color. Vanilla, toffee, sweet malt, brown sugar, marshmallow and oak. Super smooth, lower carb with a medium mouthfeel. Medium short, dry finish. Real good.
173 characters

4.35
/5
rDev
+0.5%
look: 4.25 | smell: 4.25 | taste: 4.5 | feel: 4.25 | overall: 4.25
22oz bottle poured into a snifter
A- deep ruby brown, small bubble white head, reduces to ring around the edge
S- sweet caramel/toffee mixed with roasted malt, spicy bourbon and woody oak
T- sweet caramel and melted toffee up front, followed by woody bourbon barrel, hints of fig and raisin, the finish is more caramel that lingers long after consumption with hints of bourbon sticking around
M- medium-heavy body with moderate carbonation, foamy mouthfeel that turns creamy into the finish
O- caramel/toffee mixes with undertones of bourbon and oak, very good
569 characters
4.6
/5
rDev
+6.2%
look: 4.25 | smell: 4.25 | taste: 4.75 | feel: 4.75 | overall: 4.75
- 22oz. bomber poured into Lost Abbey Teku on 30-Jul-15
- 4oz. pour off tap @ Beachwood BBQ (Long Beach, CA) into pilsner glass on 1-Jul-15
This is the best barrel-aged scotch ale I've ever had to date. Better than Dirty Bastard and CC BA Big Sound. So smooth and the flavors meld really well. I've only had 8 Buffalo and RLaE, but this is definitely the best BA brew I've had from Beachwood.
394 characters

4.49
/5
rDev
+3.7%
look: 4.25 | smell: 4.5 | taste: 4.5 | feel: 4.5 | overall: 4.5
Enjoying it in a tulip glass.
L: Dark brown, light head.
S: Malty, light barrel character.
T: This is where it shines, malty with a light barrel character. Vanilla, caramel, bready malt.
F: Nice amount of carbonation, just right. Not too sweet or heavy either.
O: Excellent beer, I would buy a case of this if I could.
320 characters
4.6
/5
rDev
+6.2%
look: 4.5 | smell: 4.5 | taste: 4.75 | feel: 4.5 | overall: 4.5
This beer is fantastic!
Had on draft & bottle.
Really smooth barrel presence but the malt back bone is still able to shine thru. I think the base for this is best representation of a beer featuring non hoppy profile. Vanilla & caramel float through the palate, slight bourbon still thru nasal cavity.
This beer is a treat to say the least!
339 characters

4.71
/5
rDev
+8.8%
look: 4.5 | smell: 4.75 | taste: 4.75 | feel: 4.5 | overall: 4.75
Just released today! I know I should have waited, but what the hell...
A. Dark burnt caramel appearance with a light foamy head that settles nicely.
S: Malty, mulled fruits, spice and vanilla
T: Vanilla, bourbon, mulled fruits, dates, cinnamon...wow, the booze pairs well with this one!
M: Thick and delicious, creamy...a little hot.
O: I can't wait to age the other one! Thanks Beachwood, you rock!
406 characters
Full Malted Jacket Heaven Hill Barrel Aged from Beachwood BBQ & Brewing
4.33
out of
5
based on
57
ratings.