Gramarye
| Heretic Brewing Company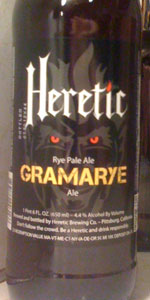 BEER INFO
Brewed by:
Heretic Brewing Company
California
,
United States
hereticbrewing.com
Style:
Rye Beer
Alcohol by volume (ABV):
4.40%
Availability:
Year-round
Notes / Commercial Description:
No notes at this time.
Added by Zorro on 08-25-2012
Reviews: 29 | Ratings: 105

4.25
/5
rDev
+12.7%
look: 4 | smell: 4 | taste: 4.5 | feel: 4.5 | overall: 4
This is a very nice lower abv beer. Packs a good amount of flavor into that 4.4% abv. Pours a pretty orangey amber. Quite clear, minimal haze. Aroma is mild but juicy citrus hops on top of some rye spice and some caramel maltiness. A little bit of a floral quality in there somewhere. Very tasty stuff. For me, this has perfect balance for this sort of low abv amber ale. It starts with rye-spicy caramel sweetness and sweet orange hop flavor and then dries out and finishes with a refreshing bitterness, packed with pine resin and rye bread. Very easy to drink. Mouthfeel is light, creamy and smooth. It compliments the flavor very well and is surprisingly full-bodied for the beer's strength. Great stuff. I've been a bit disappointed in Heretic, so far (to be clear, I had my expectations very high), but this beer is excellent. Also, I'm happy to see another tasty, low abv beer.
★
883 characters

4.42
/5
rDev
+17.2%
look: 4 | smell: 4.5 | taste: 4.5 | feel: 4 | overall: 4.5
A - Pours a clear amber-orange with a finger of frothy white head. The head fades down at a normal pace leaving behind some nice lacing.
S - Aroma is a mix of grapefruit and pine hops with some sweet caramel malts, spicy rye, and a touch of bready malts.
T - Starts off with a mix of grapefruit and citrus hops with some bitterness and some sweet caramel malts. Through the middle, some pine and floral hops come through with some more bitterness and some spicy and earthy rye. The finish is a mix of grapefruit and pine hops, bitterness, spicy rye notes, and some sweet, lightly bready malts.
M - Medium bodied with moderate carbonation. Feels smooth with a dry, bitter, and earthy finish.
D - Very drinkable. Nice hopp rye pale ale. Great overall balance with some good rye character.
★
791 characters
3.92
/5
rDev
+4%
look: 3.5 | smell: 4 | taste: 4 | feel: 3.5 | overall: 4
Picked up at the COOP Sunday night... poured into my slip tulip tonight... the brew is very clear orange/amber... decent white head... 1/2" head.. spotty lacing.
Nose is very promising.. toasty malt... rye is there and my buddies will give me shit, but honestly a bit of a dry "spicy" note... very dry brew with a bunch of malty background essence.. no real "caramel"... very malt centric with just enough citrus to balance.
Flavor mirrors the nose with some dry toasty elements.. citrus hops... the rye is present and helps to add some structure to the maltiness... rye malt is above present and the citric hops finish forever.... with warmth, a bit of perfumy floral hoppiness...
Surprised this one has a great finish for such a low ABV.. very VERY drinkable.. Loving it.
3.5/4/4/3.5/4
★
792 characters

3.5
/5
rDev
-7.2%
look: 3.5 | smell: 3.5 | taste: 3.5 | feel: 3.5 | overall: 3.5
From the Brewery Website:
"Gramarye (GRAM-uh-ree)
Gramarye is the practice of learning magic. For thousands of years, people have used a grimoire (book of magic) to cast spells and summon spirits. Of course, magic fell out of favor over the centuries, the same as brewing with rye. Interest in magic seems to be on the upswing these days and so is the interest in brewing with rye. A coincidence? This is our take on session pale ale made with a dose of rye malt to give it that luscious feel and snappy finish. We think it is magical.
abv: 4.4%
ibu: 28
srm: 10"
Dark amber colored beer with a small white colored head. The color borders on being brown.
Smell is rye with that slightly sour scent that rye has. Mild hops that are mostly citrus with an little pine to it. Toasted bread, tea and some woody scent.
Starts out dry with a mostly woody flavor and a slight rye after taste. Dry and slightly bitter this is a solid pale ale. Rye flavor is there and very user friendly.
Mouthfeel is good.
Overall a good pale ale made with Rye. No faults, a good easy drinking ale.
★
1,098 characters
Gramarye from Heretic Brewing Company
3.77
out of
5
based on
105
ratings.