Olde Sailor's India Pale Ale
| Mission Springs Brewing Company
BA SCORE
82
good
16
Ratings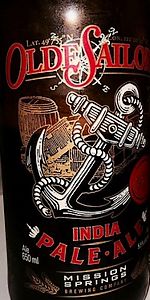 BEER INFO
Brewed by:
Mission Springs Brewing Company
British Columbia
,
Canada
missionspringsbrewingcompany.com
Style:
English India Pale Ale (IPA)
Alcohol by volume (ABV):
5.60%
Availability:
Year-round
Notes / Commercial Description:
No notes at this time.
Added by 49degrees on 12-29-2002
Reviews: 11 | Ratings: 16
3.14
/5
rDev
-6.3%
look: 4 | smell: 3.75 | taste: 3 | feel: 2 | overall: 3
I will preface this review by stating that the bottle I bought was picked up at "The Springs Taphouse" which is a subsidiary of Mission Springs Brewing Company. Located across the Pacific from the actual brewery in B.C., the offshoot is located in Seoul, South Korea. In addition to having a number of 22's to go, they also have about six selections on tap, all of which are brewed nearly 7,000 miles away in Vancouver. The bottle I bought in June 2013, and drank in September 2013, had a date of November 2012 on it. I don't know if this was the brew date, the import date, or the best-by date. Imported craft beer is a tricky business in Korea, and this is a perfect illustration of some of the complexities.
Poured from a well-traveled and well-dated deuce-deuce into a glass, it came out the same Amber color of late Fall, and could well model for the traditional hue of IPAs. Impressive upon appearance, with a corresponding smell that matched. A slight head, with ample bubbles, it took the opportunity to breathe, emitting notes of hops mixed with a bit of citrus(?), happy it seemed, to be released from the bottle.
Apart from the visual and olfactory senses, things changed dramatically once it reached my lips. Maybe it was stale, I dunno, but the taste and mouthfeel did nothing for me. Bitter, even with the aid of some swirling of the nectar within the bottle, it seemed to never quite settle on the palate, or in ma belly. While things got a bit better towards the end, I couldn't discern if that was from the simple fact that I was swigging a 22, or if my senses were learning to adjust properly.
While I am grateful for the dedication of Mission Springs to enter the Korean beer market, perhaps they might want to invest in some brewing equipment here on the Peninsula. Visiting the taphouse in Seoul, I had a sampler platter, taking a taste of each of the offerings, and was pleased with the selections. While those too were brewed in Canada, perhaps they were a little fresher than the bottle described above? Either way, I will not discount this brewery quite yet, and look forward to trying out another one of the bottles. It is one of only a few craft brews available, and that above all else warrants anther go-round. If the results are different, I will chalk this up as a mulligan, but if again I encounter another bitter beer, I will have to look elsewhere in the future for some of the B.C. Chronic...
2,430 characters

3.55
/5
rDev
+6%
look: 3.5 | smell: 3.5 | taste: 3.5 | feel: 4 | overall: 3.5
A: 1/8" white head over cloudy honey amber coloured liquid.
S: A very faint citrus smell. Not much else is present.
T: Grapefruit citrus and some pine hops over honey malt.
M: Medium viscosity and a high level of fine carbonation.
O: A decent IPA.
251 characters
3.97
/5
rDev
+18.5%
look: 3.5 | smell: 4 | taste: 4 | feel: 4 | overall: 4
Appearance. Hazy deep amber with just a little bit of bubbly white head.
Smell. Roasty, caramel grains, grassy, herby hops and a little honey.
Taste. Light caramel grain, apples, oranges, yellow grapefruit, grassy, piney hops build a little towards the end.
Mouthfeel. Medium-light body with medium, pretty smooth carbonation
Overall. Nice for a more ballanced tasting ipa, with enough hoppy goodness to satisfy.
417 characters
2.72
/5
rDev
-18.8%
look: 2.5 | smell: 3 | taste: 2.5 | feel: 2.5 | overall: 3
Okay, another beer from this brewery that severely lacks in the head department. Pours an orange-amber with a very limited head (big bubbles and a very thin film). It leaves very little lacing on my glass - kinda soapy looking. Aromas of citrus and piney hops with some bready malts and notes of caramel. Taste is bready and citrusy-sweet up front with a crisp, bitter hop finish. It's Bready with a good amount of minerality on the linger and the alcohol is pretty detectable. Overall, it just seems weak in flavour and out of balance. After a while, I detect some corn sugar on the linger as well. Mouthfeel is medium bodied but a tad watery with a slight crisp, somewhat oily, soapy finish. I have really not been impressed by the offerings I have tried from this brewery so far and this IPA is no different. It lacks somewhat in flavour and body (much like their oatmeal stout) which makes it somewhat of a unpleasant beer to finish. Not really offensive in any way - just a bit bland all around.
1,000 characters
3.48
/5
rDev
+3.9%
look: 4 | smell: 3.5 | taste: 3.5 | feel: 3 | overall: 3.5
I decided to have this beer in the party room of the guest condo I was staying at in Yaletown, in order to trim down my suitcase load after a trip to Brewery Creek. Cut my damn finger attempting to open the bottle sans bottle opener - this better be worth it... ;-)
This beer pours a hazy orange colour, with a very thin soap film white head. It smells of light bitter citrus hops. The taste has bitter pine hops up front, and some decent cracker-grain malt offset, and then a thin hoppy finish. The carbonation is slightly more than noticeable, making the hoppy bitterness seem more intense. Overall, this IPA is somewhat unbalanced, but with a good hop presence, fairly drinkable for this hophead. And it took me almost until I finished the bottle to notice the tiny slogan: 'Almost as bitter as your Ex!' Heh, I'll buy that.
828 characters
3.05
/5
rDev
-9%
look: 3.5 | smell: 3.5 | taste: 3 | feel: 3 | overall: 2.5
High carbonation and not balanced, high IBU. Hophead feed(there are lots in the area), a so-so IPA.On tap at the Alibi Room.There is some residual sweetness here, but in any case I am not impressed by the brewery. With better IPAs around town, and US imports coming in, they will have some competition.
302 characters
3.57
/5
rDev
+6.6%
look: 3 | smell: 3.5 | taste: 3.5 | feel: 3.5 | overall: 4
650ml bottle poured into a tulip glass. Bought straight from the brewery.
Pours a hazey orange with very mild carbonation. Very little head and very little lace, as I've found with other beers from this brewery. Aroma is Herbal, piney, and mildly floral with a light crackery malt backbone wiith a light caramel sweetness. Not complex but fairly well balanced.
Taste starts out quite malty. Caramel and crackers dominate. Hop profile is herbal and very piney. Balance tends toward the malt, as I find many Canadian versions of the style do, and finishes husky and medicinal. Mild carbonation in the mouth, medium body. Lightly dry, but refreshing and even a little sweet in the finish. This is quite drinkable but uncomplex really. The balance is about the best thing here. That said, this beer got me through a weekend in the Fraser Valley with my family, and for that, Mission Springs, I am thankful.
909 characters
3.6
/5
rDev
+7.5%
look: 4 | smell: 4 | taste: 3.5 | feel: 3 | overall: 3.5
Mission Springs seems to play with the recipe a little as I've had this at 6% and 5.6%. I'll rate them as a whole, but I should mention that I enjoyed the 6% a bit more.
Pours a beautiful pale yellow with little head. The aroma is dominated by grapefruity citrus. Tastes kinda grapefruity too. I found the carbonation to be abnormally low. The mouthfeel was kind of oily as well. I really enjoyed this beer at the brewpub and at home in the bottle. I wouldn't say this brew is quite up to par with Phillips' or Tree's IPA's but it's pretty good over all.
557 characters
2.86
/5
rDev
-14.6%
look: 3.5 | smell: 2.5 | taste: 3 | feel: 2.5 | overall: 3
Amber in colour with somewhat lower than average carbonation. Aromas of iron, flint, mildly citric hops, and some lightly toasted malts. There is a muted pine and black pepper flavor component that accompanies some orangey fruit notes. There is also a fairly strong green hop flavor component, but not a whole lot of bitterness or over the top hop aroma (For the homebrewers out there, I'm thinking about what happens when lots of hops are added with 15 minutes left in the boil). Somewhat watery bodied, and not much of a caramel/crystal malt presence either. Drinkable stuff, but a little too subdude for what is typically a somewhat brash and assertive style.
663 characters
3.65
/5
rDev
+9%
look: 4 | smell: 4 | taste: 3.5 | feel: 3.5 | overall: 3.5
Refreshing take on the style. Darker copper-orange colour with a thin, white head.
Very floral, hoppy scent reminiscent of Phillip's Amensiac. Decent malt background. Taste is a little bit on the sweet side, very grassy and floral from the hops, with citrus notes to it. Malts are noticeable, but not very noticeable.
Fizzy, but not too much. Carbonation is okay, but could be toned down a bit. The odd hoppy, flowery sweetness makes this a sipper. Good, worth buying again. Almost like a low ABV version of Phillip's Amnesiac.
533 characters
3.36
/5
rDev
+0.3%
look: 4 | smell: 3 | taste: 3.5 | feel: 3 | overall: 3.5
An intensely hoppy IPA that gives off a very strong pine filled aroma -- almost similar in style to that of the Alba Scots Pine Ale, though the tastes here lie far closer to that of what one would expect in drinking an IPA. This one though, is interesting in that is delivers a fairly tart bite that kicks in about 3-5 seconds after taking a sip.
Pours clean and clear with a nice yellow/golden hue with a nice 1-1/2" head. After the head settles and you've drunken a bit, the ale leaves a long lasting, albeit broken patterned lace on the glass, and they stick around for "long" periods of time.
A somewhat spritzy ale that has nice a nice carbination level that sets off a little tingle at the tip of your tongue while tasting. A nice effect in my eyes when tasting a bitter ale. This one is a little harsher than Bridgeport's IPA but delivers a bitter kick similar to that of Bridgeport's Pintail Ale.
910 characters
Olde Sailor's India Pale Ale from Mission Springs Brewing Company
3.35
out of
5
based on
16
ratings.