Broo Doo

3 Floyds Brewing Co.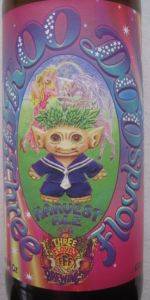 Write a Review
Beer Geek Stats:
| Print Shelf Talker
Style:

ABV:

7%

Score:

Avg:

4.27

| pDev:

9.37%

Reviews:

487

Ratings:

From:

Avail:

Fall

Wants

Gots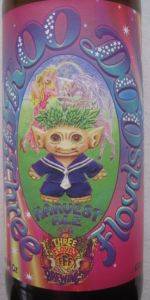 Notes: This beer is brewed during the hop harvest with a portion of unkilned or "wet" hops fresh off the vine. Apricot in color, Broo Doo's nose has dominant orange, pine sap and floral notes, balanced by a glazed nut and toffee malt body. This celebration of the hop harvest has intense tropical fruit, citrus and spicy accents that showcase the complexity of the hops we all love.

80 IBU
Reviews: 487 | Ratings: 1,943
4.2
/5
rDev
-1.6%
look: 4 | smell: 4 | taste: 4.5 | feel: 4 | overall: 4
(Served in an American pint glass)
A- This beer has a crystal clear warm deep orange body with a gentle carbonation of tiny bubbles. There is a thin off-white spongy head that last for a short bit.
S- The smell of big green herbal hops with a peach note finishes with a very nice cat pee pungency.
T- The soft pale malt sweetness gives way to the green resiny smooth hops flavor that has a hop water quality. There is a grapefruit zest note then a smooth hop bitterness that lingers after the finish.
M- This beer has a medium mouthfeel with a slightly creamy texture to it and no alcohol heat at the finish.
D- This beer has a good bold but smooth hop flavor with some nice malt flavors underneath for support.
720 characters
4.57
/5
rDev
+7%
look: 4.5 | smell: 5 | taste: 4.5 | feel: 4 | overall: 4.5
wow, was i excited to see a new 3Fs fresh hop ipa at the store, and it lived up to my expectations. pours an almost clear amber with a nice creamy white head and no visible sediment. aroma was very flowery and fresh with some notes of tropical fruit, honeyed malt and citrus. fucking phenomenal bouqet on this. taste was well-balanced between the moderately sweet malts and medium bitterness, with the aromas carrying through in the mouth along with some caramel. juicy hops. very smooth, well-integrated bitterness with a medium-long finish. a bit of astringency is the only negative quality perceived. mouthfeel was light to medium and nice and frothy. great drinkability at this low abv and high complexity, it's too bad this is not sold in sixers. definitely one of the best wet/fresh hop beers i've had.
808 characters

4.7
/5
rDev
+10.1%
look: 4.5 | smell: 4.5 | taste: 5 | feel: 4.5 | overall: 4.5
Looks like a worn copper penny in appearance. Big time fluffy head with lots of sticky lacing that took awhile to go away. Smells of tropical fruits, mainly pineapple, fresh citrus hops, pine, and sweet malt. Tastes as it smells but more intense and juicy. Very fresh like. Finishes sweet with some nice bitterness that lingers. Mouth feel is medium bodied, moderately carbonated and a bit oily. Drinkability is incredible. Definitely the best harvest ale I've ever had. If you love hops, then this one's for you! Not sure about that label though…Cheers!
557 characters
4.5
/5
rDev
+5.4%
look: 4.5 | smell: 4.5 | taste: 4.5 | feel: 4.5 | overall: 4.5
A - Pours a clear copper with a 2 finger foamy white head and plenty of sticky lacing.
S - Resiny, dank pine, citrus and tropical fruit with a touch of caramel in the background.
T - Similar to aroma. Resiny pine, citrus, tropical fruit and grassy hop flavor with some sweet caramel and biscuit in the background. Good bitterness but still nicely balanced.
M - Just a touch light of medium body with a bit of oily slickness and a slight bitterness that lingers.
D - I haven't had Dreadnaught in a while but it tastes like a wet hopped version of Dreadnaught. My favorite fresh hopped beer so far.
600 characters
4.3
/5
rDev
+0.7%
look: 4.5 | smell: 4.5 | taste: 4 | feel: 4.5 | overall: 4.5
22 oz bottle picked up at West Lakeview liquors for $9 or so.
Pours a clear orange/amber, thin white head forms, nice chunky lacing, good retention, settles to a thin layer. Smell is 3F, caramel, pine/nice floral, oranges and tangerine, very fresh hop aroma, fruity, nice. Taste is sweet and malty, sugars, bread and caramel, nice pine and tangerine middle, sugar, balanced finished, nice fresh bitterness. Mouthfeel is is medium bodied with low to medium carbonation, very drinkable. Nicely done beer, very fresh hops, goes down easy.
536 characters
4.3
/5
rDev
+0.7%
look: 4.5 | smell: 4.5 | taste: 4 | feel: 4.5 | overall: 4.5
22oz Bomber
$7.00
Three Floyds
I believe the tap list at the brewery had this at 7%+ abv. Broodoo pours a slightly tarnished copper. There's a small amount of chill haze with a few streams of carbonation rising to the surface. The head is impressive. Three fingers of white fluffiness appeared on the pour and ever so slowly fell a one finger at it's smallest point. Left big chunky lacing all over the glass.
Another Three Floyds creation with an incredible hop character. There is a solid dose of caramel that stays where it belongs, in the background, but hops are the showcase. Start off with pineapple and sweetened grapefruit. Then along comes subtle pine a mild grassy/earthy hoppiness. Last but not least is some sweet fruit that brings to mind strawberries.
Caramel presents itself as a solid malt base. There's also a touch of biscuity pale malts. Hops come across the palate much more grassy than the aroma. The grassiness is accompanied by a sturdy bitterness. The sweet fruitiness is still there but not near as prevelant as in the nose. Subtle pine on the swallow.
Medium body that becomes creamy as it works over the tongue. The carbonation is on the gentle side and lets this beer work at it's own pace. Great bitterness on the swallow that lingers.
This is one of those beers that's refreshing with each sip but the bitterness on the swallow leaves you wanting another drink immediatly.
Three Floyds brewers are magicians with hops. Although the flavors of this beer aren't as complex as the aroma would suggest, it is wet hopped, it's still great. The aromas they can pull off with their hop selections are amazing (and flavors as well).
1,664 characters
4.54
/5
rDev
+6.3%
look: 4 | smell: 5 | taste: 4.5 | feel: 4 | overall: 4.5
22oz bottle picked up at the brewery for $7. Pours into my glass a clear copper orange hue with a half inch of bubbly, sticky white head on top of the brew. Harvest colors for a harvest ale! Aromas blast out of the glass with huge tropical, citric dank hop resins. It literally smells like rubbing a hop cone between your fingers. Wow, it's hard to stop smelling this one. Some slightly sweet caramel in the background, but this is all about the hops.
First sip brings a caramel, lightly toasted grain malt quickly run over by a rush of hops. Citrus and tropical fruit flavors along with green oily hop resins. There's a big bitterness but it never becomes too much. Sorta spicy. A hop lover's dream, this is one tasty brew.
Mouthfeel is medium bodied, smooth and creamy. Perfect carbonation, this brew is incredibly easy to drink and a bomber goes down without the blink of an eye. Another triumph in hoppy goodness from Three Floyds, this time in a lower abv beer. Pick this one up at all costs and drink it fresh. My favorite wet hopped harvest ale I've sampled this year. I need more.
1,090 characters
4.47
/5
rDev
+4.7%
look: 4 | smell: 4.5 | taste: 4.5 | feel: 4.5 | overall: 4.5
Poured from a 22oz bomber into two pint glasses. Thanks to HeatherAnn for the assist!
A: Pours a hazy golden-orange color. Virtually no head, just a faint skim and a little bit of lace.
S: Amazing hop aroma! It's got all bases covered. Oily, resinous pine, citrus, tropical fruit. Also noticed apricot, peach, and caramel. Wonderful!
T: Fresh, juicy, oily, sticky hops. Just read above for a description of the taste. As it warms I also noticed flavors of caramel malt, toasted malt, fresh cut grass, and Christmas tree clippings.
M: Oily and resinous. The hoppy mouthfeel alternates between bitter, juicy, peppery, and slick.
D: An absolute joy to drink. I wish FFF would do this one year 'round. Incredible!
716 characters
3.96
/5
rDev
-7.3%
look: 2.5 | smell: 4 | taste: 4 | feel: 3.5 | overall: 4.5
Just came in today at work. Needed to try it as soon as I could. So into the shaker...
A - Light amber colored body, with very little head that only lives a thin lace.
S - Very nice, complex hop aromatics. Citrus-like and sweet.
T - Starts out mild, straw-like and malty with a bit of spice. Pretty standard so far. Hops again seemed to be sweet, citrus and interesting. Finsh is very dry, with some vanilla. Another enjoyable wet hop ale.
M - A little light, but still nice and crisp.
D - Wish it was available year around.
531 characters
4.05
/5
rDev
-5.2%
look: 4 | smell: 4 | taste: 4 | feel: 4.5 | overall: 4
Found several bottle of this at City Wide in Mishawaka on monday ($9.99). I'm on a harvest ale kick lately what with Founders and Sierra Nevada harvest ales showing up nearby, so I got this one too. Bottle design is Three-Floydian, and not my favorite of theirs, but ok, i wont hold it against the beer. Pours brown with red and yellow glints of color. Whitish head that's nicely retained until i really start drinking it at which point it thins to a lace. Aroma is floral and grassy with lemon and oranges. Smells quite fresh and oily in terms of the hops, but not as powerfully as i had imagined. Reminds me the most of how SNPA smells. Taste is surprizingly mellow on the attack with only a touch of hop. This grows though, and flourishes into a nice bitter flavor of lemon rind and tangerines on a caramel malt backbone. Mouthfeel is my favorite thing about the beer...its a smooth, almost creamy beer, velvety almost, unusually so for the style, but its great, and certainly memorable. A very drinkable beer. Everyone should make a harvest ale.
1,049 characters
4.67
/5
rDev
+9.4%
look: 4.5 | smell: 5 | taste: 4.5 | feel: 4 | overall: 5
Had this on tap today in an imperial pint glass.
The beer is a fairly clear, dark orange/amber color with a fairly thin white head.
The smell is fantastic! Strong pine and grapefruit/orange citrus with definite caramel aromas mixed in .
The beer taste has caramel and biscuits as its backbone and strong hop flavors and bitterness. The hop flavors are grapefruits, orange rind, and pine. This bitterness is very strong, but not obnoxious in any way.
The mouthfeel is medium. This is a very drinkable beer - in fact the most drinkable 100 IBU beer I've ever had. It's also easily the best and most interesting harvest ale I've ever tasted.
642 characters
4.6
/5
rDev
+7.7%
look: 4.5 | smell: 4.5 | taste: 4.5 | feel: 4.5 | overall: 5
Don't think I'd consider this an IPA, don't think Three Floyds considers this an IPA either. I've had this one a bunch of times, but I felt it was high time that I finally reviewed it. Ok, here we go.
Pours into the big ol' pint glass with a dark red body, orange is in there, but also very rusty. There is a tan, rusty head sitting atop the beer, thin bubbling. Nose is of hops. Really, that's about it. Oily, piny, fruity hops, more of a piny hop than any kind of fruity hops, but there is still a little bit of fruit in there. Mouth is of hops. Slick, piny, oily, bitter, delicious hops, I even detect a little bit of grassy floral hops invited as well. Despite the fact you can smell this beer from a good two feet off the glass, it is quite drinkable, it isn't too strong in alcohol and the hops don't sting like some hop bombs I've had. I want more, but I think I killed their supply last time I went in.
911 characters
Broo Doo from 3 Floyds Brewing Co.
Beer rating:
95
out of
100
with
1943
ratings