Barrel Aged Behemoth
| 3 Floyds Brewing Co.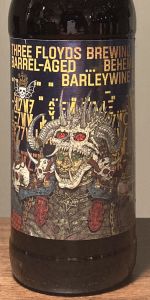 BEER INFO
Brewed by:
3 Floyds Brewing Co.
Indiana
,
United States
3floyds.com
Style:
American Barleywine
Alcohol by volume (ABV):
12.50%
Availability:
Rotating
Notes / Commercial Description:
American barleywine aged in Woodford Reserve bourbon barrels.
Added by GbVDave on 01-06-2007
Reviews: 65 | Ratings: 423
3.94
/5
rDev
-7.9%
look: 2.5 | smell: 3.5 | taste: 4 | feel: 4.5 | overall: 4.5
On tap at DLD '09 in a plastic cup. Poured to a to a deep dark brown, with little had or lacing, to the consistencuy of cough syrup. Nose was malty dark fruit, sugar cookie and bourbon. Mouthfeel was full, and a went back and forth between the biting sting of the bourbon and the swee thickness of the malt, yet all the while mellow. Taste was primarily bourbon, Karo dark syrup, and dark fruit, and the finish was very warming and smooth. At 12.5%, the folks at FFF did a good job of keeping the alcohol from being overwhelming.
Darn good beer, though not quite up to the DL status.
★
584 characters

4.5
/5
rDev
+5.1%
look: 4.5 | smell: 4.5 | taste: 4.5 | feel: 4.5 | overall: 4.5
A- Pours a ruby reddish color. Not too much head here just a few bubbles here and there.
S- Compared to the normal Behemoth the hops seem to have mellowed out quite a bit. I could pick up a nice wood smell, some bourbon and something that was spicy.
T- Tastes of bourbon, nice vanilla, woody and caramel malts. Very nice brew here a lot going on in here.
M- A huge beer, full in body and very low carbonation.
D- Wow this is a great beer. I really enjoyed this one. A sipper for sure.
★
491 characters
4.57
/5
rDev
+6.8%
look: 4 | smell: 4.5 | taste: 4.5 | feel: 4.5 | overall: 5
Barley's should be barrel aged. Like, normally, with few exceptions. They're the one style I really enjoy but absolutely cannot drink regularly because they're just too darn harsh. Oak smooths everything out, make it soft and blurry like you're looking around a room through a scotch glass.
And when you combine a stellar barleywine with an excellent aging process it should be no surprise that the end result is a great beer.
Dark ruby, almost flat. High ABV + aging = not much to look at.
Smells like a really, really smooth barleywine. Old furniture, woody hops, smooth whiskey.
Tastes like it smells. SMOOTH. Lots of whiskey, lots of hops, goes down like silk. Nothing harsh or syrupy, no burny alcohol. Just goodness.
★
727 characters
4.72
/5
rDev
+10.3%
look: 4.5 | smell: 5 | taste: 5 | feel: 4.5 | overall: 4
Sampled at DLD '09
One of the best beers I've ever had.
Pours light burgundy, a little cloudy. A decent, airy head forms and holds for a bit. Not a ton of lacing because of the high alcohol but the hops stick just a bit. Aroma is out of this world. Lots of fruits. Ruby Red Grapefruit is the frontrunner with plenty of other aged citrusy fruits to back it up. The bourbon barrel just did absolute wonders for the taste and aroma. The barrel is a touch more present in the aroma but it's still perfect in the taste. Hops are still pretty big in the taste but nicely rounded out with the age. Sweet but not cloying. The alcohol is heavenly. The fruity esters are perfect. Body is about full with just enough carbonation. A pure sipper at its finest.
★
749 characters

4.5
/5
rDev
+5.1%
look: 4.5 | smell: 4.5 | taste: 4.5 | feel: 4.5 | overall: 4.5
This was a memorable brew. On tap during Jan '09 at the BrewPub. Aged in (from FFFs management) Woodford Reserve Bourbon Barrels, this was unlike anything I've ever had before. Still the citrus and bitterness of Behemoth, very "in-your-face" but included a sweetness/sugary taste of bourbon...easy to detect! I could drink this beer until I pass out (which wouldn't take much with the ABV). One of my favs.
★
406 characters
4.79
/5
rDev
+11.9%
look: 4 | smell: 5 | taste: 5 | feel: 4.5 | overall: 4.5
From the Three Floyds Brew pub and WOW. Huge brew with alot different aromas on the nose but the biggest would have to be the bourbon. Super smooth mouth feel and hits the plate with a burst of sugars and hints of plum and citrus. One of a kind beer from a one of kind place. Thank you munster IN.
★
297 characters
4.45
/5
rDev
+4%
look: 4.5 | smell: 4.5 | taste: 4.5 | feel: 5 | overall: 4
Pours a nice ruby color with a short, creamy off white head.
Scent of bourbon. oak, caramel, sugars, and some fruit. Very nice bourbon and oak characteristics here.
Taste of sugars, bourbon, oak, caramel and warming alcohol. Finishes dry with a lingering oak flavor.
Mouthfeel is full bodied and very smooth with a small amount of carbonation.
★
346 characters
4.2
/5
rDev
-1.9%
look: 4 | smell: 4 | taste: 4.5 | feel: 5 | overall: 3.5
On tap at DLD '08. A syrupy pour of muddy amber/brown with almost no head or lace. The aroma was sugary carmel and bourbon. The flavor was almost that of melted caramel with tinges of bourbon seeping through. Very nice! The mouthfeel was lush and thick with minimal carbonation. Although my rating for this and the regular Behemoth are the same, these are two vastly different beers. Not anywhere near as hoppy as it is fresh, this brew has taken on a much sweeter, English barleywine character. I love it!
★
506 characters

4.76
/5
rDev
+11.2%
look: 5 | smell: 4 | taste: 5 | feel: 5 | overall: 5
So I went to FFF Monday after DLD for lunch since I live right by the brewery and this beauty and Oak Aged DL were still left. Have to say happy I got to try it since had to leave DLD early and I got to try it in a practically empty FFF which gave me the chance to fully appreciate it and write a full review. Served in a stemless goblet which look like a rounded old fashioned glass to me.
A - This is a dark apricot color that has hues of gold and bronze shining through it. There is a small ivory head that sits on the sides of the glass and really had no chance of surviving. Looks thick and viscous, almost syrupy like as it just coats the heck out of this glass. Very clean looking beer and actually after looking at it for a while, it reminded me of what a fine scotch looks like sitting in its glass. It seems to have a glow to it that just reminded of the old firewater. One of the most beautiful beers I've ever seen.
S - this was much sweeter and less hoppier than the fresh Behemoth that I've had on tap. It smelled of apricots and honey at first. Also get a big hit of oak, cinnamon and whiskey spiciness that let you know this was barrel aged.
T- First of I want to say that I loved this so much more than the regular Behemoth which I've only had fresh and on tap. I don't know if it was the year of aging or the barrel but this was so much smoother than it was fresh as the hops were much more subdued and the flavors all seemed to meld together. The first taste I got was candied apricots and then there came a hint of fresh toffee and caramel. Almost tasted like sucking on a Wehter's original. On the end, this was all counterbalanced by the effects of the Barrel aging as I got a bit hit of smoke, pepper, cinnamon, and whiskey flavors. One great thing about this beer is how much is how complex it was. All of the flavors were huge and prominent yet it was super balanced and each sip brought me a new flavor experience. One thing that I love about FFF Barrel aging is that they use Woodford Reserve barrels, which, if you have ever had the whiskey you would know this already, is one of the spiciest bourbons out there. These barrels really impart their odor and flavor in the beer and causes the beers to differ completely from their non-BA brethren.
MF - overall just how a barleywine should feel in the mouth. It was big, thick and sticky yet managed to not be cloying at alll. There was no carbonation at all and this was good as it just allowed all of the flavors to roll in and coat your tongue. The after feeling had a nice bit of spicy and astringent to it that reminded you of the effects of the BA
D - This was one insanely good beer and it was so easy to drink. In terms of taste, while it and Oak Aged DL are both 5's, I thought this one was even better than OA DL. If possible, I would give it a 6. Wish it had a bit of a bigger nose but oh well. Loved this so much more than the fresh Behemoth I had on tap and this experience inspired me to buy some Behemoth to cellar to see if the flavors will meld together as well in the bottle as they did after a year in the barrel. Try this if you get the chance as you will not be disappointed at all.
★
3,183 characters
4.24
/5
rDev
-0.9%
look: 3.5 | smell: 4.5 | taste: 4.5 | feel: 3.5 | overall: 4
Behemoth Barleywine (Barrel-Aged) was served on tap at FFF Brewpub during the 2007 Dark Lord Day. I was very excited to get the opportunity to sample this one even though it was presented to me in a plastic cup and served at extremely cold temperatures (-40F). The first thing that stood out in my mind (as compared to the bottled version) was the dark, ruddy brown color (maybe aged in the same barrels as the Dark Lord?) that was almost completely opaque with very little carbonation that created barely a tannish brown head. As the barleywine warmed, it started to let off some of those ripe, pungent Northwest hops that it's famous for, along with some serious vinous bourbon overtones (cherry tobacco, mint honey, cinnamon sticks & French vanilla) from the Woodford Reserve barrel. The rough-edged flavor expressed some of the treacle/toffee & toasted caramel sweetness that wasn't completely overshadowed by the marked bitterness or weighty alcohol. The finish was long, hot, and slightly coarse. This hefty, barrel version is certainly a sipper that might benefit from some additional aging to mellow out the rough edges. Here's to wood, it's good!
CHEERS! Beertracker
★
1,179 characters
5
/5
rDev
+16.8%
look: 5 | smell: 5 | taste: 5 | feel: 5 | overall: 5
On tap at Three Floyds.
I let it sit on the bar for a while to let it warm up a bit. Smell is incredible. Think a very nice bourbon whiskey smell complimenting a very refined, well melded barleywine. Taste is absolutely amazing. This is one to sip all day. Every sip was velvety smooth and better than the last. This barleywine has transformed into a incredible beer while in the barrel. I could not get enough of this beer. The guys at Three Floyds have taken barrel aging to the highest level.
Very glad I had the chance to drink this.
★
539 characters

4.3
/5
rDev
+0.5%
look: 4.5 | smell: 4.5 | taste: 4.5 | feel: 3.5 | overall: 4
This looks like a beer that has been sitting in a barrel for a while. Dark opaque russet. A very good looking barley wine and much more woody looking than the non BA version. Poured with no head.
Big resiny fig and raisin aromas with a toffee underlying that was scorched in hell. Dried fruit galore with nutty aspects. A floral somewhat citrusy hop esters linger deep in the background. Very reminiscent of a recent vintage Hardy's I sampled.
What a monster of a beer. Big alocohol in the mouth. Full of sweet toffee malts and melted caramel. Milk chocolate with rum soaked raisins. For Blake a big mission fig paste mid palate leads to the long candied hop finish that lasts and lasts. Grilled pear, and caramalized pineapple help tame the alcohol.
Mouth is a little thin otherwise very good and the type of beer I could sip daily.
★
843 characters

4.1
/5
rDev
-4.2%
look: 3.5 | smell: 3.5 | taste: 4.5 | feel: 3.5 | overall: 4.5
I had this on tap at FFF. It was very dark with almost no carbonation. The smell was heavy on the vanilla and alcohol, with some caramel. The taste is more of the same, very heavy vanilla and caramel, the alcohol was hidden nicely. The mouthfeel is slick and heavy, but it is so tasty it is very drinkable. In the same session I had a Surly Klaus and I thought the chocolate flavors from the porter were a much better mix with the burbon barrel aging.
★
451 characters
4.17
/5
rDev
-2.6%
look: 4.5 | smell: 5 | taste: 4 | feel: 4 | overall: 3.5
Had this on tap 1/10/07, first off this is definatly how i think a barrel aged Behemoth might taste.
A: Extremely dark for a barley wine, could tell this has definatly undergone a change in the barrel.
S: I am a sucker for barrel aged beers, I love the smell and the taste, its like drinking fine wiskey but instead its not 100 proff
T: LOTS of Bourbon here, very intense along with the alcohol, the snifter was almost too much, it was sooo intense.
M: Very silky, had the ability to coat your mouth with flavor, reminds me of the Kentucky Breakfast.
D: There is no way i could drink more than one snifter of this stuff.
★
627 characters
4
/5
rDev
-6.5%
look: 4 | smell: 4 | taste: 4 | feel: 4 | overall: 4
Served in a snifter at FFF 1/6/07. "BA Behemoth (aka Wood Aged Behemoth), the 2006 BBW that's been aged 1 year in a Woodford Reserve Bourbon oak barrel, 12.5% abv."
A: Pours a dark brown, almost black. No head with an off-white ring.
S: Huge boozy nose of bourbon with caramel and vanilla.
T: Bourbon, bourbon, bourbon, burnt toffee, cinnamon, caramel, and spices. Sweet with a hoppy/alcohol tang to the spicy finish.
M: Huge, slick, and coating. Massively thick, smooth, and oakey. Very still/low carbonation.
D: Surprisingly very drinkable considering the high abv. Maybe a tad too bourbony but very enjoyable none the less.
★
641 characters
Barrel Aged Behemoth from 3 Floyds Brewing Co.
4.28
out of
5
based on
423
ratings.