Barrel Aged Alpha Klaus
| 3 Floyds Brewing Co.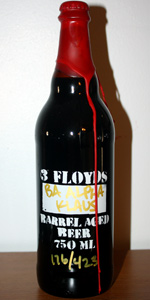 BEER INFO
Brewed by:
3 Floyds Brewing Co.
Indiana
,
United States
3floyds.com
Style:
American Porter
Alcohol by volume (ABV):
10.00%
Availability:
Rotating
Notes / Commercial Description:
No notes at this time.
Added by jeonseh on 01-10-2008
Reviews: 15 | Ratings: 105
4.09
/5
rDev
-1.9%
look: 3.75 | smell: 4 | taste: 4.25 | feel: 4 | overall: 4
Bottle number 307/423 opened on 4.20.13
A - Pours a very dark brown with a fizzy brown head that moves to the edges pretty quickly.
S - Strong bourbon, barrel, dark cherry and ripe fruits, sweet.
T - Bourbon, wood, barrel, sweet cherry fruits, finishes with some coffee and chocolate.
D - Mild carbonation with a heavier body.
O - Lots of things going on here: Fruit, barrel, coffee, wood, and sweet. I enjoyed it.
★
419 characters

4.19
/5
rDev
+0.5%
look: 4 | smell: 4.25 | taste: 4.25 | feel: 3.75 | overall: 4.25
Thanks to CLCardinal 84 for making this trade happen.
I do not have much experience with Three Floyds beers, and have always been curious surrounding their offerings (Dark Lord, Zombie Dust, Arctic Panzer Wolf, etc.). My bottle was Bottle No. 259 of 423.
When I think of porter's, I rarely think of big massive beers and generally jump to sessionable, "smaller" versions of stouts/imperial stouts. While this beer wasn't quite as massive as an imperial stout, it was definitely close. After cracking the bottle open, I smelled the all too familiar bourbon - and it was awesome. Big bourbon notes on the nose. Once in the glass, the beer showed solid carbonation with roughly 2-3 fingers of head. Color was medium tan.
One thing that stood out to me was the color of this beer. For being a porter, it was dark as night. The outer rim of the beer might have showed a light red-brown hue, but there was no light coming through this beer. The color/hue of this beer really reminded me of Victory at Sea by Ballast Point, another awesome massive porter.
Immediate flavors I could pick out were dark fruit, bourbon, some roasty notes, and light caramel. What really stood out to me was how much this beer reminds me of Melange No. 3 from the Bruery. I really loved the unique flavors of this beer - I was surprised the whole way from sip to finish. Where I think this beer falls short is the mouthfeel. Even though it was loaded with all sorts of beer goodness, it was a bit thin. I really wanted this beer to have smack or pop. There were so many awesome components of this beer. This beer was incredibly delicious, and hid the 10% ABV really well. I could have easily opened another bottle (if I had one) and been totally satisfied.
★
1,732 characters

4.45
/5
rDev
+6.7%
look: 4.5 | smell: 4.5 | taste: 4.5 | feel: 4 | overall: 4.5
BA Klaus
Finally crackin' this bad boy from DLD '12
Pours a deep black color with a surprisingly thick layer of mocha colored head. Sticky walls of lace.
The nose is full of rich, dessert-like flavors such as vanilla, dark fruits, coconut, and milk chocolate.
The flavors of this amazing brew are quite similar to the nose. Toasted coconut, vanilla, tannins, cocoa, and sweet butter.
The mouthfeel is full bodied with a mouth-coating oil that tickled the tastebuds for quite awhile after each sip. Moderate carbonation.
Overall, amazing brew that kinda reminds me of Vanilla Bean DL with less intensity. Pretty damn good and worth every penny at that. One of the better bourbon forward brews from the Floyds
★
713 characters

4.03
/5
rDev
-3.4%
look: 4.5 | smell: 4 | taste: 4 | feel: 4 | overall: 4
1487th Review on BA
Bottle to FW Snifter
750ml Waxed
2012 Vintage
Bottle #20/423
Thanks to KevanB for sharing
Shared with JealousChalice, KevanB & Schmoopsbeer
App- It poured out a dark brown, almost black pour with a 1-1/2 finger dark khaki head with a good amount of stick and cling to it.
Smell- Its a basic baltic porter. Malty, bourbon and a little bit of chocolate. Really a bit one dimensional.
Taste- This ia one of those beers where there the sum is better. The malty base with a bit of spice and vanilla and chocolate paired with good amount of bourbon, creates a nice beer but not a great beer.
Mouth- Its a solid medium body with a medium carbonation. The bourbon creeps up on you and balances itself it out with a nice bit of vanilla from the bourbon.
Drink- Well Kevan. You won wale wars for tonight. A good beer. Just not sure if great. I enjoyed this one alot. Just expected more.
★
903 characters

4
/5
rDev
-4.1%
look: 4 | smell: 4 | taste: 4 | feel: 4 | overall: 4
Dark brown body that's slightly translucent. Pours with a finger of head that retains nicely.
A lot of bourbon barrel on the nose, which brings notes of vanilla and caramel. Sharp roasted malt is present alongside the barrel. There's a faded herbal hop note buried in here, too.
Cocoa, bourbon barrel (lots of vanilla) and a sturdy roasted malt backbone. Pretty hoppy, a bit herbal and spicy. Medium-full body. Pretty hot finish. Really nice stuff, 3 Floyds knows their -bals. This was probably my favorite of the 3 bottled BA variations.
★
540 characters
4
/5
rDev
-4.1%
look: 4 | smell: 4 | taste: 4 | feel: 4 | overall: 4
Big thanks goes out to beeruser for sharing this one at a past tasting! Bottle #311 of 423! Served from bottle into a Sweetwater snifter. Poured a dark reddish brown with a half finger tan head that subsided to a minimal amount quickly. Maintained excellent lacing throughout the glass. The aroma was comprised of sweet malt, roasted malt, wood, spice, sweet alcohol, dark fruit, and subtle vanilla. The flavor was of sweet malt, vanilla, wood, spices, dark fruit, and sweet alcohol. It had a medium feel on the palate with medium-high carbonation. Overall this was a good brew. I really like the character that the barrel imparted on this brew as the base brew was good, but definitely not other-worldly. This treatment took it to a new level without doubt. A definite must try that I wish they would have made more of.
★
820 characters
4.67
/5
rDev
+12%
look: 4 | smell: 4.5 | taste: 5 | feel: 4.5 | overall: 4.5
Bottle 378/423
Courtesy of biglobo8971
A- Super dark brown almost black pour. Finger and a half width light tan, creamy head. Quickly recedes leaving loose rings of lacing.
S- Full on oak and vanilla. Dark chocolate and espresso. Slight cinnamon spice and a nice hint of molasses and licorice.
T- Oak, vanilla and chocolate. Huge dark roasted coffee and brown sugar. Licorice and molasses are light. Slight pine hop presence. Not nearly as sweet as the smell leads on. Still very good.
M- Light feeling with the high carbonation. Slightly chewy. Little alcohol warmth.
★
573 characters

3.85
/5
rDev
-7.7%
look: 4 | smell: 4 | taste: 4 | feel: 3.5 | overall: 3.5
Thanks, Frank!
A - Pours dark brown, cola-colored head, thin collar.
S - Bourbon up front mixed with oak and then light chocolate and light vanilla. The hops are basically non-existant from the barrel-aging, but I really don't mind that at all.
T - Bourbon-forward, chocolate, lots of barrel character, light vanilla. The barrel has really overtaken the base beer, but it's not overly boozy or oaky and there's still some light roast and chocolate in there. Alcohol is there, but doesn't interfere. Finish is bourbon and oak.
M - Full body, rich and boozy, creamy finish.
O - Probably my least favorite of the BA Alpha Klaus bottles that were released this year (Cherries & Plums), but still pretty darn good. I think the booze will settle down here in the next few months and it should be easier to pick out more then just bourbon and oak.
★
845 characters
4.2
/5
rDev
+0.7%
look: 4 | smell: 4 | taste: 4.5 | feel: 4 | overall: 4
750ml waxed bottle served in a Portsmouth snifter. Bottle shared by Frank (Lurchingbeast) I think? Thanks either way!
A: Pours a nice strong black color with dark brown edges. A thin tan head forms on the pour and recedes quickly to a thin ring. Stick sheets of lace are left down the glass.
S: Nice bourbon with a little spice with some nice roasty malts and some chocolate with a little oak.
T: Nice boozy spice with some light fruity esters poking in there as well. Roasted malts, light oak, smooth chocolate and some nice caramel and vanilla barrel sweetness on the finish.
M: Medium bodied with medium to low carbonation and a smooth boozy finish.
O: Very impressed with this one. I would really like to try the variants, but the this one had a solid and balanced barrel character.
★
791 characters

4.3
/5
rDev
+3.1%
look: 4 | smell: 4 | taste: 4.5 | feel: 4 | overall: 4.5
750 ml bottle I got at DLD 2012, bottle number 390/423, poured into a snifter.
A- Pours a deep brown, nearing black, topped with a thin mocha brown head, recedes to a thin ring around the edge and some wisps, but leaves lots of spotty lacing all over the glass.
S- Bourbon is the first thing I notice, oak barrels and just a bit of smoke, as it warms I pick up notes of vanilla, molasses, caramel and milk chocolate.
T- Warm, sweet bourbon is up front, has a chocolatey center with molasses and caramel, rounded out with barrel flavors of oak, vanilla and a bit of smokey heat. Finishes with warmth and smoke from the bourbon and lingering chocolatey sweetness.
M- Medium-bodied, smooth feel, carbonation is a bit high and the body just a hair too thin for a higher score, but overall very nice, booze provides some warmth and a bit of roughness. Finishes dry and warm.
O- A pretty damn nice beer, the whiskey is strong and warm but is still delicious.
★
957 characters

4.34
/5
rDev
+4.1%
look: 3.5 | smell: 4.5 | taste: 4.5 | feel: 3.5 | overall: 4.5
On-tap at DLD. Served in the standard tulip/snifter thing they have there. This is NOT the version with blackberries that was on-tap last year.
A - Near-black body. Thin tan cap and thicker ring. No lace of which to speak.
S - Earthy bourbon, chocolate, vanilla, toasted malts, well-hidden alcohol. Not much of the hoppy base beer left, although that'd be true after a year even without the barrel-aging.
T - Taste is a pleasant mix of bourbon, vanilla, roasted grains, and milk chocolate.
M - Surprisingly zesty carbonation. Medium-bodied, with an extremely dry and tannic finish.
D - I greedily finished my glass, even with the other great beers available on-tap. Another quality barrel-aged offering from the guys at Three Floyds, and one I wish they would make more often.
★
781 characters

4.11
/5
rDev
-1.4%
look: 5 | smell: 4 | taste: 4 | feel: 4.5 | overall: 4
Three Floyds busted out this special keg for DLD '11. Their menu didn't specify which type of bourbon barrel that they used. It poured smoothly and had a quickly dissipating khaki head, lacing the glass. It looked as if it were the prototype for a porter. The smell was of chocolate and soft bourbon. The flavors too were of light bitter and sweet chocolate, charry roasted malts, and bourbon. All of the fruit that I love so much in the regular version was absent. The bourbon wasn't overpowering in aroma or flavor but it overtook the regular aspects of this beer. It drank exceptionally smooth on tap, like most of their dark beers. This beer was good but not really too much like the regular Alpha Klaus.
★
708 characters

4.1
/5
rDev
-1.7%
look: 4 | smell: 4 | taste: 4.5 | feel: 4 | overall: 3.5
What a beer! Just had this on tap at the brewery. They served it in a small tulip style glass. Color is black with hints of red when held to the light. It left a 1/2" of tan head that reduced to a film leaving no lacing. When swirled this beer tears like a dark wine. The smell is very alcoholic, almost like whiskey. Taste is an insanely boozy Alpha Klause Porter with oaky fruit undertones and lots of spices. This is certainly a sipper. Finish this off with a Dreadnaught double IPA.
★
486 characters

3.92
/5
rDev
-6%
look: 4 | smell: 4.5 | taste: 4 | feel: 3 | overall: 3.5
Had at DLD '09. Pours very deep brown with very little off white head.
Smell is thick with bourbon and toasty vanilla. Chocolate, caramel, roasted malts, toffee and hints of black cherry on the nose.
Dominated by bourbon and thin in body and mouthfeel. The barrel aging seems out of whack with the Alpha Klaus and didn't work out like other BA Floyds beers I've had. Some roasted malts, chocolate, hints of earth and leather with some fruity aspects below the bourbon.
★
472 characters

4.2
/5
rDev
+0.7%
look: 4.5 | smell: 4.5 | taste: 4 | feel: 4.5 | overall: 4
This is this year's version of essentially Surly Claus except that they called it Barrel Aged Alpha Klaus on the menu when I was at 3F Brewpub on 1/10/08. It is the 07 Alpha Klaus aged for 1 year in a Woodford Reserve Whiskey Cask, which I have to say is one of my favorite whiskeys. Comes in at 50 IBUs according to 3f
A- Dark as the night with a creamy 1 finger, milky white head. reminded me of Guinness actually in terms of looks but not as dark as it had a bit of a reddish hue to it near the bottom as I held it up to the light.
S- really a nice smell and could get a lot off of this guy. Definitely smelled like a christmasy beer as it had a lot of spice and pine coming off it. I could also get hints of milk chocolate and caramel mixed in there. Could also definitely smell the effects of the barrel aging as there was an oaky, whiskey smokiness coming off it as well. Added some spicy notes to the smell. really nice just wish it was a bit more fragrant.
T- Initially sweet with a mix of milk chocolate and cinnamon hitting the tongue. Also there is a bit of oakey smokiness mixed in as well that hits the mouth later on in the drink. In a way, I think the sweetness reminds me of gingerbread cookies which kinda goes with the spicy, sweet mix together. There is a good bit of spices mixed in but not at all overpowering and have to say that it definitely reminds me of a holiday beer but not one that is at all overpowering.
MF- there is some light carbonation within this one with just enough thickness to make it good and tasty. Leaves a wonderful smokiness in the mouth after drinking it and a warming feeling in the mouth that I enjoy.
D- overall a very tasty and it did change its flavor profile a lot as it heated up. Wish I had some more and that the beer was bit more fragrant as I think that could have made this an amazing beer all the way around. As a whiskey drinker, I liked the effects of the barrel aging but it really was only marginal with this beer as it only added a bit of smokiness to the normal Alpha Klaus.
★
2,045 characters
Barrel Aged Alpha Klaus from 3 Floyds Brewing Co.
4.17
out of
5
based on
105
ratings.