Apocalypse Cow
| 3 Floyds Brewing Co.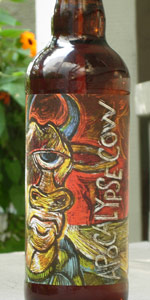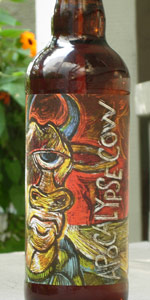 BEER INFO
Brewed by:
3 Floyds Brewing Co.
Indiana
,
United States
3floyds.com
Style:
American Double / Imperial IPA
Alcohol by volume (ABV):
11.00%
Availability:
Summer
Notes / Commercial Description:
9.5-11.0% ABV, 100 IBUs - This complex double India pale ale has an intense citrus and floral hop aroma balanced by a velvety malt body which has been augmented with lactose milk sugar. With this different take on an IPA we have brewed an ale that is both pleasing to drink and, once again, "not normal." Cheers! June release.
Added by mdm46410 on 11-23-2008
HISTOGRAM
Ratings: 2,136 | Reviews: 495
4.32
/5
rDev
+1.6%
look: 4 | smell: 4.5 | taste: 4.5 | feel: 4 | overall: 4
Poured a dark amber. Two finger white head that dissipates quickly. Slight lacing.
Smells so yummy. Juicy citrus hops all around here. Some nice sweetness as well. Small bit of pine and florals coming through too.
Man this is a juicy DIPA. Leaves the mouth watering from the moment it enters and keeps it going when its gone. Nice grapefruit and some pepper, caramel at the back end.
Nice drinkability for a 10%. I had to idea it was so high.
Fantastic effort by Three Floyds. I agree with the others though, this isn't hugely different from Dreadnaught, maybe a twinge sweeter.
583 characters

3.9
/5
rDev
-8.2%
look: 4 | smell: 4 | taste: 4 | feel: 4 | overall: 3.5
On cask at Pizza Port Real Ale 2009.
Imperial pint glass. Appears honey orange with a whispy beige head.
The aroma is sweet and bitter grapefruit, orange pith, and a significant bready/caramel malt backbone. It's pretty well balanced, almost tilting in favor of the malt. Not too bitter and not too sweet. That's a clever little saying I have here in my notes. It sounds pretty stupid now that I've typed it, but I'm going to let it ride.
The flavor is bitter up front with notes of sugary grapefruit, lemon, and orange. The malt is pretty damn sweet. This beer has quite the imposing malt profile. The finish displays the highest level of bitterness yet, but the malt ultimately has its way with the hops.
710 characters
4.47
/5
rDev
+5.2%
look: 4 | smell: 4.5 | taste: 4.5 | feel: 4.5 | overall: 4.5
22 oz. bomber into a snifter
Pours a mostly clear orange color with a half inch off-white head. It goes down to a skim and stays that way but a head can be revived quickly with a good swirl. Not much in the way of lacing.
Aroma is full of juicy citrus hops with some tropical fruit tones coming through as well. Some piney hops in there too and slight malt sweetness. A bit of spiciness mixed in there too with peppery alcohol.
Taste has some sweetness up front with lots of fresh and juicy hops. Again huge citrus component with nice complimenting tropical fruit. Slight piney and spicy hop flavor towards the finish. Some more sweetness in the back before bitterness takes over. A very slight warming sensation going down.
Mouthfeel is medium-full, very soft and creamy with perfect level of carbonation.
This beer is almost the same as Dreadnaught to me but with added sweetness and body. Which is an excellent thing to me since that's how I like my DIPAs. Great beer! Even better than when I first had it on tap months ago.
1,032 characters

4.32
/5
rDev
+1.6%
look: 3.5 | smell: 4 | taste: 4.5 | feel: 4.5 | overall: 4.5
This beer poured a slightly cloudy orange/gold with an off-white head in the Comfort Inn plastic cup. The nose was mostly citric and floral hops with a little hint of biscuit malt, it was more floral than citric. The taste was fantastic, a little sweet orange, a little pine, a little cut grass (more smell then taste), it started sweet and ended bitter. All the flavors were distinct and not on top of each other. I was really impressed with the mouthfeel, it was like a cask beer in a bottle, low carbonation, and creamy.
523 characters
3.28
/5
rDev
-22.8%
look: 4 | smell: 3.5 | taste: 3.5 | feel: 3 | overall: 2.5
As a big Three Floyds fan I was excited to try this version of an IPA and was hoping to have another Dreadnaught type experience. I am sad to report that didn't happen. Overall, too cloying and sweet. Certainly some fun stuff happening, but just too goopy..
Nice creamy white head forms atop a bright copper beer with excellent clarity. The color is startling and very nice. Some lacing forms and the head does fade rather quickly.
Aroma is bright and a true balance between the citrus hops and floral notes and the bold sweetness. It's right here that you get your first sense of what is to come.
Flavor just grabs you with the bold sweetness. Some deep tropical fruits, citrus hops and certainly fresh, but the bitterness almost takes a back seat to the sweetness. There is a slight touch of alcohol, but again the sweetness takes over and masks this.
Body was a bit too thick and not creamy, but almost syrupy.
I didn't find this extremely drinkable, and was a touch disappointed. If you love overly sweet DPA's then this is your beer. It's just not mine.
1,064 characters
4.2
/5
rDev
-1.2%
look: 4.5 | smell: 4.5 | taste: 4 | feel: 4.5 | overall: 4
I am glad they bottled this one. It's a lot like dreadnaught...with an extra kick in a few areas. It is a little sweeter....I don't know why people said it is over the top or gritty sweetness. I would challenge them to do a side by side with dreadnaught.
It is a tad bit more boozy and thicker as well.
A delicious brew, once again FFF does another wonderfully done NOT NORMAL brew. I tried finding a few more bottles of this the next day but they seem to be gone. Let's hope they bottle more.
494 characters
4.18
/5
rDev
-1.6%
look: 4 | smell: 3.5 | taste: 4.5 | feel: 5 | overall: 4
Bottle into tulip glass. Pours hazy amber with a two finger head. Mouthfeel is at first remarkably round and smooth for an IPA. Only later does the carbonated tang kick in. The lactose takes the lead; the sweet note has a bit of lavender and tangerine that seemlessly blend into intense floral and citrus hops. As in life sometimes, after the sweetness fades, the bitterness lingers ... after half a glass, the hops dominate the more subtle flavors. I'd suggest taking the occasional break to pick up the full range. Despite the bells and whistles, this is at its heart a killer DIPA. I view this as Dreadnaught's smoother and more sophisticated cousin: a fun beer that will challenge your palate.
697 characters
4.97
/5
rDev
+16.9%
look: 4.5 | smell: 5 | taste: 5 | feel: 5 | overall: 5
WOW!!!
Very intense hop aroma. Citrus and tropical fruit aromas (Mango and peach) hit you right away. A light golden color with a good white head. Head retention is very good. The beer is served in a tulip glass which helps with aroma and head retention. A medium malt sweetness is well balanced with the hops. The beer is listed at 100 IBUs, but it is not overly astringent. A good mouthfeel (med body), but not overly sweet as to be cloying. This is a very drinkable beer even with such a high ABV.
From the tasting sheet:
"This complex double IPA has an intense citrus and floral hop aroma balance by a velvety malt body which has been augmented with lactose milk sugar. With this different take on an IPA we have brewed an ale that is both pleasing to drink and, once again, "not normal". 100IBU, 9.5%ABV."
811 characters
4.45
/5
rDev
+4.7%
look: 4.5 | smell: 4.5 | taste: 4.5 | feel: 4 | overall: 4.5
very, very similar to a dreadnaught with the main difference being the addition of lactose. looks like a dreadnaught, smells almost like a dreadnaught, tastes almost like a dreadnaught. the lactose (i hate milk so was dubious about trying this) just gives it more residual sweetness and a fuller body as compared to a dreadnaught. glad i tried it. some haze via bomber.
369 characters
4.32
/5
rDev
+1.6%
look: 4 | smell: 4.5 | taste: 4.5 | feel: 4 | overall: 4
On tap at the brew pub.
A: Pours a golden hue with a nice fluffy one finger cream colored head. Great retention and some nice chunky lace.
S: Wonderful hoppy aromas with notes of citrus and grass. There is a real nice underlying buttery sweetness as well.
T: Wonderful bold citrus flavors from the start. Bitter grapefruit clashes with sweet orange. Hints of green grass and a bit of sugary sweetness.
M: Rather full in body for the style. Thick, smooth, with a good mix of bitter and sweet.
D: Very good, its a different take on one of my favorite styles.
561 characters
4.05
/5
rDev
-4.7%
look: 4 | smell: 4 | taste: 4 | feel: 4.5 | overall: 4
On tap at Three Floyds and served in a snifter. This beer poured a lightly hazed amber/orange hue with a thin head of beige foam that quickly receded, leaving behind minimal lacing. The aroma was made up of sugar coated oranges, grapefruit, and just a bit of caramel. Floral and sweet. The taste was also sweet and citrusy. Not overly bitter for the style. The lactose sugar really kept the hops in check. The mouthfeel was full-bodied and just a touch sticky. The alcohol was very well masked. Another solid and interesting brew from Three Floyds.
548 characters
Apocalypse Cow from 3 Floyds Brewing Co.
Beer rating:
4.25
out of
5
with
2,136
ratings