Region Riot
| 3 Floyds Brewing Co.
BA SCORE
82
good
69
Ratings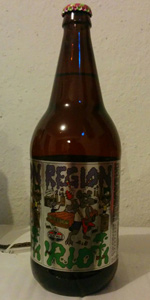 BEER INFO
Brewed by:
3 Floyds Brewing Co.
Indiana
,
United States
3floyds.com
Style:
American Malt Liquor
Alcohol by volume (ABV):
8.10%
Availability:
Rotating
Notes / Commercial Description:
This delightful malt liquor was brewed to celebrate the equally delightful "Region" that we brew in. Brewed with a portion of Indiana corn, this is what a malt liquor should be.
10 IBU
Added by Wadsey on 09-06-2011
This beer is retired; no longer brewed.
Reviews: 14 | Ratings: 69
3.88
/5
rDev
+9.9%
look: 4.25 | smell: 3.75 | taste: 4 | feel: 3.75 | overall: 3.75
A new batch of Region Riot brings FFF malt liquor out of retirement, courtesy of a super-classy 32oz bottle. Smells like an old-style corn-infused cream ale, befitting the local corn used here. Hardly a lightweight, though, at around 8%. Hops, if even present at all, are undetectable. Still has some of the classic FFF yeast character that's prevalent in their more German and Belgian style offerings, but this is nothing fancy--some straw, some corn, a hint of apple, and some fusel notes, all wrapped in a short, dry finish.
527 characters

3.6
/5
rDev
+2%
look: 3 | smell: 3 | taste: 4 | feel: 3 | overall: 4
A:Very pale
S:Very sweet, not much in the way of hops, tastes like you would expect malt liquor to taste.
T:Smooth, malty, sweet. It's not offensive in any way.
M:Very light, not much carbonation.
O:If I was inclined to drink malt liquor, this is the one I would drink. It's worth trying.
292 characters

3.46
/5
rDev
-2%
look: 4 | smell: 3 | taste: 3.5 | feel: 4 | overall: 3.5
On-tap at Pizza Port Carlsbad
Pours a pale yellow color with a short lived white head. Smells like malt liquor. Really sweet and simplistic aroma. Sugar and corn with a bit of cereal and not much "real" malt aroma. Some sweet fruit esters, though. The sweetness dominates the flavor, too. Sugar, apples, cereal, and corn make up most of it. No hop flavor or bitterness to speak of.
382 characters

3.75
/5
rDev
+6.2%
look: 3.5 | smell: 3.5 | taste: 4 | feel: 4 | overall: 3.5
On tap at Pizza Port Carlsbad
A: Pale golden color with a thin white head.
S: Very sweet and malty with hints of corn flakes/corn pops and grain.
T: Again, a little too sweet, but smooth with just the right amount of corn and grain to the flavor. Slight hints of hops on the finish, but mostly just grain and slightly bready malt. Tastes wrong but somehow also right, if that makes any sense.
396 characters

3.55
/5
rDev
+0.6%
look: 3.5 | smell: 3.5 | taste: 3.5 | feel: 4 | overall: 3.5
Served in a clear solo cup. Excellent presentation.
Appearance: clear, light gold color. 1/4 to 1/2 inch head that quickly dissipated.
Smell: grainy & sweet. You can already tell there is barely any hop presence.
Taste: Holy malt city Batman! Lives true to the style, and you can definitely pick up the corn notes.
Mouthfeel: The beer is thin, delivers the flavor package, and goes down easy. Unlike cheaper interpretations of the style, there is not residual alcohol burn, or unappealing after-taste. It is actually a refined and enjoyable finish, just the way its meant to be.
Overall: most of us have had some kind of gas-station malt liquor in our young days, and the fact that I ordered, drank, and finished this beer with as much pride as any other floyds offering really speaks for what it is. Its a good malt liquor, and for the style, id drink it again. Lots of other breweries condition malt liqours and they turn out fantastic, but kudos to FFF for a solid interpretation.
988 characters

3.21
/5
rDev
-9.1%
look: 4 | smell: 3 | taste: 3 | feel: 3.5 | overall: 3.5
A - Pale, straw colored beer with a bit of a white head that left just some minor spots on the sides.
S - A lot of sweetness, with some corn. Not really getting much else on there, no real hop presence to speak of.
T - It tastes pretty smooth, alcohol is hidden. Tastes like sweet grains and a bit of corn syrup. Pretty boring, but not bad.
M - Pretty light, a little bit of a syrupy feel. Softer carbonation.
O - Not bad for a malt liquor. The beer had a very warming effect on my stomach, which was unexpected and just went to show how well the alcohol was hidden. Got a little too sweet at the end, but no real complaints.
629 characters

3.28
/5
rDev
-7.1%
look: 4 | smell: 3.5 | taste: 3 | feel: 4 | overall: 3
Served on tap in a chalice at Northdown. What the hell, it's Three Floyds, let's dive into some malt liquor!
Appearance: My glass arrives with an already subdued head, more of a thin off-white film with a bit of a collar. The beer itself is a mostly transparent golden color that is a little hazy in the center.
Smell: The aroma is relatively faint. Gentle bready malts, some honey and caramel sweetness, creamed corn, grass, hay, and some herbs.
Taste: The flavor takes a few strange twists and turns. That is not language I would normally use, but the progression of flavors is more of contrast than flow. It starts out sweet, with some honey and bready grains. Next I get a tinge of herbs, grass, and spice. The flavor switches gears again with notes of sweet creamed corn, before finally finishing with a light prickly ethyl alcohol flavor.
Mouthfeel: There is some sweetness throughout, giving off a juicy or vegetable quality. The body is definitely on the full side for the style, which is definitely an improvement over most other offerings. The carbonation is slightly crisp and creamy, which is also better than average. There is a slight stickiness.
Overall: If I am to believe Three Floyds description of this beer, "this is what a malt liquor should be," I think I might just not be a malt liquor guy. My review shades upward to adjust for style, but this is just not a beer I would really order again.
1,421 characters
3.65
/5
rDev
+3.4%
look: 3.5 | smell: 3.5 | taste: 3.5 | feel: 4 | overall: 4
Draft served in a goblet. Hazy pale straw gold, thin broken skim, spotty lacing on the side sipped from. Looks alright, smells pretty sweet, but that's to be expected.
Sweet and grainy, yeasty with grape notes, sweet corn.
A little bit overly sweet, but clean enough. Corn, grain, yeasty fruitiness. Honey orange shortbread cookies. Creamy feel... clean, no fusels or any of the typical nasty connotations of the style. Light bitterness fades in and out. Don't let it get too warm though.
Gets da job done dere. Region rats mount up... put dis shizz in 40's!
561 characters

3.08
/5
rDev
-12.7%
look: 3.5 | smell: 3 | taste: 3 | feel: 3.5 | overall: 3
Served in a snifter at The Firkin.
Nice, another craft malt lickah to torture my tongue with. It pours the color of Death's horse from Revelation topped by a finger of lightly dusty white foam. The nose comprises bleached wheat, corn syrup, corn starch, white bread, sweet flowers, and dried grass. The taste holds notes of corn syrup, sweet grass, marshmallow, sweet flowers, light menthol, white bread, and an awful lot of bleached wheat and flour. It's sweet, syrupy, and dry all at the same time. Wow. The body is a heavy-feeling medium, with a light moderate carbonation and a lightly syrupy feel. Overall, definitely one of the better lickahs I've had, but there's just too much corn- and wheat-sweetness for me to ever really enjoy this stuff.
751 characters
4.25
/5
rDev
+20.4%
look: 4 | smell: 4 | taste: 4 | feel: 4.5 | overall: 5
On tap at FFF.
Served in imperial nonic pint.
"this is what a malt liquor should be..."
-FFF menu description of the beer
I like this. Sure, it isn't as hopped up as other FFF beers, but it Ian meant to be.
Some lactose-like sugar and boiled corn reminds me slightly of creamed corn-- but it isn't bad (I'm afraid that description has people fearing the worst).
The alcohol is well hidden, and only slightly makes an appearance as this warms to room temp. The nose is mild and easy onthe senses.
The body is well carbed with a little oily quality.
The beer itself is pale yellowy golden with a small white head that left frothy bubbles and lace.
Overall: this is a very solid malt liquor. If you were looking to get fucked up, this would certainly be a contender.
It's a malt liquor, and rated as such, it scores pretty well. Of course, I am a bit of an FFF fanboy, so tale my review with a grain of salt.
916 characters

3.71
/5
rDev
+5.1%
look: 4.5 | smell: 3.5 | taste: 3.5 | feel: 4 | overall: 4
On-tap at Three Floyds. Served in a half pint glass.
A - A finger of white foam settles to a partial cap and thick collar, leaving behind splotchy lace. Lightly hazed dark urine yellow color.
S - Zesty and slightly skunky herbs, some corn cob but surprisingly low sweetness for a malt liquor. There's a touch of lemon, as well as some bready malt and yeast character. Somewhat understated, even when warm.
T - Taste is again fairly bland. Lightly sweet lager, with some corn and sugar cookie sweetness. Finishes surprisingly clean. Hops drop off completely from the aroma.
M - Pleasant moderate carbonation supports a surprisingly light and refreshing body. Alcohol isn't noticeable at all.
D - It's an easy drinking malt liquor that isn't overly flavorful. However, the alcohol is masterfully disguised and there aren't any of the off-flavors that you typically get from malt liquors. Superior to most malt liquors I've had, but not in the top tier either.
963 characters

3.33
/5
rDev
-5.7%
look: 4 | smell: 3.5 | taste: 3 | feel: 3.5 | overall: 3.5
On-tap at FFF.
A - Pours a clear light yellow color, thin ring, wisps on top.
S - Big malty sweetness, caramel, hay. Lots of sweetness, very little/if any hops.
T - Big on the malts and sweetness (duh), caramel, wheat/hay, slight herbal/medicinal finish.
M - Light to medium, good carbonation, dry finish.
O - One of the better malt liquors...I need a brown bag for my glass. Not going to have again, but had to give it a try.
436 characters
2.73
/5
rDev
-22.7%
look: 3 | smell: 2.5 | taste: 2.5 | feel: 3.5 | overall: 3
Tried this at FFF. Served in an Imperial pint glass.
A: Well it looks like a malt liquor. Cloudy yellow straw with a white film ring around the edges after the thin head subsides.
S: Yup, smells like one too. Big corn fixture. Although there is a slight hoppy presence in there which makes this actually a decent smelling beer.
T: Just like the nose. Corny barley and a light fruit hoppiness mixed in there.
M: Typical creamy mouthfeel. Decently carbonated with a medium to light body. Some hops left on the palate which is refreshing to say the least.
O: Well, this is a malt liquor. It's still not a good style and this isn't really a good beer. Rating to style though, it is definitely an above average representation of a malt liquor. If the hops weren't present this would have been another bad beer, they make it tolerable.
836 characters
3.89
/5
rDev
+10.2%
look: 3 | smell: 4 | taste: 4 | feel: 3.5 | overall: 4
Region Riot on tap at Three Floyd's on September 6, 2011 
Served in an imperial pint. 
A: Appears hazy straw with minimal head. 
S: Light aromas of Corn Pops and citrusy hops. 
T: Subtle malty sweetness leads off, followed by corn-like grains and citrusy hops. Medium-high bitterness. Grainy finish. 
M: Medium-heavy body and medium carbonation. Smooth mouthfeel.  
O: Region Riot is an above-average representation of the malt liquor style. 
467 characters
Region Riot from 3 Floyds Brewing Co.
3.53
out of
5
based on
69
ratings.