Cuvee De Viking
| 3 Floyds Brewing Co.
BA SCORE
81
good
17
Reviews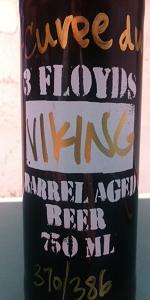 BEER INFO
Brewed by:
3 Floyds Brewing Co.
Indiana
,
United States
3floyds.com
Style:
American Barleywine
Alcohol by volume (ABV):
not listed
Availability:
Limited (brewed once)
Notes / Commercial Description:
RuggGoop aged in red wine barrels.
Added by MasterSki on 11-15-2011
This beer is retired; no longer brewed.
Reviews: 17 | Ratings: 60

3.97
/5
rDev
+13.8%
look: 3.5 | smell: 4 | taste: 4 | feel: 4 | overall: 4
huge thanks to dave for bringing this to our last tasting!
750ml capped bottle. bottle number 361/386. poured into a bruery snifter.
pours out a super murky brownish color with a retentive off white head. decent lacing and retention.
lots of the wine barrel coming through in the aroma. acidic red wine, a touch of funk, grapey. slightly woody, oaky, vinious subdued funk. maybe even a touch of orange peel and caraway seed.
again, the wine barrel is at the forefront. lots of slightly acidic red wine, fruity esters. some of the grapey vinious oak, a bit funky, and some grainy rye.
this has kind of a thinner feel to it.
quite a complex beer, but really not my style. way too much wine qualities that really made the BW aspect of the beer become lost. to me this came off more like a belgian style than a BW.
817 characters
4.39
/5
rDev
+25.8%
look: 3.5 | smell: 4.5 | taste: 4.5 | feel: 4 | overall: 4.5
Bottle number 155/356, served into a d'Achouffe tulip. Pours the color of mulled cider - a thick burnt orange with a nice mother-of-pearl head that retreats to a thin film and little lacing.
The aroma is incredibly complex - red wine, tart cherry (hmmm... should this have sour notes?), a slight brett, rye seeds, rye toast, and pine resin buried at the end. The front end of the sip is light and tart with cherries and apricots, then oaked red wine, sweet rye malts, and a nice hop finish. The balance of sweet, spicy, and sour is excellent and unexpected. The mouthfeel is a little thin from the barreling, but the tartness makes it work.
This is really a delicious and unique beer, but I'd worry that aging it would work against what's going on here - the balance is spot-on, but it may get too sour in months to come. If you were lucky enough to get a bottle, I'd recommend enjoying it soon!
897 characters

3.93
/5
rDev
+12.6%
look: 2 | smell: 4 | taste: 4 | feel: 4.5 | overall: 4
Bomber (#299/386) into a medium-sized Duvel tulip. Big thanks to Chris for sharing this treat.
A: Murky, muddy, disgusting orange-brown body under a solid finger of coarse tan bubbles. Not great retention, light lace. Ugly.
S: Bizarre, but enchanting. Huge, tart wine presence on top of sweet butterscotch and wheat. Grapes, oak, vanilla, butterscotch, and craziness.
T: Sweet and vinous, with all the flavors just exploding. A bit tart, with the fruity and tannins delivering some bitterness to balance out the sweet, buttery malt. Nice.
M: Full body; plenty of fine, creamy carbonation. Excellent.
O: At first I wasn't entirely on board with the buttery component, but once I stopped thinking and just experienced the beer I found that I really enjoyed it. It's certainly unique, that much can be said without a doubt.
Cheers!
834 characters

2.58
/5
rDev
-26.1%
look: 3 | smell: 2.5 | taste: 2.5 | feel: 3 | overall: 2.5
Thanks again, Richard.
The pour is a murky amber color with a small off-white head. An interesting combination of aromas. I get grapefruit, vinegar, and lots of butter. There's a bit of a solvent/chemical type smell to it as well. The flavor is a touch watery, which I suppose is a good thing, but the bad things about the aroma (butter, vinegar, solvent) are also there. A touch of fruit such as apple and citrus. A bit thin in body with medium carbonation.
461 characters
3.77
/5
rDev
+8%
look: 3 | smell: 3.5 | taste: 4 | feel: 3.5 | overall: 4
Bottle 340/386. Brought up to the Royale tasting group bottle share.
A - pours a cherry brown with a decent head that forms a small rim around the beer after it dies down
S - lots of sticky caramel malts with some vanilla in the mix
T - barleywine flavors come through. Starts with sweet citrus hops that move to caramel and vanilla. Ends with a boozy port cherry flavor and a touch of sourness. Pretty solid complexity - combines a barleywine with some sour notes added in.
M - decent body and leaves a dry, tannic finish
D - nice complexity / take on a barleywine. Worth a shot if you were lucky enough to grab a bottle.
627 characters
3.61
/5
rDev
+3.4%
look: 2.5 | smell: 4 | taste: 3.5 | feel: 4 | overall: 3.5
750ml waxed bottle served in a Surly Darkness snifter. Bottle 232/386. Random Sunday afternoon opening before the Blackhawks game with danielnovak3. Thanks for the pour Dan!
A: Pours a very murky brown with a thin off white head forming on the pour. The body is very still and there are very few bubbles.
S: Smells of vinous barrel and dark fruits. There is a caramel like sweetness to it as well with a faint hoppiness. The barrel is showcased so far.
T: More barrel here. Vinous red wine smell with a mild oak. Nice Three Floyds grapefruit hop profile in there that is much more potent than the nose. There is some tart green apple and the finish is a sweet butterscotch. ABV is completely hidden.
M: Heavy bodied and sticky with lower carbonation. It works very well and is typical of the "-Goop" beers.
O: Once you get past the fact this looks like toilet water after a bad case of Taco Bell it really is nice beer and the red wine barrel is showcased without being the star of the show. The beer works well together.
1,026 characters
4.03
/5
rDev
+15.5%
look: 4.5 | smell: 4 | taste: 4 | feel: 4 | overall: 4
Three Floyds Cuvee De Viking
Poured into a tulip glass from a 750ml bottle.
Bottle 227/386
Barrel Aged Ruggoop
A – Pours a very nice murky and muddy slight orange liquid with a lively and nice dense ecru head. The head is about 0.5 inches tall and there are some bigger medium sized bubbles intermingled. In the glass it looks like a murky glass of Mississippi River water. In a good way. (4.5)
S – Very complex nose. Starts off with some strong hop character. Tons of grapefruit notes and other citrus aromas which indicate a nicely hoped brew. There is some nice woody notes in there mixed in with some sweeter malt notes. There is some slight molasses as well as some mild burnt caramel. Dark fruits as well as some slight vinous character. The nose is pretty well balanced between the hop notes and the malt backbone. Overall this is a big beer. (4.0)
T & M – Interesting taste that's for sure. There is definitely more red wine and woody oak notes on the flavor than the nose. The flavor is lighter than I expected. After the initial vinous and woody notes there is a nice hop intensity and bitterness that comes up. Slight grapefruit and orange notes and some nice bitterness throughout the middle portion of the beer can be perceived. There is some nice boozyness to the beer as well. The wood notes give it a real earthy tone and the vinous and slight red wine character also make it quite earthy. The red wine portion of the flavor is more of a subtle cherry and dark fruit note as opposed to the wood, which is a bit more intense. The beer has a nice medium mouthfeel but it is a bit lighter than expected. (4.0) (4.0)
O – Very interesting and complex take on this beer. The flavors are intense and interesting and at some points seem conflicting but it is still delicious. (4.0)
1,804 characters
Cuvee De Viking from 3 Floyds Brewing Co.
3.49
out of
5
based on
60
ratings.