Barrel Aged Alpha Klaus With Cherries
| 3 Floyds Brewing Co.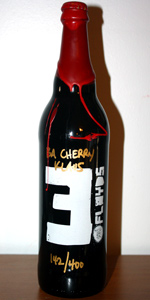 BEER INFO
Brewed by:
3 Floyds Brewing Co.
Indiana
,
United States
3floyds.com
Style:
American Porter
Alcohol by volume (ABV):
10.00%
Availability:
Limited (brewed once)
Notes / Commercial Description:
No notes at this time.
Added by MasterSki on 03-18-2012
This beer is retired; no longer brewed.
Reviews: 11 | Ratings: 55

3.21
/5
rDev
-15.1%
look: 4 | smell: 3 | taste: 3 | feel: 3.5 | overall: 3.5
Dark brown body that's slightly translucent. Pours with a finger of head that retains nicely.
The aroma is ashy, hoppy, a bit boozy. Less overt bourbon barrel than the other BA AK variations. The cherries don't bring much sweetness, but rather an odd earthy tartness that doesn't entirely work. Smells a bit more oxidized than the others, too.
The palate is similar to the nose. The cherries don't bring much in the way of good flavor, providing mostly tartness and tannin. Roasty, ashy, and quite hoppy. The fruit seems to clash with the base beer here. Plum Klaus was much better.
584 characters

2.41
/5
rDev
-36.2%
look: 3.5 | smell: 2.5 | taste: 2 | feel: 3 | overall: 2.5
Served in a Sweetwater mini-snifter.
Damn, I knew I should've written down the bottle number... Anyway, this stuff pours a deep ruby-brown topped by a finger or so of light tan foam. Th nose comprises booze (all up-front and in-your-face and whatnot), roasted malts, cheap whiskey, tobacco, light fake cherry, earthy greens, and a kiss of cocoa. Man, things just flew right up my 'strils and caused a ruckus. The taste brings in much of the same, with the cherries tasting more medicinal, the booze really pushing for dominance, the barrel appearing charred and unloved, and the roast just getting in the way, creating more unnecessary havoc. The body is a lithe medium, with a light moderate carbonation and a slick feel. Overall, a fairly sad beer, considering the strength of its base.
789 characters

4
/5
rDev
+5.8%
look: 4 | smell: 4 | taste: 4 | feel: 4 | overall: 4
Thanks to Mike (AgentZero) for sharing this one. Served in a Captain Lawrence tulip.
A - Tan foam settles to a thick collar, and a few wisps on top, but no lacework. Very dark brown body.
S - Compared to the plum version this is surprisingly boozy. Plenty of oak and whiskey, along with some vanilla, mild chocolate, and tart cherry skins.
T - The taste is significantly darker in tone, with roasted malts, dark chocolate, and oak bitterness supplemented with sweeter cherry flesh. There's a mildly astringent note in the finish.
M - Medium-bodied, with a tannic and slightly roasty texture, and a dry finish. Carbonation is at a pleasant medium-low level, although the cherry version is a bit hotter than the plum one. Perhaps a touch of fruity acidity.
D - A fairly enjoyable twist on Alpha Klaus, but probably the least successful barrel-aged version that I've had the pleasure of trying. I guess this barrel had more residual whiskey than the one with the plums?
971 characters
4.34
/5
rDev
+14.8%
look: 4 | smell: 4.25 | taste: 4.5 | feel: 4.25 | overall: 4.25
Christmastime treat, on tap at the pub.
Alpha Klaus is an excellent base beer for barrel aging, though its relatively light ABV might disappoint some. But the lack of super intense nodes make it so the cherries are easier to discern than they would be in a BA Russian Imperial.
Aroma is sharp and somewhat chocolatey with some cherry cordial nodes becoming prominent as it warms. Very ripe, organic-smelling cherries: none of the Robotussin nodes that drag down many other cherry stouts and porters.
Tastes like it smells, but richer and more rounded. Rough porter grained smoothed out by barrel aging, but little burn or burniness were imparted. The cherries come in near the middle, and like I said they're easy enough to pick out, but they never become the beer's defining feature.
791 characters
3.51
/5
rDev
-7.1%
look: 4 | smell: 3 | taste: 3.5 | feel: 3.5 | overall: 4
Bottle number 293 of 400 - Purchased at 2012 DLD
A - pours a black taupe head
S -smells of cherry and dark chocolates, but not much else
T - sweet cherries open this up, but are taken over by dark chocolates. A little spicy bourbon moves in and finishes off with cherry. Not as flavorful as I was hoping but still pretty good.
M - medium bodied, good carbonation
D - overall, this one was a disappointment for me. I was stoked to score a bottle are dark lord day, and having had the barrel aged dark lords I was hoping I was in for a treat. Not worth the price its commanding to obtain, but glad I got to try it.
617 characters

4.09
/5
rDev
+8.2%
look: 3.5 | smell: 4.5 | taste: 4 | feel: 4 | overall: 4
Thanks AsianZero for this one!
A - Pours dark brown, tan head, thin collar.
S - Chocolate covered cherries, light roast, a slight "fake fruity" note to it, oak, light tartness. As the beer warms a bit, the cherries come out more pronounced and it loses a bit of the fake fruity notes. The booze is decently smooth, but you know it's there for sure.
T - Similar to the nose, not quite as much cherries even after it's warmed up a bit. Chocolate, light roast, oak, light cherry, dark fruity notes, light tart notes. The alcohol is pretty well-hidden for me, which I quite enjoy. Finish is chocolate, cherry, and booze.
M - Medium to full, rich and smooth, creamy finish.
O - Really enjoyed this one, and the barrel-aging adds some nice complexity to an already enjoyable porter. I would def have this again and would probably trade for another bottle. Good stuff.
866 characters

3.53
/5
rDev
-6.6%
look: 4 | smell: 3.5 | taste: 3.5 | feel: 3.5 | overall: 3.5
Reviewed from notes. Appearance is identical to alpha klaus, black opaque with short tan head. The smell is hot with barrel character up front, the hoppiness from the base is there, but obviously has been aged a bit and has lost it's pop. Bitter chocolate notes come through along with syrupy cherry character. The taste is also hot with dark fruit character and plenty of oak. The carbonation seems a bit too high with a medium body. Overall, I enjoy the base beer by itself much more than this variant. The fruit and the barrel detract from the delicious hoppy porter that Alpha Klaus is.
590 characters
4.08
/5
rDev
+7.9%
look: 4.25 | smell: 4.25 | taste: 4 | feel: 4 | overall: 4
#351/400. 750ml waxed and capped bottle into a Founders snifter. Shared by schen9303.
Pours a 1.5 finger foamy mocha colored head with low retention. Beer is moderately thin but pitch black. Lacing is stringy and sparse with moderate stick. Big legs. Very good.
Nose is chocolate, coffee, cocoa, booze, peat and rotting red fruit. Sweet and robust. Very aromatic. Enticingly good.
Opens chocolate, cocoa and roasted malt. Red fruit floats in and out of the background, sweetening the experience. Boozy throughout. Fudge. Some leather, wood and molasses at the end. Finishes sweet with a hot aftertaste. Nice complexity. Real deep.
Medium to full bodied with moderate carbonation. Foamy and smooth in the mouth and goes down boozy and thick. Messy finish with a surprisingly clean aftertaste. Pretty nice. A touch carbonated.
I'm surprised at the low ratings of this one. There's nice complexity here and this beer really grew on me quickly. The flavors, although they're a little weird at first, combines nicely as this one warms. Worth seeking out.
1,055 characters

4.12
/5
rDev
+9%
look: 4 | smell: 4.5 | taste: 4 | feel: 4 | overall: 4
Reviewing the Barrel Aged Alpha Klaus With Cherries from Three Floyds Brewing Company out of Munster, Indiana.
Score: 92
Bottle #223/400, 2012 vintage. Served in a snifter glass and enjoyed on 06/23/12. A big thanks to Moe for cracking this one at the inaugural Chicago craft beer lovers meeting.
Appearance: Pours a dark brown color with a slight reddish tint. Pours a thick ring around the glass of tan bubbly head. No real lacing. 4/5
Smell: A nice medley of cherry, oak, brown sugar and whiskey-esque caramel malt. 4.25/5
Taste: Same flavors as the nose implied, but with more whiskey in the balance: whiskey-caramel, oak and cherry. There is a mild musty hoppiness on the front/middle of the tongue. There is a little chocolate flavor too, but it's pretty subtle in my opinion. This beer has a completely different flavor profile than regular Alpha Klaus. 4.25/5
Mouthfeel: Medium bodied, medium-minus carbonation. Mildly malty-sweet. Dry mouthfeel. 4/5
Overall: A nice, albeit expensive barrel treatment. This one is a different beast altogether from the base beer (Alpha Klaus). Though tasty, with a bottle count of 400 and price tag of $30, you're better off hunting down a Fruet.
Recommendation: Worth trying, but not worth going out of your way to hunt down. There are plenty of better beers that cost more than $20 out there if you really want to drop that much on a single beer.
Pairings: Flank steak.
Cost: $30 for a 750 ml bottle.
1,453 characters

4.1
/5
rDev
+8.5%
look: 4 | smell: 4 | taste: 4 | feel: 4 | overall: 4.5
750 ml bottle, bottle number 34/400 from DLD 2012, poured into a tulip glass.
A- Pours a dark brown, topped with a finger of fizzy tan head, leaves no lacing.
S- Very boozy aroma, lots of whiskey and oak, cherry is prominent from the start but as it warms some chocolate and caramel aromas come out.
T- Blend of roasted grain, chocolate and caramel, and mild cherry flavors, the flavor is still dominated by barrel characters of oak and smooth whiskey, some vanilla as well. As it warms some sour black cherry skin flavor comes out towards the end. Has a nice sweet chocolate finish.
M- Medium-bodied, moderate carbonation, has a smooth feel, warm finish.
O- A nice beer, glad I got to try it, but I enjoyed the regular BA variant a bit more.
747 characters
4.74
/5
rDev
+25.4%
look: 3.5 | smell: 4.5 | taste: 5 | feel: 4.5 | overall: 5
This blows regular Alpha Klaus out of the water.
A: Not special; brown with a bit of tan head.
S: Heavy bourbon. Hot cherry, oaky aroma that makes me want to just dive into this bad boy.
T: Similar to the smell, but with caramel malt in there and the bourbon is surprisingly round. This is amazing right now and I wish I had another bottle to see how it tastes in a year or two once the bourbon mellows a little.
M: Smooth and creamy, way more full bodied than your average porter (barrel-aged or not). Coats the inside of your mouth.
All around fantastic. Would really love to have another shot to drink this beer.
621 characters
Barrel Aged Alpha Klaus With Cherries from 3 Floyds Brewing Co.
3.78
out of
5
based on
55
ratings.