Bully Guppy
| 3 Floyds Brewing Co.
BA SCORE
61
poor
13
Reviews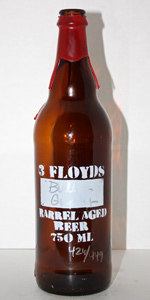 BEER INFO
Brewed by:
3 Floyds Brewing Co.
Indiana
,
United States
3floyds.com
Style:
American Pale Wheat Ale
Alcohol by volume (ABV):
not listed
Availability:
Limited (brewed once)
Notes / Commercial Description:
Gumballhead aged in cognac barrels with peaches for one year.
Added by MasterSki on 09-25-2012
This beer is retired; no longer brewed.
Reviews: 13 | Ratings: 54
1.98
/5
rDev
+21.5%
look: 4 | smell: 1 | taste: 2.25 | feel: 3.5 | overall: 1.25
OK! I've been looking forward to trying this monstrosity for a while. A sort of masochistic desire to find out "how bad can it really be?" The answer is more complex than "REALLY F*$&ING BAD!"
It actually looks pretty great. Nice carbonation, radiant yellow, good clarity. The aroma ... is the worst part. Paint thinner, fingernail polish remover. Burnt hair macerated in strychnine. Maybe some peach pits and marmalade in there, some oak. It's a car crash rubber necking experience, it's like picking at a scab.
The flavor isn't actually that offensive. It's odd, but not horrible. There is a stone fruit sweetness and a lot of herbal notes ... carraway, fennel? I'm failing to recall having not taken notes and the taste memory being overwritten by the aromatic awefulness. The feel is decently creamy, lighter than expected, not harshly chemical or acidic which was shocking considering the smell.
903 characters
2.33
/5
rDev
+42.9%
look: 3 | smell: 2.5 | taste: 2 | feel: 2.5 | overall: 2.5
Orange toned dark color.
Nose is very chemical and "off." Not at all inviting.
Flavor profile unfortunately follows nose on this one. While this review is from notes from 2013, the biggest word in my one page of comments is "UGH." So be it.
245 characters

1
/5
rDev
-38.7%
look: 1 | smell: 1 | taste: 1 | feel: 1 | overall: 1
Thanks to Dustin Powers for generously opening this up and making sure anyone at the DLD Compound who wanted a pour of this beer got one!
A- Who cares what the appearance of this beer is, anyway? It looks hazy, dark copper orange. It actually reminds me of concentrated urine. Or otherwise the urine that comes out of a person who's in acute kidney failure. Which I'm thinking at the time, is probably what's going to happen when I drink this beer.
S- Nail polish remover. Straight up acetone. I took a microfabrication lab course in undergrad and we'd clean off our molds with liters and liters of acetone. This is the exact same thing. Straight up acetone. Smelling this should have set off all sorts of warning bells in the minds that Our Creator gave us and Nature fine-tuned to keep us wary of poisonous substances. And it did. But alas, I suppressed it and took a sip...
F- A disgusting combination of acetone, formaldehyde and other undescribable industrial chemicals that Three Floyds dumped into this beer. There is nothing natural-tasting about this beer. No malt, no wood, no peaches. This is just toxic waste. I wonder if Three Floyds dumped a bunch of peaches into toxic waste barrels already filled with industrial waste, "barrel aged" it and then sold it to people. Seriously, where is the f'ing FDA when you need them?
M- Thin bodied, disgusting beer that merited an instant drainpour after one 0.001oz sip that I regretted taking immediately. And I regret even more that I passed the glass over to my friends so they could try this beer, even though most of them asked to try it. I feel like the biggest dick ever for doing this.
O- Worst beer ever. Thanks so much to Dustin Powers (powz87) for sharing this gem of a beer with us. You're such a kind person, the best BeerAdvocate I've ever met.
1,817 characters
1.02
/5
rDev
-37.4%
look: 1.25 | smell: 1 | taste: 1 | feel: 1 | overall: 1
Pour a glass of nail polish remover and it will taste better. I'm higly disappointed in 3fs, they should have never released something this bad. I will never blindly buy another bottle of 3fs. I will never recover the taste buds this beer killed.if you still have a bottle, throw it away.
288 characters

1.15
/5
rDev
-29.4%
look: 3 | smell: 1 | taste: 1 | feel: 1.25 | overall: 1
Other then the Voodoo Donut Maple Bacon this has to be one of the worst beers ever made. We have a bottle share and tried this. I almost puked. It smells like nail polish remover and doesn't taste that much different. It almost taste like something you would have to take if you wear dying from something. Three Floyd's is my favorite Brewery and this one just didn't pan out. I was really curious on how it would taste because the idea of it seemed weird in the first place. But I do give them credit for being inventive I just wouldn't have sold it to the public. I would have taken the loss on it and not ruined the brand of making amazing beers. Some of the guys said if they were dying of dehydration and the only thing was Bully Guppy they would rather die.
763 characters

1.25
/5
rDev
-23.3%
look: 3.5 | smell: 1 | taste: 1 | feel: 2 | overall: 1
Taken from notes from pre-FOBAB tasting. Trying to type up a review here before now made me gag too much.
Pours golden orange with a small white head. Little retention or lacing, but was a small pour.
Smell like nail polish remover and paint thinner. One friend said Windex. Not out of the question.
Flavor is unquestionably straight up nail polish remover with a little apricot flavoring. Completely horrible.
Light bodied lowish carbonation.
Finally a new beer to take over my mantra as worst I've ever tried. How the hell does something like this get released? I'm pretty sure it was aged in barrels that used to contain paint thinner and I'm surprised I didn't go blind after drinking it. Seriously did anyone think to taste test this one? Glad I wasn't the one to drop my $$ on this.
793 characters

1.12
/5
rDev
-31.3%
look: 3 | smell: 1 | taste: 1 | feel: 1 | overall: 1
Pick up a bottle at the brew pub, opened on Christmas Eve
A: A golden / amber color with a white head
S: Nail polish remover or paint thiner cant pick which one
T: Lots of chemicals and a little peach. It was not very good. I let this beer sit for a few mins hoping it might get better, boy was I wrong..
M: Light body
O: Really bad, they should have drained poured this themselves at the brewery
402 characters

1.92
/5
rDev
+17.8%
look: 3 | smell: 1 | taste: 2.5 | feel: 2 | overall: 1.5
Warning, this beer is an abomination to your senses. They should have named this one Frankenstein; an experiment gone way wrong... This baby should have been aborted immediately after conception, but instead it was bottled and sold for $20 a pop.
Like most fans of Three Floyd's, I love trying as many of their beers as I can because they are a great brewery who make an exceptional amount of quality beers. And I like that they are not afraid to take chances. However, Bully Guppy was a swing and miss project that just never delivered.
The most offensive quality about this beer was the smell. Many other reviews likened it to smelling nail polish remover - nail on the head. It was extremely overpowering and because of this, I think it really killed your taste buds.
The only redeeming quality about this beer was the way it finished. It had a smooth, sweet, and almost cream-like finish that tried to trick you into drinking more. But the next time I'd raise the glass to my face I'd quickly be reminded of how deceiving this beer was when that scent came through. Overall, this was probably the most disappointing beer I've had by Three Floyd's, but the occasional miss happens to even the great breweries.
1,215 characters

1.27
/5
rDev
-22.1%
look: 3.5 | smell: 1.5 | taste: 1 | feel: 1 | overall: 1
Reviewing the Bully Guppy from Three Floyds Brewing Company out of Munster, Indiana. This beer is barrel aged Gumball Head.
Score: 10
Fall 2012 vintage bottle served in a small snifter glass and consumed as part of a tasting held on 11/16/12. Even 1-2 oz pours of this was way too much.
Appearance: Pours a golden apricot color. The head is a white-ish color. Too small a pour to say much about the head/lacing/retention outside of the color. 3.5/5
Smell: Vanilla cake, nail polish, wheat and window cleaner. 1.5/5
Taste: Straight up tastes like acetone and Windex with a hint of peach. Gag reflex kicked in immediately after sipping. 1/5
Mouthfeel: Light bodied, low carbonation, light alcohol. 1/5
Overall: Quite possibly the worst beer I have ever had the displeasure of consuming.
Recommendation: Avoid this beer like the plague.
Pairing: The kitchen sink.
Cost: $20 for a 750 ml bottle.
900 characters
2.49
/5
rDev
+52.8%
look: 3.5 | smell: 2 | taste: 2.5 | feel: 3 | overall: 2.5
Had this at a bottle share along with Cabra, Dark Lord (2012), This Goes to 11 (bells) and Serendipity (New Glarus).
Appearance: Dark orange and very wheaty. It looks exactly like you'd expect it to, gumballhead with some time in a barrel.
Smell: Well, the rumors are true. This is nail polish remover upon first smell. Luckily it fades in about 3 minutes and mellows out. Ive talked to a few people who dumped the bottle after 2 sips, but you have to let this thing breathe for a little while. Once it calms down, the wheat comes through and even some fruit flavors behind a big cognac punch. We had a bottle of cognac that we passed around and all smelled and then smelled BG and it definitely brought out more than just acetone.
Taste: Much like smell, this changed pretty quickly from first sip to last. Its grating and awful for the first few minutes, but again, as it mellows, the cognac, peach, and wheat flavors come out. Pour this beer hard and walk away for a few minutes. It really does come into its own.
Mouthfeel: With small sips, this beer literally disappeared in my mouth. its really light and... refreshing is the wrong word... bubbly. Again, with time, this whole thing changes. Let it calm down and warm up.
Overall: Honestly, I have no idea. 3 out of 5 of us poured this beer out, Me and the other guy that finished it actually started to come around to it. It's an interesting idea and worth trying, but probably not worth seeking out for anything other than curiosity.
BONUS MINI REVIEW:
"THE BULLY LORD" - Dark Lord and Bully Guppy Black and Tan
Ok, so this was cool. We made one black and tan with the last pours of these two bottles. Dark Lord '12 is very sweet and the actual flavors of these beers cancelled each other out and all we were left with was the barrel flavors. Lots of cognac and coffee on the nose. A fun experiment, not something I'll ever have the chance to do again.
1,918 characters

2.23
/5
rDev
+36.8%
look: 4 | smell: 1 | taste: 2.5 | feel: 3.5 | overall: 2
Bottle thanks to Frank (lurchingbeast). Served in a Hill Farmstead tulip.
A - Big white foam settles to a thick collar, wisps, and minimal lacing. Murky apricot-colored body - almost a bit fruit purée-esque.
S - Horrendous. Smells like I arrived home to my wife removing her nail polish. There's a hint of malt and boozy cognac in the periphery, but this smells like some sort of industrial solvent. If I didn't know this was a beer, I probably wouldn't drink it.
T - The taste isn't nearly as bad as the aroma. Some pale malt sweetness, with a bit of sweet cognac and peach in the finish. Thankfully doesn't taste like nail polish remover (not that I'd know what that tastes like), but it isn't very exciting either.
M - Smooth, medium body, with surprising heft for a beer using the Gumballhead base. Lower carbonation, and a bit of cognac burn in the finish. A bit tannic from the peaches and the oak, although I suspect it's more of the former.
D - The smell is an absolute abomination. Otherwise it's merely a below average fruit beer. The lower price point probably should have been a tip-off about how bad this was going to be. I generally love 3 Floyds, but releasing some of these 'experiments gone wrong' is pretty insulting - this isn't a start-up brewery that can't afford to pour this sort of thing into the sewer.
1,333 characters

2.74
/5
rDev
+68.1%
look: 3.5 | smell: 2 | taste: 3.5 | feel: 1.5 | overall: 2.5
Very interesting beer.
Nice darker orange pour with slightly frothy head.
Definitely got the 'nail polish remover' shock right off of the bat, but the flavor doesn't back that up. On the front end you get a bit of heat, with a strong cognac influence followed by a nice sweetness and mellow peach flavor off the back end reminiscent of maple syrup. Body was very light.
Definitely not for everybody, but if you can get past the initial aroma, you may be pleasantly surprised.
480 characters

1.47
/5
rDev
-9.8%
look: 3 | smell: 1 | taste: 1.5 | feel: 1.5 | overall: 1.5
Creative but awful.
Smells like peach nail polish remover. Nearly knocked me out. The smell lead me to believe we may have to call poison control after tasting it.
Flavor followed the nose at first. Industrial chemicals with some peach undertones and a maple like sweetness in the back. I am guessing that is the cognac flavor. I could not taste any of the base beer in this at all. It was completely overpowered during the aging process.
The mouthfeel was thin. Very thin for a barrel aged beer especially. I doubt this was aged for too long in the barrel.
Overall it was a very creative beer, but it was just not very good. At times I thought it was drinkable, and as it warmed it just got worse and worse. Luckily it was split between three of us because just the few ounces I tasted were incredibly hard to drink. Three Floyds often nails it with their experimental beers (except for sours). This goes to show you cannot do everything right all the time.
962 characters
Bully Guppy from 3 Floyds Brewing Co.
1.63
out of
5
based on
54
ratings.