Saint Sylvester's Flander's Winter Ale
| Brasserie De Saint-Sylvestre
BA SCORE
84
good
12
Reviews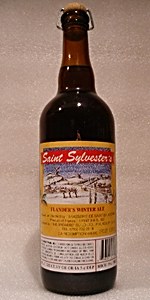 BEER INFO
Brewed by:
Brasserie De Saint-Sylvestre
France
brasserie-st-sylvestre.com
Style:
Saison / Farmhouse Ale
Alcohol by volume (ABV):
8.50%
Availability:
Winter
Notes / Commercial Description:
No notes at this time.
Added by BeerBeing on 06-26-2007
Reviews: 12 | Ratings: 16
3.31
/5
rDev
-11%
look: 4 | smell: 3 | taste: 3.5 | feel: 3.5 | overall: 3
Poured from a 750ml bottle into a tulip glass.
A: The beer is a light reddish brown color, with a large off-white head that fades slowly and leaves a thick lace on the glass.
S: The aroma is full of sourness of dark fruits, along with light malts and some Belgian yeast.
T: The taste is tart and sweet with flavors of cherries, raisins and other dark fruits along with a slight touch of chocolate. There are also some flavors of Belgian yeast, spices and a little bit of hops that come in. The malt character is hearty but over-shadowed. The after-taste is slightly sour.
M: Crisp and a little smoother than most sour ales that I've had, medium body, medium carbonation, finish is clean and dry.
D: A little tasty, goes down easily enough, not too filling, good kick, good representation of style, it's not a bad beer and it's better than most sour ales that I've tried, but it I still don't like it enough to want to drink it again.
938 characters
3.88
/5
rDev
+4.3%
look: 4 | smell: 3.5 | taste: 4 | feel: 4 | overall: 4
750 ml bottle - a bit of a pain to open - a metal piece with a very tight champagne cork that required a corkscrew). Poured into tulip glass:
Pours brown with a tan head that lasts (though with a slight patchiness until gently stirred), with vanishing trailing lace.
Tastes sour and bready - vinagrette (almost balsamic) with light caramel and floral/grassy notes and herbal/earthy spicing.
The taste is sour and bready. Some caramel sweetness and an herbal/floral/grassy sharpness balancing it out. It's nicely balanced, though sour overall. It has a dry, white wine-like finish.
It has an effervescent, medium body. Not really "wintery", but nice - towards "champagne-like"...though a bit fuller than a summer brew, so that's where the "winter" part is. Regardless, it has a nice, smooth body. The only thing possibly keeping it from being higher is the slight uneven carbonation. Still - it works well-enough.
Okay - I don't quite see it as "winter" - I suppose, though, it leans in that direction. Who cares...I like it, and could drink it in any season. Sourish but balanced - not overly complex, but enjoyable. Alcohol well-covered. A very nice brew, with a certain uniqueness.
1,188 characters

3.97
/5
rDev
+6.7%
look: 3.5 | smell: 4 | taste: 4 | feel: 4 | overall: 4
yer shittin' me? I'm the first to review this? no way! Well, here we go, drinking a Flander's Winter Ale in late June, why the hell not...
hazed, dark amber brew...slim, tight off-white head...high carbonation...
Nose is large and complex, dark fruit, spice, nuts...raisins and cherries, very brandy-like, but then a citrus blast rolls through...nice, but overly spritzy.
Taste: lemon-y champagney...big citrus meets big carbonation....sweet and fruity...nice and yeasty. Very nice. yum, sweet and malty...bright and lively...
mmm, how "wintery"...how "Flanders-y"....but, damn it, I can drink it, and it brings a smile to my lips...yum,yum...
long, citric finish, medium bodied, ever-so tasty...work on the label, though....
738 characters

3.9
/5
rDev
+4.8%
look: 4 | smell: 4 | taste: 4 | feel: 4 | overall: 3.5
2006 bottling; Sampled July 2009
A careful pour into my 25cl tulip glass leaves me with three fingers of light tan colored froth. The beer is a dark plum color that shows a brilliantly clear, amber-red hue when held up to the light. The aroma smells of caramel, toffee and Christmas spices (faint cinnamon, nutmeg, ground cherry seeds, and perhaps a touch of fenugreek). The aroma definitely has a fruitiness to it as well; it reminds me of a mix of berries, some rich, though light cherry notes and a touch of rum soaked raisin notes. The finish has a nice toasted grain note as well as a browned biscuit like aroma. The aroma on this is quite nice, and definitely in line with how a Christmas / Winter beer offering should smell like.
The beer is dry up front, but picks up a distinct cherry note in the middle that adds to a perceived sweetness. This is also fairly light bodied and easy drinking. Other fruit flavors of blackberries and sweet currants are also noticeable, though the cherry note seems to edge them out just a bit; all in all though the fruit character is definitely the most noticeable part of this beer. There is a light tartness to this beer that also helps to accentuate the fruit notes. This is not all fruit though, as there is a nice malt edge to this beer that contributes notes of caramelized grain, just a touch of dark toast, ample brown bread crust notes and an interesting whole-grain cracker like character. I am surprised how little oxidation has showed up yet, there is likely some here, but it mostly seems to have accentuated the fruit character at this point in time.
This is a nice beer, it has held up well over the years as well and I find myself enjoying this much more than I had initially expected to. It is perhaps not the richest, most complex beer, but it is certainly nice.
1,824 characters

3.63
/5
rDev
-2.4%
look: 4 | smell: 3.5 | taste: 3.5 | feel: 3.5 | overall: 4
A: Poured a nice deep mahogany-red color with a spongy 2 finger dirty white head that retained quite well while leaving a fair broken column lacing behind.Visible carbonation was quite strong as well.
S: spicy with some trace nutmeg along with a dried fruitiness. Was not as funky as I thought it would be being a farmhouse ale but there was a faint muskiness to it.
T: There was a spicy flavor, of cinnamon, ginger and a very rich creamy caramel flavor. Some dried cherries, tart yeastiness as well sneak in.
M: slightly creamy, dry with a good carbonation presence.
D: A decent drinking xmas farmhouse ale, something different, well balanced spice wise and an easy winter sipper that was enjoyable
707 characters

3.65
/5
rDev
-1.9%
look: 3.5 | smell: 3.5 | taste: 3.5 | feel: 4 | overall: 4
I found this at Springbrook Liquors in Bloomingdale, IL for $6.99. Big 750ml brown bottle with a medal bar holding down a wine cork, which is a bit of a pain to open.
The beer was a fairly clear brownish color that gave off some red mahogany tinting when held to the light. The pour gave me a 1½-finger off-white head that lasted about 2 minutes, without leaving much lacing.
The smell was very grapey mixed with other tart fruits, a few spices, and a little bit of typical barnyard funk.
The taste was very complex. It starts out with a wine-like grapiness, tart cherries, and some bready malt flavors. Then I picked up some alcohol soaked raisins, a bit of mysterious sourness, and some Christmas spices. Then under all this is some Belgian yeast funk and mild citrus hops. The result is OK, but not the most pleasant tasting saison I've ever tried - but certainly not the worst either.
Champagne-like mouthfeel. Medium bodied and highly carbonated.
Very drinkable as long as you're a fan of saisons. If it's your first farmhouse ale, one may be enough.
1,061 characters
4.1
/5
rDev
+10.2%
look: 4 | smell: 4 | taste: 4 | feel: 4 | overall: 4.5
an oud bruin fashion with a fantastic dark fruit quality. lightly spiced with a surprisingly light body and an untraceable alcohol. dark reddish brown with murk and a nice beligan sized head. nose of cherry tart but not sour particularly balanced with sweet and sour fruit and earth. very fresh ester of fruit. strong blackberry, black currant earthiness. with a mild tart of cherry that has some orange peel and coriandor to it. very mild in comparison to the fruit though. but gives it that nice earth quality that is so nice in a flemish sour... even though this isn't completely that.
588 characters

3.9
/5
rDev
+4.8%
look: 4 | smell: 4 | taste: 4 | feel: 4 | overall: 3.5
Appearance: Dark amber pour, small off-white head
Nose: Tart with raisins, cherries, figs, spices, nutmeg and nuts.
Taste: Lemon-sour and tar with oak, raisins, cherries, spices, figs and dark fruits. Very christmas-y. Makes me think of various rum cakes and the like.
Mouthfeel: Medium body and carbonation
Drinkability: Decent flanders red.
346 characters

3.78
/5
rDev
+1.6%
look: 4 | smell: 3.5 | taste: 3.75 | feel: 4 | overall: 4
Poured a hazed out brownish garnet with a nice fluffy off white head leaving sheets of lacing down glass.
Sour malty rained on hay aromas persist, a touch of acettic sour maybe.
tart tart tart malty sweetness giving way to a long dry champagne like finish.
starts with a mouth watering tart sour that leads to a very dry finish leaving me wanting to sip again.
Well, as this was a gift I have no idea of price point yet given the right price I would buy this. The bottle I am consuming is several years in the cellar. Enjoyed this very much, thank you Par'Ker!
564 characters

4.73
/5
rDev
+27.2%
look: 5 | smell: 4.5 | taste: 5 | feel: 4.5 | overall: 4.5
Right off the bat: If I had gone in thinking this was a Saison, I would have been flummoxed. If I had gone in thinking it was a Biere de Garde, I would be downright disappointed.
However, having neither of those pre-conceived notions, I am happy as a clam. In fact, until I came on BA to write this review, the word "Saison" never once entered my mind.
It's a sour Flanders brown ale; a southern/French Flemish take on an Oud Bruin. And it's delicious
Ap: Wonderful cloudy tea-colour with a vanilla bean head.
Sm: Warm malt, mild funk, coca nib, and a hint of vanilla, and toasty straw.
T: Divine sourness opens into a floral gateway to biscuity goodness. Perfect for a cold winter's night. Lots of notes of sour grapes, raisins, Madeira, and walnuts.
M: Avoids being too sweet and sticky -- I'd give it a 5 but it's ever-so-slightly too carbonated for my tastes.
O: At $5/bottle, it's a steal. If you love sour beers, don't miss this one. Well-balanced, easy-drinking, and great with food. This would be PERFECT with Thanksgiving/Christmas dinner -- whether ham, goose, OR turkey.
1,086 characters
3
/5
rDev
-19.4%
look: 3 | smell: 3 | taste: 3 | feel: 3 | overall: 3
Pours brownish, hardly a head but leaves light lacing. Nose of yeast, bread, and sour! The taste matches the nose, yeasty, bready, and that sour! I was surprised to find out that it had a champagne-like finish..that was nice. I probably wouldn't recommend this to many people, however the fun is in the tasting.
311 characters
4
/5
rDev
+7.5%
look: 4 | smell: 4 | taste: 4 | feel: 4 | overall: 4
Having looked and only seeing 2 reviews of this beer and knowing I had a bottle, I had to review it. It was recommended to me by a guy at a liquor store and it was on sale. After looking it up, I was really curious. Bottle calls it "Flanders Winter Ale" (making me think it's a Flanders Red Ale), BA calls it a Saison. Let's see what it is...
Poured from 750ml bottle into tulip glass. Pours a dark amber with a thick 2 finger white head that lingers. Score 1 for Flanders Red.
Smells like tart fruit, some malts, and a slight hint of yeast. Score 2 for Flanders Red.
Taste is a bit dry, with some tart cherry flavor mixed in with some spices and yeasty breadiness. Honestly, it tastes like half Flanders Red and half Saison. This is a style bending beer, and I like it.
It's a very drinkable beer. Lots of small bubbles, medium body. I'd have another (though I ended up drinking the whole bottle myself). I'd buy this one again. The label is ugly as hell, and the only reason I bought it was because it was a Belgian style and on sale. For a beer this good, the label doesn't do it justice. I didn't really review based entirely on style because I am not sure the style fits the actual beer, but it's basically a Flanders Red Ale mixed with a Saison. It makes for a really tasty beer, and if you like either of those styles, you'll probably like this.
1,356 characters
Saint Sylvester's Flander's Winter Ale from Brasserie De Saint-Sylvestre
3.72
out of
5
based on
16
ratings.