Island Reserve: Wet Hopped Very Brown India Pale Ale
| Cisco Brewers Inc.
BA SCORE
84
good
30
Ratings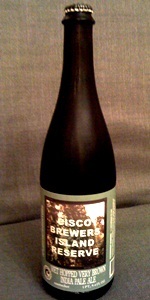 BEER INFO
Brewed by:
Cisco Brewers Inc.
Massachusetts
,
United States
ciscobrewers.com
Style:
American Brown Ale
Alcohol by volume (ABV):
not listed
Availability:
Limited (brewed once)
Notes / Commercial Description:
No notes at this time.
Added by silentjay on 10-21-2011
This beer is retired; no longer brewed.
Reviews: 15 | Ratings: 30
3.65
/5
rDev
-1.9%
look: 4 | smell: 4 | taste: 3.5 | feel: 3.5 | overall: 3.5
Very brown bodied, with big 3/8" bubbly head.Americo's bottle, thanks for bringing back. Hoppy aroma. Malty mostly. just a hoppy American brown, whose hops perhaps are not the best match for a brown.I would like more complexity of flavour.Drinkable.
251 characters
3.95
/5
rDev
+6.2%
look: 4 | smell: 4 | taste: 4 | feel: 3.5 | overall: 4
Tulip glass, last pour. Murky brown, lots of suspended yeast. Ever present khaki tan foam, sticky lacing left inside the glass. Great lasting retention, foam never breaks.
Smells like your typical black ipa (even though it's in fact brown), sweet citrus, coffee and cocoa roast, green vegetal pine sap. Pleasant, not especially pungent or over the top in any way, and that's ok.
Grassy green bitterness, grapefruit rind and a flash of citrus sweetness, bakers chocolate and coffee, simultaneously hoppy and roasty, mellow and balanced. Medium bodied, smooth and fairly easy drinking. Would drink again, a little pricey though, considering the similar options out there.
672 characters
3.95
/5
rDev
+6.2%
look: 4 | smell: 4 | taste: 4 | feel: 3.5 | overall: 4
Deep ruby brown color. Appears clear. Large frothy head that leaves plenty of chunky ring lace.
Huge grapefruit hop smell. Prickly.
This is a very hoppy beer. My only complaint is the thin body. The carbonation is appropriate. Very little malt base, what is there is a toasted, slightly burnt, flavor. The rest is bittering hop with a lot of citrus zest and white pepper.
375 characters

3.95
/5
rDev
+6.2%
look: 4.5 | smell: 4.5 | taste: 3.5 | feel: 4 | overall: 4
Thanks to Chris for sharing this one. Served in a Hillfarmstead tulip glass. An Indian Brown Ale of some sort.
A - Generous tan foam settles to a thin cap, leaving behind plenty of sticky lacework. Dark brown body - quite attractive.
S - Really hoppy nose, with tons of dank and earthy hop presence. CZT? There's a nice chocolate-forward brown ale in the background to support things.
T - The taste is unfortunately not quite as successful - the herbal and earthy hop bitterness doesn't integrate as well with the brown ale base for some reason, as the bitterness clashes with the chocolate and nut sweetness.
M - Medium-bodied, with medium-low carbonation, minimal alcohol, and a very oily and resinous finish.
D - Solid beer. If it tasted as good as it smelled it'd be a winner. The Island Reserve series is certainly an interesting collection of brews, but I think I'd prefer to see Cisco's fruit beers instead.
919 characters

4.08
/5
rDev
+9.7%
look: 4.5 | smell: 4 | taste: 4 | feel: 4.5 | overall: 4
A-Pours "Very Brown". Cream colored head matches the creamy consistency. Head does not leave much lacing, but it does retains very well.
S-Lighter grassy hoppiness. Some darker maltiness too. A bit grainy. Maybe even a bit nutty as well. The hops are mostly leafy/grassy and floral.
T-Interesting taste. Quite clean and dry. The dark caramel and even a bit of chocolate and nuts mix pleasantly with the crisp grassy hops. Decently bitter and dry. Flavor is definitely unique. I am amused by how light the flavor seems at some points and how potent it hits the palate at others.
M-Lighter bodied. Pretty assertive carbonation. Bitterness lasts and has a drying element. The feel is light enough to warrant several sips in a short period of time.
O/D-This one is pretty perplexing. I would say that I am an overall fan of this brew. It's lighter in flavor (aside from the bitterness). The hops are a bit one sided. But I do like it because it seems to me to be the median between a regular IPA and a Black IPA. At around $9.50 for a 750ml, the price is nothing to boast about. But I am glad I tried it out. Local too. Appreciate the effort.
1,149 characters
3.98
/5
rDev
+7%
look: 4.5 | smell: 4 | taste: 4 | feel: 3.5 | overall: 4
A deep dark opaque brown-black color with a goodly layer of light tan foam on top and pretty serious lacing. The aroma says root beer grass and sharp skunkified evergreen with Alka Seltzer overtones. Subtle chocolate malt is hiding in there too. Different and neat! The flavor brings a minty evergreen grass hop, pretty sharp but not overwhelming as it mixes with pumpernikel bread malt. There's a bit of a fizzy feel with this medium bodied brew. Carbonation is tastefully midland. It really grows on me and while it isn't a huge hop brew it is plenty good in all categories! Nice job by Cisco.
595 characters

3.73
/5
rDev
+0.3%
look: 4.5 | smell: 4 | taste: 3.5 | feel: 4 | overall: 3.5
Thanks to Chris for sharing.
A - A rich, brown colored beer with a couple of fingers of tan head. Left some good lace on the sides of my glass.
S - Great hops and a nice brown ale smell. Basically, it is what was described.
T - Not quite as good as the nose, there's a missing of the flavors here with the brown ale and hops. Aren't particularly well melded, but it's not a horrid beer. Kind of like a hoppy brown where the hops are in contrast as opposed to complimentary of what else is going on with the beer.
M - Medium bodied beer with moderate carbonation.
O - Not a bad beer, drank it without trouble. Wouldn't mind it again, but not something I'll seek out.
670 characters

3.58
/5
rDev
-3.8%
look: 4 | smell: 3.5 | taste: 3.5 | feel: 4 | overall: 3.5
A: Unsurprisingly, this one pours a very dark brown in color. Forms a fairly large, creamy tan colored head. Very good retention. Leaves some thick gobs of lacing on the way down.
S: Smell is a soapy mix of cocoa, coffee, and citrus hops.
T: Starts off with a thin, watery mix of roasted malts, coffee, and chocolate. Fades quickly before the hops show up. Then it is citrus, grapefruit, and pine. However, nothing is overly assertive and there is a balance between the ingredients.
M: On the heavier side of medium in body with appropriate carbonation. Mild to moderate bitterness.
O: Hoppy brown ale, Black IPA, American IPA. I'm not sure what this beer is trying to be, but it doesn't succeed at doing anything very well. This is a decent blend of malt and hops, but this almost seems to be problem with this beer: the hops aren't as assertive as I'd like them to be and the malts seem a bit watery. While this makes the beer a bit more drinkable, it also makes it much less interesting.
998 characters

3.48
/5
rDev
-6.5%
look: 4 | smell: 3.5 | taste: 3.5 | feel: 3 | overall: 3.5
A: Poured from the bomber into a glass. Body is brown with a 2-finger foamy, khaki-colored head that retains well, with nice staying power. It settles to leave behind a little lace.
S: Faint - some roasted barley and that's about it. Not getting the "wet hops" at all.
T: Reminds me more of a porter than anything - I get char and roasted barley malt - heavy on the roastiness. Some juicy hop flavors do poke through at the end, however.
M: Too fizzy. Call it the lighter side of medium, heft-wise.
O: OK, but nothing special. Reminded me of homebrewed Porter for some reason (probably the char and roasty characteristics).
628 characters
3.68
/5
rDev
-1.1%
look: 4.5 | smell: 4 | taste: 3.5 | feel: 3.5 | overall: 3.5
It has a fantastic looking dense off-white head, leaving behind tons of lacing through the last sip. The body is brown and hazy.
The smell is dank and earthy hops... really dank. Light touch of toffee and even lighter touch of cocoa.
The taste is more subdued, but is earthy, a little pine, and toffee.
Mouthfeel is oily, but low on the carbonation.
Overall, a solid hoppy brown ale. Take the carbonation and flavor up a notch and it'd be much better.
459 characters
3.92
/5
rDev
+5.4%
look: 4 | smell: 4.5 | taste: 3.5 | feel: 4 | overall: 4
Very brown indeed. Close to black in the glass with a big two and a half inch creamy, almond head that sticks around, leaving a coating of lace on a tulip glass.
The aroma is filled with spruce nibs and perhaps juniper berries. One can still discern fresh lemon peel. This one really had the fresh hop aroma down solid.
Again, a nice, fresh hop bite with pine flavors, though little else. The finish is long and modest with a lingering bitterness. With some warmth, sweetness and toasted nuts can be found.
Medium body, smooth and dry with modest carbonation. Alcohol is present but a minor player.
Clearly a drinking beer. Goes well with or without food. An IPA by flavor and aroma, though not appearance.
While this is not quite to any style, it is a solid and enjoyable beer and I look forward to it when I get back to the brewery in a year's time.
859 characters
4.42
/5
rDev
+18.8%
look: 4 | smell: 4.5 | taste: 4.5 | feel: 4 | overall: 4.5
this IPA isn't pale! oh wait...
nice tight froth over some chestnut liquid. great geological lacing
delicious full hop aroma. roasty and caramel malt aromas
spicy hop. plenty of nutty sweetness. and plenty of big juicy hop. but it's balanced! i am a big hophead but too many IPAs are miles from balance, so this one is a grand surprise
i may have a new favorite, people
373 characters
3.84
/5
rDev
+3.2%
look: 4.5 | smell: 3 | taste: 4 | feel: 4.5 | overall: 4
very brown is right. almost black, with a huge khaki head that lasts forever and laces well.
tobacco, chocolate, woody hops. kind of a faint aroma.
wow. that tasted like marijuana. I haven't smoked in well over a decade, but thats what it tasted like in my memory. smokiness, leafy wet hops, and sweetish malts.
smooth bottle-conditioned feel is velvety and softly bubbled on a medium body with a bit of cocoa and tobacco that lingers
It's not quite what I expected. Was thinking of something like Dogfish's Indian Brown, but this ends up being utterly unique and interesting. Just don't think of a traditional IPA when you are drinking it. It's markedly different.
669 characters

3.15
/5
rDev
-15.3%
look: 4 | smell: 4 | taste: 2.5 | feel: 3.5 | overall: 3
Very dark brown, almost opaque with a rocky, long lasting tan head that leaves plenty of lacing.
Nice fresh hop aroma of herbs, earth and vegetables.
Herbal spicy hops with a nice bitterness. Somewhat complex and intriguing but fading to a medicinal sour taste after time that builds and makes the 750 ml bottle seem too large to finish.
Good mouthfeel with appropriate body and carbonation.
I have no idea if this is supposed to represent any particular style, but the name "wet hopped very brown india pale ale" seems appropriately confusing.
550 characters
3.53
/5
rDev
-5.1%
look: 4 | smell: 3.5 | taste: 3.5 | feel: 3.5 | overall: 3.5
A- Pours a very deep dark brown with a good 3-finger off-white head that stays for quite a while. Some good lacing.
S- Slight grassy hop aroma, followed by a good smell of peat, some good earthiness to it as well. nothing really stands out, though.
T- Grassy hops, but also a solvent flavor that comes with the bitterness. Again, it's earthy, but that off-taste really stands out.
MF- Medium body with good carbonation levels.
429 characters
Island Reserve: Wet Hopped Very Brown India Pale Ale from Cisco Brewers Inc.
3.72
out of
5
based on
30
ratings.