Island Reserve: Madaquet India Pale Ale
| Cisco Brewers Inc.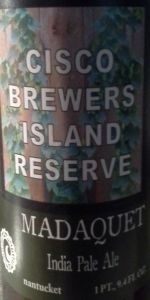 BEER INFO
Brewed by:
Cisco Brewers Inc.
Massachusetts
,
United States
ciscobrewers.com
Style:
American IPA
Alcohol by volume (ABV):
7.70%
Availability:
Limited (brewed once)
Notes / Commercial Description:
No notes at this time.
Added by PeterIngemi on 12-08-2012
This beer is retired; no longer brewed.
Reviews: 13 | Ratings: 75
4.5
/5
rDev
+11.1%
look: 4.5 | smell: 4.5 | taste: 4.5 | feel: 4.5 | overall: 4.5
From tasting notes. Appearance: Straw to pale gold, 1" off-white head with yellow tint, finely bubbled head. There is a slight haze that goes away as the beer warms. Smell: resiny hops and perfumey floral aromas mingle with fruit and citrus. Taste: faint citrus, grapefruit, very well done luscious rich herbal deeply flavored hops. The citrus gets bigger towards thet finish with a little pepper on the end. Mouthfeel: Very creamy, dry medium full body. Overall: A very well developed beer that they should keep on brewing.
529 characters
4.25
/5
rDev
+4.9%
Lucky enough to have purchased a bottle a month ago and am enjoying every crisp, hoppy sip right now. What a delightful IPA. Sorry it's a one-time brew, but so lucky to have the privilege of tasting it. Cheers!
210 characters
3.9
/5
rDev
-3.7%
look: 4 | smell: 4 | taste: 3.75 | feel: 4 | overall: 4
Cloudy, pale straw (SRM 3-4). A big, rocky, off-white head lingers while carbonation clings to the Cisco fisheye pint glass.
Strong grapefruit beckons from the glass, then infuses with orange, only to come back out again as the beer warms. The aroma is overall fresh, but in the background one can lightly detect a struck match.
The grapefruit flavors are quite bitter and followed quickly by fresh orange rind. Some balance is retained before a moderate, bitter finish.
Dry, with a medium body and woolly texture. Ample prickly carbonation lifts the alcohol above a slight metallic note.
This is a good IPA, though more reserved than most. Flavors are equal parts with bitterness. Madaquet IPA would work well with lunch, say prosciutto. This one brings back memories of relaxing afternoons in 'Sconset.
811 characters

4.35
/5
rDev
+7.4%
look: 3.25 | smell: 4.5 | taste: 4.5 | feel: 4.25 | overall: 4.25
Madaquet pours a cloudy honey yellow with little foam on top. Only a few spots of lace on the glass between sips.
The strong aroma is loaded with grapefruit citrus, pine and a little grass/hay.
Each sip of this full bodied beer is chewy, dry and mildly carbonated. The flavor is loaded with grapefruit citrus, pine, some lemon rind and enough sweet malt and cereal grain to hold it together. It finishes moderately bitter and dry with a some grass notes. Once gone the grapefruit citrus, grass and malt sweetness lingers on the palate.
The hops in this beer just don't fade. Tons of hop flavor and chewy body makes me want to brush my teeth after drinking a pint.
667 characters
3.68
/5
rDev
-9.1%
look: 3.5 | smell: 3.5 | taste: 3.75 | feel: 3.75 | overall: 3.75
Three-finger starting head. Settles quickly, leaving little lace. The broth is straw to gold color with a lima bean green hue to it. Cloudy.
Clean, fresh smell to the beer. Little hop, mostly pale malt nose (a bit earthy). Second smell features a bit of soured milk and a touch of grapefruit rind.
Good starting malt taste and (round) body. The hop comes on strong but not so that it makes you pucker up. Steady bitter aftertaste. Pretty easy to drink steadily. The mouthfeel is full with a steady level of carbonation.
521 characters
4.03
/5
rDev
-0.5%
look: 4 | smell: 4 | taste: 4 | feel: 4.25 | overall: 4
A: The beer is hazy light yellow in color and has a moderate amount of visible carbonation. It poured with a thin white head that hardly died down. Lots of yeast is noticeable near the bottom of the glass.
S: Light to moderate amount of grapefruit hops are present in the nose.
T: Like the smell, the taste has flavors of grapefruit hops and a moderate amount of bitterness that lingers through the finish.
M: It feels medium-bodied, crisp and a little chewy on the palate with a moderate amount of carbonation.
O: I enjoyed the grapefruit aromas and flavors of this beer but was most impressed with the way it coated your mouth.
632 characters
4.05
/5
rDev 0%
look: 3.75 | smell: 4.25 | taste: 4 | feel: 4 | overall: 4
A: Pours a hazy medium apricot in color with significant amounts of large white yeast chunks in suspension towards the bottom of the glass, moderate to heavy amounts of visible carbonation, and some golden yellow + orange highlights. The beer has a finger tall creamy white head that slowly reduces to a thick film covering the entire surface of the beer and a slightly thicker ring at the edges of the glass. Moderate amounts of lacing are observed.
S: Upfront the overall aroma is slightly sweet with some light to moderate notes of citrus/grapefruit hops and a very light hint of grainy malts. Extremely light hints of lemon.
T: Upfront there is a light amount of almost honey-like sweetness with some cereal grain malts. That is then overshadowed by the citrus flavors of moderate to strong grapefruit and light lemon hops. Light amounts of bitterness in the finish which fades quickly.
M: Medium bodied with moderate amounts of carbonation. Light to moderate amounts of dryness in the finish.
O: Overall this beer is pretty well balanced as it is neither overly sweet or bitter. I really enjoyed this beer and it has a very enjoyable citrus aroma and flavor. The alcohol is well hidden and this beer is easy to drink.
1,226 characters
3.83
/5
rDev
-5.4%
look: 4.25 | smell: 3.75 | taste: 3.75 | feel: 3.75 | overall: 4
750ml bottle purchased as a single from Yankee Spirits, Sturbridge, MA. Huge amounts of chunkage at bottom of bottle.
Poured into an imperial pint, formed a 1" eggshell head over the cloudy golden brew. Head holds on nicely, with sporadic chunky lace. Aroma is earthy hops, maybe Saaz.
Taste begins with a peek of sweet, then quickly to earthy citrus in the middle, then closes with rounded pine bitterness. Mouthfeel is kind of prickly, and drinkability is pretty good. Has a rustic character to it, but doesn't quite all come together for me.
546 characters
4.02
/5
rDev
-0.7%
look: 3.75 | smell: 4.25 | taste: 4 | feel: 3.75 | overall: 4
Poured from tap into pint at Blind Tiger, NYC. Pours a cloudy golden hay with thick chewey head. Great strong hop aroma, sharp, grassy and piney. Taste is very piney but slightly fruity hop presence. A little grassy, but overall nice. Easy drinker - I think it said 7.5% abv on the chalkboard. Overall, nice floral IPA - reminds me of a nice spring time IPA.
358 characters
3.99
/5
rDev
-1.5%
look: 3.75 | smell: 4 | taste: 4 | feel: 4 | overall: 4
Poured from the bottle into a tasting goblet.
Appearance: Pours a cloudy golden color with a layer of white head that fades to a ring around the pour. There is some yeast that got kicked up, lots of sediment in the bottle.
Smell: Sweet right off the bat with fruity citrus hops that are also a bit grassy.
Taste: Hoppy up front with plenty of malt to back it up. The hops taste green and grassy. There is an herbal undertone that compliments the bitterness.
Mouthfeel: The body is medium with tingly carbonation and a dry finish.
Overall: I thought this was a very interesting IPA. The hop profile was quite nice. I'd ahve more.
633 characters

4.3
/5
rDev
+6.2%
look: 4 | smell: 4 | taste: 4.5 | feel: 4 | overall: 4.5
Shared by argo0. Thanks Aaron.
The beer is extremely pale yellow with a thin, wispy, white head. The aroma brings oranges, assorted citrus. So easy to drink with tropical fruit abounding. Very light bready malt offers support. Hints of lemon. Delicious. Highly recommended.
274 characters
3.94
/5
rDev
-2.7%
look: 3 | smell: 4 | taste: 4 | feel: 4 | overall: 4
Poured into a Sierra Nevada goblet.
The beer had a bright white 1" head which faded relatively quickly leaving behind a moderate lacing. The color is a light hazy gold.
The aroma has spicy peppery notes, a woodsy aspect slightly similar to cedar as well as a bouquet of tangerines, grapefruit and pine.
The beer is pretty dry with a carbonation just above average resulting in a refreshing prickly mouthfeel. As this sensation leaves almost instantaneously, the aroma notes especially the citrusy and piney aspects coat the palate and await another sip. The alcohol is only present in the aftertaste as the hop flavors dissipate.
Overall I was pleasantly surprised with this beer. It met all I was looking for in an ipa and the woody aspect which I differentiate from piney hops was a interesting stand out. This isn't a woody beer, still totally an ipa just comes across to me a bit differently. While a totally different style, I can find some similarities to the farmhouse ale in ciscos island reserve series. Totally worth picking up if you come across it, only disclaimer is that this should be poured slowly, there is quite a bit of loose sediment at the bottom.
1,176 characters
3.88
/5
rDev
-4.2%
look: 4 | smell: 3.5 | taste: 4 | feel: 4 | overall: 4
Split a 750 ml poured into a duvel glass.
A: pours a very hazy golden with a touch of orange.... Tons of sediment floating around in the glass, which is my own fault for not letting this bottle settle, drove home with it cracked it open and dove right in.... There is quite a bit of sediment, doni reccomend letting it settle and leaving the sediment in the bottom of the bottle.... Almost two finger of white head, dissaptes nicley, nice lacing.
S: citrus hop notes dominate the nose here, I get mostly citrusy grapefruit... Decent nose, smells tasty, A light touch of grain in there as well. Nice bit not a whole lot going on.
T: yummy, just like the nose this brew is loaded with citrusy hop notes. Again I mainly get grapefruit, a touch of citrus rind, and some light grain notes in the background. There is also a touch of bitter pine that I did not get in the nose. Tasty and well rounded.
M: medium body with medium almost creamy carbonation... Nice and lush, with just enough piney hops on the end to give it a dry finish with slightly mouth coating bitter aftertaste.
O: this is a pretty good ipa, very tasty well rounded and drinkable. A very good amounts of hops here, i would reccomend giving this one a whirl to any hop head. Deffiantly a step up from their indie pale ale, which I also enjoy.
1,321 characters
Island Reserve: Madaquet India Pale Ale from Cisco Brewers Inc.
4.05
out of
5
based on
75
ratings.