Brewberry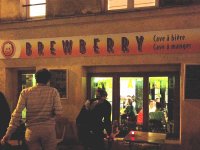 PLACE INFO
Type:
Bar, Eatery, Store
18 Rue du Pot de Fer
Paris
, 75005
France
+33 1 43 36 53 92 |
map
brewberry.fr
Notes:
No notes at this time.
Added by pixieskid on 07-07-2011
Reviews: 14 | Ratings: 19

4.91
/5
rDev
+6.5%
vibe: 5 | quality: 5 | service: 4.75 | selection: 5 | food: 4.75
A great spot with an awesome selection. The location is broken into two sides of the street. One side is the bar with drafts and the other is more like a cellar where you can buy bottles to drink on location or to go. I tried going the first night I was in Paris but due to a holiday they were closing early. I returned on the final night and went into the cellar area and the woman working was really nice in answering my questions. I picked up a bottle of Cantillon Vigneronne (last one) but there was also some Rose de Gambrinus and Kriek Lambic. I would definitely recommend coming here to open a bottle or to buy.
618 characters

4.59
/5
rDev
-0.4%
vibe: 4 | quality: 4.75 | service: 4.75 | selection: 5 | food: 3.25
Walking up the slender streets of Paris in the rainy winter, it isn't the easiest to find this place. But once you find it, you find heaven. Shelf after shelf of hard to find beers lined next to difficult American beers. Cantillon regularly, and then you look behind the counter and see vintages of Westvleteren.
The food was the only weak spot, but hey, at that point, I don't care.
Awesome job!
399 characters

4.6
/5
rDev
-0.2%
vibe: 4 | quality: 5 | service: 5 | selection: 4
Quaint little place on one of the coolest side streets. Buzzing little side street with other cool restaurants. I stopped in at the bar with all the draft beers (the one across the street is all bottles). Had a few great IPAs that could rival some in the US. A little pricey, but hey it's Paris.
295 characters
4.82
/5
rDev
+4.6%
vibe: 4.75 | quality: 4.75 | service: 5 | selection: 4.75
Brewberry is a craft beer store on the level of any of the best in America!. great place set up with beer sections along the walls from various countries. including many from the U S. if you are looking for cantillons you will find them there as well.a must visit for all beer drinkers! cheers!
294 characters

4.95
/5
rDev
+7.4%
vibe: 4.75 | quality: 5 | service: 5 | selection: 5 | food: 4.75
Amazing place in the heart of Paris. A large choice of excellent beers, and very good food. Good news, the Brewberry Bar is now open just across the street. A place where you have 24 dofferent draft beers ! And also, burgers are very good. Don't hesitate, you won't regret it...
278 characters
4.83
/5
rDev
+4.8%
Great place to stop by for a beer tasting of sorts. They have a great selection of really nice brews (when I went it was exceptionally stout-heavy, but I'm not complaining). They had Mikkeller, De Struise, To Øl, Prairie, Evil Twin, De Molen... All amazing. One downfall: beers are only sold in 12.5cl and 25cl (normal bottles of beer are generally 33cl). So, it's great to go and get six or so 12.5cl beers each and try out the whole menu, but it can be expensive. Regardless, you are in Paris, and you are paying for quality beer, so it's certainly worth a stop. And it's one of the only really good craft beer bars in Paris that's open early enough for a lunchtime beer.
674 characters

4.58
/5
rDev
-0.7%
Stopped in here on my last day in Paris and it was packed. Did carryout (10% discount) and if my wife was not with me I may have gone broke. Cantillon bottles included Gueuze, Kriek, Rose, Iris, Mamouche, Vigneronne, Cuvee, St. Lam, and LP Kriek, there were a couple Black damnation 750s hanging out, lots of De Molen, plenty of Alamanac to my surprise, Bruery, AleSmith, Jester King, Lost Abbey, Port Brewing, 3F including Golden Blend, other American stuff, and a few bottles of Armand'4 Herfst (there was one fewer when I left, of course). Very nice service and they threw in a free beer (a De Molen brewed especially for Brewberry). All in all this seems like the place to go in Paris for a beer bar feel and some bottles to go.
734 characters
4.85
/5
rDev
+5.2%
vibe: 4.5 | quality: 5 | service: 5 | selection: 5 | food: 4
This place is a gem. They have a good selection of beers from France and elsewhere. The staff is friendly and knowledgeable. I don't speak French well, but it wasn't a problem here.
If you are a beer drinker and heading to Paris, make sure you spend some time here.
266 characters
4.48
/5
rDev
-2.8%
vibe: 4 | quality: 4.5 | service: 5 | selection: 4.5 | food: 3.5
Chinookie is going to tell you to go to this place without hesitation. But you likely don't know Chinookie from Adam.
No less than Mikkel Borg Bjergsø decided this place is worthy enough to brew a beer in their honor. Mikkeller Brewberry is not (yet) rated by BA. But it exists. And it is good.
Seriously, this place is worth seeking out on a visit (or longer--I think I am going to move here) to Paris. If you do not get to the U.S. or you are a wistful American expat: tonight they had Flying Dog, Anchor, Left Hand, Short's, Founder's, Hoppin' Frog, The Bruery, and others in the house. The selection included Alesmith. I can't even get Alesmith in DC except on rare occasions and I think then it involves bribes.
If you are some other variety of wistful beer-loving traveler or expat, well my recommendation applies to you too. Shit, if you are a curious Parisian reading this, the friendly staff will open your eyes. We can switch housing if you'd like.
They make sure to include French craft beers. Brew Dog is well represented. Nearby Belgium is of course thoughtfully included. And I mean thoughtfully: they don't have everything, but they have stuff that I did not see in Belgium a couple years ago and Brewberry has a couple of years ago vintage Horal's Oude Geuze Mega Blend.
Foodwise, we're talking snacks and small plates, but you can piece together a filling enough dinner. I mean, look, the French aren't going to give you crap cheese and charcuterie. It just isn't done here. So there are some nice plates on offer (including combos with beer at reduced price). There are pretzels and sandwiches. There's a "Toast au Chimay," which is a piece of bread soaked in Chimay (or similar beer if that's not on hand) and then put in a small baking dish, covered with ham and Chimay cheese and baked until the cheese is melty. After having three 8%+ beers, it helped.
The atmosphere is great too. On a small street, with a lagering cave feel to the inside (there are a few outside tables), it is cozy and lined with shelves of bottles you can buy to take home.
Finally, really great staff who will happily forgive the fact that your French is limited to non-existent. And they know what they are talking about when it comes to beer.
2,247 characters
4.3
/5
rDev
-6.7%
vibe: 4 | quality: 4.5 | service: 4.5 | selection: 4.5 | food: 3
Located close to rue Mouffetard in the student area of Paris, Brewberry is a beershop and a bar at the same time. All beers served here are at the same price to drink here or to take away, which makes of Brewberry one of the cheapest bar in this area !
The selection is very good, far better than other bars in Paris and even better than the other beer shops I have tried. It includes lots of US beers (great divide, anchor, rogue, etc.), beers from Denmark (Mikkeller), Holland (De Molen), etc. Pretty good French beers too and, obviously lots of Belgian beers (Trappists but also seasonal beers, gueuzes, etc.)
The owner is very kind and knows her beers very well. Do not hesitate to listen to her advices !
The food is not bad but a bit frugal. Well, you don't go there for food ! Last advice : make a reservation if possible, the place is often overcrowded. Think also that it closes quite early for a bar (9 PM).
This place is one of my favorites in Paris, it is definitely a must-go for beer lovers there.
1,011 characters
4.5
/5
rDev
-2.4%
vibe: 4.5 | quality: 4.5 | service: 4.5 | selection: 4.5
I'm a 21 year old study abroad student in Paris and this is my go-to spot. An avid beer lover, I was scared that I wouldn't be able to find a suitable watering hole in Paris, the capital of wine.
Oh, how I was wrong. This place is filled with enough beautiful Belgian beers to satisfy anyone with an affinity for the miracle-plant we call hops.
Cécile, the owner, is super-nice and very knowledgeable about beer. She's there from open to close every day (tues-sat) and is always happy to give you advice on what beers to try based on your preferences. An added perk: if you go there more than once, she'll remember you and she'll even remember your name if you tell it to her.
The walls are filled with beers from all over Europe, with a North America section too. You can take them away or drink them there for the same price. All beers are served with the appropriate glass. There is also a large selection of glassware to purchase if you so desire. There is bread, cheese and sausage to order too.
If you find yourself in Paris and miss the microbrews of home, come here to find Flying Dog, Rogue, Great Divide, Anchor, Left Hand, and TONS of wonderful Belgian beer, including all the Trappists (except Westvleteren, of course).
Located in the heart of the Latin Quarter, right of Rue Mouffetard, this is a must-visit!
A+!
1,334 characters
4.53
/5
rDev
-1.7%
vibe: 4 | quality: 4.5 | service: 5 | selection: 4.5 | food: 4
I was very happy to hear about Brewberry and went there with a couple of friends to commence a night out. The owner greeted us and appeared very knowledgeable, proud of her well-curated selection. That selection includes various American craft brews, including Rogue, which this expatriate beer lover thought he'd never find in the France. Return trips have confirmed the knowledgeability and hospitality of the owner.
The place is technically a beer store set up such that you can drink there. With snacks. Prices are the same whether you take your beer home or enjoy it there...inside or out at the small pedestrian-street-side terrasse...a rare find in Paris. The space is comfortable, if you like tables surrounded by shelves of beer. Like retiring to the beer library.
I highly recommend stopping by Brewberry for a beer or two. Order one of your old favorites or get a recommendation based on your tastes and desires of the moment. You will be pleased.
960 characters

4.35
/5
rDev
-5.6%
vibe: 4.5 | quality: 4.5 | service: 4 | selection: 5 | food: 3
Best quality of beer for the money in Paris, hands down. Since Brewberry doesn't have the License IV, you need to buy a little something to eat...but this doesn't drive the price up much since you can just grab a cheese plate for 3 euros and share! Great selection of beers and if you want to drink anything on the shelf, Cecile will chill it for you. Some of the beer highlights include Nogne O, de Molen, de Struise, Cantillon along with many other Belgian, French and other microbrews from around the world.
Brewberry is almost always packed, but you can reserve a table in advance to make sure you have plenty of space. The best value for a beer bar in Paris!
Edit: Prices have gone up quite a bit, still a good deal for good beers in Paris but no longer a bargain.
772 characters
4.58
/5
rDev
-0.7%
vibe: 4.5 | quality: 4.5 | service: 4.5 | selection: 5 | food: 4
Technically Brewberry is a beer shop but also doubles as a beer bar. The prices on the shelves are for take away or to be enjoyed right there; making it a truly unique place in Paris.
As of right now, this really is the only place I go to have a beer. For one, it isn't a tourist trap like the various beer bars listed here. It is a chill place full of great beer and at completely reasonable prices, even for Paris!
Located very near to the center of Paris, tucked away on a cool little street (tons of restaurants and always busy) the little cave known as Brewberry awaits with excellent beer to enjoy. The owner and operator, Cecile, is an awesome young lady who loves beer and although she may not admit it, speaks great English.
While the space itself is somewhat small, Cecile has managed to set up about 6 tables, a patio outside, and has every wall lined with shelves jam-packed with excellent beer from all over the world.
The main focus is Belgian beers, there are certainly other excellent options from Mikkeller, De Molen, and Nogne, just to name a few. She has recently been able to obtain various American Craft beers which she and other French folks are particularly stoked about...
Grab a cheese plate, a few beers off the shelf (she will chill them for you til serving temp), and enjoy this little hidden gem in Paris!
1,341 characters
Brewberry in Paris, France
4.61
out of
5
based on
19
ratings.