He'Brew Funky Jewbelation '13
| Shmaltz Brewing Company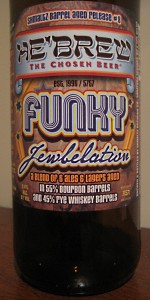 BEER INFO
Brewed by:
Shmaltz Brewing Company
New York
,
United States
shmaltz.com
Style:
American Strong Ale
Alcohol by volume (ABV):
9.40%
Availability:
Limited (brewed once)
Notes / Commercial Description:
A blend of 6 ales & lagers aged in 55% Bourbon Barrels and 45% Rye Whiskey Barrels.
Added by djrn2 on 11-08-2013
This beer is retired; no longer brewed.
Reviews: 15 | Ratings: 62
3.93
/5
rDev
-2%
look: 3.25 | smell: 4 | taste: 4 | feel: 3.75 | overall: 4
Bottle I brought to share at dabaloons' tasting.
Batch No. 02. 1492 cases. Bottled 2/18/13.
Pours an almost opaque super dark crimson-brown with a foamy khaki head that settles to wisps of film on top of the beer. Tiny dots of lace slowly drip into the remaining beer on the drink down. Smell is sour with malt, brown sugar, dark fruit, and wood aromas. Taste is much the same with sour malt, caramel, fruit, and acidic flavors on the finish. There is a mild amount of acidity on the palate with each sip. This beer has a lower level of carbonation with a slightly crisp and sticky mouthfeel. Overall, this is a good beer with a tasty sour presence, but I am not really getting any noticeable barrel aged qualities other than some wood.
738 characters
3.05
/5
rDev
-23.9%
look: 3.5 | smell: 3.5 | taste: 2.75 | feel: 3.5 | overall: 2.75
i really didnt like this one, but maybe its just my palate. a strange blend of beers, aged partially in rye, partially in bourbon barrels. there is an obvious infection here, or bacterial presence, i suppose possibly intentional, but why? dark syrupy in color, i smell red fruit, orange zest, soy sauce, and dark malt. its sour and sweet, a mix ive never really enjoyed, but it smells more like an asian dish than a beer. the taste is odd too, sour up front, sweet on the back end, with the soy all the way though. the beer they call origin, a pomegranate brew, is very evident in the taste, tart and juicy, distinct as that beer way. the other flavor agent thats front and center is the rye barrel. course and granular, with a whiskey sting. the alcohol is robust, the sourness is there, but there is just way too much going on for this to be enjoyable for me. its a sloppy mess really, a jumble of a bunch of things that dont even work very well on their own. i really didnt care for this at all.
998 characters
3.79
/5
rDev
-5.5%
look: 4 | smell: 3.75 | taste: 3.75 | feel: 4 | overall: 3.75
22oz bottle, bottled Feb 18, 2013. This year's version has a more balanced (55/45) ratio of bourbon and rye whiskey barrel treatments in its blend schedule.
This beer pours a very, very dark brown colour, with pervasive red cola highlights, and three fingers of puffy, thickly foamy beige head, which leaves a bit of random sea spray lace around the glass as it slowly melts away.
It smells of sour cherry and other indistinct orchard fruit, red wine vinegar, moderate barnhouse funk, subdued pale and caramel malts, astringent wood fiber, and fruity alcohol. The taste is rather sour fruity malt, semi-sweet cooking vinegar, lemon juice, a bit of fleshy dark fruit, woody, grainy whiskey barrel notes, an earthy yeastiness, and wet leafy, weedy hops.
The bubbles are duly present, and pervasive, but mostly just playfully frothy, the body a dense medium weight, and actually scorched-earth smooth under all that various acridity. It finishes off-dry, the sour acidity still cutting a broad swath across that big boozy barrel-tinted maltiness.
Like the previous incarnations of Funky Jewbelation, it just seems that the well-wrought sourness, funkiness, and woodiness are weirdly out of place in this brewer's heady strong ales. I'm unable to detail why, other than a certain dissociative sense I get while drinking this, like someone dumped a dry fruit lambic into my big-ass Shmaltz hop and malt monster. But I guess that's just me.
1,438 characters
4.3
/5
rDev
+7.2%
look: 4 | smell: 4 | taste: 4.5 | feel: 4 | overall: 4.5
22 ounce bottle into snifter, bottled on 2/18/2013. Pours pitch black color with a 1-2 finger dense tan head with good retention, that reduces to a small cap that lingers. Nice spotty soapy lacing clings on the glass, with a fair amount of streaming carbonation. Aromas of big sour cherry, green apple, raisin, prune, caramel, toast, toffee, chocolate, oak, clove, red wine, vinegar, musty funk, leather, herbal, light vanilla, light bourbon, and yeast/oak earthiness. Damn nice aromas with good balance and complexity of fruity/funky yeast, dark malt, and moderate bourbon barrel notes; with great strength. Taste of big sour cherry, green apple, raisin, prune, caramel, toast, toffee, chocolate, oak, clove, red wine, vinegar, musty funk, leather, herbal, light vanilla, light bourbon, and yeast/oak earthiness. Nice amount of fruity/earthy tartness on the finish; with lingering notes of sour cherry, green apple, raisin, prune, caramel, toast, toffee, chocolate, oak, clove, red wine, vinegar, musty funk, leather, herbal, light vanilla, light bourbon, and yeast/oak earthiness. Fantastic complexity and balance of fruity/funky yeast, dark malt, and bourbon barrel flavors; with an awesome sweetness/tartness balance and zero cloying flavors after the finish. Medium carbonation and medium-full bodied; with a smooth and moderately creamy/acidic mouthfeel that is great. Alcohol is well hidden with only a small warming present after the finish. Overall this is an outstanding sour strong ale! All around fantastic complexity and balance of fruity/funky yeast, dark malt, and bourbon barrel flavors; and very smooth to sip on for the ABV. A highly enjoyable offering.
1,671 characters

3.99
/5
rDev
-0.5%
look: 3.75 | smell: 4 | taste: 4 | feel: 4 | overall: 4
Poured into a Fremont small snifter. Pours a very dark, nearly opaque brown with a half finger fine tan head with great retention and lacing. Aroma of dark lightly toasted malt, wood, cherry juice, wild yeast, mild citrus. Starts wth cherry, oak, light fruit juice, wild yeast funk and quickly develops a puckering wild sour cherry tartness, whoa. Medium bodied with some creaminess. Lots going on here, quite a different flavor than the the malty aroma, which may have reflected the original ale mixture used. I'm not a big sour fan and usually don't review them due to not having the taste for them, but this one is compelling to me, largely because it is relatively complex and the sourness sneaks up while sipping, but with plenty of flavor support and good barrel wood notes. Not enough to convert me to sours, but plenty to impress me and allow me to drink this with pleasure.
882 characters
4.42
/5
rDev
+10.2%
look: 4.25 | smell: 4.75 | taste: 4.25 | feel: 4.25 | overall: 4.5
Bottle purchased at Nathaniel Square Corner Store.
Pours a very dark opaque brown, with a quickly fading one inch head that recedes to rings of lacing down the glass.
Smells include apple cider, grapes, cherries, caramel, and chocolate.
The taste is similar. Mind-boggingly complex- I uttered "Wow" out loud when I first tried it. Gonna try to pick this one apart- vanilla, bourbon, cherry, apple cider, lactic acid, chocolate, oak and other woody flavors. Just packed with flavor, with a nice alcoholic fruity acidity that lingers on the palate for a while.
Slightly boozy, but it adds to the overall experience. Tart, but creamy and smooth mouthfeel. Low carbonation. Surprisingly drinkable.
This one was really weird for me, but it worked well. Delicious stuff.
769 characters
4.25
/5
rDev
+6%
look: 4.25 | smell: 4.25 | taste: 4.25 | feel: 4.25 | overall: 4.25
From tasting notes. L: the beer pours pitch black with a tan foam collar. S: The nose is fruity with a dose of dried purnes but not much hop.T: There is vanilla and a bit of fruit, prunes, plums, with some bourbon, rye spiciness, vanilla, spice. There is a little tartness on the finish with a suspicion of funk. F: medium to medium low carbonation. The body is full. O: A big, rich beer that I look forward to every year in its different incarnations.
452 characters
3.97
/5
rDev
-1%
look: 3.5 | smell: 4 | taste: 4 | feel: 4 | overall: 4
22 ounce bottle, bottled on 2/18/2013. Served in a snifter, the beer pours dark brown with some reddish tints, and about a half inch tan head. Head retention and lacing are both decent enough. The brew smells like tart dark fruit (cherries), vinegar, whiskey, wood, lemon peel and some blackberries. Taste is similar to the aroma, but with the addition of some raisins, caramel, vanilla and a bit of chocolate. I think the tart fruitiness is dominant, but the whiskey flavor is noticeable too. Mouthfeel/body is medium, it's a bit slick and has low/moderate carbonation. I thought this was a good brew, I wasn't expecting the tartness so it was a nice surprise. Definitely worth a try. $10.99 a bottle.
702 characters
4.71
/5
rDev
+17.5%
look: 4.5 | smell: 4.75 | taste: 4.75 | feel: 4.5 | overall: 4.75
dark rustic brown, minimal froth on top, smells like a certified sour. wish I had known. wish it had been labeled as such.... I suppose the root of the word 'funky' should have given me a clue....
smells fruity, tart, a tad of vinegar, a little bitter and shot of sour. this one IS different (2013) than the other listed on BA in that it has 6 ales from 55% bourbon barrels and 45% from rye barrels. and it's 9.4% . . . . .
Coca-Cola look in the bottom of the glass as it is tilted, minus the carbonation. orange-y brown around the edges.... some cherry and blackberry tartness. easy to miss the large abv. I love the sours, but I just was not expecting it right now... as I spend time on tasting it I really like what i'm getting.... subtle tartness and great flavor. this one is very, very good.... bottled in 2/13.... mixing seems to be the thing these days, doesn't it?
I wanna give it a 93 overall, but I cant. so i'm doing the 95 and letting it all play out from there...
977 characters

3.83
/5
rDev
-4.5%
look: 3.75 | smell: 3.75 | taste: 3.75 | feel: 4 | overall: 4
No label information. Funky Jewbelation '13 is brewed in the style of an American Blended Strong Ale, available in 22 oz. bottles and on limited draft, as Shmaltz Barrel-Aged Release #8.
Poured from a 22 oz. bottle to a tulip glass.
(Appearance) Pours a frothy foam head of a mild brown color over a very dark cola brown body. Retention is good and lacing is light and spotty. 3.75
(Smell) Potent funk, soured fruit, caramel syrup, biscuit and mild grain malts. Considerably funky and mildly sour. Potency is moderate. 3.75
(Taste) Very bold funky and sour grain and caramel malts up front, with funk and tangy fruit, undertones of smoothed bourbon and whiskey with a reserved sweetness. 3.75
(Mouthfeel) Texture is silky, slick, mildly dry. Carbonation is mild, generating a light frothiness and a mildly crisp finish. Body is medium for the style, medium/heavy overall. Balance is tangy, tart and sour over sweet. Alcohol presence is mild and there are no off characters. 4
(Overall) This is a very solid ale, very funky and excellent still with a few good years on it. Nearly puckering with tangy sourness, the bourbon and rye whiskey character is smoothed out enough to contribute positively to the balance of this ale. A very enjoyable vintage. 4
Shmaltz Brewing Company's
Funky Jewbelation
3.83/5.00
1,312 characters
4.62
/5
rDev
+15.2%
look: 4.75 | smell: 4.5 | taste: 4.75 | feel: 4.5 | overall: 4.5
Poured cold from a bottle into a Dogfish Head chalice.
Pours beautiful black with cola-colored hues at the edges. Two-finger head that reduces to a thin, persistent layer.
Figs, sour cherries, strawberry, and oak on the nose. Biscuity malt character. Reminiscent of Duchesse De Bourgogne.
Leads with moderate tartness characteristic of berries - strawberry, raspberry; and mixed with wild cherries and some lemonny sourness of the spice sumac. The funky tartness is nicely complemented by the sweet caramel malt backbone, along with some toffee and molasses, make appearance mid-palate. Bourbon also shines through.
Moderate carbonation with a slight puckering sensation on the tongue. Full body with a silky mouthfeel.
Overall, an exceptional barrel-aged blend of six beers with wild-yeast/bacteria characteristics. A bold and very enjoyable ale to make any occasion special.
882 characters
4.35
/5
rDev
+8.5%
look: 4.25 | smell: 4.25 | taste: 4.5 | feel: 4.25 | overall: 4.25
22 oz bottle poured into a snifter. 02/18/13 on the bottle.
A: Clear brown appearing almost black in the glass. Light tan head leaves spots of lacing on the glass. Too dark to see any visible carbonation.
S: Aroma of a sour, fruity lambic like beer with a dose of booze and malt. Bourbon and whiskey do not dominate but are certainly present. Rich fruitiness to this one.
T: Complex blend. Lots of sour qualities that really shine after getting a little age on it. Dark fruits add a lot of flavor. As with the aroma, the bourbon and whiskey are subdued.
M: Medium to full body with fairly crisp carbonation. Isn't too sticky and booze isn't overly hot.
Overall much more sour than a draft pour I had in April. Barrel flavors add more of an oak than bourbon or whiskey. Great tartness.
791 characters
3.66
/5
rDev
-8.7%
look: 3.5 | smell: 4.25 | taste: 3.25 | feel: 4.25 | overall: 3.5
2013 bomber poured into Finnish pub mug. When new, this beer was an awesome dark red color. Now three years later, it's a deep caramel brown and thick with a stubborn, centimeter thick khaki head. The aroma is still funky as hell but mellowed with notes of cherry, dark fruit, caramel, molasses, and booze. The flavor is a tart cherry smack up front, followed by strawberry, rich malt, a hint of caramel. It's not overwhelmingly fruity, but the aging has really brought the fruit out as the predominant palate. It has a slick, medium mouthfeel with light yet lively carbonation. The flavor is very unique and a bit too fruity for my tastes, but still interesting to try after so long in the cellar.
699 characters
4
/5
rDev
-0.2%
look: 3 | smell: 4.25 | taste: 4 | feel: 4 | overall: 4
Pour / Appearance: Not much in the way of carb; some foam hangs around the edges but not much. Expected with the blend and the barrels and the 9.4%. Tan head. Pretty black and opaque, with some brown tinting around the edge of the glass when put in the light. Not the best look, but it's expected (especially when pouring six beers together).
Aroma: Definite funk. Some barnyard notes, probably a lighter brett strain, but also tart and sour notes. I guess with enough time in the barrels, the wild yeast and bacteria can still eat past the IBUs and alcohol content. Oak tannins and almost vinous characteristic round it out. No definite hop or malt, but the blend ensured that pretty handedly.
Taste: Wow, even with the nose, unexpected. Incredibly smooth drinker with a small lactic punch and cherry pie notes. Tannin presence persists, and with the low carb this drinks a bit like a port. Despite the whole thing being aged in barrels, there isn't much oak or such to talk about. If they were bugged or old barrels, this would make sense, and they have to be somewhat bugged to produce this level of funk.
Overall: A very nice beer that's nothing like what I expected. Pretty delicious and a great blend.
Bottom Line: Don't know if it's available outside the pack, but definitely worth seeking out. A really fun, interesting beer I was not expecting.
1,357 characters
4.34
/5
rDev
+8.2%
look: 4 | smell: 4.25 | taste: 4.5 | feel: 4.25 | overall: 4.25
Crazy deep and complex beer. Hard to believe everything comes together so well in this with such an interesting combination of flavors. Smells like one of those sour green apple and caramel suckers dipped in bourbon. Taste goes from dark, roasty malts to raison, fig, and caramel, to leather and tobacco, to tart green apple, all while maintaining a serious oak, vanilla, and bourbon note. Wonderfully blended, although I didn't enjoy it quite as much as the deschutes/hotd conflux no.1 consumed just prior.
511 characters
He'Brew Funky Jewbelation '13 from Shmaltz Brewing Company
4.01
out of
5
based on
62
ratings.