The Chosen Spot
| Shmaltz Brewing Company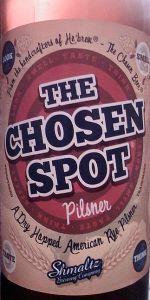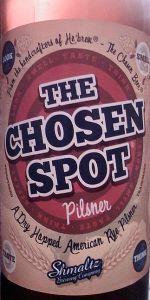 BEER INFO
Brewed by:
Shmaltz Brewing Company
New York
,
United States
shmaltz.com
Style:
American Pale Lager
Alcohol by volume (ABV):
not listed
Availability:
Limited (brewed once)
Notes / Commercial Description:
No notes at this time.
Added by WesWes on 12-07-2009
This beer is retired; no longer brewed.
HISTOGRAM
Ratings: 6 | Reviews: 5
None found.
More User Reviews:

3.5
/5
rDev
-6.4%
look: 3.5 | smell: 3.5 | taste: 3.5 | feel: 3.5 | overall: 3.5
Beer advocate calls it an American Pale Lager, the brewery calls it an american red ale and the name has pilsner in it. I think American Pale is the closest description. Pale in color and a little cloudy. A little to carbonated. Good flavor but not as good as a pilsner. I'll get it again but it's not my favorite from the brewer.
330 characters

4.2
/5
rDev
+12.3%
look: 4 | smell: 4 | taste: 4.5 | feel: 4 | overall: 4
The beer pours a nice gold color with a thick frothy white head that slowly fades to lacing. The aroma is good. It has a crisp, pilsner malt scent along with a light rye spiciness and a mild hop aroma. It's dry with a clean lager aroma. The taste is good as well. It's incredibly bitter with a solid pilsner and rye malt flavor. The rye character is mild at best, but provides adequate spiciness to compliment the heavy dose of hops. The mouthfeel is fine. It is a medium bodied beer with good carbonation. This is a good drinking pilsner. This usually isn't my style, but this brewery has a way of making most styles accessable to all.
636 characters

4.33
/5
rDev
+15.8%
look: 4.5 | smell: 4 | taste: 4.5 | feel: 4 | overall: 4.5
According to the bottle, The Chosen Spot is an "American Rye Pilsner."
The chosen spot has a body that is completely translucent with a ton of fast moving carbonation bubbles. The head is white, at least two fingers tall, and extremely fluffy; it looks a bit like cotton canday. Retention is pretty good, and some thick, sticky lacing hangs on to my glass.
The spicy rye definitely comes out in the aroma, accompanied by a bevy of pale malts and a good dose of hops that are both bitter and earthy.
The rye is still present in the flavor, but it isn't nearly as pronounced as the aroma. The flavor leans moree toward the hops than the malts. Without being overpowering, the hops are pretty complex; some citrus notes that are packed with sweetness without being bitter and some noble, earthy and grassy flavors. The malt bill is pretty interesting also; the rye is there, but mostly there are a ton of pilsner and pale malts that have a slight crackery flavor too them. Overall, I really like this beer.
Medium bodied, but rather highly carbonated.
I have no idea what the ABV on this sucker is, (I searched for this beer and the best that I came up with was this BA page) but whatever it is, The Chosen Spot is a great drinker. Tasty, fairly complex, but still a light, easy sipper.
1,288 characters

3.68
/5
rDev
-1.6%
look: 4.5 | smell: 4 | taste: 3.5 | feel: 3.5 | overall: 3.5
A: Poured from the bomber into a pilsner glass. Body is clear dark golden. 2-finger ivory head with good staying power; leaves plenty of lace. Nice rising bubbles. Nice presentation.
S: Cereal grains and florally, grassy hops.
T: Sweet, almost sticky foundation -- I like lighter malt and a more crispy finish to my pilsners. Rye spice noted at the slightly dry finish. A bit too much sweetness coating the mouth and lingering, though at times the bitterness cuts through.
M: Some creaminess, but overwhelmed by a slight stickiness. Call it medium weight.
D: OK. Didn't love this beer, didn't hate it. Not what I want in a pilsner, but interesting in its own right.
669 characters

3.73
/5
rDev
-0.3%
look: 4 | smell: 3.5 | taste: 4 | feel: 3.5 | overall: 3.5
I picked this up at the Whole Foods in Union Square in Manhattan.
I couldn't find a bottling date, and my phone didn't have service inside of the store, so I couldn't look it up. I now see that the last review was done about a year ago. I hope it's still good, but either way it was only 4 bucks.
A - This beer pours a nice clear light copper color. It has a nice 2-figner white head on it. The head has great retention, and it leaves behind some nice lacing on the glass.
S - It smells of spicy rye, some malt, and floral earthy hops. I am also getting a little bit of some light fruit notes.
T - It tastes of crisp light pilsner malt, but has a nice rye spiciness to it. There is also a nice earthy hop taste that adds some mild bitterness. There is also a bit of light fruit flavors. The finish leaves some lingering earthy hop flavor and some rye spiciness.
M - This has a medium body and good carbonation. It goes down easy and has a nice smooth feel to it. There is some tingling on the palate from the rye.
O - This has good drinkability. It goes down easy and the taste is very nice. Overall, I think this is a nice beer. It really shows off the rye in a nice way. It is very flavorful and refreshing. I would definitely drink this one again.
1,256 characters
The Chosen Spot from Shmaltz Brewing Company
Beer rating:
3.74
out of
5
with
6
ratings