Nut Brown Ale
| Shmaltz Brewing Company
BA SCORE
84
good
14
Reviews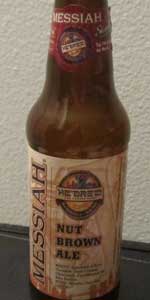 BEER INFO
Brewed by:
Shmaltz Brewing Company
New York
,
United States
shmaltz.com
Style:
English Brown Ale
Alcohol by volume (ABV):
5.20%
Availability:
Year-round
Notes / Commercial Description:
Malts: Specialty 2-Row, Carapils, Dark Crystal, Chocolate, CaraMunich 60, Kiln Amber
Hops: Warrior, Cascade, Liberty
Added by bayougutter on 02-03-2012
Reviews: 14 | Ratings: 68
4.35
/5
rDev
+17.6%
look: 4 | smell: 4 | taste: 4.5 | feel: 4.5 | overall: 4.5
He'brew Nut Brown Ale has a thin-to-medium, creamy, beige head and a clear, yet dark, brown appearance. Some thin lacing is present. The aroma is of sweet and dark-roasted malts and light grain husks, and the taste is of sweet, dark-roasted barley malt, cream, coffee, chocolate, and mildly bitter hops. This is very roasty. Mouthfeel is medium and soft, and He'brew Nut Brown Ale finishes semi-dry and easy drinking. Overall, this is a very well-done beer, and I highly recommend trying it.
RJT
501 characters

4.07
/5
rDev
+10%
look: 4 | smell: 4.5 | taste: 4 | feel: 3.5 | overall: 4
Poured down the middle of a Sam Adams glass. A half finger of head, with fine and medium bubbles that soon disappear into a wisp of a head and just enough carbonation to maintain. Minimal lacing.
Color is a dark reddish amber with a clear body.
Aroma is sweet malts, roasted, a little chocolate and hint of maple.
Flavor is definitely roasted, a touch of chocolate, and malt. Slightly sweet, but only slightly.
Mouthfeel is good, but a touch thin. Flavor goes away too fast.
Overall- one of the better nut browns available. With a little more body and the same flavor it would be one of the best. I will need to buy another six to share with friends.
656 characters

3.96
/5
rDev
+7%
look: 4 | smell: 4.25 | taste: 3.75 | feel: 4 | overall: 4
I poured this bottle into an open mouth stemmed glass. I can immediately smell the overwhelming nuttiness. This is a very malty beer. As I breathe this in, I continue to pick up the malt in this beer. I also get a little roastiness and some light hopping.
The coloring is perfect for an English Brown Ale. It is dark, but you get good brown color when you hold this up to the light.
This is one of those beers that smells better than it tastes. The flavor is good. You get the malt, but the balance falls off a little.
This is a good beer. I recommend trying it out as a pretty good example for the style.
609 characters

3.92
/5
rDev
+5.9%
look: 3.5 | smell: 4 | taste: 4 | feel: 3.5 | overall: 4
12oz bottle into a pint glass.
Pours a very dark brown with a one finger tan head.
Nose of caramel and toffee along with some roasted malt. A hint of coffee as well.
Caramel and coffee flavors really jump out in the beginning along with a pleasant nuttyness. A light bready grain becomes noticeable about halfway through along with a light bitterness that nicely compliments the sweetness from the malt. Mouthfeel is smooth and a little sticky.
Overall this is a really solid beer. One of the better American Brown Ales I have had.
535 characters
3.88
/5
rDev
+4.9%
look: 2 | smell: 4 | taste: 4 | feel: 4 | overall: 4
Appearance: Deep dark brown with almost no head that leaves quick, with no lacing.
Smell: roasted toasted nuts, molasses, brown sugar, super faint floral hops.
Taste: Molasses, pine tree bark, sweet roasted nuts.
Mouthfeel: Medium body, good carbonation.
This is a very good brown ale. It's not boring but I want to be hit with more taste.
343 characters

3.83
/5
rDev
+3.5%
look: 4 | smell: 3.5 | taste: 4 | feel: 3.5 | overall: 4
Poured into a standard pint glass. The beer is a thick tootsie roll color with a ruby tint that comes through in the light. There's a nice cream colored head takes a while to dissipate, with decent sticky lacing. The beer smells of maple syrup and toasted malts. The taste is good for the style, with a maple syrup nuttiness coming through eventually. The beer is medium bodied with a carbonated dry finish.
Overall, I thought I'd be disappointed but was surprised. It's not a beer I'll go to again, but it represents the style well. I think it's a bit too carbonated or dry, but otherwise pretty decent.
605 characters

3.83
/5
rDev
+3.5%
look: 4.5 | smell: 4 | taste: 3.5 | feel: 4 | overall: 4
Pours dark brown with deep red tints. A medium sized light mocha head dissipated quickly to leave behind lots of nice lacing.
Smell is dark malt with a hint of bitter fruity chocolate.
Taste is nice, plenty of malt in the forefront. A hop brightness is in the middle of the taste, and a chocolate bitterness on the finish.
Texture is clean. Slightly astringent with a bite. Carbonation is a tad high, but great to drink.
Great complex flavors here. Not quite as nut brown as a Samuel Smiths, but good nonetheless.
DOA
522 characters
3.79
/5
rDev
+2.4%
look: 3.5 | smell: 4.5 | taste: 3.5 | feel: 4 | overall: 3.5
Pours a clear, dark brown color. 1/3 inch head of an off-white color. Good retention and decent lacing. Smells of hops, sweet malt, slight caramel, hint of nut, hint of pine, hint of roasted malt, and a hint of chocolate. Fits the style of an American Brown Ale. Mouth feel is smooth and clean, with an average carbonation level. Tastes of strong sweet malt, slight nut, hint of chocolate, hint of roasted malt, hint of pale malt, and a hint of hops. Overall, a much more balanced and complex aroma than body. Still, good aroma, body, and blend.
545 characters
3.67
/5
rDev
-0.8%
look: 3.75 | smell: 3.5 | taste: 3.75 | feel: 3.5 | overall: 3.75
Poured into a snifter. No freshness date.
A- Pours an opaque black with a 1/2 inch white head that doesn't retain long before it becomes a thin ring around the edge of the glass. Sparse surface foam and decent lacing.
S- Nutty and sweet-smelling. Not much else.
T- Not much going on at the outset, but the malts step forward after a while and come on toasty and smooth. Pecan aftertaste. A tiny hint of chocolate. Tame but not boring.
M- Thin for such a dark beer. Medium-high carbonation keeps the body alive.
O- Good for what it is: an ambiguous brown ale. Lacking in identity but makes for easy drinking. Since the ABV is a mystery though, one can't tell if that's an accomplishment.
691 characters
3.53
/5
rDev
-4.6%
look: 4 | smell: 3.5 | taste: 3.5 | feel: 3.5 | overall: 3.5
From bottle to pint glass it poured with a pretty decent head. Color is dark brown with a ting of red.
Odor is of malt first and maybe some caramel in the background.
Taste is floral at first and maybe with some citrus. Malt is also detectable. After taste is a little bitter and different.
Mouth feel is pretty good with some coating of the tongue.
Overall it is not bad nut brown.
385 characters
3.5
/5
rDev
-5.4%
look: 3.5 | smell: 3.5 | taste: 3.5 | feel: 3.5 | overall: 3.5
Appearance: Massive, coarse and persistent tan head crowns an opaque, dark amber body. Fine, scattered lacing adorns the glass walls.
Aroma: An unexpected punch of herbal and grassy hops dominate the aroma. This is not a hoppy beer, by any means, but it is noticeable, and surprising for the style. Nutty, toasted malts are also present, but are still overshadowed by the admittedly modest hops.
Taste: Modest, slightly earthy hops vie against toasted malts. The malts carry a mildly nutty flavor throughout. Bitter cocoa and earth offer an interesting counterpoint. Toasted nut flavors bring the taste to a close and linger on well after.
Mouth feel: Smooth, full, quite soft to the taste.
Drinkability/notes: A decent and drinkable example.
Presentation: Packaged in a standard twelve-ounce brown glass longneck bottle with a pry-off crown, served in a New Belgium chalice.
880 characters

3.43
/5
rDev
-7.3%
look: 3.5 | smell: 3 | taste: 3.5 | feel: 4 | overall: 3.5
Not very impressive at first gulp, but its rather modest charms eventually reveal themselves. Very light bodied and has the watery character of a lot of English-style beers. Just a slight sweetness.
I would call this an English Brown, rather than an American. The whole thing is light and mineral flavored. It doesn't have that highly roasted, sweet flabbiness I associate with the American style. An oddity for Shmaltz, but an interesting experiment.
Just a touch of bitter bite at the end. A hint of onion in the aroma? Some say this is 5.5%, but it tastes even lighter. From the 12 oz bottle.
597 characters
3.42
/5
rDev
-7.6%
look: 3 | smell: 3.5 | taste: 3.5 | feel: 3 | overall: 3.5
Pours a dark brown and you can see ruby color when held to light. One inch off white head with decent lacing.
Smell is caramel, toffee, some chocolate.
Taste is typical of nut brown ale with the caramel, toffee, and chocolate flavors melded with just the right amount of hops. I get a little nut flavor with the hops on the finish.
Mouthfeel is spot on for the style with good carbination.
Overall a pleasant nut brown, nothing super but a little above average.
473 characters

2.65
/5
rDev
-28.4%
look: 3 | smell: 3 | taste: 2.5 | feel: 1.5 | overall: 3
A - Pours a very dark almost black color, very small head that dissapated quickly. No lacing whatsoever.
S - Slight chocolate/roasted smell.
M - Very low on carbonation, borderline flat.
T - Slight chocolate and toffee flavors, roastiness on the back end.
O - This would be such a better beer with the right carbonation. It's hard to get over the carb levels and really enjoy the beer, I'm wondering if something happened at the brewery with this particular 6-pack. Flavors are still good regardless.
501 characters
Nut Brown Ale from Shmaltz Brewing Company
3.7
out of
5
based on
68
ratings.