Reunion Ale '12
| Shmaltz Brewing Company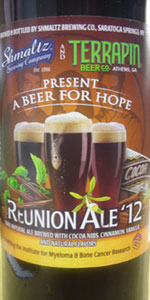 BEER INFO
Brewed by:
Shmaltz Brewing Company
New York
,
United States
shmaltz.com
Style:
American Brown Ale
Alcohol by volume (ABV):
8.00%
Availability:
Limited (brewed once)
Notes / Commercial Description:
No notes at this time.
Added by WastingFreetime on 08-12-2012
This beer is retired; no longer brewed.
Reviews: 59 | Ratings: 245

3.83
/5
rDev
-2.8%
look: 4 | smell: 3.5 | taste: 4 | feel: 3.5 | overall: 4
Bottle into red wine glass:
A: Quite dark body, creamy, long-lasting head.
S/T: As the bottle describes, so it is: Cocoa nibs give a very dark chocolate base, but there's some significant dose of vanilla beans, and some cinnamon. The combination gives off something of a false coffee vibe. It's particularly strange in that the flavors don't really seem to mesh at first, but really hit one after the next. Ultimately, as it warms up, they blend pretty well, and it ends up being quite rich. A little on the sweet end, with a touch of an alcoholic burn, but still with that bittersweetness from the nibs.
M: Moderate cream, but with a touch of a burning finish.
O: Weird, weird beer. I'm glad I tried it and am unsure how interested I am in having it again. It's an interesting flavor combination that I at least would normally associate with whiskeys. I would have expected a beer like this from DFH, and I think if it were slightly less rough around the edges, and if the flavors meshed quicker, it could really be something special. Overall, still good work by two unique breweries.
1,089 characters
4.27
/5
rDev
+8.4%
look: 4.5 | smell: 5 | taste: 4 | feel: 4 | overall: 4
A beautiful dark red body is topped off with a thick, creamy head. Aroma swims with toffee, muted roast grains, caramel, and vanilla; richly sweet. Taste presents creamy caramel tones, roasted hazel nuts, lightly burn sugars, cinnamon (which I at first attributed as some strange alcohol heat) with a hint of bitterness as the taste fades out. Sweet and heavy body.
Different and delicious. Malt sweetness dominates with plenty of depth and variety of flavors to tease the palate. The cinnamon addition initially might come across as a little odd, but the overall taste and aroma are top-notch and tame the cinnamon taste making for a very pleasant dark beer experience.
671 characters

4.2
/5
rDev
+6.6%
look: 4 | smell: 4 | taste: 4.5 | feel: 4 | overall: 4
A - Pours a dark brown color with a finger of frothy khaki colored head. The head fades down fairly slowly leaving behind some nice lacing.
S - Aroma is a mix of roasted dark chocolate malts, dark fruits, cinnamon, and vanilla with some black licorice and molasses.
T - Starts off with a mix of dark chocolate, dark fruits, and some vanilla. Through the middle, the cinnamon comes through with some black licorice, molasses, and a touch of roasted coffee. The finish is a mix of roasted dark chocolate, dark fruits, vanilla, cinnamon, and black licorice.
M - Medium bodied with moderate carbonation. Feels smooth with a sweet and roasty finish.
D - Very drinkable. Nicely balanced with some good flavors mixed in. Cinnamon is a nice touch.
743 characters
4.27
/5
rDev
+8.4%
look: 4.5 | smell: 5 | taste: 4 | feel: 4 | overall: 4
My mouth is watering just looking at the extremely dark brown, almost black, liquid in the snifter. Umm, opaque to say the least. Up top is a finger of beige creaminess, in a combination of large and small bubbles. Moderate retention.
It smells like a Heath Bar. Toffee, caramel, chocolate, cinnamon and vanilla. For a dark beer lover, it really doesn't get better.
It's obviously a malt-forward beer, but the chocolate really dominates in a couple aspects. First, there is a faint cocoa taste, but also it provides some bitterness as the beer works its way to the back of the mouth to keep things in balance. Vanilla and cinnamon tag team the taste buds throughout.
Screams 'CREAMY' the second it touches the lips. Faint sweetness before giving way to an ocean of spicy, hoppy bitterness and a prickly, carbonated finish. Also, a bit of heat in the finish thanks to 8% ABV.
This is a helluva collaboration. It's an easy drink for dark beer fans, but some may be turned off because it is bitter. Regardless, I'm happy I bought this bomber.
1,044 characters
4.32
/5
rDev
+9.6%
look: 4 | smell: 4.5 | taste: 4.5 | feel: 4 | overall: 4
Poured from 22 oz. bottle into a He'Brew shaker pint glass. 2012 Bottle.
Appearance: Pours a very dark brown with some hints of amber and ruby red. Lots of bubbles and a big four finger beige head that holds up for a while then fades into a small creamy layer. Good amount of lacing.
Smell: Aroma is very roasty and sweet. Dark roasted malts with big hints of chocolate from the cocoa nibs. Also some hints of roasted coffee, nuts, milk, cream, and dark bread. Nice hints of vanilla and the cinnamon spicing is very noticeable. Also a light hint of smoke in the aroma. Light earthy hops in the background.
Taste: Like the aroma indicates, a very dark and roasty taste with a big kick of cinnamon. Dark roasted malts with a big taste of cocoa nibs, coffee beans, vanilla beans, milk chocolate, nuts, cream, dark bread, and burnt sugar. Also some burnt caramel and toffee. The roasty taste is actually fairly bitter and not as sweet as you might expect. The cinnamon spice is big and blends with the chocolate pretty well. Light notes of earthy hops towards the finish. A good and interesting taste.
Mouthfeel: Medium bodied with a moderate amount of carbonation. Very creamy and roasty feel. Has a fairly drying finish. Alcohol is hidden very well.
Overall: A very good dark beer. Great roast flavors and the cinnamon adds an interesting kick. Could of had a little more body, but this was very good anyways.
1,415 characters

3.43
/5
rDev
-12.9%
look: 3.5 | smell: 3 | taste: 3.5 | feel: 4 | overall: 3.5
Poured into an impy nonic a deep dark chesnut brown with a amber tinge,a thinner but well retained light beige head atop.I was really taken back at the lack of aromas to this beer,I picked up some earthiness and mild bitter chocolate,that was the most dissapointing part of this beer.Vanilla really stands out in the palate with bitter chocolate underneath,some cinnamon and earth finish it out.Last year's beer was great,this is a little uninspiring,it's not horrible but it lacks depth in the aromas and the flavors to me.
524 characters

4.12
/5
rDev
+4.6%
look: 3.5 | smell: 4 | taste: 4.5 | feel: 3.5 | overall: 4
1453Rd Review on BA
Draft to Stemmed Goblet (Kinda)
12oz
@Haven Gastropub, Orange, CA
Paired with a lamb burger and truffle fries
App- Its a brown ale but more creamy. Like a brown and a stout blended with a little bit of a lighter color. Not sure how that works but sure. Had a small 1/2 finger quick receding head and very little cling.
Smell- I believe the lines were a tad too cold but smelled good. Malty, roasty, a good dose of the vanilla and spices were in there as well.
Taste- So that creamy color...Yeah that came out on the flavors and melded seamlessly with the vanilla and cocoa and the malty roast notes of the brown ale. Very good flavors and depth of flavors.
Mouth- A bit too thin for me. Needed to be a bit thicker and more full. The carbonation was pretty spot on though. Residual vanilla and a little creme.
Drink- It's a good brown. The taste is better than the sum of the parts. But very good none the less.
937 characters

3.68
/5
rDev
-6.6%
look: 4.5 | smell: 4 | taste: 3.5 | feel: 3.5 | overall: 3.5
Picked up at E.B.I. beverage, right across the street from the brewery in Saratoga,NY where this is brewed.
A- Deep dark mahogany with touches of ruby. It starts with a nice thick tan head poured into my Ithaca Excelcior tulip. A ton of sticky kahki lacing drips all down the side and never lets go.
S- Fresh cut vanilla beans, milk chocolate, and woody cinnamon. No hops, no yeast... just a ton of cinnamon/cocoa/vanilla and sweet malts. Hints of sweet cream and coffee. Jeez... I'd almost like to have this hot while sitting next to the fire this winter.
T- Like vanilla/cinnamon cocoa! Really nice notes of bitter coffee and sweet cream. Not a ton of depth or complexity, but what it has is really nice. Reminds me of a fantastic iced coffee.
M- A touch bitter, nice creamy feel. Just a bit too much cinnamon for me. I wonder if that would settle down with some time and let the let the vanilla beans and cocoa shine thru.
O- I wanna revisit this with some time on it instead of so fresh. If the cinnamon and coffee mellow out a bit, this could be really nice! The vanilla, milk chocolate and some dried fruit may shine thru with some time. Well worth trying.
1,169 characters
3.87
/5
rDev
-1.8%
look: 3.5 | smell: 4 | taste: 4 | feel: 3 | overall: 4
Another year, another collaboration between Shmaltz and Terrapin. There are two versions of this beer, each brewed at either of the two breweries (The producing brewery is indicated by being first on the billing order on the label and by the color of the foil top). This review is for the version of 2012 Reunion Ale produced at Shmaltz.
"Dark Imperial Ale brewed with cocoa nibs, cinnamon, and vanilla." says the label. So this is not a chile beer like last year's Reunion Ale was.
Pours out a dark brown with a 1 cm skim layer of tan foam that lasts for several minutes and has mild lacing properties.
Aroma is a blunt beating about the face made mostly out of equal parts fresh cinnamon and musty earthy dark chocolate. As it warms up, lighter amounts of smoke, vanilla, and black coffee appear in the nose.
Flavor starts out as a brief yet strong hit of woody cinnamon sticks that quickly shifts to a semi-char malt and dark chocolate / dark fruit-underpinning combination. Vanilla nuances are wispy and thin, but the ever-present cinnamon sweetens up somewhat by midsip to provide good counterbalance to the black coffee finish. Fleeting glimpses of herbal and earthy garnishes are present from time to time.
If I had to pick something to criticize, it would be the sluggish carbonation which makes the lighter body actually present as closer to medium body on the tongue. There is a bit of a mineral aftertaste to the finish as well, making me wonder if this was made with hard water.
I'd recommend trying this one if you really like a lot of cinnamon flavor and aroma in your dark beer, because the cinnamon is the featured star in this brew.
1,667 characters
Reunion Ale '12 from Shmaltz Brewing Company
3.94
out of
5
based on
245
ratings.