Fretzy's Unfiltered Pale Ale
| The Phoenix Ale Brewery
BA SCORE
76
okay
11
Reviews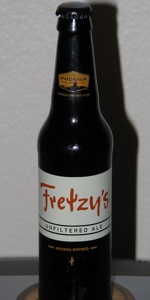 BEER INFO
Brewed by:
The Phoenix Ale Brewery
Arizona
,
United States
phoenixbrew.com
Style:
English Pale Ale
Alcohol by volume (ABV):
5.00%
Availability:
Year-round
Notes / Commercial Description:
30 IBU
Added by bigbelcher on 07-22-2011
Reviews: 11 | Ratings: 44
2.3
/5
rDev
-21.8%
look: 2.5 | smell: 2.5 | taste: 2 | feel: 2.5 | overall: 2.5
Poured into my Ruination Pint glass. Color is extremely light orange to almost piss yellow. Carbonation is super hyper and fills two thirds of the pint glass with a soapy and bright white colored head. The head rises very quick and drops just as fast. Lace is faint but does stick.
Smell is pretty yeasty. All grass or wheat tea soaked bread. I can't come up with anything else.
Taste is like butter toffee sourdough bread. With the explanation point on the sourdough or yeast. Blah!!
Mouth is dry and empty. I guess it isn't all that bad for an unfiltered wheat. Don't know who categorized this an English Pale. Either way it is watery and thin and extremely dry.
Overall I really didn't like this. The style here says EPA but it is much more like an unfiltered wheat or hefe. The bottle only says unfiltered ale. Either way I want to drain pour this. I really had high hopes for this one. Home brewed and sold for $11 a bomber at Chase Field (Arizona Diamondbacks ballpark). Not the case. Another terrible example of a terrible style. Thanks to Skip for this sample.
1,072 characters

2.44
/5
rDev
-17%
look: 4 | smell: 2.5 | taste: 2 | feel: 3 | overall: 2.5
I sampled draft and bottle before writing review, and I wanted to give a fair try because they're local, and well because I figured the ale couldn't possibly be this bad. But it is. It's the really close, both versions draft and bottle.
Draft version has more of the cardboard flavor with some assertive cheese-like aromas AND flavors, the sort of cheese that reminds you of sweaty socks, and funk in general.
Pours hazy golden with decent white head. Nose isn't very assertive, but what is there is an off-doughy aroma and sort of dusty/dirty citrus, or basically some citrus with some funky stuff that shouldn't be there. Palate offers a medium body, with some lemony citrus flavors along with bready malt flavors, and a sort of dry cardboardy character (in both draft and bottled versions). That's most of the finish too, and cardboardy flavor with hint of lemon.
869 characters

2.5
/5
rDev
-15%
look: 4 | smell: 1.5 | taste: 2.5 | feel: 4 | overall: 2.5
Sampled at 1702, Tucson; August 2011
Arrives from the tap with a frothy, half-finger thick, pale, off-white colored head. The beer is a pale amber tinged, gold color that shows an almost brilliantly clear, full gold hue when held up to the light. The aroma smells like stale beer that has sat out all night at a frat party; really smells weak and beery. It really doesn't smell off, but smells exactly what I don't want a beer to smell like.
Soft and creamy textured up front, the beer has a soft sweetness to it throughout which accentuates a fair amount of general fruitiness in the flavor. The finish tastes sort of like the nose, but isn't quite so offensive. This has a touch of hop bitterness to it, some light herbal / spice hop notes and I think some of the fruitiness is influenced by the hop character as well. The fruitiness tastes sort of like a mix of berry notes, touches of floral apple and some light citrus components. The malt character here is really quite weak somehow; there is a sort of vague crystal malt sweetness, but this is really missing a toasted grain character than one expects to find in a beer made with quality malts. It is nice and light bodied, which would support easy quaffing if the taste and aroma were something more enticing.
This is not a horrible beer, but man has it left me very disappointed. Seems like the target market for this beer is the BMC drinker whose tastebuds are afraid of their own shadow. This gives Budweiser American Ale a run for its money though.
1,518 characters
2.52
/5
rDev
-14.3%
look: 3 | smell: 3.5 | taste: 2 | feel: 3 | overall: 2
=/
That's all I can say about this beer.
Actually...poured into a pint glass. For an "unfiltered" beer, it's crystal clear. There is some gunk on the bottom of the glass, but it didn't look very appetizing.
Flavor is very lagery. Biscuity, lemony. Not too hoppy either. However, every few sips, I pull a strange chemical flavor though, which is really unnerving. Scent is really weak. Decent head though!
The mouthfeel is fine, but the flavor really doesn't sell me. The design of the bottles and company is great though. Simply great.
541 characters
2.55
/5
rDev
-13.3%
look: 2.5 | smell: 2.5 | taste: 2.5 | feel: 4 | overall: 2
Bottle
Peoria Sports Complex
Peoria, AZ
Clear light amber and orange with a moderately sized near-white head that doesn't leave much, if any, stick to the (plastic) glass. For an unfiltered pale ale, this certainly appears filtered.
Very simple aroma consisting of mild bread and caramel with very little hop presence. There's nothing off-putting about the aroma, it just simply isn't very expressive whatsoever.
The flavor is very similar to the aroma, with bread and mild caramel leading the way. Again, there's very little hop presnece except for a moderate level of bitterness.
Medium bodied with high carbonation.
A boring beer, even at the sports complex. I wish I had ordered a New Belgium Ranger instead.
718 characters

2.67
/5
rDev
-9.2%
look: 3.25 | smell: 2.5 | taste: 2.5 | feel: 3.25 | overall: 2.75
Amber color in the glass with a decent head. The second pouring hazes over a little and I see some sediment in the bottle. Average carbonation. The smell is just plain unusual, not beery at all. A whiff of the old laundry basket, left-over fish and chips.
I'll make allowances for this being an English style of Pale Ale, but there is definitely a strange flavor going on here. It tastes something like spoiled fruit which I hope is due to There is an increasing bitterness in the aftertaste. Maybe this is some kind of English nonsense, but I think they accidentally brewed the socks and washed the hops. From the 12 oz can bought at AJ's Fine Foods in Chandler.
664 characters

2.72
/5
rDev
-7.5%
look: 4 | smell: 2 | taste: 2.5 | feel: 3 | overall: 3.5
I'm sure I will come back and revisit this beer down the road a bit. It was the new brewery's first batch so to be fair I'll come back to see if they tweek the beer down the road. The beer is supposed to to be unfiltered but is clear with no yeast. Color was golden. This is an English style Pale Ale so no hops were anywhere to be found. Body was light. Some malt but this beer really didn't turn me on too much. Someone said they thought it was more like an English Bitter than a Pale Ale although I am far from an expert on the differences between the two. Met the owner at a promo. Nice enough guy. They said the other owner is one of the founders of Pyramid.
663 characters
3.08
/5
rDev
+4.8%
look: 3 | smell: 2.5 | taste: 3.25 | feel: 3.5 | overall: 3.25
Picked up on 1-21-13 as part of a mixed sixer from Fry's. Best by 4-6-13.
Beer poured golden orange with no head.
Nose is muted malts.
Taste is cereal malts with a grapefruit hop finish.
Mouthfeel is medium bodied and pretty smooth.
Overall not a bad beer but nothing special. I do like the grapefruit finish though.
321 characters
3.2
/5
rDev
+8.8%
look: 3 | smell: 3 | taste: 3 | feel: 4 | overall: 3.5
12 ounce bottle picked up @ Plaza Liquors. 5.0% ABV.
Shouldn't an unfiltered pale ale look unfiltered? It has a bright gold color, very clear, with thin white foam. Lively carbonation, decent head retention. Looks like a pils. The smell isn't much like an ale aither, more like a macro lager. I get a biscuity maltiness, touch of lemon, and virtually no hops. Not too inviting but I'm still hopeful.
The taste is very simple and clean. The bready malt starts to build at the back and there is a touch of bitter aftertaste. Overall it's pleasant but lacking much excitement. The mouthfeel is very smooth, with fine/sharp bubbles. Not too thin.
There is about as much depth in flavor as there was in the brewer's note on the bottle (2 sentences). If he wanted to make a clean lager-tasting ale, then he suceeded. There certainly aren't any "off flavors". The unfiltered thing still confuses me, because I think of wheat beers and I expect cloudiness. I really assumed I would dislike this beer, but I didn't, so alas I say it's worth a try...
1,044 characters
3.5
/5
rDev
+19%
look: 3.5 | smell: 3.5 | taste: 3.5 | feel: 3.5 | overall: 3.5
Pours a golden copper color with a white head and some lacing. Aroma is floral, citrusy and soapy with a bit of malts behind it. In the taste, light citrus, herb and earthiness. Has a solid bitterness. Medium bodied, smooth and well carbonated. Overall, this is a solid pale. Drinkable all day.
294 characters

4.26
/5
rDev
+44.9%
look: 4 | smell: 4.25 | taste: 4.25 | feel: 4.5 | overall: 4.25
A gift from my wife after her visit to Phoenix. 330ml bottle. Pours a gold hazy colour with a white head that leaves lacing. Aromas of citrus, spice & malt. Tastes of citrus, grapefruit, flora, spice & malt. Aftertaste has a lovely spicy bitter finish. Overall a bottle I really enjoyed, and would love a second.
312 characters
Fretzy's Unfiltered Pale Ale from The Phoenix Ale Brewery
2.94
out of
5
based on
44
ratings.