Penrose Private Reserve No. 1306
| Pikes Peak Brewing Company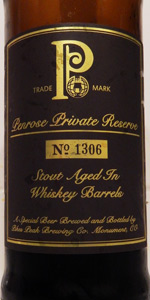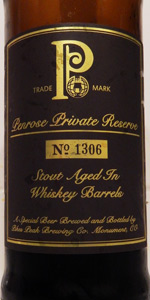 BEER INFO
Brewed by:
Pikes Peak Brewing Company
Colorado
,
United States
pikespeakbrewing.com
Style:
American Imperial Stout
Alcohol by volume (ABV):
8.90%
Availability:
Limited (brewed once)
Notes / Commercial Description:
This is an imperial stout that was aged in Whiskey barrels and soured with Lactobacillis. Style should be sour stout.
Added by mactrail on 07-14-2014
This beer is retired; no longer brewed.
HISTOGRAM
Ratings: 9 | Reviews: 7
Reviews by BucannonXC5:
3.34
/5
rDev
+28.5%
look: 4.25 | smell: 3.25 | taste: 3.25 | feel: 3.5 | overall: 3.25
Type: 750ml (25.4oz.) bottle
Glass: Sea Smoke oversized wine glass
From: BA's ucsbmullet
Price: N/A
Purchased: N/A; Received it on July 23, 2014
Consumed: Aug. 22, 2014
Misc.: No. 548; Brewed March 2013
Thanks Nick!
Poured a pitch black color with 1-to-2 fingers of frothy tan head, which seemed to dissipate rather quickly. Very good spiderweb, layered lacing along the sides of the glass. Good retention on the top. A nice looking beer. (Sight - 4.25)
Smelled boozy whiskey, dark chocolate, sulfur notes, crayon, caramel, toffee and chocolate syrup. Wow, that whiskey booze comes through hard. Almost dry-heaved after a few big whiffs (I'm a wuss when it comes to shots). (Smell - 3.25)
Tasted nothing like I thought it was going to. Not strong at all, but not a lot of flavor. Got caramel, toffee, dark chocolate, wood, sugary chocolate and even a bit of sourness. Not anywhere as boozy as the smell. Not as noticeable for sure. (Taste - 3.25)
Full body. Oily texture. Soft carbonation. Long, smooth, slightly sour finish. (Feel - 3.50)
I thought this was going to be fantastic, but I was wrong. A decent attempt but I would call this a stout as opposed to an imperial stout. I think this would have been better with some aging. (Overall - 3.25)
3.34 | 76 | B-
1,274 characters
More User Reviews:
3.21
/5
rDev
+23.5%
look: 3.25 | smell: 3.5 | taste: 3 | feel: 3.25 | overall: 3.25
Something not quite right with this beer. Not sure if it was infected or supposed to taste like that. The sour taste just seems really out of place. Won't buy this one again.
174 characters

2.72
/5
rDev
+4.6%
look: 3.5 | smell: 2.75 | taste: 2.75 | feel: 2.5 | overall: 2.5
They describe this as a "Stout aged in whiskey barrels." Very dark brown with a near beige head, which is not too long lasting. The spritz in the mouth carries on, however. A musty, highly alcoholic sort of smell.
This is like some sort of tannic wine with a bitter aftertaste. It's one of the driest big stouts I've ever had. The stuff is quite sharp after a few sips, and I first wrote that it is a bit sourish, but I revise that to say the sugar has been eaten and it right on the way to a sour. Any afficianados of Paradox Brewing will recognize that wild flavor. Woody and booze flavored, with a big dose of unripe pineapple. It even goes after the gums and the roof of your mouth.
I didn't realize this was over a year old when I bought it. Brewed 03/20/2013, according to the label. The barrels are definitely alive with organisms and I wouldn't keep it around any longer. The 750 ml bottle was purchased at Grapevine Liquor in Denver.
944 characters
3
/5
rDev
+15.4%
Bought Series number 1306.
A: It pours a nice black color with a tan head that lasts for some time.
S: It has a nice balanced smell with malts and chocolate. It doesn't have a strong alcoholic smell which is nice, got a nice chocolate roast to it. Get some vanilla. Some prune as well
T: Has a sweet taste, get some bourbon taste but very faint. Has a nice chocolate, malt, vanilla, get some weird sour notes to it as well
M: It doesn't have a full bodied taste at all. It falls off the palate very quickly.
O: It is a good beer to try. I am a stout person and this one wouldn't rank as a good stout. Ya, you do get the nose of the stout, but not a lot of the taste of a stout.
686 characters
1
/5
rDev
-61.5%
Smells good but the taste shows something is wrong. Tastes like it is infected with something. Cannot finish.
109 characters
2.97
/5
rDev
+14.2%
look: 4 | smell: 3.25 | taste: 2.75 | feel: 3 | overall: 2.75
Unique bottle label data: 1376 Brewed 03/2013
Deep brownish-black body; thick, sticky, light brown head. Sweet roasted malt aroma initially; sherry or cooking wine; sour. Dark roasted grains; grain husks; cheap whiskey. Medium bodied; dry and astringent.
A mess of a beer that fails to bring the stout style and whiskey barrel aging into harmony. The most striking characteristic is probably the barrel aging that, unfortunately, leaves a more sour note on things more than anything else. The base beer may have been okay. There are twinges of roasted grain, cocoa and chocolate, but it's just overwhelmed with the funky wine/sour flavors and smell. On top of that, the body feels weak and watery. There is no additional information on the bottle or the brewer's web site about other brewing techniques or ingredients, nor anything about the intent of this beer, so it's open to conjecture whether there is/was any intentional addition of wild yeast or lactobacillus organisms that may explain the "unique" flavors. Regardless, for a barrel-aged stout, this one needs a lot of improvement.
Late note: this wound up being a drain pour. I did notice a lot of sediment on the bottom of the bottle but have no idea whether it was yeast or something else.
1,253 characters

1
/5
rDev
-61.5%
terrible. tasted infected. drainpour.
37 characters
3.76
/5
rDev
+44.6%
look: 3.75 | smell: 4 | taste: 3.75 | feel: 3.75 | overall: 3.5
a very odd beer, a whiskey barrel aged big stout with lacto. uncommon for sure, unique, interesting, all of the above. i was glad to try this, but also glad to not have committed to a full bottle. its intense. looks like a stout, frothy dark brown head over a shiny almost black body. the nose shows a ton of the whiskey barrel, really nice actually, oaky and sweet, with a lighter alcohol sting. the lacto here isnt so sour as it is in the flavor, providing more of a lemony hit, which i kind of dig, it lightens up all the dark malt really well, and it smells cohesive. the flavor though is a little more disjointed, like this wasnt supposed to be soured, like something went wrong. the beer seems thin of the style because of the acidity, and the sourness for me here clashes with the whiskey flavor. im not sure i love it, but i think its interesting because of the interplay between the barrel and the lacto, its not like other sour stouts ive had, and still clings to some sweetness in the end. i like the base stout a lot, and i like that the lacto isnt overly mature, its not an acid bomb yet, but i also probably wouldnt have loved buying this for 15 or so bucks at a liquor store either. drinkable enough for what it is, but not my favorite, and i liked the other beers in the penrose series a lot better.
1,315 characters

2.36
/5
rDev
-9.2%
look: 4 | smell: 3 | taste: 1.5 | feel: 3 | overall: 2.5
From a 650 ml bottle (286 on the bottle, brewed March 2013) into a snifter. Reviewed from notes dated October 29, 2014.
A-The beer looks the part with a dark hued liquid sitting beneath a mocha colored cap of foam. It is opaque as you would expect and the foam leaves a thin ring of lacing at first.
S-The aroma is odd...I get wet grains, some chocolate, and dark overripe (almost rotten smelling) fruit. I don't pick up any barrel flavor.
T-The taste is sweet, sort-of fruity, and tangy. Very odd and not very good. I pick up no barrel flavor and very little in the way of stout flavors, either.
M-The body is medium in heft with a very, very light spritz of carbonation.
O-I can't help but wonder is something is off with this bottle. I tried to choke down a glass, but couldn't finish it. The smell isn't great, but the taste is a whole other world of bad. I'm not one to cry infection, but something seems off here.
925 characters
Penrose Private Reserve No. 1306 from Pikes Peak Brewing Company
Beer rating:
2.6
out of
5
with
9
ratings