Bob's Memorial Braggot
| The New Old Lompoc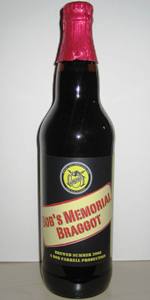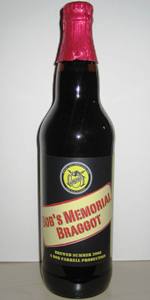 BEER INFO
Brewed by:
The New Old Lompoc
Oregon
,
United States
newoldlompoc.com
Style:
Braggot
Alcohol by volume (ABV):
7.00%
Availability:
Rotating
Notes / Commercial Description:
No notes at this time.
Added by msubulldog25 on 06-13-2009
HISTOGRAM
Ratings: 8 | Reviews: 7
Reviews by chumba526:

3.9
/5
rDev
+9.2%
look: 4 | smell: 4 | taste: 4 | feel: 3 | overall: 4
This beer appears reddish brown with a small light tan head.
It smells slightly floral, caramel like, and slightly citrusy. There is a nice strong sweet honey smell as well. There is also a slightly earthy fruity smell. There are a lot of different elements to the smell.
It tastes initially slightly sour there are some flavors I associate with dry fruit. A nice fruity honey flavor is also present. A slight bourbon like aftertaste is present. There are a lot of different flavors going on but they blend with each other quite smoothly. I could see this beer being a little rough when fresh but it has aged quite well.
The carbonation is very low.
The drinkability I think is pretty good I am having no problem drinking this while reminiscing about a bastard of a chemistry test.
Overall a good different tasting beer.
827 characters
More User Reviews:
3.57
/5
rDev 0%
look: 3 | smell: 3.5 | taste: 3.5 | feel: 3.5 | overall: 4
Served in Deschuttes Brewery's stemmed Jubel 2010 glass.
Appearance: Head serves an off-white, diminishes quickly... to nothing. Literally there is no head, no foam and no lacing left over. Completely dark in normal, ambient light. When you hold it up directly, however, a murky (almost matte) amber color is visible directly through the body.
Smell: The word spicy comes to mind. Lets see what else... hints of summer fruits (cherries perhaps)? I can't smell the booze, the hops or any of the malts that I might usually associate with these types of beers. The smell is bright to say the least.
Taste: I get the same bright tastes I get from the smell. Lots of fruit and cherry notes. Very tasty to be sure, much much different from what I'm used to. Almost like a lambic? I dunno.
Mouthfeel: Good, medium-light body. Fruity beers like this are often weighed down by strong, concentrated, dehydrating syrupy notes. This one is not. A definite success I would say.
Drinkability: Somewhat diminished by the overall sweetness of the beer but not bad. The fruity flavors fatigue my pallet a bit but maybe I'm just not used to this style of beer. Still good.
All-in-all, I get a lot of spice and fruit off of this beer. Not at all what I'm used to but not necessarily bad. I enjoyed this beer and can definitely envision drinking it on a hot summer day for a bit of refreshment.
1,380 characters
2.63
/5
rDev
-26.3%
look: 3.5 | smell: 3 | taste: 2.5 | feel: 3 | overall: 2
22>pint glass
This was bought last winter.
A- A Tanned cherry Red. No Head.
S- boozy cherry medicine syrup, herbally, honey, alcoholic.
T - Cherry herbal medicine, bit o honey. Medicinal herb lingers.
M - Thin, slick viscosity. No lingering residue, clean to cleansing finish.
D- If I want a medicine drink, sure. Not sure Id do this one again. Not sure why I would..
[this beer is 2.25 parts mead to one part brown ale]
429 characters
3.79
/5
rDev
+6.2%
look: 3.75 | smell: 4 | taste: 3.75 | feel: 3.5 | overall: 3.75

4
/5
rDev
+12%
look: 4 | smell: 4 | taste: 4 | feel: 4 | overall: 4
Bomber poured into my Delirium snifter Bob's Memorial Braggot is clear light amber brown with a small light sand head.
Smell is fairly strong and very unique. An amalgam of sweetness comes together as a fruity candiness, Belgianesque, but with some earthy, herbal notes as well. I really dig it, although some solvents creep out as it warms from cellar to room temp.
Taste is similar, not as robust, with a fairly flat mid palate, with the candy lingering on the light, dry aftertaste. Definitely more of classic honey beer then then exotica displayed on the nose, although this helps the drinkability. There's a ginger ale like quality to it, although any perceived spiciness is faint.
Mouthfeel is pretty light, with some dry carbonation and just a bit of stickiness.
Drinkability is pretty good, an enjoyable, complex brew that definitely stands out from the crowd. As much as I enjoy the more robust characteristics, they can be deal-breakers I'm sure for some. Recommended to fans of Belgian style beers (ambers, Flanders Red save the pucker), which is what this is most reminiscent of to someone who's only had 2 or 3 other braggots. Bob was a big evangelist of mead's on the local homebrew scene, and this brew is a fitting tribute. Cheers Bob!
1,259 characters
3.63
/5
rDev
+1.7%
look: 4 | smell: 3.5 | taste: 4 | feel: 3.5 | overall: 3
When the new Side Bar opened at NOL 5th Quadrant a few weeks back, we snagged a bottle of the braggot; 22 oz. for about $9, as I recall. Poured to a snifter after sitting for a while outside the refrigerator chill.
'Brewed Summer 2008 - A Bob Farrell Production'
A: Auburn with a notably 'red' leaning. Quite clear, only the rare, wriggling bubble interrupting an otherwise still pour. No head, only a pencil-thin ring of tan cream, slightly bubbly, and a quarter-sized patch of film.
S: I recall this beer from a 'Meet the Brewer' event at Green Dragon back in the spring; it had one of the oddest aromas any of us could recall in a beer of any style. Extremely floral, a feminine perfume. Slightly medicinal, hints of antiseptic mint. Something akin to cherry kool-aid. Mild cereal sweetness, that is mead/honey aroma, I suppose. Faintly woody, with traces of bourbon. A twinge of rubbing alcohol. Sounds a bit muddled (and it is), but I found it alluring all the same.
T: Haven't had many braggots, so I haven't quite figured out what they're 'supposed' to taste like. This one is definitely different than others I've tried, but that's not necessarily bad. Like the aroma, flavor is flowery, clover-like. It's cut grass, or more precisely, cut ivy. Cherry lozenge, a vinous and vanilla-laden oak. The mead holds a tartness in the finish that replicates a dry white wine in some ways.
M: Buttery-smooth texture, slides effortlessly across the tongue. Seemingly thin, but with a building weight of spice and coating sugars (though not a lingering sweetness). Waning acidic tang in the finish.
D: Honestly, I quit halfway through the bottle and struggled to make it that far. As intriguing as this is, it's best served in small doses. I wouldn't rule it out, but it's not a beer that I must return to either. Certainly worth a try, just be sure to have some equally interested sipping partners to share with.
1,916 characters

3.68
/5
rDev
+3.1%
look: 4 | smell: 3.5 | taste: 4 | feel: 4 | overall: 3
split this 4 ways the other evening in portland after a visit to the 5th quandrant. like beer, mead is a magical beast. but braggot is like a liger. i'm not sure what to make of it. sure, i'll take pictures and shit when i'm at the zoo but if i saw it in the wild, i might shit myself. or try to make love to it. well it was lovely and red, very bright, herbal and floral, as though it were made with high quality honey and some generous hopping. smooth body. the honey is obvious, the beverage was tasty, but when i woke up the next morning, i found that we'd only drank 3/4 of the bottle between the four of us.
don't worry.
i drank immediately from the bottle. just because it was a vacation does not mean i'm not all business.
730 characters
3.33
/5
rDev
-6.7%
look: 3.5 | smell: 3 | taste: 3.5 | feel: 3 | overall: 3.5
Thanks to Chumba526 for this one. He grabbed me a bunch of beers on trip to PDX a few years ago and this one got lost in the shuffle and has been sitting around ever since. That info, and the fact that I have limited experience with this style, should be kept in mind during this review.
Poured into nonic. Poured a lightly cloudy medium mahogany color with 1/2 inch of light tan head that was made up of large bubbles and quickly dissipated into a ring.
The aroma was mostly softly mellow malts, with a slight sourness, and had a slight funk. Otherwise the scents were subdued and neutral. The flavors started in much the same way, but soon showed an underlying fruitiness. The sourness (which I don't know if is intentional) was a pleasant aspect and the slight funk was interesting as well.
The body was crisp, thin and dry. Drinkability would depend on how much one likes the sour and funk. Overall, I found this to be an interesting brew and one I probably should have had much sooner than now. I doubt you'll find this beer, but if you do, it's worth trying.
1,067 characters
Bob's Memorial Braggot from The New Old Lompoc
Beer rating:
3.57
out of
5
with
8
ratings