Bourbon Barrel Aged Dark Side Porter
| The New Old Lompoc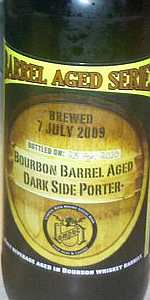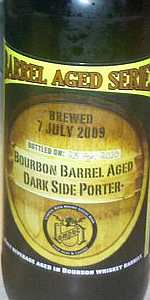 BEER INFO
Brewed by:
The New Old Lompoc
Oregon
,
United States
newoldlompoc.com
Style:
American Porter
Alcohol by volume (ABV):
7.50%
Availability:
Spring
Notes / Commercial Description:
None provided.
HISTOGRAM
Ratings: 14 | Reviews: 6
Reviews by beagle75:

3.52
/5
rDev
-3.8%
look: 4 | smell: 4.5 | taste: 3 | feel: 3 | overall: 3.5
Poured from a bomber into a half-pint chalice.
A: Opaque, dark brown color with less than one finger of diminishing mocha-tinted foam head. Scant lacing remains on the glass.
S: Rich roast, vanilla, and sweet bourbon combine for a hefty barrel-infused smell. Alcohol is in the mix, but does not overstep the other bourbon qualities.
T: Begins dry, with a burst of early vanilla-hued acidity followed by mellow unctuous chocolate. Flavors become relatively sparse during the latter half, even watery, before a slow oak finish sets in and lingers favorably, accompanied by a whiff of late booze.
M: Thin to medium viscosity, watery and acidic yet also soft on the palate, with moderate carbonation.
D/O: Potent barrel qualities overshadow the strong porter foundation here. The beer provides an unobtrusive canvas for bourbon that smells extremely appealing--comparable to Goose Island Bourbon County Brand Stout--but tastes far less enlightened.
949 characters
More User Reviews:
4.12
/5
rDev
+12.6%
look: 4 | smell: 4.5 | taste: 4 | feel: 4 | overall: 4
Bottle.
Pours black with a half-finger tan head. The head recedes into a wispy layer on top leaving solid lacing.
Smells of huge amounts of vanilla and bourbon backed by roasted malts and light amounts of dark chocolate.
Tastes very different than how it smells. Robust roasted malt flavors kick things off and are soon augmented by solid amounts of dark chocolate flavors. Midway through the sip mild amounts of vanilla and bourbon flavors make an appearance, carrying through to a solidly bitter ending.
Mouthfeel is good. It's got a nice thickness with smooth carbonation.
Drinkability is also good. I finished my glass without any problems and could have another.
Overall I was amazed by how different this beer smelled compared to how it tasted. If it tasted more like it smelled there's a possibility this could be a great beer. Even as it is now it's solid and well worth a shot.
892 characters
3.65
/5
rDev
-0.3%
look: 4 | smell: 4 | taste: 3.5 | feel: 3.5 | overall: 3.5
Not added yet? Bottled of this around and about here in PDX!
- Dark clear red and black... minimal head down to a small ring of mocha fizz.
- Big bourbon vanilla notes are right up front... sweet oats, malts... and cocoa... nice silky chocolate scent... bitter, and zingy.
- Oaky vanilla... wood... earthy.... grains... oats... caramel and chocolate.... light biscuit and bourbon.
- Medium feel... ever so slightly chalky... and thick with flavor....
- Overall a very nice bourbon oak porter... and I bet would be killer with a few years on it.
559 characters


3.85
/5
rDev
+5.2%
look: 4 | smell: 4 | taste: 4 | feel: 3.5 | overall: 3.5
With the strong bourbon scent and initial flavor you'd think it's a much higher ABV. The drink pours with a deep brown-red tone with very thin lace. The aroma is a sweet, caramel scent. It goes down nice and smooth in a blast of bourbon, malt and classic porter notes. A nice surprise after 7-8 seconds was a final taste of fresh coffee. Great smooth feel lingers on the taste buds as well.
390 characters

3.06
/5
rDev
-16.4%
look: 4 | smell: 3 | taste: 3 | feel: 4 | overall: 2.5
It appears black with a small dark tan head.
It smells harsh: I get a strong raw alcohol smell to the beer. It also smells like strong spiked coffee and dark minimally processed chocolate. There is an ever so slight vanilla like smell to it as well.
It tastes initially of harsh bourbon with a bit of a strong coffee flavor. I get a mild dark chocolate flavor. A nice bourbon like vanilla and oaky flavor is also very present. The taste ends with a bit of a caramel like sweetness.
The carbonation is moderate low and there is a smooth mouthfeel.
The drinkability is ok. But it is a bit too harsh to drink a lot of them. One glass of this is good for me.
Overall a pretty nice beer but a little harsh and rough around the edges. Not one of NOL's strongest Bourbon barreled offerings.
790 characters

4
/5
rDev
+9.3%
look: 4 | smell: 4 | taste: 4 | feel: 4 | overall: 4
From notes. Had at a recent RB tasting, thanks to whoever brought it. Bottled on 4/23/10, brewed on 7/7/09.
a - Pours a dark brown, almost black color, with one inch of off white head and moderate carbonation evident.
s - Smells of bourbon, oak, roasted malts, chocolate. A little faded but still really nice.
t - Tastes of roasted malts, bourbon, oak, sweet chocolate, dark chocolate, and vanilla.
m - Medium body and low carbonation. Easy to drink.
o - Overall a really nice, easy to drink, BBA porter. Some nice bourbon that has smooothed over time, would like to have it again.
586 characters

2.5
/5
rDev
-31.7%
look: 2.5 | smell: 2.5 | taste: 2.5 | feel: 2.5 | overall: 2.5
The beer doesn't really stand up well to the barrel
51 characters


Bourbon Barrel Aged Dark Side Porter from The New Old Lompoc
Beer rating:
3.66
out of
5
with
14
ratings