8 Malty Nights (Bourbon Barrel Aged)
| The New Old Lompoc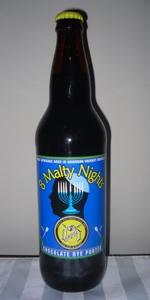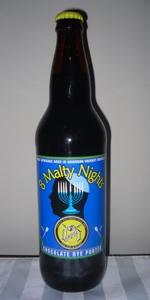 BEER INFO
Brewed by:
The New Old Lompoc
Oregon
,
United States
newoldlompoc.com
Style:
American Porter
Alcohol by volume (ABV):
6.50%
Availability:
Winter
Notes / Commercial Description:
None provided.
Reviews: 5
Reviews by CapitalGains:

4.08
/5
rDev
-3.5%
look: 4 | smell: 3.5 | taste: 4.5 | feel: 4 | overall: 4
Poured and tasted 6/15/2011. Bottle purchased in December 2010.
22 oz. bottle poured into a Sierra Nevada snifter glass
A: Light brown on the pour that develops into a dense brown in the glass, very little faint tan head with noticeable bubbles, head fades within seconds, leaves almost no lacing
S: Dominantly bourbon whiskey which can be smelled from a few feet away after the initial pour, rye, milk chocolate, maybe some toffee (?)
T: A bit of bourbon but the smell leads you to believe there's a lot more; mostly notes of chocolate, caramel and roasted malts, sugar, perhaps some vanilla as it warms up a bit
M: Mediumly-bodied, a bit chewy, average amount of carbonation
O: Wonderful complexities for a 6.50% ABV rye porter. I also had this on-tap back in December and remember being thoroughly impressed by it. Seasonal release by Lompoc and it doesn't get a whole lot of attention...probably a good thing so I can have more. Price was about $8 or so for a 22 ounce though I don't recall exactly. I was tempted to let this sit for another six months to a year but was hesitant due to the lower ABV. However, letting it cellar six months really brought out more of the bourbon characteristics, especially in the smell. Worth checking out and probably one of Lompoc's best offerings.
1,293 characters
More User Reviews:
4.5
/5
rDev
+6.4%
look: 4.5 | smell: 4.5 | taste: 4.5 | feel: 4.5 | overall: 4.5
My brother brought this beer in from Portland for Christmas. Pours a dark black color with a nice tan head, with the first smell being a touch of bourbon. Sweet malt and chocolate are also present. I like the rye component as it gives this beer a bit of a kick, but balanced nicely by the barrel aged. I really enjoyed this beer. A solid New Old Lompoc offering.
362 characters

4.13
/5
rDev
-2.4%
look: 4.5 | smell: 4 | taste: 4 | feel: 4 | overall: 4.5
On draft at By the Bottle in Vancouver, WA and sampled at the Holiday Ale Fest 2010. Reviews combined.
Bourbon Barrel Aged 8 Malty Nights was brewed for Hannukah 2009 and aged in bourbon barrels for nine months. It features a roasted chocolate flavor with hints of bourbon and oak (6.5% ABV).
appearance - dark and malty, tan head, good retention/lacing
smell - chocolate and oak, roasty malts
taste - amazing and flavorful chocolate and malts with subtle oak rounding out the flavor
mouthfeel - chalky, medium bodied, slightly dry finish
drinkability - solid brew, one of the stand outs from the holiday ale fest 2010 in portland, the flavor is very pronounced and tasty
677 characters
4.12
/5
rDev
-2.6%
look: 3.5 | smell: 4 | taste: 4.5 | feel: 3.5 | overall: 4
Been wanting to try this one for awhile. Big thanks to trxxpaxxs for procuring it.
I aptly poured this into a Jewbelation glass. It comes out root beer colored with a quick head, then gone.
Coffee, chocolate, roasted coffee beans, spiced rye--a good, complex aroma.
Ahh, a taste of Hanukkah, almost, as milk chocolate gelt is the initial taste. Like sitting and unwrapping those gold coins while candle wax drippings, hints of rye spices, and vanilla come out in the flavor. Quite smooth with some slight bourbon whiskey overtones and malty, coca-cola like finish.
This has a good taste and overall feel, though somewhat lighter than expected for a porter, but fantastic. I'd drink this again if I can get my hands on it.
721 characters
4.32
/5
rDev
+2.1%
look: 4 | smell: 4.5 | taste: 4.5 | feel: 4 | overall: 4
A: Pours a nice black with brown edges. There is a thin khaki colored head that lines the top of the beer. There is a good bit of lacing that lingers on the glass.
S: The nose is sweet malt, chocolate, salt, caraway seed, and vanilla. It's a really complicated mix of scents. It reminds me of a Baltic porter, which I guess isn't too far off.
T: The flavors in this beer are really rich. The chocolate is dominate and the the salt and spicy shine through it quite nicely as it drinks. The finish is smooth and sweet.
M: Medium bodied beer. It starts off thin, envelops the palate, and finishes clean.
O: This beer is good. It might even be really good. I'd love to have more of this beer, but I'll probably never see this again. I feel very fortunate to have tried this.
774 characters
8 Malty Nights (Bourbon Barrel Aged) from The New Old Lompoc
Beer rating:
4.23
out of
5
with
5
ratings