Green Menace
| North by Northwest Restaurant & Brewery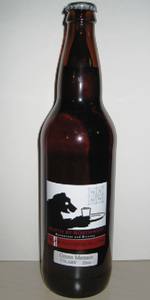 BEER INFO
Brewed by:
North by Northwest Restaurant & Brewery
Texas
,
United States
|
website
Style:
American Double / Imperial IPA
Alcohol by volume (ABV):
7.00%
Availability:
Rotating
Notes / Commercial Description:
No notes at this time.
Added by BeerAdvocate on 11-21-2008
Reviews: 6 | Ratings: 14
Reviews by Kaiser81:
4.3
/5
rDev
+3.4%
look: 4.5 | smell: 4.5 | taste: 4 | feel: 4.5 | overall: 4.5
Thanks to Mora2000 for this bottle. Poured from a 22oz bomber into my snifter glass.
A - A hazy copper color topped with a finger width of foamy head. It lingers for a really long time, and leaves outstanding lacing on my glass. What a fantastic looking beer.
S - It's really nice. I get a lot of pine mixed with grapefruit, maybe one or two other tropical fruits, and a touch of sweetness on the back end. This really is a nice smelling DIPA.
T - It tastes a little bland compared to the potency of the nose. I get some grapefruit, and some pine mixed in there, but it's just a bit muted. It's good, but not over the top bold on the taste buds. It's balanced pretty well, and there's no real alcohol bite.
M - Medium to heavy body with a good amount of carbonation and a creamy finish. Nothing really to improve here.
D - Honestly, one of the better beers I've had that's been brewed in Texas. i wouldn't mind drinking this all day long.
★
943 characters
More User Reviews:
4.32
/5
rDev
+3.8%
look: 4 | smell: 4.5 | taste: 4.5 | feel: 4 | overall: 4
I had this on tap at the brewpub and then later had it in a bottle. I am reviewing it from the bottle.
The beer pours a yellow-orange color with a white head. The aroma is a mix of hops. I get tangerine, apricot, orange as well as caramel malt. The beer smells very juicy. The flavor is apricot, orange juice, bready malt and caramel malt. Medium mouthfeel and medium carbonation. An excellent IPA.
★
399 characters


4.1
/5
rDev
-1.4%
look: 4 | smell: 4 | taste: 4.25 | feel: 4 | overall: 4


4.12
/5
rDev
-1%
look: 4 | smell: 4.5 | taste: 4 | feel: 4 | overall: 4
22oz bottle acquired in trade with lb4lb (thanks!).
Poured a medium and slightly hazy amber color with a large sized off white head. Aromas of floral hops, some pine, and some toastiness. Tastes of floral hops, toasted caramel, and some citrus. More hops in the aromas and leaning towards a more malt balance in the taste. Some lacing left on the glass.
★
355 characters

4.08
/5
rDev
-1.9%
look: 4.25 | smell: 4.25 | taste: 4 | feel: 4 | overall: 4
My wife brought home a growler of this as a surpise...she's a good kid.
Poured a cloudy dark caramel/orange into my Jester King glass. Decent head and above average lacing on this one. Nice to look at.
Getting a nice blast of earthy pine, a bit of juicy citrus, and some sweet malt. Smells uber fresh.
Taste follows, but a bit thinner than I expected.Getting the juicy citrus and pine right away...the malt not far behind. Well crafted and something I'd most certainly revisit. Kudos to NxNW for a very tasty brew.
★
517 characters

4.16
/5
rDev 0%
look: 4 | smell: 4.25 | taste: 4.25 | feel: 4 | overall: 4

4.05
/5
rDev
-2.6%
look: 4 | smell: 4 | taste: 4 | feel: 3.5 | overall: 4.5
On tap. Pours a clear slightly thin looking amber color with a light offwhite to white head. Smell is clean with fresh, fruity hops and an overall very nice perfumey nose. Taste is very clean pine and citrusy and fruity hops with a moderately sweet malty backbone and a lingering light bitterness to keep it in check throughout the finish. A bit thin overall and slightly sweet, but the clean piney hops balance enough. Extremely drinkable, but a touch on the thin side. Solid DIPA, I thought.
★
493 characters
4.01
/5
rDev
-3.6%
look: 4.5 | smell: 3.5 | taste: 4 | feel: 4 | overall: 4.5
Thanks to JDV, a 22 oz. bottle of this NxNW brew (my first) made it to -well- the NW. Oregon, to be precise. Decided to open it on a quiet Monday evening, after dinner and dishes; feeling the need for a big IPA after all the big, wintery ales I've had lately. Poured to a pint glass.
A: A couple shades deeper than 'copper', a bit lighter than 'auburn'. Suffice to say it's a vibrant orange with a fine silty haziness. A crackling ivory head builds to about 2-fingers, dropping slowly, leaving patchy rings of sticky lace. Carbonation rises occasionally in thin streams. Head never fades entirely.
S: Sweet citrus (orange/tangerine) and herbal lemongrass. A dry, slightly musty spice, mild evergreen and a whiff of baked bread. Not very strong.
T: Citrus (orange, mild sweet grapefruit) and a dry spiciness. Somewhat piney, with a hit of grassy/earthy green-ness. Caramel and bread crust, a balanced blend of hops and grain...with an edge favoring the malts, in this case.
M: Soft and wonderfully creamy. Has a fairly light body, though...not quite the fullness typical of many DIPAs. Not sticky, nor much lingering bitterness.
D: A very solid choice, quite drinkable. I've had DIPAs with bolder aromas and richer/more complex flavors, but I've had few as easy to drink as the Green Menace. Would like to have access to this one; hope y'all down in Austin show some love for this beer.
Muchas gracias, Deniz.
★
1,416 characters
Green Menace from North by Northwest Restaurant & Brewery
-
out of
100
based on
6
ratings.