Saison Dell'Aragosta

Oxbow Brewing Company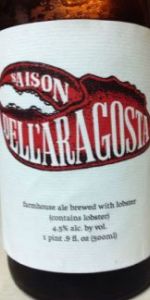 Write a Review
Beer Geek Stats:
| Print Shelf Talker
Style:

ABV:

4.5%

Score:

Avg:

3.88

| pDev:

11.6%

Reviews:

14

Ratings:

From:

Avail:

Summer

Wants

Gots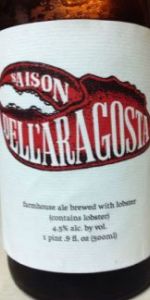 Notes: Gose-inspired saison was brewed with live Maine lobsters.

4.11
/5
rDev
+5.9%
look: 3.75 | smell: 4 | taste: 4.25 | feel: 4.25 | overall: 4
Moderate to vigorous pour yields a 1/4 inch head that is gone in 2 seconds flat! No lacing with a very clear yellow body. Nose of citrus and brine. Taste mirrors nose with a very nice feel and real nice finish. As it warms there is a hint of crustacean on the nose and palate. Cheers!
284 characters
4.24
/5
rDev
+9.3%
look: 3.75 | smell: 4 | taste: 4.5 | feel: 4 | overall: 4.25
A: pours a clean, hazy, straw yellow with a fizzy, rapidly receding head with very visible bubbles, you can tell just by looking at it that this is a well attenuated beer. Somehow very fitting based on the description. Nice.
S: Immediately, you get the brine mixed with the lemon, seems like rock salt, very nice, almost has something akin to pop-rocks. There is a tiny bit of funk and zest coming through as well. It's quite pleasant. As the beer warms, the lobster notes do become more present, only so, never killing the atmosphere by smacking you in the face with this beers gimmick.
T: Honestly delicious, the lobster doesn't hit in a direct way, it seems to be mostly present in a meaty and somewhat rich aftertaste. There is a hair of sweetness and lemony tartness, with the funk of the saison yeast doing most of the sourness and the salt character serving in an ancillary capacity. There is almost something of a berry character coming though here, seemingly a biproduct of the marriage of the malt, salt and lobster
M: dry, but with a full enough body
O: I would like to see this beer made without the lobster, to see if I could even tell the difference. Don't get me wrong, I can taste it, but it is here in a very mild supplementary capacity and while I certainly bought this out of curiosity, if you hadn't mentioned the lobster there is no way I would have known. I no doubt would have picked up on something, but I couldn't have come up with crustacean. Needless to say, lobster or no, a damn fine beer, kudos.
1,526 characters
4.18
/5
rDev
+7.7%
look: 3.5 | smell: 4.25 | taste: 4.25 | feel: 4 | overall: 4.25
you just have to be floored by this, if you are a beer person, a food person, whatever, this appeals to me on so many levels. we of course have seen stuff like this before, oyster stouts all over the place, and dogfish head did a lobster beer i remember, but this is all about the lobster in a way no other beer has been with meat or fish in my experience, i love it. the beer is insanely light, almost just a shade closer to yellow than water, and primarily clear, with almost no head or bubbles. my only critique of this thing is that its not more carbonated and lively, a bright beer would really be amazing. the aroma is ocean water brine, tangy light lemony lacto, and minerals, with a distinct lobster water smell, so true to lobster that it couldnt be crab or shrimp or anything, it is lobster all the way, but its delicate enough to seem to oddly make sense in this beer. the flavor is like that too, with the lobster not coming on until late, but seriously being meaty, crustacean shelly, well salty, and with the way the grain is built, almost buttery in a delicate earthy sort of way. the salt is perfect, there are other minerals here too, calcium or something, and a very soft grain profile. acidity is no more than a squeeze of lemon would be on fresh poached lobster meat, and thats a nice touch. it doesnt sound like it would be good, but its amazing, and all so light. more carbonation is needed, but i hardly miss it in the end. they must have used a ton of lobsters, and had a great feast when this was done, probably added late to the boil, there is no overcooked rubbery aspect here at all. maybe not for everyone, but i was just blown away that a beer like this is even possible, it just opens up so many doors. thanks oxbow for one of the most unique beers on the planet!
edit: this one doesnt age particularly well, or rather, the lobster aspect fades a lot, even in just a few months, and while the beer is still delicious at this point, briny and clean, the most interesting aspect of it has really dropped off. drink fresh!
2,051 characters
4.49
/5
rDev
+15.7%
look: 4.25 | smell: 4.5 | taste: 4.5 | feel: 4.5 | overall: 4.5
16.9 oz. bottle dated Apr, 2016
Pour foggy cloudy straw yellow gold with a rapidly dissipating white foam head. Smells bready, wheaty, tart and funky with some lobster brine, lemony citrus, peppercorn spice, hay, and earthy herbal pine. Tastes tart and sour, slightly acidic with lemony citrus, lobster brine, funky peppercorn spice, bready wheaty malts, hay, and earthy herbal pine. Feels medium bodied, creamy and smooth with moderate carbonation. Overall a really nice lobster farmhouse ale.
495 characters
3.97
/5
rDev
+2.3%
look: 3.5 | smell: 4 | taste: 4 | feel: 4 | overall: 4
Pale yellow in color. Clear in appearance. Looks a bit like a white wine. Somewhat briny. Lemon, grainy, and a hint of brett. Some green apple. Short finish. Not bad.
166 characters
3.76
/5
rDev
-3.1%
look: 3.75 | smell: 4 | taste: 3.75 | feel: 3.75 | overall: 3.5
Pours a light fizzy head fades quickly, clear blond pilsner color
Nose funky saison, earthy farmhouse funk, faint Brett like barnyard and souring, lemony sour, hint cheesy funk, grassy base, faint salty air
Taste starts pretty sour, funky Brett and souring bacteria, big lemony funk and creamy lacto, mild creamy wheat base, mild farmhouse funk and saison spices, touch barnyard cheesy funk, weird earthy dusty wood late and yeasty note, and a little briny salty seaweed like character on the back end, especially on the flemmy finish, the seaweed thing lingers, little lemony cheesy funk also lingering
Mouth is med to lighter bod, flemmy, acidic, little lacto like creaminess
Overall interesting, not quite the funk I tend to go for, the seaweed like lobster thing late is unique but not very pleasant.
808 characters

3.59
/5
rDev
-7.5%
look: 4.5 | smell: 3.5 | taste: 3.5 | feel: 3.75 | overall: 3.5
Love the saltiness that the lobster adds to this geuze, has a balance of sour and tart that rides the malts nicely. Like a saltine cracker with a lemon wedge
157 characters

3.75
/5
rDev
-3.4%
look: 3.75 | smell: 3.75 | taste: 3.75 | feel: 3.75 | overall: 3.75
Poured from 500 ml bottle
A: Slightly hazy lemon yellow with smallish one finger head that dissipates immediately and leaves no lacing.
S: Lemon juice and sea salt. Fresh cut hay.
T: Tart citrus that reads mostly lemon mixed with a light briny salty note. Some subtle earthy funk.
M: Light body with average carbonation. Finish is lightly tart and refreshing.
O: Interesting beer. I don't pick up on the lobster at all, and this reads more gose than saison to me. Still an enjoyable beer for a hot day.
517 characters

4.25
/5
rDev
+9.5%
look: 4.25 | smell: 4.25 | taste: 4.25 | feel: 4.25 | overall: 4.25
Somewhat opaque, yellow tinged beer with a slight head.
Lemony, slight sour, taste and smell with a hint of brininess on the nose and in the mouth. I like it
158 characters

4.48
/5
rDev
+15.5%
look: 4 | smell: 4.75 | taste: 4.5 | feel: 4 | overall: 4.5
Split a bottle. Had about 8 oz. Poured into stemware.
Appearance: Somewhat hazy golden with a white head that disappears swiftly.
Aroma: Sour, salty. Has a somewhat ocean watery character to it. A whiff of coriander, though it's not brewed with coriander.
Taste: Nice mix of salt and funk. Somewhat brothy. The lobster-like character is noticeable in a somewhat seawater-like note. Also some citrus. Maybe lemon. Kick of spice.
Mouthfeel: Light and easy, but complex. Worth sipping even though it's definitely a warm day beer.
Overall: Sometimes a wacky idea comes together. This is one of those times.
607 characters

3.58
/5
rDev
-7.7%
look: 3.75 | smell: 3.75 | taste: 3.5 | feel: 3.5 | overall: 3.5
Drank on 5/31/16; without a date, not sure how (un)fresh it is based on being archived at BA so this review should be taken with a grain of salt (no pun intended)
162 characters
4.07
/5
rDev
+4.9%
look: 3.5 | smell: 4 | taste: 4.25 | feel: 4 | overall: 4
I tried this on tap at Birreria Eataly recently, served in a wine glass.
The color is golden with light haze there is not head to speak of. The smell is faintly sour with a light malt aroma and mineral quality. The feel is very good, nice tanginess from the yeast in a light bodied and semi-high carbonation with gentle dry finish.
This tastes very good for the Gose/table saison style -it fits with a mineral essence but not briny in any sense, more vinous than tart with a slight malt flavor with earthy dry quality in the semi-salt accented finish. This was really easy to enjoy -a lighly sour and low abv beer that went well with the aged cheese we ordered.
663 characters

2.16
/5
rDev
-44.3%
look: 3 | smell: 2 | taste: 2 | feel: 3 | overall: 2
Pour is pale yellow, light haze, fizzy white head that dissipates quickly. Nose is leathery brett, off firecracker/gun powder, a bit salty, very different. Flavor follows suit with a bit more lemony sweetness. Same burnt sulfur note, light leather, light carb, soft body, salty finish.
288 characters
4.5
/5
rDev
+16%
look: 4.5 | smell: 4.5 | taste: 4.5 | feel: 4.5 | overall: 4.5
Light, dry, tart citrus, a touch of funk, finishes with some salinity and a hint of the lobster. Sounds obvious but this is the perfect summer beer to pair with seafood. Really well done.
187 characters
Saison Dell'Aragosta from Oxbow Brewing Company
Beer rating:
87
out of
100
with
55
ratings