Low Bush

Oxbow Brewing Company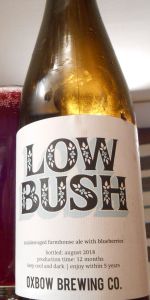 Rate It
Beer Geek Stats
| Print Shelf Talker
Style:

ABV:

6.5%

Score:

Avg:

4.13

| pDev:

7.26%

Reviews:

9

Ratings:

From:

Avail:

Rotating/Seasonal

Wants

Gots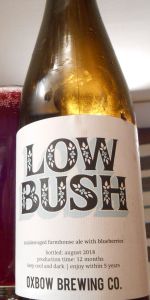 Notes:
Low Bush is a barrel-aged farmhouse ale brewed with Maine-grown wild low bush blueberries.
Alieniloquium from Florida
3.18
/5
rDev
-23%
look: 4 | smell: 3.5 | taste: 2.75 | feel: 4 | overall: 3
500 mL bottle. Deep red. Smells of deep blueberry and barnyard funk. Tastes of strong earthy yeast flavors up front. Earthy blueberries. Kinda soapy. Light tang. A little weird. Medium body. Not the best from Oxbow.
Feb 21, 2021

ChipChaight from New York
4.17
/5
rDev
+1%
look: 4.25 | smell: 4 | taste: 4.25 | feel: 4 | overall: 4.25
4/22/20 bottle from the brewery in Portland during 2020 Maine trip. Pours deep ruby red with pinkish white head and excellent lacing, smell is sour blueberry jam, blueberry pie filling, blueberry soda, hints of bitter sour grass, taste follow the nose with sour blueberry hard candy, blueberry sparking wine, frutti di bosco juice, hints of sour grape and grass, feel is light, bright, and dry. Maybe the first true blueberry forward blueberry sour I have had, tart berry goodness.
Aug 16, 2020

CanConPhilly from Pennsylvania
4.14
/5
rDev
+0.2%
look: 4.5 | smell: 4.25 | taste: 4 | feel: 4.5 | overall: 4
L - 1-finger dense, dark-purple head atop a near-opaque maroon body.
S - blueberry, floral.
T - tart blueberry. Floral hops, bready yeast, red wine, vinegar. Acid is kept in check. No bitterness. Low sweetness. Low booziness.
F - medium-light body with higher carb.
O - very refreshing.
May 26, 2019

bobv from Vermont
4.16
/5
rDev
+0.7%
look: 3.75 | smell: 4 | taste: 4.25 | feel: 4.25 | overall: 4.25
500 ml. bottle.
Bottled: August, 2018.
Production time: 12 months.
Moderate pour yields a 1/4 inch light pink head over a reddish purple body with no lacing. Nose of much blueberry with hints of other dark fruit. Taste mirrors nose with slight blueberry/citrusy sourness with a bit of red grape tannins on the finish. Real nice feel and overall, a very pleasant blueberry/ red wine type experience. Cheers to Oxbow and I would recommend!
Feb 10, 2019
BEERchitect from Kentucky
4.39
/5
rDev
+6.3%
look: 4 | smell: 4.25 | taste: 4.5 | feel: 4.25 | overall: 4.5
Beautifully woven together with the threads of Belgian styled farmhouse ale, Flanders reds, Burgundy wine and wild ale, the Oxbow brewers look a little closer to home for the inspiration that sets this blueberry laced ale apart.
Brown and burgundy (yes, that burgundy theme resonates through the ale), the beer's deep and dark purple hues are mysterious with haze as a frothy but dainty head begins to build. Its strong perfume of dark berries hinge on black raspberry, plum, cherry and red grape, but those blueberry scents are strongest with a twinge of apple cider, balsamic, pepper and the light must of leather and sea air. Fleeting sweetness captures the essence of taffy, hard candy and honey if only for a short and sweet introduction to the early palate.
With only tethers of sweetness remaining, enough of the malt and fructose sweetness act to prop up the fruit and gives the blueberries their unique and recognizable flavor. Lightly jammy and cut by sourness, the beer's balance resonates with balsamic, cider, robust red wine and a peppery twinge of oak, berry skins and piquant vinous alcohol in a deep and sour sangria kind of way.
A return of leather, brine and damp burlap swirl on the after palate soon after the medium light bodied beer's juiciness of low bush blueberries, thirst stripping acidity and any tannin balance has fallen away. Adventurous red wine lovers should have a field day with this sour ale.
Feb 01, 2019
StonedTrippin from Colorado
4.35
/5
rDev
+5.3%
look: 4.25 | smell: 4.25 | taste: 4.5 | feel: 4.25 | overall: 4.25
another killer wild beer from these guys, this one packed with maine blueberries. i knew this would be good, this is exactly what these guys do best, but i didnt expect it to totally blow my mind like this, its killer, really really good, the best fruited beer i have had from these guys to date i think. its just the absolute essence of the ripe fruit, purple as a crayon in the glass, brimming with tang from the fermentation profile and the skins of the blueberries, while it also has a natural sweetness to it from the berries and enough grain coming through all the fruit to keep it tasting beery, really great depth of flavors here. the berries are so intense they almost have a wine component, like a big cab or something, tannic in that way, but the beer is clean in the end, remarkably well resolved. quite acidic, almost a flanders red sort of vinegar complexion earlier on, but more of a classic oxbow farmhouse brett thing at the end, drying it out. a big rush of carbonation comes with each sip too, nice bottle conditioning on this, lots of life. things like blackberry, port wine, cut flowers, and even rhubarb tartness come up at the end, really compelling beer, great expression of blueberries, and another gem in the oxbow catalog!
Jan 21, 2019

illpass78 from Maine
3.89
/5
rDev
-5.8%
look: 4.25 | smell: 4 | taste: 3.75 | feel: 3.75 | overall: 4
4 oz. in a wine glass at the brewery.
Appearance: A dark, juice-like purple with a ring of white bubbles that settles around the rim.
Aroma: Blueberries! Big blueberry punch, along with a sour/funky note.
Taste: Blueberries are strong here. Big, juice-like smack of blueberries up front, followed by a sour finish. It's a lot of blueberries, and best for fans of same.
Mouthfeel: Lots of flavors and sourness. Not one to chug.
Overall: Fun, pretty unique saison. The mix of booze and sour blueberries works well. Somewhat wine-like and vinous. Worth a whirl.
Dec 08, 2018

ManapuaMan from Massachusetts
4.14
/5
rDev
+0.2%
look: 4 | smell: 4.25 | taste: 4 | feel: 4.25 | overall: 4.25
Gifted a bottle several months ago, stored appropriately since. I have to admit - I was wary of this blueberry brew. Something about the description had me thinking this was going to be a viscous, cloying, syrupy and musty. Awkward, to say the least. My own personal bias, but this was not the case at all.
Tart, refreshing beer that never strays into "not if we jam it" territory.
More Barney than Smurf in look - purple with a pink-ish hue that fades fast. Looked like I was sitting on my porch sipping grape juice in a fancy glass.
Aroma is all kinds of berries - straw, blue, rasp, black - followed by dried hay and lemony tartness. Fruit-forwardness overpowers any funk.
Berries are more restrained on the palate - I get mostly blueberry with notes of blackberry in the back. Light funk but more green apple driving that slightly acidic tart kiss (not slap). No vinegar notes that I'm picking up. Fruity, acidic, tart and just a little funky - great balance and restraint.
May 07, 2018

Treyliff from West Virginia
4.25
/5
rDev
+2.9%
look: 4.5 | smell: 3.75 | taste: 4.5 | feel: 4.25 | overall: 4.25
Bottle poured into teku
A- pours a deep ruby purple color with a small bubbly foamy pink head that reduces to a ring around the edge.
S- juicy berries, balsamic vinegar, barnyard funk, dried hay
T- juicy blueberries up front gives way to some barnyard funk with notes of dried hay, mid-palate gives some earthy yeast, the finish is more juicy blueberry
M- medium body and carbonation lead to a foamy mouthfeel and a crisp dry, tannic finish
O-nice mix of tart berries and funk
Jun 16, 2017
Low Bush from Oxbow Brewing Company
Beer rating:
88
out of
100
with
20
ratings