Surfcasting

Oxbow Brewing Company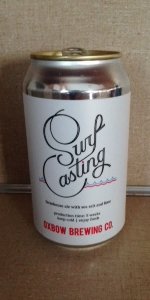 Write a Review
Beer Geek Stats:
| Print Shelf Talker
Style:

ABV:

4.5%

Score:

Avg:

3.88

| pDev:

15.21%

Reviews:

10

Ratings:

From:

Avail:

Rotating/Seasonal

Wants

Gots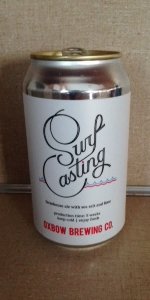 Notes: Surfcasting is a gently salted grisette brewed with American hops, wheat, and limes.

beergoot from Colorado
4.06
/5
rDev
+4.6%
look: 3.75 | smell: 4 | taste: 4.25 | feel: 3.75 | overall: 4
Hazy pale blonde body; thin yet lasting white head. A little farmhouse funk, a fair touch of lime and ocean. The taste deftly blends a lot the smell components into a fine tasting, citrus and saltwater refreshment; weak lemonade; a faint presence of cereal grains lurking beneath the citrus flavors. Medium body; tart and acidic; mild juiciness and bite.
This is an interesting beer and appears to have met its goal of highlighting lime and sea salt. Its low ABV and citrus-ade flavors should interest those looking for such things on a warm, sunny day.
Oct 08, 2020
sanhedrin from New York
1.32
/5
rDev
-66%
look: 3 | smell: 1 | taste: 1 | feel: 3 | overall: 1
Maybe I got a bad batch? Cracked one open and thought I smelled pee. Figured maybe it was something in the air, not the beer. Took a sip. Tasted like pee. Dumped it.
I like Oxbow, but,,, no to this one,
Aug 26, 2020

brother_rebus from Maine
3.79
/5
rDev
-2.3%
look: 4 | smell: 4.25 | taste: 3.5 | feel: 3.75 | overall: 3.75
Looks like a gose. Smells like a citrusy hopped farmhouse. Could use less lemongrass. Could use a bit more carb. Not bad though. Just could use some tweaks.
Jul 16, 2020

VelvetExtract from Massachusetts
3.55
/5
rDev
-8.5%
look: 4.25 | smell: 3.5 | taste: 3.5 | feel: 3.5 | overall: 3.5
Can. Usually really enjoy Oxbow's offerings, so didn't hesitate to pick up a four pack of these cans. I think their artwork is great, simple, with nice pops of color. Cool fonts. Pours a hazy, straw color. Thin, flat head that leaves bubbly bits of lacing. Belgian phenolic aroma with a clear limey zest. I think the lime actually is the most dominant part of the aroma which is impressive. Whoa. Flavor just bulldozes over the palate. Super limey. Behind the lime - which is intense as shit - I get a bit of wheat, Belgian yeast, and a savory salt component. Has a lemon/lime Gatorade component to it. Akin to a sharper SeaQuench. Light body but the lime really makes each sip a jolt. I think this hits a little to hard in the lime department. Not my favorite.
Jun 27, 2020

hops_for_thought from New York
4.25
/5
rDev
+9.5%
look: 4.25 | smell: 4.25 | taste: 4.25 | feel: 4.25 | overall: 4.25
Poured from a can (20Mar2020) into a plastic tumbler
L: turbid light yellow/gold, rich white head that fades after a few minutes. Minimal/no lacing, not much visible carbonation
S: great farmhouse nose with a bit of salt and a great amount of lime. Some hay, little grassy. Already squeezed lime wedge with a bit of salt, like at the bottom of a finished mixed drink
T: follows the nose, farmhouse character there but the lime and salt leads in a great way. Honestly the first thing I think of is a very good corona with a squeezed lime, or the end of a decent margarita. Medium finish, drying, refreshing
F: medium/light body, medium carbonation, drying
O: excellent summer brew. Refreshing, tart, the farmhouse character adds some great depth and complexity
Jun 21, 2020

woodychandler from Pennsylvania
3.76
/5
rDev
-3.1%
look: 3.75 | smell: 4 | taste: 3.5 | feel: 3.75 | overall: 4
I had their take on a GER Pils last night & since I have this CAN ISO The CANQuest (tm), I am now going to see what they CAN do with a Saison. I am admittedly intrigued by their verbiage, as follows.
From the CAN: "farmhouse ale with sea salt and lime"; "production time: 5 weeks"; "keep cold/enjoy fresh"; "Surfcasting is a gently salted grisette with American hops, wheat, and fresh limes."
8=O A Grisette with sea salt?!? And Limes?!? 8=O I was totes excited to Crack! open the vent & get started. My slow, gentle C-Line Glug resulted in the formation of two-plus fingers of foamy, soapy, rocky, eggshell-white head with modest retention. Color was an oh-so-slightly-hazy Pale-Straw (SRM = 1 - 2). Nose smelled closer to a margarita than a beer with a pronounced presence of lime & salt! Mmm. It may have smelled good to me, but stylistically, it was well out of whack! Mouthfeel was thin-to-medium. The taste was like a slightly funkified margarita! It was quite salty & citrusy, but the light funk was not enough for me to think of it as a Saison. It was pleasantly tart & highly refreshing, but Saison simply was not coming to mind. Finish was tart & dry, but it really did not fit in as a Saison. YMMV.
Feb 04, 2020

LeRose from Massachusetts
3.02
/5
rDev
-22.2%
look: 3.75 | smell: 3 | taste: 3 | feel: 2.75 | overall: 3
The beer pours from the can a pale yellow, slightly hazy, with an enormous white head that falls to rafting bubbles.
The smell...I am picking up nothing much here. As it sits a bit, very faint lime and a even less of Belgian yeast character.
This is lime straight up in the taste, and it is not entirely pleasant, more like peel than anything. There is a little wheat underneath, barely present. Minimal contribution from the yeast. I am not finding any salt.
The mouth feel is not great. The lime is creating a soapy feel and finishes with astringency and oily citrus bitterness.
Overall, I find this beer to be unbalanced. Some additional salt may have helped recreate the margarita thing if that is what they were going for. There is little wheat or malt holding up the beer end, and I fail to find salt or any sign of the implied Belgian esters. They call it a grisette but here it is a Belgian saison but it is kind of neither. Hard call whether I will drink the other three cans and I am not known for drain pours. Disappointed to say the least.
Aug 19, 2019
metter98 from New York
3.89
/5
rDev
+0.3%
look: 3.5 | smell: 3.75 | taste: 4 | feel: 3.75 | overall: 4
A: The beer is very hazy light yellow in color. It poured with a short white head that quickly settled down, leaving just a narrow ring of white bubbles around the edge of the glass.
S: Light aromas of limes are present in the nose along with notes of Belgian yeast.
T: The taste follows the smell but is a little stronger, having flavors of limes with hints of Belgian yeast.
M: It feels a bit more than light-bodied on the palate and has a moderate amount of carbonation. There is a bit of dryness in the finish.
O: This beer is quite refreshing to drink, particularly if you like limes. It wasn't as spicy compared to other saisons and was also a little lighter in body.
Serving type: can
Aug 16, 2019
hopley from Massachusetts
3.75
/5
rDev
-3.4%
look: 4.25 | smell: 3.5 | taste: 3.75 | feel: 4 | overall: 3.75
This is a thirst quenching tarty hazy gose, pretty good looking beer. Pretty decent for the style but I personally am not a huge fan of goses, not to mention lime added to beer (thanks Bud Light with Lime advertising...), so I really can't give it huge accolades like I typically do for most Oxbow beers. The smell was also more distinct than usual for the style; it was more yeasty or bready than usual, but also had something else going on that I couldn't nail, but I didn't really like, but didn't detract from it either. Overall enjoyable to drink, but wouldn't go out of my way to get another.
Jun 08, 2019

cbutova from Massachusetts
4
/5
rDev
+3.1%
look: 3.5 | smell: 4 | taste: 4 | feel: 4.25 | overall: 4
A- Can pours into a tall chalice with a very pale golden yellow body and a one finger foamy cap. OK head retention but lacing isn't abundant, just a few spots.
S- Farmy saison-esque yeast with suggestions of tartness in the form of lactic and some lime notes. Yeast brings esters like pear and slight banana as well as spices such as coriander and peppercorn. Lemon zest also comes to mind as well as whole wheat.
T- The lime is more abundant and considering the aroma it is just a hint tart, not as much as expected as you get a good amount of lime peel and lime flavor with just a hint of tartness. Yeast still fairly big with the fruity esters and belgian yeast spice mentioned above. White grapes also come to mind here with the pear. A bit salty.
MF- Light bodied with a certain crispness and a medium level of carbonation. Texture is creamy and just silky smooth. Ends with a lime zest bitterness and slight tartness.
Lots of great lime flavor with a light tartness and nice farmhouse yeast flavors to balance everything out. Gotta get more of these for a day by some water.
Jun 01, 2019
Surfcasting from Oxbow Brewing Company
Beer rating:
87
out of
100
with
27
ratings