Berliner Braun
| Jack's Abby Brewing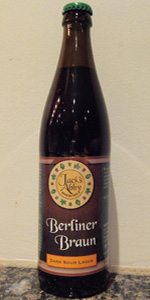 BEER INFO
Brewed by:
Jack's Abby Brewing
Massachusetts
,
United States
jacksabbybrewing.com
Style:
Berliner Weissbier
Alcohol by volume (ABV):
5.50%
Availability:
Limited (brewed once)
Notes / Commercial Description:
No notes at this time.
Added by emottram on 02-10-2014
This beer is retired; no longer brewed.
Reviews: 7 | Ratings: 106
2.84
/5
rDev
-21.8%
look: 2.5 | smell: 2.75 | taste: 2.75 | feel: 3.75 | overall: 2.75
16.9oz bottle poured into Zwanze Day glass
Literally looks identical to iced tea, short fizzy head that disappears entirely within seconds. Hard to tell it's even carbonated. Nose is moderately lactic & vinegary but there is an unpleasant undertone of nail polish? Maybe some oak. Taste isn't much better, somewhat medicinal cherry with an odd vanilla character that is simply out of place. Carb levels are fine and the mouthfeel is unfortunately the best part of the beer. Wouldn't seek out again and I'm not actually sure I can finish this bottle.
550 characters

3.88
/5
rDev
+6.9%
look: 4.25 | smell: 4.25 | taste: 3.5 | feel: 4 | overall: 4
The beer comes in a slightly hazy pale straw golden color.
The aroma has lots of wheat character, a light sourness of watered down lemon juice.
The flavor has a kick of tartness of lemons in the front with a hint of unripen peach in the middle, onto a wheat and drying on the back end. Very much like a gose, without the salt quality.
The beer is lacking on the back end, although with some lager yeast and metallic notes. Still, delicious balance of wheat and tart qualities and a commendable at the style, while being at 3.5%.
533 characters

3.63
/5
rDev 0%
look: 3.5 | smell: 3.5 | taste: 3.75 | feel: 3.25 | overall: 3.75
A- 500ml bottle poured to a pint glass with a crimson red, light brown body. A fizzy head rises to perhaps half a finger at the max but dies down to literally nothing after only a few moments. None of this is out of style. Lacing is out of the question.
S- Does not scream sour but lactic tart and fruit notes come to mind. The base brown beer lends hints of toast, graininess, brown sugar and raisin.
T- Follows the aroma with a balance struck between lactic sour mash and a brown lager base. Notes of lactic fruits, bitter lemon zest, cherry flesh and pits, yeast bread, toasted grains, brown sugar and spiced raisins.
MF- Light end body with a fizzy texture. Carbonation is lacking a bit for this style and it would probably be medium-low as far as Berliners go.
Lightly sour with a nice brown ale base that provides a good malt and yeast influence.
856 characters

4.06
/5
rDev
+11.8%
look: 4 | smell: 4.25 | taste: 4 | feel: 4 | overall: 4
500 ml bottle poured into a pint glass. Sampled previously at brewery. This bottle was very fresh - consumed within a week of bottling.
This is an attractive beer to me - a raisin brown color with some reddish tints to it. Head was pretty lively but short-lived. It looks "pretty" - it almost glows ruby-like under the light.
The aroma struck me as very wine-like and very juicy in the fruit juice sense. It is a very inviting and enticing - seems to promise a refreshing brew.
The smell in no way prepared me for the taste. The sourness is prevalent to say the least, but was a very enjoyable taste sensation. But it gets quickly overshadowed by the fruit components - Granny Smith type apple, grape/raisin/white wine, more of a cranberry tartness than citrusy. A nice intrusion of malt at the finish with some nuttiness.
Mouthfeel - this was light, tingly, refreshing. Clean tasting, not much if an aftertaste. Reminded me of a spritzer type soft drink.
I really enjoyed this beer and have several to experience as they age. I don't know if it is "authentic" in terms of the style, but it tastes great to me. The brewery says they are aging some on cherries - that should be outstanding as well. It would add another layer of flavor to a brew that already has plenty of flavor going down.
1,295 characters

3.54
/5
rDev
-2.5%
look: 3 | smell: 4 | taste: 3.5 | feel: 3 | overall: 3.5
The beer pours a nice mellow amber brown, sitting in the glass the color of a dark ruby. The beer pours with a very small head of off-white bubbles, but that quickly fizzles away, as often happens with a Berliner weisse. It sits in my glass without even a hint of a head. In body, the beer is dark but super clean and clear bodied. On the nose, the beer smells supremely jammy. Like grape jam or grape soda. The sweet grape character is amazing on the nose of this beer with just touches of cider and a faint ghost of yogurt. On the tongue, the beer tastes distinctly like a Berliner Weisse. Lactic tartness gives way to wheat flake sweetness. Touches of vinous and cider-like acidity also play into the beer's character. In flavor, the beer tastes initially like grape juice and apple juice. This opens into yogurt and bizarre citric notes that touch upon bitter vegetal flavors. Grape jam and wheat flakes move in on the finish, like jam on wheat toast. The finish is middling in length, and the aftertaste continues with similar flavors. In the mouth, the beer feels medium in body with thinner accents. The beer feels crisp, yet slightly gooey in the mouth. There is an odd feeling in the back of the throat, which I assume comes from the tartness of the beer, but seems reminiscent of tannic astringency in the mouth. The mouth is left with light acid-canceling spittle, a tingling pucker, and a tight, astringent tongue that is almost dry. Carbonation is middling, with a nice prickle that briefly becomes too much on the tongue. Overall, I'm not quite sure what to think of this beer. I can imagine it with the barrel and fruit treatment that it will get, and I am excited to try that, but as is it just seems to be lacking something. It's fairly one note with its jammy, tart-malt notes. I'm intrigued by the extra-malt in the Berliner weisse style, and by the lager yeast used, but the beer has a harshness in the back of the sip that needs other flavors to mellow it out. The barrel aged version of this beer will probably be superb. This beer was designed to have more added to it, and as such it is a little lackluster as is. I'm glad I got to try it though.
2,180 characters

3.53
/5
rDev
-2.8%
look: 3.25 | smell: 3.25 | taste: 3.75 | feel: 3.5 | overall: 3.5
500ml bottle poured into Jack's Abby snifter. Thanks Don (DonFrap) for picking this up for me.
A- Pours a translucent dark brown with a slight red hue to it, a thin white head forms that fizzes away fairly fast to a perfectly flat top. Carbonation somewhat minimal but decent consistency. Very dark for a berliner but like the description says it's supposed to be like that.
S- Strong wheat base with a prevalent sour mash presence balanced with subtle citrusy dark fruits that blend in with the the sour grainy aspect of the beer. There are definitely some nice complexities to this beer and it definitely follows the aroma of a traditional berliner with a slight darker presence.
T- Definitely a strong wheat base with a grainy sour presence. The citrusy dark fruits are a little bit more prevalent then on the nose with raspberries, cherries, lemons. The darker influence added some nice complexities to the typical berliner presence, overall though it still isn't the best berliner I've tried.
M- Fairly dry, a lightly bit fizzy on the mouthfeel but light carbonation, decently easy drinking for a beer but not so much for the style.
O- This was an interesting take on a berliner but it was far from my favorite representation of the style. My favorite things about berliners is that they are highly crisp, refreshing, and highly drinkable while being quite flavorful. While there were some nice subtle complexities this definitely wasn't the most flavorful berliner I've had and the 5.5% prevents it from being extremely drinkable. This was made to be aged in barrels with raspberries added which I think will do a good job at balancing the beer out while adding more flavor. I look forward to trying the finished product!
1,734 characters

4.2
/5
rDev
+15.7%
look: 3.75 | smell: 4.25 | taste: 4.25 | feel: 4 | overall: 4.25
Poured from a 500 mL bottle into a goblet. This is unaged and was released at the brewery last week.
Appearance: Pours a medium raisin color (brown with a reddish hue) - somewhere in between translucent and opaque. It leaves a half finger of off-white head that disappears almost immediately.
Smell: Malts, black cherries, plums right off the bat. Pretty light and juice-like aroma. I could be convinced, from the smell, that this was a cran-grape-cherry juice cocktail.
Taste: The taste matches the smell really well, except for the important fact that this has a noticeable amount of sour to it. Black cherry, cranberry, malts, finishes tart with green apple skins and lime. Finally, aftertaste is malty and a bit nutty. Nice, light and refreshing. The sour is quite subdued, and I like it.
Mouth-feel: Medium to well carbonated with a light to medium slightly spritzy body.
Overall: This is a really nice and refreshing beer. Just a hint of tart and fruitness to it that makes it quite interesting. Definitely glad I got a chance to try this. I can imagine that the bourbon barrel aged version with cherries will be outstanding.
1,136 characters
Berliner Braun from Jack's Abby Brewing
3.63
out of
5
based on
106
ratings.