Barrel-Aged Framinghammer - Super Mole

Jack's Abby Brewing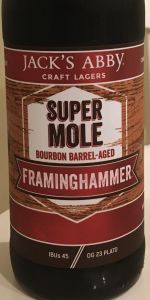 Write a Review
Beer Geek Stats:
| Print Shelf Talker
Style:

ABV:

11.5%

Score:

Avg:

4.19

| pDev:

4.53%

Reviews:

10

Ratings:

From:

Avail:

Rotating

Wants

Gots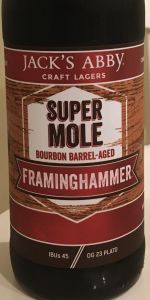 Notes: Big, bold, black, and aged in bourbon barrels with chili pepper and chocolate. The lengthy conditioning period in the barrels creates a silky smooth chocolatey mouth feel enhanced by the use of oats and brown sugar. Noticeable sweetness gets balanced by roasted malt and hop bitterness. Additional flavors include bourbon, vanilla, and oak.
4.49
/5
rDev
+7.2%
look: 4.25 | smell: 4.5 | taste: 4.5 | feel: 4.5 | overall: 4.5
It pours like a stout with a beige, upwardly cascading head and a deep dark brown color where no light passes. Extensive webby lace on the glass throughout.
Rich dark malt nose. Lots of chocolate, sweet. Close to brandy in aroma. Is it the bourbon barrels? If so, I've never smelled such a hard booze nose offering strictly from aging.
The chocolate is more semisweet on the tongue. Very rich body with a light touch on the carbonation. The swallow draws out the strong alcohol presence. There is a touch of heat from the chili pepper, but it retains its balance beautifully. Very smooth and easy to drink...after dinner perhaps. The alcohol remains throughout the tasting, providing the final flavor in the long aftertaste.
729 characters
4.26
/5
rDev
+1.7%
look: 4.5 | smell: 4 | taste: 4.25 | feel: 4.75 | overall: 4.25
Pours opaque, dark brown in color with 1/4 inch head. Taste is big bourbon with cinnamon, chilies, and dark chocolate. Heavy bodied, sweet, spicy, with low carbonation. Excellent stout with a solid amount of heat on the finish. I enjoy other Framinghammers more but this is unique and still super tasty. Will get this again.
328 characters

4.21
/5
rDev
+0.5%
look: 4.25 | smell: 4.5 | taste: 4.25 | feel: 3.75 | overall: 4
A- 500ml bottle into a tulip glass with a motor oil blackness and a one inch deep cocoa nutty brown head. The crown has a smooth foamy consistency and fairly good retention. Lacing is rare probably from the chili oils and the added booze.
S- The bourbon barrel and the roast grains jump out right away giving off that classic dessert rich stout aroma balancing bitter roast and boozy barrel. Spicy bourbon, vanilla oak, caramel, charred barley, brownies, toasted nuts, brown sugar, dark chocolate and espresso. Chocolate is rich but just getting a tiny hint of chilies here.
T- Massive chocolate flavor comes out first with both milk, cocoa nib and dark chocolate notes and along with that is a hint of dark fruits so it does take on a bit of a truffle character along with the big cocoa and barrel. The chilies add a spiciness that compliments the booze from the barrel as well as the vanilla oak hints, peppery bourbon and oak wood notes. Roasted barley, toasted nuts, espresso, 100% dark chocolate fruitiness and some brown sugar.
MF- Medium-thick bodied with a bit of a creamy texture and overall lacking a bit in that area. Carbonation on the high side and it puffs up. Ends warm from the booze, spicy
Chili and chocolate are the stars with great backing from the aforementioned. Maybe just a bit too much of those two in the long run as the barrel and malts aren't quite as luscious and rich as other Framinghammers.
1,428 characters
4.19
/5
rDev 0%
look: 4.25 | smell: 4 | taste: 4.25 | feel: 4.25 | overall: 4.25
A - Very dark brown pour with a thick creamy layer of toffee colored head that eventually subsides to a dense lacing ring. Very viscous and thick on the sides of the glass.
S - Light cocoa roast with traces of oak, bourbon, and a shot of spiciness.
T - Light cocoa roast with a slight bit of char from start to finish along with some bourbon and oak. Midway through chili pepper hits the palate and generates some heat which continues to build even after it goes down while creating some pronounced heat in the back of the throat.
M - Thick, silky, and lip smacking with some sugar coating the lips. There's some drying on the back of the tongue while the chili peppers throw the palate into saliva mode.
O - The bourbon never interferes with the overall flavor but compliments it. The chili peppers? They definitely knock you in the face and let you know they're present - nice heat, but not overbearing (if you like hot peppers). This beer is well put together and worth a try if you like the Framinghammer Barrel Aged Series.
1,040 characters
4.28
/5
rDev
+2.1%
look: 4.25 | smell: 4.25 | taste: 4.25 | feel: 4.5 | overall: 4.25
16.9 ounce bottle poured into Lawson's tulip glass and allowed to warm.
L: Small light brown head with poor retention. A ring persists. Beer is very dark brown.
S: Cinnamon and cocoa. There is a bit of hinted chili as well as hinted bitterness from hops. Roasted malts.
T: Definitely cinnamon and cocoa up front, very predominant throughout. At this ABV the porter takes on some stout qualities, but you still get a bit of the citrus and earthy hoppiness. Chili comes in very late and is at a proper low and secondary level, but it persists a very long time. I have decided this is good, YMMV.
F: Decidedly moderate in body despite hella ABV. Not much carbonation. Construction very good and very well balanced as well.
O: Way the heck up there as far as Baltic Porters go and I have yet to have a Framinghamer that is less that great.
841 characters

4.19
/5
rDev 0%
look: 4.25 | smell: 4 | taste: 4.25 | feel: 4.25 | overall: 4.25
Beautiful dark body with a thick, creamy, khaki hued head. Outstanding blend of chocolate and chili smells; cocoa. The taste follows along the lines of the smell; rich cocoa infused with some nice chili flavor; dark chocolate sweetness; a bit of spiciness other than the chili; very little bitterness. Heavy body; velvety; chewy; heavy residual sugar; fine and sublime pepper heat.
What a pleasure to have a high ABV beer sporting a dense, sculpted head. And then we have the balance and complexity of this beer: heavy, dark grain sweetness and heft with balanced chili heat. A well-crafted chili stout...
606 characters
4.17
/5
rDev
-0.5%
look: 4.25 | smell: 4 | taste: 4.25 | feel: 4 | overall: 4.25
-jet bottle pour with a 1 cm fine foam cap. The aroma includes toasted malt, dark chocolate, bourbon and a little chipotle smoke. The flavor is rich and matches the nose. There is a bit of cinnamon too. The chili heat is low. The mouthfeel is very smooth. This is very enjoyable.
279 characters

4.37
/5
rDev
+4.3%
look: 4.5 | smell: 4.25 | taste: 4.5 | feel: 4.25 | overall: 4.25
Nice heat in the taste, looks amazing. Little bit lighter mouthfeel that I expected. Barrel is light, lots of chocolate and peppers. A very good variant with the perfect amount of heat.
185 characters
4.1
/5
rDev
-2.1%
look: 3.75 | smell: 3.75 | taste: 4.25 | feel: 4.25 | overall: 4.25
A: The beer is jet black in color. It poured with a quarter finger high tan head that quickly died down but left a thin layer of bubbles covering the surface and a collar around the edge of the glass.
S: Light to moderate aromas of bourbon are present in the nose along with notes of chili peppers.
T: The taste follows the smell but has balanced flavors of bourbon from the barrel aging and spices from the chili peppers
M: It feels a bit more than medium-bodied on the palate and has a moderate amount of carbonation with some heat from the chili peppers in the finish.
O: This beer has remarkably balanced flavors of bourbon and chili peppers and tastes like a true hybrid between an Imperial Stout and a Chili Beer. It does a very good job at masking any traces of alcohol from the taste—it's the heat from the chili peppers that makes this a slow sipper.
Serving type: bottle
884 characters
4.18
/5
rDev
-0.2%
look: 4.25 | smell: 4.25 | taste: 4.25 | feel: 4 | overall: 4
Pours a thicker tan semi dense, medium retention, decent lacing, pitch black opaque beer decent legs
Nose mild dark chocolate, cocoa, mild chili peppers not much, light raw earthy vanilla, little fudgey, light coffee, caramel and hint of marshmallow, faint cinnamon, no barrel character
Taste rich dense chocolate, chocolate ganache, creamy cocoa, hint of marshmallow and nougat, medium chilli pepper notes wish it was more, light coffee, vanilla ice cream, vanilla coming quite a bit more late, hint of pepper heat and chill flavor lingering with a little cinnamon, mild earthy hop bitterness, touch of roast, more dark chocolate late, semi sweet finish, lingering bitterness and touch of pepper heat and cons cinnamon, there is a little barrel flash of bourbon and toasted vanilla oak, bit more bourbon late
Mouth is fuller bod, not super rich but a bit creamy, good medium carb, mild alcohol warmth with pepper and cinnamon heat
Overall not bad, seems like a good base beer but wish the pepper flavor and especially barrel was stronger
1,042 characters
Barrel-Aged Framinghammer - Super Mole from Jack's Abby Brewing
Beer rating:
90
out of
100
with
25
ratings