Copper Legend
| Jack's Abby Brewing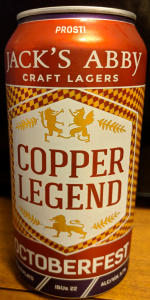 BEER INFO
Brewed by:
Jack's Abby Brewing
Massachusetts
,
United States
|
website
Style:
Märzen / Oktoberfest
Alcohol by volume (ABV):
5.90%
Availability:
Fall
Notes / Commercial Description:
Ancient timelines talk of dark days, plagued by hardships and Kingdom demands. When hope was all but lost, a legend emerged. A plumber. With copper pipes and an uncanny wit, he battled fierce foes and saw to the brewery's opening. Our Octoberfest is malty, smooth and exceedingly drinkable. It is perfect to celebrate and honor today's legends. We use locally grown wheat from MA, Munich malt and noble hops.
22 IBU
Added by jlindros on 09-06-2011
Reviews: 86 | Ratings: 411
4.25
/5
rDev
+12.4%
Pours like a textbook Marzen style lager; clear, amber/ copper color and perfect carbonation levels. Aroma is incredible, rich, earthy, malty and even some hop tints as well. The beer is very smooth, medium bodied and the much desired malty sweetness comes through nicely. A bit of a metallic aftertaste in the top of the mouth but does not deter from hammering back another swig....and another...
I first started drinking the super-hopped Jack's Abbey Mass Rising and Hoponius Union and figured they were another brewer catering to the public demand for super hopped ipa's and ipl's. I have certainly been corrected...JA puts out a wide variety of lager style brews including this fine offering, Cooper Legend....A road trip to Framingham is on the to-do list...
★
768 characters

4.25
/5
rDev
+12.4%
look: 4 | smell: 4 | taste: 4.5 | feel: 4 | overall: 4.25
Poured from 12oz bottle into 13 oz tulip
Appears true to namesake and style. Transparent light copper, carb is quite visible,nearly white head settles mostly to ring with a little foam in the middle of the glass, spotty lacing.
Smells like mead, honey, caramel.
Taste is overall malt forward. Bitterness is slightly noticeable right when it meets the palate, immediately giving way to whole grain bread, almonds, sunflower seeds, popcorn kernel. Not very toasty, but obviously quite nutty. Really pleasant aftertaste that just kind of sticks to the tongue. Perfect for the style
This offering manages to make the malt obvious in taste, but not in body. Surprisingly drinkable coming in at just under medium to solid medium body. Although clearly visible, carb does not prick the tongue. It's there, but not too much.
JA did a great job with this one. It is not necessarily a mind blowing beer, but I think it is a near perfect example of what I want from the style. Surprisingly drinkable for its palate and ABV. Highly recommend.
★
1,035 characters
4.3
/5
rDev
+13.8%
look: 4.75 | smell: 4 | taste: 4.25 | feel: 5 | overall: 4.25
Pours between a copper and gold hue. It's not as dark as most Märzens. Smells of caramel, some semblance of noble hops. It's on the light end of Märzens, but it's got that heartiness and malt forward you expect. It's very clean, like most Jack's Abby beers. It has very light bitterness. Overall, this is the perfect early fall beer.
★
335 characters
4.33
/5
rDev
+14.6%
Pours, erm, copper-colored.
Smells sweet, zippy, and bready with a little bit of an amber ale crispness. Kind of a like a combination between a mellow bock and a lightly hopped red. Nice.
Tastes like it smells. Like autumn. Complex but mellow, wonderfully balanced between a sweeter front end and a lightly bitter finish.
A really, really good American Marzen. It tastes more in debt to Millstream's O-fest than to any traditional Munich ones. And while it's not as good as its Iowa counterpart, it's still probably the second best American marzen I've ever had.
★
570 characters

4.35
/5
rDev
+15.1%
look: 4 | smell: 4 | taste: 4.5 | feel: 4.5 | overall: 4.5
Bottled "Fall 2012"
A: Copper-orange in color with a fizzy, bubbly, eggshell white head that builds and fades quickly leaving behind little lace and retention.
S: Sweet, toasted malt with spices, some dark fruit, and a bit of hay/grass. Fits the season.
T: Delicious burst of sweet, sugary, toasted malt followed by a surprisingly fresh but faint hop presence. Very smooth and full of flavor with an enjoyable, dry finish.
M: Smooth, clean, crisp, refreshing, all with the right amount of carbonation to complement the flavors and body. Incredibly easy to drink.
O: I don't understand the less than favorable reviews this beer is receiving. Maybe there was a bad batch, maybe these people don't understand the style, or maybe there aren't enough hops? This style is meant to be malt-heavy. I was hesitant to buy this because of the reviews but this again proves that you must take reviews with a grain of salt. I expected Jack's Abby to get this style right, of all styles, because after all, German beers are their focus. And they did get it right. This is a great beer. And for the style (remember, that's how beers are supposed to be reviewed on this site), this gets high marks.
★
1,187 characters
4.5
/5
rDev
+19%
look: 4.5 | smell: 4.5 | taste: 4.5 | feel: 4.5 | overall: 4.5
16.9oz bottle poured into a Hofbrau seidel. 'Tis the season.
A: Pours clear orange with great clarity. Thick, rocky off-white head dominated with four fingers worth of thickness. Retention is awesome. Thick, clumpy lacing affixes itself firmly to the glass. This is what an Octoberfest lager should look like. A very appealing beer to behold.
S: Light caramel and sweet grainy scents intermingle. Very slight and vague fruitiness. Grass and hay. Slight nutty/earthy yeast quality. This is spot-on. If I didn't know better, I'd think it came straight from Germany.
T: Grass and hay. Light caramel taste throughout. Strong toasted grain presence. The subtle fruitiness is there too. Nutty and musty lager yeast. Slight hop kick toward the end with a mild bitterness and grassy and spicy flavors. Clean finish of toasted grain and grassy hops. Textbook.
M: Medium bodied with firm malt character and a slight weight in the mouth. Creamy. Modest carbonation cuts the heft in the mouthfeel and lifts it just enough so that it feels firm but still remains smooth and quaffable. Great.
O: I'm very picky when it comes to Octoberfest lagers, especially American-made ones. Many brewers just use them as a token seasonal offering and don't even bother to stay true to style. They just brew some crappy, half-baked amber beer, often using an ale yeast to keep things more economical. The result is a market flooded with a whole lot of half-assed "Octoberfest" beers lacking character and substance. I'm happy to report that this is not one of those beers. Jack's Abby brews lagers exclusively, and boy did they nail this one. Copper Legend has to be the most authentic tasting American-made Octoberfest lager I've ever had. Ridiculously good, and highly quaffable. Give me some radishes and bratwurst and I'm in heaven. Jack's Abby. So hot right now.
★
1,845 characters
4.5
/5
rDev
+19%
look: 4.5 | smell: 4.5 | taste: 4.5 | feel: 4.5 | overall: 4.5
Appearance: Poured into a mug with a good two fingers worth of head is a dark copper with some mahogany hues.
Aroma: At first a short burst of citrus hops with some floral notes. Cinnamon, faint spice, lots of caramel malts with a bready character.
Taste: Nice and malty but with a twinge of dryness. Light spice, floral hops, caramel malts are well used in this one. Faint cinnamon in the rather smooth finish.
Notes: Begining to end it's so very drinkable. Cheers.
★
469 characters
4.5
/5
rDev
+19%
Most Jack's Abbey brews jump out at you. This is a mild Octoberfest with an amber to good tone. The head disappears quickly but the carbonation sticks until the bottom.
★
168 characters

4.53
/5
rDev
+19.8%
look: 4.5 | smell: 4 | taste: 4.5 | feel: 5 | overall: 5
Brilliant copper hue with a fluffy white head that sticks to the glass for a long time
lots of bready malt aroma
tons of bready malt flavor without getting too sweet thanks to a light grassy hop flavor. finishes dry, leaving you craving more
i disagree with my peers on this one. jack's abby nailed a classic german lager style AGAIN. incredibly easy to drink, not too filling and tons of malty flavor. isnt that what oktoberfest beers are all about?
★
453 characters
4.84
/5
rDev
+28%
look: 5 | smell: 4.75 | taste: 4.75 | feel: 5 | overall: 5
Poured from a can into a pint glass. True to its name, the color is copperish with a foamy head. The taste is peppery during and after drinking, and slightly piney.
★
164 characters

5
/5
rDev
+32.3%
A: Pours bronze with great clarity. Anais has the start be quickly dissipates. Not much lacing but a thin film of bubbles persists.
S: biscuity and malty. Toasted grain and mild sweetness.
T: Wow! This is what an Oktoberfest Marzen should taste like! Biscuity, a little chewy, but fresh and clean, with animal cracker and cracker flavors throughout. Mild hops in the back add some dimension to all of the grainy and bready flavors.
O: I love this brew! An instant classic. Maybe the best Oktoberfest offering I've yet had! One to try if you're a fan of the style or if you're a skeptic of the style.
★
602 characters
Copper Legend from Jack's Abby Brewing
85
out of
100
based on
86
ratings.