Copper Legend
| Jack's Abby Brewing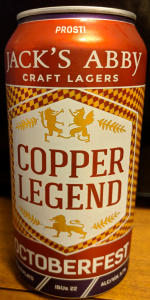 BEER INFO
Brewed by:
Jack's Abby Brewing
Massachusetts
,
United States
|
website
Style:
Märzen / Oktoberfest
Alcohol by volume (ABV):
5.90%
Availability:
Fall
Notes / Commercial Description:
Ancient timelines talk of dark days, plagued by hardships and Kingdom demands. When hope was all but lost, a legend emerged. A plumber. With copper pipes and an uncanny wit, he battled fierce foes and saw to the brewery's opening. Our Octoberfest is malty, smooth and exceedingly drinkable. It is perfect to celebrate and honor today's legends. We use locally grown wheat from MA, Munich malt and noble hops.
22 IBU
Added by jlindros on 09-06-2011
Reviews: 86 | Ratings: 413
4
/5
rDev
+5.8%
look: 4 | smell: 4 | taste: 4 | feel: 4 | overall: 4
Poured from a 16.9oz bottle into a US tumbler pint glass.
A: The beer is a deep amber color, with a large off-white head that fades slowly and leaves a thick lace on the glass.
S: The aroma contains lager yeast, caramelized malts, fruit and some hops.
T: The taste starts out sweet with flavors of caramel and fruit. Then a strong breadiness comes in from lager yeast and a hearty malt character. The hops presence is mild but complementary and brings a good balance. The after-taste is slightly sweet and slightly bready.
M: Crisp and smooth, medium body, medium carbonation, finish is slightly sticky.
O: Tasty, goes down easily, not too filling, decent kick, good representation of style, this is a solid beer to pound down for a while.
★
744 characters
3.26
/5
rDev
-13.8%
look: 4 | smell: 3 | taste: 3 | feel: 4 | overall: 3.5
Picked up a bottle at Julio's. Poured into my Duvel tulip.
A - Pours a nice crystal clear copper hue with a good almost two finger creamy head that fades to a nice thick blanket, but not much lacing at all.
S - Aromas are typical of an Oktoberfest, some light copper aromas as well as, in my opinion, far too much breads.
T - Taste is relatively meh as well. Way too much bread for me, way too biscuity, though the german malts are nice.
M - Mouthfeel is solid, as always. One of the best aspects.
O - Overall, this was a disappointment for me. Really had assumed Jack's Abby would make a flawless Oktoberfest, far from it.
★
629 characters

3.48
/5
rDev
-7.9%
look: 4 | smell: 3.5 | taste: 3 | feel: 4 | overall: 4
I picked this up right at the brewery. This beer started off nice with a nice copper color with good head and lacing.
The smell was just above average with some malt. Nothing special.
Taste is average. Not bad just not tasty as I was expecting.
It gave me a full mouth feel with good carbonation.
I like Jack's abby beers and thought this would be better than other octoberfests I've had but was a little disappointed. Don't take this as a downer. This beer is good, just not what I was hoping for. A little more taste would have rated this higher.
★
554 characters

3.78
/5
rDev 0%
look: 4 | smell: 3.5 | taste: 3.5 | feel: 4 | overall: 4.5
A-Pours a cloudy orange color. Head is slight but it leaves long lacing sheets. Dim glow from the body.
S-Pretty standard for a Marzen except with a bit more pep. Sweet bread and yeast. Maybe a tad of hoppiness. Mostly herbal hop. Sweet and yeasty.
T-The flavor is very Marzen-esque but a bit more robust and it boasts a nice herbal and spicy hop finish. Yeasty. Simply put: a tasty, muscular Marzen that only variates from the norm with its zesty hop finish.
M-Tingly bubbes with a slick, medium finish. Mildly dry. Sweetness sticks to the palate.
O/D-A top-tier, up and coming brewery that happens to be one of my favs does a Marzen (one of my least favorite styles). This was perhaps the best Marzen I have had but it's still a Marzen to me. JA's worst brew so far, but still a great depiction of a mediocre style.
★
821 characters

3.58
/5
rDev
-5.3%
look: 4 | smell: 3.5 | taste: 3.5 | feel: 4 | overall: 3.5
500ml bottle from 4-pack poured into Founders snifter. Bottle says 5.9% abv.
A- Pours a dark reddish brown copper with about a finger of white bubbly, foamy head that has good retention and slowly recedes leaving layered lacing. About average carbonation.
S- Some light hops, pale malts, a little bit grainy. About average aroma strength, definitely nothing special.
T- Caramel malts, pale malts, some light hops, a little bit of grain, some caramel on the finish that lingers. Again nice flavors, but nothing special.
M- Medium bodied, maybe a tiny bit light for the style, nice carbonation, easy to drink, nice feel.
O- This was a pretty decent oktoberfest, nothing special- which is what I've come to expect from Jack's Abby. I enjoyed drinking it, but it wasn't something that I would drink all the time. Not too much complexity or a ton of flavor. Definitely easy to drink and far from terrible, but far from the best of Jack's Abby lagers.
★
950 characters

4.14
/5
rDev
+9.5%
look: 5 | smell: 3.5 | taste: 4.5 | feel: 4 | overall: 4
Poured from a .5 liter bottle into a stein- pours a somewhat hazy burnt orange color, with two fingers of bubbly light beige head. Modest retention, some nice spots and streaks of lacing.
I get a crisp barley smell from this one- some caramel, a little bit of hops. Perhaps a touch of wheat. Nice, but very subtle.
Taste is very nice- interestingly enough, there's a decent hop presence in this marzen, really distinguishing it from the german variety. The hops are there throughout, and are slightly bitter and a little earthy. Caramel malt and some wheat smooth out the flavor. Their house yeast is certainly present in this one.
Mouthfeel is very good but again different than traditional oktoberfests- medium light mouthfeel, moderate to full carbonation, moderately dry finish. It's an interesting take on the marzen/oktoberfest style. It's jack's abby, so of course I love it. If you're looking for a traditional smooth, super malty oktoberfest, look elsewhere.
Update: It's definitely better a little closer to room temperature.
★
1,041 characters
3.58
/5
rDev
-5.3%
look: 4 | smell: 3.5 | taste: 3.5 | feel: 4 | overall: 3.5
Pours medium orange with a chill haze and a bubbly white head. Some lace, a ring of foamy retention.
Dried malt in the nose, some light caramel and grain.
Nice beer, but lacks the depth of an octoberfest brew. Dry grain, some mild bread crust. Bitterness comes forward, and is in good balance. Dries out at the end. If you blind taste tested me, I'd never guess the style in a million years.
Medium bodied, nice carbonation.
Overall, nice beer, but not what its supposed to be. Very easy to drink, good balance, but lacks the richness of the German (and most domestic) octoberfest brews.
★
591 characters
3.48
/5
rDev
-7.9%
look: 4 | smell: 3.5 | taste: 3.5 | feel: 4 | overall: 3
Nice frothy 1 finger head fades fairly quickly light lacing, very clear amber orange copper color.
Nose light grainy toasty malts, light Munich like reddish malts with light lager crispness and hint lager fruit, light grassy leafy noble hops,
Taste dry and bready, cracker, biscuit, grainy, etc, light Munich reddish malt with hint of caramel like, toasty. Light lager crispness. Some grassy fruity hops, noble variety but earthier and more robust and bitter than I expected. Finish is dry as throughout with fairly bitter and dry bready slight lager crispness.
Mouth is med to lighter bodied, decent carb.
Overall eh, a bit too much cracker bready malts and toastiness, no decoction layered softness I would have wanted, a bit too bitter and earthy, but nothing really wrong, just not what I like in my German Oktoberfest beers, and not what I've come to expect of the top notch lagers from Jack's Abby.
★
908 characters
3.58
/5
rDev
-5.3%
look: 4 | smell: 3.5 | taste: 3.5 | feel: 4 | overall: 3.5
Poured from a .5liter bottle into a duvel glass.
A: pours a slightly orange copper with a finger and a half of creamy slightly off white head that sticks around before dissapating into a film.... Some nice spots of lacing.
S: malty wheatness, grassy/floraly hops, lightly toasted grain/bread, yeast, caramel.
T: much like the nose, slight caramel malt sweetness, with a coppery wheatness.... Lightly toasted grain.... Yeast.... Light grassy/floraly and lightly citrusy hops.
M: medium body with a creamy feel, a bit of moderate sharp
Carbonation.... A bit of a sweet and earthy aftertaste.
O: not a bad brew, but not exactly anything that knocked my socks off here, maybe it's just my personal tastes, as this beer is nicley rounded and very drinkable. Guess its just not my thing.
★
787 characters

2.53
/5
rDev
-33.1%
look: 3 | smell: 2.5 | taste: 2.5 | feel: 2.5 | overall: 2.5
Had on tap recently @ Magouns in Somerville.
Pours a nice copper as the name suggests. Little head which goes away quickly.
Sweet, malty, slightly dirty nose. A bit of the same in the sip, a bit cloying, overly sweet. A bit of an unpleasant after -taste too which made my face pucker.
Above characteristics became highlighted & exacerbated as I drank the glass, it was a bit of a struggle to finish. Caramel notes were running rampant.
My least favorite offering from this new brewery so far, unfortunately. As a long time fan of Marzens & ofests, I cant help but feel this beer was rushed. Will try another time.
★
617 characters

3
/5
rDev
-20.6%
look: 3 | smell: 3 | taste: 3 | feel: 3 | overall: 3
Had this beer on tap at the brewery in Framingham. Served in a 4oz tasting glass. Served cool.
A-off white head, thick, nice gem like copper color.
S-standard marzen yeast smell, nice hard candy smell
T-fruit stone, hard candy
M-medium
D-Okay style wise. A bit run of the mill. Not bad, but just not anything to scream about.
★
330 characters
Copper Legend from Jack's Abby Brewing
85
out of
100
based on
86
ratings.