Private Rye Bière De Garde
| Jack's Abby Brewing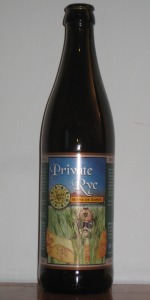 BEER INFO
Brewed by:
Jack's Abby Brewing
Massachusetts
,
United States
jacksabbybrewing.com
Style:
Bière de Garde
Alcohol by volume (ABV):
6.20%
Availability:
Rotating
Notes / Commercial Description:
This lager is brewed in the French farmhouse style. We add our own twist by adding 30% Rye Malt, locally grown Triticale from MA and amber Belgian candy sugar. We leave this beer slightly hazy to accentuate the mild fruity yeasty character. Copper in color, a spicy Rye flavor emerges in a dry yet malty finish after lagering for five weeks near freezing.
30 IBU
Added by taez555 on 03-16-2012
This beer is retired; no longer brewed.
Reviews: 40 | Ratings: 209
4
/5
rDev
+4.2%
look: 4 | smell: 4 | taste: 4 | feel: 4 | overall: 4
Bottle poured into a large tulip glass.
A - copper / caramel color with a beige head with light lacing. Hazy.
S - can really smell the yeast and the malt, backed by the rye spiciness.
T - light tasting lagerbeer with a good malt backbone. Spicy from rye. Not choppy really, but the hop presence is evident. Earthy and kind of fruity.
M - medium body. Not a lot of carbonation but the bubbles are bigger.
O - very enjoyable. Its like a regular drinking lager but a bit offbeat.
Cheers!
490 characters
4
/5
rDev
+4.2%
look: 4 | smell: 4 | taste: 4 | feel: 4 | overall: 4
This beer pours a hazy brown body with a nice fluffy white head.
Nose is a mix of fresh grain and some typical saison or Belgian farmhouse sort of funk and spicy
hops.
Taste is medium to light bodied and very smooth. Starts off with some very mild Belgian farmhouse funk and then a very firm bitterness that really takes hold almost immediately. There's actually this fresh malty, almost 6 row malt, type undertone that runs throughout, which is probably more to do with the Lagering. There's a nice strong Rye flavor that sits almost on top of the Biere de Garde, that sort of tastes like your normal Biere de Garde or Saison, but leans much more towards an American style Rye. The bitterness of the rye though really works well as a compliment to the style, which normally is more of a hoppy leafy sort of flavor. The bitterness isn't overpowering at all, but it's definitely very prominent.
Another unique and stylistically complex beer from JA. The rye malt is the perfect complement for the Biere de Garde style. The mild funk and sourness of the Belgian farmhouse style combined with the bite and bitterness of the hops and rye. Seriously, tasting this is one of those "AH HA" moments, like it must have been when someone tasted chocolate and peanut butter for the first time. It just works, and it works really well. It's like someone made a black and tan using De Ranke XX and Founders Red Rye. It's such a cool combo.
1,453 characters
4
/5
rDev
+4.2%
look: 4 | smell: 4 | taste: 4 | feel: 4 | overall: 4
.5L bottle served in a tulip glass.
L - deep copper color with a off-white head that thinned to a layer leaving some spotty lacing.
S - sourdough rye bread with some citrus fruit.
T - sourdough bread, rye spice and a little lemon tartness on the finish.
F - light/medium bodied with lively carbonation.
O - a very enjoyable beer well worth a try.
351 characters
4.02
/5
rDev
+4.7%
look: 4.25 | smell: 4 | taste: 4 | feel: 4 | overall: 4
I sometimes enjoy a biere de garde when done right, but most of the ones I've had before are meh. However, one of the few breweries I would trust outside of Northern France to do it right is Jack's Abby.
Pours a nice fizzy almost 2 finger head that gets kinda thick and fluffy and fades fairly slowly, nice fluffy lacing too, quite clear slight amber autumn-leaves orange auburn color, quite a few bubbles streaming up from the bottom. As the head fades and collapses it turns to a very thick frothy head.
Nose has some nice farmhouse funk, wheat grass, straw and a bit of wet hay even, plenty of wheat itself, grassy herbal dried straw and a touch of herbal spices, a bit of dried grass, light leafy herbal but mostly grassy hops, which gives way to the spicy rye in the middle, distinct spicy grainy rye aroma, and a little bready yeast with a fruity touch.
Taste starts with the lager qualities, a little fruity lager yeast flavor, light grainy bready yeast taste, etc. Then quickly comes the farmhouse flavors, farmhouse funk, grainy malts, wheat-grass again, dried grass, straw, plenty of wheat flavors again. The grassy malts get juicy even, toasty grainy malt, etc. Rye is there as well, spicy and bready, that even adds a light fruitiness like the lager yeast does. There are light grassy hops too, a little herbal and spicy, just a bit, but mostly grassy again. The mild sweetness blends in well, and continues onto the finish although it dries quite a bit, a nice big rye spicy flavor on the finish, with more farmhouse funk that's much lighter, bit more grassy hops and some grainy grassy malts and straw.
Mouth is med to lighter bodied, nice carbonation, fairly soft feeling.
Overall a nice beer, good farmhouse flavors and aromas, a nice rye kick, grassy grainy straw wheat malts, and a light grassy hop character even. Overall a nice beer quite drinkable and tasty, would be much better in late spring, but still a well done beer to be done in U.S. However, if I could complain, maybe a bit too sweet and sticky.
2,031 characters

4.04
/5
rDev
+5.2%
look: 4.25 | smell: 4 | taste: 4 | feel: 4.25 | overall: 4
A-Pours a hazy dark orange hue. Head is a thin layer of foam. Thick sheets of lacing.
S-Yeasty with some underlying sweetness. Lightly funky. Some candied fruits. I am also getting some green grass too. Definite rye. Interesting.
T-Starts off full of lager yeast and light barnyard funk. The middle is predominantly where the fruity sweetness lies. The rye is long and spicy. The flavor finishes with a potent grassy hop bang.
M-Medium bodied. Mild bitterness. Drinks like a smooth lager. The rye adds a pleasurable element to the feel. Soft bubbles.
O/D-Another supremely unique brew by Jack's Abby. I prefer their hoppier offerings but this is a damn good brew.I could turn a bunch of people (even newbies) onto this beer. Will buy again.
744 characters

4.07
/5
rDev
+6%
look: 3.25 | smell: 4.25 | taste: 4 | feel: 4.5 | overall: 4
Straight pour from a 500ml / 16.9oz pry-off bottle to my Duvel Single tulip. Bottling date of March 7, 2013 printed in black ink on the side of the label ("MFG 03.07.2013"), making this bottle a tad under four months old. Not bad, for the style.
Appearance (3.25): A bit over two fingers of meringue-colored foam rises from the pour, capping a rich, ruby-amber body that is nearly clear. The head fades to a thin cap, leaving little to no lacing. Great body, very nice head, poor lacing.
Smell (4.25): A rich, malty body of toffee, caramel, spiced apple cider, and fruit cake . . . all mixed with lighter, brighter spice tones of white pepper and clove. Most definitely fits for the style, in the classic sense—not the kind of funky bière de garde that you might come across today, but the malty, smooth, spicy farmhouse ale I've read about.
Taste (4.0): The balance between malt and spice shifts toward the spice, if only a bit: clove and pepper, following the nose, with some dried herbs (like basil and oregano, maybe?) . . . it very icely complements the malt body, which follows the nose a bit with its toffee and fruit cake, which in turn meld very smoothly with the beer's yeast component: plums, lemon zest, pear juice, mulled apple cider, etc. . . . just a touch of booze, but it meshes so, so well with the malt / yeast interface.
Mouthfeel (4.5): Sooo smooth, with a lush carbonation that foams quickly and fully without tingling or prickling at any point. The body is on the full side with a nice viscosity but not too much weight. It almost perfectly sits the fence between dry and, I guess, off-dry(?) . . . either way, very, very well balanced and very fitting for the style.
Overall (4.0): This is a very, very good bière de garde in the classic style. Of the farmhouse spectrum of beer style, I definitely gravitate more towards saisons but still feel that bières de garde are under-appreciated. This beer, like other Jack's Abby beers, offers some very pleasing nuance and balance, if you let it—drink it at the right temperature and take your time, and you will be rewarded as the beer unfolds nicely. This is a well-crafted bière de garde which represents the style well and stands up to age.
2,240 characters

4.07
/5
rDev
+6%
look: 4 | smell: 3.75 | taste: 4.25 | feel: 4.25 | overall: 4
Another fine beer from Jack's Abby. I would certainly recommend it, as I would with most of their offerings.
A: Golden, brownish, and quite a bit of haze. A sold tight-bubbled head.
S: The aroma is sweet, yeasty, and certainly a little bit of funk.
T: The taste is quite nice. Malty sweetness, bready, and a rush of rye on the tail end. The sweetness is more reminiscent of a Belgian than anything, but it fits in nicely.
M: A pleasing mouthfeel. The aforementioned rush of rye leaves a nice lingering dryness.
514 characters

4.09
/5
rDev
+6.5%
look: 3.75 | smell: 4 | taste: 4.25 | feel: 4 | overall: 4
Private Rye opens to a malty nose, the most obvious aroma a good copy of yeasty rising wheat dough, this followed by peppery rye bread, then floury baguette, biscuit, and toast crust. A good measure of citrusy grapefruit hops adds a nice counter to these yeasty bread notes, and small touches of grape, fig, orange, berry, and cherry fruit esters bring further complexity and balance. Faint hints of nut mix well with caramel and candy sugar, lending the beer a light, but very sweet overtone. As a whole, the nose is very nice, with the strong emphasis on yeasty breads and peppery rye making for an enjoyably earthy experience, the rest of the beer very nicely balanced to play off of these notes without overwhelming them.
On the tongue, the beer is divided almost equally between yeasty, peppery breads and sugars. The former brings the heavy yeasty rising wheat dough and peppery rye bread from the nose into instant play, with lesser notes of Grape Nuts cereal, biscuit, and toast crust. The sugars add orange, berry, cherry, and white grape fruit esters, as well as fine threads of candy sugar. A thin runnel of citrusy grapefruit from the hops adds welcome balance, preventing the yeast and sugar from becoming overpowering. Touches of toasted nut add further complexity. The aftertaste is a continuation of the yeasty, peppery breads, with a few sugars, and an increasing (but light) pine resin note from the hops, lingering for a good while. Mouthfeel is medium, and carbonation is medium.
Overall, this is very nice beer. The interplay between yeasty, peppery breads and sugars is superbly balanced, and the hops are kept tame enough to catalyze the rest of the flavors without overwhelming them.
1,709 characters

4.15
/5
rDev
+8.1%
look: 4.5 | smell: 4.5 | taste: 4 | feel: 4 | overall: 4
500ml bottle served in a tulip. July 2012 indicated on the back label. This beer looks beautiful in the glass. Pours a hue that is slightly more orange than cider with a latte-like, creamy-colored half inch head embedded with ringlets and with clusters of raised craters within the froth. Thick, concentric bands of lacing are revealed during the tasting. I love the nose on this beer - tart, light fruity esters (perhaps grapefruit) as well as a suggestion of funk as expressed by some medicinal phenols that are revealed behind the initial citrus character. Taste reveals a sour mash quality, less citrus than anticipated, some more of the medical/funky qualities present in the nose, as well as a some oak notes expressed as a slight butteriness. Not as tart as initially suggested, but there is a slight citric acid quality in the flavor profile and some light, bitterness towards the finish that gradually dissipates between quaffs. Mouthfeel is light in body with a pleasant, even, effervescent carbonation and a slight acidity that light stimulates the sides and back of the tongue. Overall, I have to say that I am really impressed by the beer. There are many subtle nuances here, and as with all of their other brews, the pricepoint for the quality is exceptional. I'd be curious to see what some age does to this beer and hope to pick up a few more bottles to experiment with. Another observation I have to make is that there are definitely some Orval-esque qualities to this beer.
1,491 characters
4.16
/5
rDev
+8.3%
look: 4 | smell: 3.5 | taste: 4.25 | feel: 4.25 | overall: 4.75
Appearance: high carbonation, orange-brown in color, 1/2 inch head, hazy
Smell: caramel and rye--not the strongest smelling beer
Taste: big rye that is present but never overwhelming, hay, and citrusy hops
Mouthfeel: crisp, medium bodied, high carbonation, bitter with slight sweetness
Overall: I think this is one of Jack's Abbey's better brews. The rye is nice and spicy but never overly bitter. The rest of the beer is malty and complex. Split a four pack with a friend in no time at all.
495 characters

4.19
/5
rDev
+9.1%
look: 3.75 | smell: 4 | taste: 4.25 | feel: 4.5 | overall: 4.25
A- Poured into a snifter from the 16oz bottle with a dark golden-orange, coppery body. A foamy, creamy head forms atop of this to a finger or two in size and has fairly good retention. A frothy ring stays around the sides of the beer and leaves a lot of legs and some patchy lace.
S- Spicy and yeasty are probably the two words that would describe this best for me. Raisin, citrus zest, peppercorn and spicy rye bread are prominent notes. Caramelized sugars, banana, clove and some herbal hints as well.
T- Rye is noticeable right off the bat, the malt character is very nice overall. Rye spice, cereal grain, caramel and some dark brown sugar notes from the grains. The yeast used in this beer is also quite interesting especially with some warmth. Raisins, spice, banana, clove, fig and citrus zest hints. Some herbal and spicy notes in the finish that could come from both yeast and/or some hops.
MF- Very silky smooth as one would expect from a beer with 30% rye in the grain bill. Carbonation is high but the creaminess of the beer offsets any harshness and allows everything to blend together nicely. Slight bit of warmth is quite nice with the flavors present.
I once made a rye beer with about 30% of the grain bill as rye, the mouthfeel and rye flavor present resembles that beer a lot actually. Beyond that the yeast is quite nice and I am curious as to what kind of process or strain they used. Another solid offering from this great local brewery.
1,463 characters

4.25
/5
rDev
+10.7%
look: 3.75 | smell: 4.25 | taste: 4.25 | feel: 4.5 | overall: 4.25
Jack's Abby Brewing - Private Rye Bière De Garde, poured into a Lawson's Tulip
Look - Pours a hazy caramel amber with a small soapy head that dissipates quickly, chunks of lacing.
Smell - Sweet malty lager & apple aroma with a hint of spice. Candied and mouth-watering. Obvious rye presence.
Taste - Snappy and sweet fruits, full flavored and rich rye, but dry and bitter.
Mouthfeel - Dry and crisp with no booziness. Light-bodied and super drinkable. Almost like drinking an unsweetened candied apple. Slightly bitter.
Overall - Solid as hell brew, this is smooth, drinkable, and a treat, enjoyed and 100% recommend but I will say that fans of their hoppier beers may be thrown off a bit, research the style a bit before deciding if this is really what you want, it is a somewhat muted style to begin with but I am a huge fan of the rye aspect so I couldn't say no.
872 characters

4.27
/5
rDev
+11.2%
look: 4.75 | smell: 4 | taste: 4.25 | feel: 4.25 | overall: 4.5
Pours a beautiful amber hue with a nice frothy head into my glass. It has to be right because I had another example of the style with a similar hue.
Aroma is a mix of rye and candi sugar. Not sure if creamy is appropriate but it does give that impression on the nose.
Sweet and spicy. At first, it confuses my taste buds. Once it hits the back of the throat, it all seems to make sense. "Chewy" is another adjective that comes to mind.
The mouthfeel is reminiscent of what happens if you chew on a malt husk. Lots of lingering sweetness from the candi sugar.
I agree with the folks who say great things about Jack's Abby. I would love to see more collaborations as well. Also, I definitely want more rye in my beer!
722 characters
4.29
/5
rDev
+11.7%
look: 4.25 | smell: 4.5 | taste: 4.25 | feel: 4 | overall: 4.25
S: Rich, grainy maltiness, some black pepper, earthiness, slight papery notes, perhaps a touch musty.
L: Amber with a light tan head with decent retention. Ok lacing.
T: Slight fruity malt up front, estery. Medium low earthy bitterness, with a crackery rich maltiness. Finishes slightly spicy with white pepper notes. Rye graininess comes through more as it warms.
M: Medium bodied, medium carbonation.
Great beer with nice complexity. Love what this brewery is doing.
472 characters

4.67
/5
rDev
+21.6%
look: 4 | smell: 4.5 | taste: 5 | feel: 4.5 | overall: 4.5
On tap at the Sunset in Allston. Poured into a tulip.
It sports a slightly hazy amber color. The pour I received had a sudsy white head about half-finger in size.
Loved the aroma. Slightly funky Belgian-like yeast is prominent, a little JuicyFruit gum, and a little hop spice.
As for the taste, I remember saying "wow, I'm really loving this" more than once as I drank it down. A little barnyard sits in the middle of the palate and is surrounded with notes of rye, spicy hops, and just a touch of citrus. It has a little saison character to it.
Mouthfeel was fine. A lighter feel to the body, without tasting light. Carbonation was normal. Extremely drinkable.
In my mind, JA's batting average is sky high right now. I really loved this one - a low ABV brew with the flavor character of higher ABV Belgians, but with added drinkability that's off the charts. I will be seeking this out again, and you should too.
932 characters
Private Rye Bière De Garde from Jack's Abby Brewing
3.84
out of
5
based on
209
ratings.