Private Rye Bière De Garde
| Jack's Abby Brewing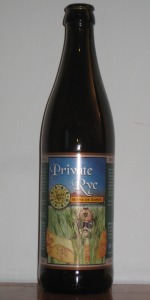 BEER INFO
Brewed by:
Jack's Abby Brewing
Massachusetts
,
United States
jacksabbybrewing.com
Style:
Bière de Garde
Alcohol by volume (ABV):
6.20%
Availability:
Rotating
Notes / Commercial Description:
This lager is brewed in the French farmhouse style. We add our own twist by adding 30% Rye Malt, locally grown Triticale from MA and amber Belgian candy sugar. We leave this beer slightly hazy to accentuate the mild fruity yeasty character. Copper in color, a spicy Rye flavor emerges in a dry yet malty finish after lagering for five weeks near freezing.
30 IBU
Added by taez555 on 03-16-2012
This beer is retired; no longer brewed.
Reviews: 40 | Ratings: 209
4
/5
rDev
+4.2%
look: 4 | smell: 4 | taste: 4 | feel: 4 | overall: 4
This beer pours a hazy brown body with a nice fluffy white head.
Nose is a mix of fresh grain and some typical saison or Belgian farmhouse sort of funk and spicy
hops.
Taste is medium to light bodied and very smooth. Starts off with some very mild Belgian farmhouse funk and then a very firm bitterness that really takes hold almost immediately. There's actually this fresh malty, almost 6 row malt, type undertone that runs throughout, which is probably more to do with the Lagering. There's a nice strong Rye flavor that sits almost on top of the Biere de Garde, that sort of tastes like your normal Biere de Garde or Saison, but leans much more towards an American style Rye. The bitterness of the rye though really works well as a compliment to the style, which normally is more of a hoppy leafy sort of flavor. The bitterness isn't overpowering at all, but it's definitely very prominent.
Another unique and stylistically complex beer from JA. The rye malt is the perfect complement for the Biere de Garde style. The mild funk and sourness of the Belgian farmhouse style combined with the bite and bitterness of the hops and rye. Seriously, tasting this is one of those "AH HA" moments, like it must have been when someone tasted chocolate and peanut butter for the first time. It just works, and it works really well. It's like someone made a black and tan using De Ranke XX and Founders Red Rye. It's such a cool combo.
★
1,453 characters

3.82
/5
rDev
-0.5%
look: 4.25 | smell: 3.5 | taste: 4 | feel: 4.25 | overall: 3.5
Spring 2013
A: Copper-yellow in color with a thick, fluffy, off-white head. Decent lace and not much retention. Give it a good swirl, though, and the head reappears quickly.
S: Lightly toasted malt, some barn/hay aromas...I hate to say it, but it smells like an American Macro Lager.
T: The malt flavors are unique and delicious. Some fruity, barny, and earthy qualities. I'm guessing there were cereal grains used because they stand out. Delicious, satisfying finish. As my pint glass became less full, this beer grew on me. Didn't get much rye nor candy sugar nor French farmhouse style.
M: Very light yet creamy body. Carbonation is spot-on. Super easy-drinking. Went through the bottle way too fast.
O: I haven't had many beers of this style but I expected it to be a little funkier and unique. Basically a light American lager with a bit of wild character to it. I'd say the weakest offering from Jack's Abby that I've had so far. But still pretty darn good.
★
968 characters

4.25
/5
rDev
+10.7%
look: 3.75 | smell: 4.25 | taste: 4.25 | feel: 4.5 | overall: 4.25
Jack's Abby Brewing - Private Rye Bière De Garde, poured into a Lawson's Tulip
Look - Pours a hazy caramel amber with a small soapy head that dissipates quickly, chunks of lacing.
Smell - Sweet malty lager & apple aroma with a hint of spice. Candied and mouth-watering. Obvious rye presence.
Taste - Snappy and sweet fruits, full flavored and rich rye, but dry and bitter.
Mouthfeel - Dry and crisp with no booziness. Light-bodied and super drinkable. Almost like drinking an unsweetened candied apple. Slightly bitter.
Overall - Solid as hell brew, this is smooth, drinkable, and a treat, enjoyed and 100% recommend but I will say that fans of their hoppier beers may be thrown off a bit, research the style a bit before deciding if this is really what you want, it is a somewhat muted style to begin with but I am a huge fan of the rye aspect so I couldn't say no.
★
872 characters

3.7
/5
rDev
-3.6%
look: 4.5 | smell: 3.75 | taste: 3.5 | feel: 3.75 | overall: 3.75
Tasted On: 04-23-2013
Freshness: Spring 2013 vintage
Packaging: 500ml brown bottle, pry-cap
Glassware: Cervoise glass
Purchased: Received in a trade
A big thanks to DrewShal9 for this trade!
Pours as a semi-clear amber beer with an attractive head of off-white on top. Both lacing and head retention are very good.
The smells start with some Belgian yeast funk, with a musty character. I also pick up aromas of citrus orange and then the spiciness of rye grains.
The taste features a strong rye presence - very spicy and a bit harsh at times. Other notes are of bready malts (although this beer is quite dry) and some woodiness. The body seems average and carbonation is on the high side. The finish is very similar to the taste, with dryness and spicy rye malts featured.
Overall I enjoyed this beer, although I think scaling back the rye bill a bit would make for a better-tasting beer and one that was more in line with the style.
★
939 characters

4.07
/5
rDev
+6%
look: 3.25 | smell: 4.25 | taste: 4 | feel: 4.5 | overall: 4
Straight pour from a 500ml / 16.9oz pry-off bottle to my Duvel Single tulip. Bottling date of March 7, 2013 printed in black ink on the side of the label ("MFG 03.07.2013"), making this bottle a tad under four months old. Not bad, for the style.
Appearance (3.25): A bit over two fingers of meringue-colored foam rises from the pour, capping a rich, ruby-amber body that is nearly clear. The head fades to a thin cap, leaving little to no lacing. Great body, very nice head, poor lacing.
Smell (4.25): A rich, malty body of toffee, caramel, spiced apple cider, and fruit cake . . . all mixed with lighter, brighter spice tones of white pepper and clove. Most definitely fits for the style, in the classic sense—not the kind of funky bière de garde that you might come across today, but the malty, smooth, spicy farmhouse ale I've read about.
Taste (4.0): The balance between malt and spice shifts toward the spice, if only a bit: clove and pepper, following the nose, with some dried herbs (like basil and oregano, maybe?) . . . it very icely complements the malt body, which follows the nose a bit with its toffee and fruit cake, which in turn meld very smoothly with the beer's yeast component: plums, lemon zest, pear juice, mulled apple cider, etc. . . . just a touch of booze, but it meshes so, so well with the malt / yeast interface.
Mouthfeel (4.5): Sooo smooth, with a lush carbonation that foams quickly and fully without tingling or prickling at any point. The body is on the full side with a nice viscosity but not too much weight. It almost perfectly sits the fence between dry and, I guess, off-dry(?) . . . either way, very, very well balanced and very fitting for the style.
Overall (4.0): This is a very, very good bière de garde in the classic style. Of the farmhouse spectrum of beer style, I definitely gravitate more towards saisons but still feel that bières de garde are under-appreciated. This beer, like other Jack's Abby beers, offers some very pleasing nuance and balance, if you let it—drink it at the right temperature and take your time, and you will be rewarded as the beer unfolds nicely. This is a well-crafted bière de garde which represents the style well and stands up to age.
★
2,240 characters

3.83
/5
rDev
-0.3%
look: 4 | smell: 3.5 | taste: 4 | feel: 4 | overall: 3.75
Spring 2013 vintage, .5L bottle into a snifter glass.
A - Pours a dark red/burnt orange body. Not as hazy as the description led me to believe. Visible carbonation slowly rises from below. Two fingers of fluffy off white foam. Lasting and sticky lacing.
S - Its a sort of a spicy rye with a caramel malt/Belgian yeast finish . Just a touch of fruit and subtle skunked lager notes. Not particularly exciting, but its nice enough.
T - Clean Belgian yeast and caramel malts with a light spice and fruitiness. Hop bitterness is apparent on the end. Tasty and unique.
M - Medium bodied with spritzy carbonation.
O - A pretty unique beer. I'm not too familiar with biere de gardes, but this does come off as Americanized saison with a nice rye spice and hoppy finish. Certainly worth a try.
★
791 characters

4.09
/5
rDev
+6.5%
look: 3.75 | smell: 4 | taste: 4.25 | feel: 4 | overall: 4
Private Rye opens to a malty nose, the most obvious aroma a good copy of yeasty rising wheat dough, this followed by peppery rye bread, then floury baguette, biscuit, and toast crust. A good measure of citrusy grapefruit hops adds a nice counter to these yeasty bread notes, and small touches of grape, fig, orange, berry, and cherry fruit esters bring further complexity and balance. Faint hints of nut mix well with caramel and candy sugar, lending the beer a light, but very sweet overtone. As a whole, the nose is very nice, with the strong emphasis on yeasty breads and peppery rye making for an enjoyably earthy experience, the rest of the beer very nicely balanced to play off of these notes without overwhelming them.
On the tongue, the beer is divided almost equally between yeasty, peppery breads and sugars. The former brings the heavy yeasty rising wheat dough and peppery rye bread from the nose into instant play, with lesser notes of Grape Nuts cereal, biscuit, and toast crust. The sugars add orange, berry, cherry, and white grape fruit esters, as well as fine threads of candy sugar. A thin runnel of citrusy grapefruit from the hops adds welcome balance, preventing the yeast and sugar from becoming overpowering. Touches of toasted nut add further complexity. The aftertaste is a continuation of the yeasty, peppery breads, with a few sugars, and an increasing (but light) pine resin note from the hops, lingering for a good while. Mouthfeel is medium, and carbonation is medium.
Overall, this is very nice beer. The interplay between yeasty, peppery breads and sugars is superbly balanced, and the hops are kept tame enough to catalyze the rest of the flavors without overwhelming them.
★
1,709 characters
3.86
/5
rDev
+0.5%
look: 4.25 | smell: 3.75 | taste: 3.75 | feel: 4 | overall: 4
A - Poured a deep copper with about as much head as I could possibly allow. It retained well, but when it was gone, it was gone. There was very little carbonation (I'm not sure if this is typical for the style or not) and no lacing to speak of. Still the color and thick haziness of this one warrant the high marks!
S - Classic Belgian-Style smell, with notes of spice and banana.
T - Farmhouse style at the start, that gradually grows more bitter as the hops kick in. I can clearly detect the rye presence in this one. Oddly enough, I think this might be a case of too much going on. That, combined with the fact that this isn't really my favorite style, yield slightly lower marks than most might give.
M - These guys do such a good job on mouthfeel, although this one seems little lighter and less velvety than the others I've had, maybe due to lack of carbonation.
O - Another solid from Jack's Abby. Even on styles that I'm still learning to appreciate (like this one) I still truly enjoy these beers.
★
1,010 characters
3.88
/5
rDev
+1%
look: 3.75 | smell: 3.75 | taste: 4 | feel: 4 | overall: 3.75
Appearance: Clear amber red with a head off white in color around an inch in height.
Aroma: Golden raisins, pear, dates, faint notes of white grapes, apple.
Taste: Very crisp mouthfeel. Pear, dried fruits, apple, white grape, apricot. The finish is nice and dry with lots of yeasty notes.
Notes: The dryness is great and very good example of the style. Cheers.
★
363 characters
3.92
/5
rDev
+2.1%
look: 4 | smell: 3.75 | taste: 4 | feel: 3.75 | overall: 4
Poured into a tulip. When opened, a slow rise of foam that would have overflowed if not poured. When poured, head disappeared almost immediately. Color was a nice dark golden copper color. Aroma was a slightly sour fruity smell, that mellowed and developed a bit of malt over time. Flavor was a floraly fruit, with a bit of hoppy bite in the backend. Felt ok in the mouth. A bit of coat, with some tongue tingle going on. Overall, not a bad beer. A bit more complex than I was initially expecting.
★
497 characters

3.88
/5
rDev
+1%
look: 4 | smell: 3.5 | taste: 4 | feel: 4 | overall: 4
Had on tap a bukowski- pours a golden copper color with a creamy white two finger head with decent retention and lots of great lacing.
Smell is pretty mild- pale malts, a good dose of yeast, and a little rye sharpness.
Taste is consistent- pale malt sweetness up front, followed by a little rye and some yeast, finishes with some hops and it's nice, long and dry. A little grapefruit.
Mouthfeel is good- light body, moderately carbonated. Definitely like it.
★
461 characters

3.93
/5
rDev
+2.3%
look: 4.5 | smell: 4 | taste: 3.75 | feel: 4 | overall: 4
The beer pours an ambered copper with a huge yellowing white head of creamy bubbles. The beer's body is lager clean but with a darker haze, and tiny carbonation bubbles can be seen racing up to replenish the fat head. The beer leaves behind a lovely network of dry sticky lacing, almost like the layers of the earth with tree roots running between them. On the nose, the beer smells of light spicy bread with a touch of saison funk, but with a very clean feel on the nose. The rye malt is the most prominent thing in the nose, and gives some wonderful spicy rye bread notes. On the tongue, the beer tastes clean with a light flavor palate of bitter and salty dry bread with a faint touch of sweetness. The beer begins with muted bread notes that slowly open into spicy rye bread with a nice hit of grassy hops. The finish is strong with the grassy and hay-like hops, while the aftertaste lingers with very muted rye spice. On the mouth, the beer feels medium light in body and leaves the mouth slightly astringent yet wet on the sides of the tongue and dry on the roof of the mouth. Overall, this isn't a bad beer. I haven't really had a Bière De Garde , so I don't know for style how to grade this beer. I can say that it is very muted in flavor compared with other Jack's Abby beers. It's tasty, just not as in your face as others. I like this beer, but it didn't blow me away.
★
1,394 characters

3.56
/5
rDev
-7.3%
look: 3.75 | smell: 3.25 | taste: 3.75 | feel: 3.5 | overall: 3.5
aroma is a little light and somewhat musty and metallic ...maybe?
color is copper and fairly clear and a little hazy when pouring the rest of the bottle.
the taste is a marriage of rye spiciness and light fruit. almost white grapes and melon and pepper and a little caramel sweetness. very little hop presence. It drinks really easy and seems appropriate for the coming springtime. enjoyable
★
391 characters
4
/5
rDev
+4.2%
look: 4 | smell: 4 | taste: 4 | feel: 4 | overall: 4
Bottle poured into a large tulip glass.
A - copper / caramel color with a beige head with light lacing. Hazy.
S - can really smell the yeast and the malt, backed by the rye spiciness.
T - light tasting lagerbeer with a good malt backbone. Spicy from rye. Not choppy really, but the hop presence is evident. Earthy and kind of fruity.
M - medium body. Not a lot of carbonation but the bubbles are bigger.
O - very enjoyable. Its like a regular drinking lager but a bit offbeat.
Cheers!
★
490 characters

4.07
/5
rDev
+6%
look: 4 | smell: 3.75 | taste: 4.25 | feel: 4.25 | overall: 4
Another fine beer from Jack's Abby. I would certainly recommend it, as I would with most of their offerings.
A: Golden, brownish, and quite a bit of haze. A sold tight-bubbled head.
S: The aroma is sweet, yeasty, and certainly a little bit of funk.
T: The taste is quite nice. Malty sweetness, bready, and a rush of rye on the tail end. The sweetness is more reminiscent of a Belgian than anything, but it fits in nicely.
M: A pleasing mouthfeel. The aforementioned rush of rye leaves a nice lingering dryness.
★
514 characters
Private Rye Bière De Garde from Jack's Abby Brewing
3.84
out of
5
based on
209
ratings.