Ginger & Juice
| Jack's Abby Brewing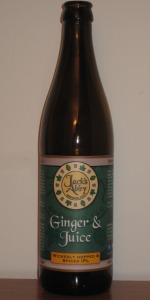 BEER INFO
Brewed by:
Jack's Abby Brewing
Massachusetts
,
United States
jacksabbybrewing.com
Style:
Herbed / Spiced Beer
Alcohol by volume (ABV):
6.00%
Availability:
Rotating
Notes / Commercial Description:
Ginger & Juice combines pureed ginger, grapefruit juice and peel, buckwheat and a secret proprietary hop strain to create an intriguingly spiced and hopped lager. Aromas of citrus, melon, and ginger balance a firm bitterness. Uses locally grown buckwheat from MA. Lay back, sip on Ginger & Juice.
60 IBU
Added by PeterIngemi on 07-26-2012
Reviews: 29 | Ratings: 132
4.15
/5
rDev
+4.8%
look: 4 | smell: 4 | taste: 4.5 | feel: 3.5 | overall: 4
16.9oz brown bottle with a freshness date.
LOOK: Crystal clear gold, bubble rocky froth
SMELL: Fresh ginger, lemony, herbal, dough biscuits, fresh cut grass, grapefruit zest
TASTE: Slightly chewy, crisp, balanced hop bitterness, grapefruit rind, juicy, clean, spicy ginger, herbal, grainy, clean alcohol, grapefruit linger, drying faintly gingery finish
Hell Yeah! Was not sure if this was going to go over well with me or not. I love ginger and grapefruit as well ... Jack's does a great job finding that balance. This is part old school tonic and part craft beer. Brew more of this please!!
★
596 characters

4.17
/5
rDev
+5.3%
look: 4 | smell: 4.5 | taste: 4 | feel: 4.5 | overall: 4
500ml bottle poured into pint glass. This is pretty much their 1 year anniversary beer which was last week, just hit stores this week. Bottle says July 2012. (Review #200!)
A- Pours a translucent light orange gold with a 2-3 finger very thick bubbly head that has excellent retention. Lots of small rising carbonation bubbles rising from the bottom of the glass, definitely more then your average beer. Thick layered lacing.
S- Grapefruits, ginger, hops, melons, cantaloupe, slightly wheaty and grassy in the background. Slightly above average aroma strength. I definitely enjoyed the smell on this one, it has a nice juicy grapefruit smell without being overly hoppy balanced nicely with the ginger.
T- Grapefruit, light melon, some wheat and light hops, with a bitter gingery finish and a lingering aftertaste of grapefruit juice, spices, hops, and a little bit of ginger. A tiny bit too much ginger on the finish, but other then that everything was nicely balanced.
M- Light, crisp, refreshing, very easy to drink, almost goes down like juice. Slightly above average carbonation, but fits well with bringing out the ginger and other flavors of the beer.
O- I thought this was a very nice offering from Jack's Abby. It was full of nicely balanced flavor and was a pretty unique beer that was definitely easy to drink. At $3/.5 liter I will definitely be buying this again. I think it's definitely right up there with Hoponius Union.
★
1,439 characters

4.22
/5
rDev
+6.6%
look: 4 | smell: 4.5 | taste: 4 | feel: 4 | overall: 4.5
Bottled July 2012. Very fresh.
A: Pours a hazy golden orange. Huge fluffy white head. Fades slowly, leaving a very nice patchwork of lacing everywhere.
S: Loads of grapefruit and ginger. Some wheat follows. Some nice hop bite that's hard to place - mainly pine I would say. Touch of black pepper I would say.
T: Yup, lots of bittersweet grapefruit and pine. Ginger is not overwhelming but a nice presence throughout. Wheaty grain with some biscuity malt to boot.
M: Medium bodied, smooth and a bit drying from the bitterness in the aftertaste. Surprisingly full bodied for only 6% ABV. Crisp.
O: A hoppy spiced grapefruit lager with some wheat and ginger. Only Jack's Abby could make this work - and they do. I don't think they know how to make bad beers. They should try, I wonder if they can do it. They could make a garbage barrel-aged rotten pumpkin imperial sunscreen pale ale and somehow it would still be good.
★
925 characters

4.28
/5
rDev
+8.1%
look: 4.5 | smell: 4 | taste: 4.5 | feel: 4.5 | overall: 4
Gold with a big, puffed up white head. Large dollop of foam sits in the middle of my glass throughout the whole session and leaves clumps of lace strung top to bottom.
Melon and ginger spice aroma. Tastes like melon and ginger too. Fresh like cucumber and a little reminiscent of Thai food. Or floral like rosewater. Grapefruit citrus in back. Mild but not lacking bitter. Dry, malty base.
Different but I really enjoyed it. Bottle label mentions a proprietary hop strain which I'm guessing is Calypso. Rising Tide Zephyr has a similar melon flavor and aroma and that used Calypso. Hooray Calypso.
★
600 characters

4.28
/5
rDev
+8.1%
look: 4 | smell: 4 | taste: 4.5 | feel: 4.25 | overall: 4.25
Translucent golden-amber body. About one finger of dense white head. Not the best retention but excellent lacing.
Relatively neutral nose with ginger sprinkled in. A touch of grapefruit but cannot tell whether it's from the actual fruit or merely the hops. Well balanced for the adjuncts used.
Freah ginger, candied ginger, mellow ripe grapefruit. Bitter in the beginning and middle but the ginger mellowd out the bitterness in the finish. The ginger and grapefruit are in the forefront but are extremely well balance and by no means overwhelming. Some sweet malt notes underlying throughout.
Medium-light body. Medium carb. Finish is a little sweet and sticky.
This is better than GF Sculpin. I wish JA released this more often. For their hoppy stuff, not quite up there with 3x DH HU and Mass Rising but pretty close
★
834 characters

4.31
/5
rDev
+8.8%
look: 5 | smell: 4 | taste: 4.5 | feel: 3.5 | overall: 4.5
This shouldn't be classified as a dortmunder...
Poured from a .5 liter bottle into a pilsener- pours a beautifully clear golden color, visibly effervescent, lots of fluffy white head, greatt retention, great lacing.
Smell is very interesting but the ginger and pineapple are somewhat subdued. Along with those undertones, there are earthy, piney hops and a tiny trace of pale malt.
Taste was overwhelming at first but after a few sips it cleared up- a nice blend of ginger, pineapple and pine hops up front, that gives way to a good dose of bitterness for a very long dry finish.
Mouthfeel is good- medium light body with moderate prickly carbonation. A good dose of resin maybe is slightly a put off but what the hell I love hops and it's IPA day. Give it a try it's great!
★
778 characters
4.33
/5
rDev
+9.3%
look: 4.5 | smell: 4 | taste: 4.5 | feel: 4 | overall: 4.5
Appearance: Arrives at the bar with a cloudy apricot color capped my a marshmallow foam head that curtains lacing
Smell: As grapefruity as can be; almost smells like the juice itself
Taste: Though the ginger was not detected in the aroma, the flavor profile is clearly affected by it; ginger, grapefruit and melon flavors are all in the mix; the finish is very juicy
Mouthfeel: Medium body with prickly carbonation
Overall: Very juicy for a beer but it sure works for me; always enjoy seeking out the Jack's Abbey beers when I am in Boston
★
543 characters

4.43
/5
rDev
+11.9%
look: 4.5 | smell: 4 | taste: 4.5 | feel: 4 | overall: 5
A-Pours a slightly hazy glowing, vibrant honey color. Beautiful head. Head retains exquisitely. Head is frothy and leaves tons of lacing webs.
S-Very hoppy and very spicy. The ginger really is noticeable in the nose. Ripe, juicy melons and grapefruits. Lingering spice on the finish. Spicy cracker malt. Smells great.
T-Ginger is beautiful here. It melds well with all the grapefruit juice and tropical hops. Finishes incredibly grassy. Herbal hops. Malt is softer but complements the other delicious flavors. I really, really enjoy the ginger aspect.
M-Light and super-sessionable. Carbonation is tickling. Bitterness is moderate but lasts forever. A bit oily and resiny.
O/D-Jack's Abby strikes again with another absolute standout .For $2.99 for a half liter bottle, you cannot beat its value. Jack's Abby is quickly rising up my list of favorite breweries. Super unique, but this is no gimmick. This beer is a stud…Bravo.
★
931 characters

4.5
/5
rDev
+13.6%
look: 4.5 | smell: 4.5 | taste: 4.5 | feel: 4.5 | overall: 4.5
July 2012
A: Clean and clear, light-golden in color, with a big, soapy, foamy, white head that leaves behind a ton of lace and good retention.
S: Spicy, hoppy, and yeasty. Grass, hay, citrus, and ginger. Intriguing.
T: Very unique. You get all the flavors as expected. Big, juicy, fruity hops up front, followed by very pleasant ginger flavor, all finished with the smoothness of a lager. The right amount of spice and ginger really make this beer stand out. The hops are fresh and bursting with flavor.
M: Seriously drinkable, enjoyable, and delicious. Not one flavor overpowers, rather, all of them come together to make a very balanced and unique brew.
O: This scores big with me because it's unique and it's well-crafted. You get all the ingredients in the nose and in the taste. One hell of an interesting beer. Highly recommended.
★
841 characters
Ginger & Juice from Jack's Abby Brewing
3.96
out of
5
based on
132
ratings.