Ginger & Juice
| Jack's Abby Brewing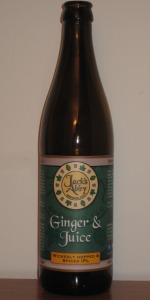 BEER INFO
Brewed by:
Jack's Abby Brewing
Massachusetts
,
United States
jacksabbybrewing.com
Style:
Herbed / Spiced Beer
Alcohol by volume (ABV):
6.00%
Availability:
Rotating
Notes / Commercial Description:
Ginger & Juice combines pureed ginger, grapefruit juice and peel, buckwheat and a secret proprietary hop strain to create an intriguingly spiced and hopped lager. Aromas of citrus, melon, and ginger balance a firm bitterness. Uses locally grown buckwheat from MA. Lay back, sip on Ginger & Juice.
60 IBU
Added by PeterIngemi on 07-26-2012
Reviews: 29 | Ratings: 132

4.5
/5
rDev
+13.6%
look: 4.5 | smell: 4.5 | taste: 4.5 | feel: 4.5 | overall: 4.5
July 2012
A: Clean and clear, light-golden in color, with a big, soapy, foamy, white head that leaves behind a ton of lace and good retention.
S: Spicy, hoppy, and yeasty. Grass, hay, citrus, and ginger. Intriguing.
T: Very unique. You get all the flavors as expected. Big, juicy, fruity hops up front, followed by very pleasant ginger flavor, all finished with the smoothness of a lager. The right amount of spice and ginger really make this beer stand out. The hops are fresh and bursting with flavor.
M: Seriously drinkable, enjoyable, and delicious. Not one flavor overpowers, rather, all of them come together to make a very balanced and unique brew.
O: This scores big with me because it's unique and it's well-crafted. You get all the ingredients in the nose and in the taste. One hell of an interesting beer. Highly recommended.
841 characters
4.1
/5
rDev
+3.5%
look: 4 | smell: 4 | taste: 4 | feel: 4 | overall: 4.5
This beer pours a hazy opaque orange body with a fluffy white head.
Nose floats back and forth between ginger and traditional IPA type smells of citrus and fresh malt.
Taste immediately hits you with a ginger touch, but not over the top at all. The ginger definitely gives it a nice little spice touch, and actually almost reminds you of a winter holiday beer at first. Medium bodied and very chewy and smooth. Lots of citrus, but not any strong defined flavors. More of just a "juice" mix of flavors. The ginger really balnaces and plays well, but helps almost not define the flavors. Bitterness is present, but not over the top at all. This is just a really well balanced beer, and at the same time it's big and quaffable. Ends with a very nice lingering ginger and bitterness, but doesn't kill the pallete.
This is really a nice beer. I wasn't crazy about it when I first tried it at the brewery, but maybe my taste buds were off. A day later out of a growler it is superb!! It's just hobby enough with enough malt to be a straight up type pale ale/ipa (well lager), but the ginger doesn't overpower and adds a beutiful balance. What a really good beer.
1,159 characters

4.28
/5
rDev
+8.1%
look: 4 | smell: 4 | taste: 4.5 | feel: 4.25 | overall: 4.25
Translucent golden-amber body. About one finger of dense white head. Not the best retention but excellent lacing.
Relatively neutral nose with ginger sprinkled in. A touch of grapefruit but cannot tell whether it's from the actual fruit or merely the hops. Well balanced for the adjuncts used.
Freah ginger, candied ginger, mellow ripe grapefruit. Bitter in the beginning and middle but the ginger mellowd out the bitterness in the finish. The ginger and grapefruit are in the forefront but are extremely well balance and by no means overwhelming. Some sweet malt notes underlying throughout.
Medium-light body. Medium carb. Finish is a little sweet and sticky.
This is better than GF Sculpin. I wish JA released this more often. For their hoppy stuff, not quite up there with 3x DH HU and Mass Rising but pretty close
834 characters
3.88
/5
rDev
-2%
look: 4 | smell: 3.5 | taste: 4 | feel: 4 | overall: 4
pint bottle served in a snifter.
pours a golden-yellow tone with a touch of haze while yielding a 1"+ foamy white head; decent retention and lacing. nose is headlined by a prevailing ginger presence while flanked by notes of citric hoppiness and a touch of malt.
flavor follows the aroma with ginger leading the way followed by that citrus hoppiness and secondary notes of malt and some herbal hops. medium-light bodied mouthfeel with average carbonation.
overall, not an uber-flavorful world-beater, but relatively tasty and refreshing; very solid beer just nothing that will blow you away. slightly better on paper (what i anticipated) than in practice, but definitely worth a try.
686 characters
3.85
/5
rDev
-2.8%
look: 3.5 | smell: 3.5 | taste: 4 | feel: 4 | overall: 4
A little suprised at myself that this is my first Jack's Abby review. I've been enjoying their beer quite a bit over the last few months, but I guess this is the first one I've taken the time to review I guess.
Got a growler and spit it with my wife over the afternoon and into the evening on a night off from work. Poured it into 22 oz. Sam Adams perfect pint glass. Comes out golden in color with a nice yellow glow when held up to the light. Looks hazy, not as filtered as many of their other offerings. Nice white colored head that comes up after a reasonably aggressive pour and provides decent lacing. Pretty good looking beer.
I really have a tough time with these beers aromas, this isn't really an exception either. It smells better than I would expect based on the fact that it's a strong wheat aroma (which really isn't my style) but it's not bad, better than the average I would say. Citrus (mostly grapefruit) zest, and hints of ginger and melon as well. Again a strong amount of wheat, a little less and I'd like it more. All the "herbs and spices" kind of overpower everything else.
Taste is better than the smell. Strong amounts of Ginger and hints of grapefruit zest. The grapefruit kind of makes it seem like an overhopped wheat beer, but it's really more than that. There's a generous amounts of fruit in general. The combination of grapefruit and ripe melon really mesh well with the ginger. Again there is a large wheat backbone on it kind of holding it together, I think I'd like it a little better if they went a different route with that, but it's not bad.
Mouthfeel is good, I generally don't like this part in these styles but this one isn't bad. Cleaner and smoother than I would expect. Good carbonation level, and well balanced. The Ginger and grapefruit give this a cleaner than you'd expect finish. Overall a good beer, not one I'd get regularly, but a nice summer dinker.
1,909 characters

4.31
/5
rDev
+8.8%
look: 5 | smell: 4 | taste: 4.5 | feel: 3.5 | overall: 4.5
This shouldn't be classified as a dortmunder...
Poured from a .5 liter bottle into a pilsener- pours a beautifully clear golden color, visibly effervescent, lots of fluffy white head, greatt retention, great lacing.
Smell is very interesting but the ginger and pineapple are somewhat subdued. Along with those undertones, there are earthy, piney hops and a tiny trace of pale malt.
Taste was overwhelming at first but after a few sips it cleared up- a nice blend of ginger, pineapple and pine hops up front, that gives way to a good dose of bitterness for a very long dry finish.
Mouthfeel is good- medium light body with moderate prickly carbonation. A good dose of resin maybe is slightly a put off but what the hell I love hops and it's IPA day. Give it a try it's great!
778 characters
4
/5
rDev
+1%
look: 4 | smell: 4 | taste: 4 | feel: 4 | overall: 4
Poured from a .5 liter bottle into a duvel glass.
A: pours a very nice hazy golden orange with a finger and a Hal of white head, that dissapates nicley and leavs some nice lacing... Looks juicy.
S: right off the bat I get citrus hops and grapefruit, then as I delve a bit deeper and the brew warms the ginger starts to step up, along with a citrus peel aroma, I assume from the grapefruit peels.
T: citrus hops front blendin into the grapefruit juice and skins, with the ginger stepping up in the end. I feel like the buckwheat deffinatly makes it self know in the mid palate adding a spicy graininess, this brew is deffinatly spiced, as it says, in fact I wish it was a little less spices, although it is very well done and well rounded, spice just isn't really my thing.
M: medium bodied with medium sharp carbonation and a spicy bitter finish.
O: an interesting beer, and again, very well done, I don't like ginger or grapefruit but instill enjoyed this beer, it may have not been my personal fav, but if you like spiced beers, ginger, grapefruit and hops.... You'd probably love this.
1,095 characters

3.88
/5
rDev
-2%
look: 4 | smell: 3.5 | taste: 4 | feel: 4 | overall: 4
Bottled, no date. Poured into a lager glass a hazy golden color with a humongous frothy head the subsided and laced very well. Aroma was a whiff of gingers and not too much else, maybe a bit of breadiness. The taste was therefore a surprise. Just a touch of ginger, but holy grapefruit, Batman! The bitterness from the rind and albedo, yet a fresh grapefruit juice note works underneath and brings some tartness and highlights the sweetness. The ginger comes back on the end with a bit of tingle and dryness. The body is medium, kind of smooth. Overall. It isn't strong enough with the ginger for me to call it a ginger beer, but reminds me more of a grapefruit shandy if I mixed a medium body lager with fresh grapefruit juice. I like this, wish I had paired it with maybe Mexican or BBQ vittles.
The grapefruit and ginger really linger...in a pleasant palate cleansing sort of way. Quite a while after drinking it and still have a faint citrus and ginger taste going on.
975 characters

4
/5
rDev
+1%
look: 4 | smell: 4 | taste: 4 | feel: 4 | overall: 4
I generally like IPA's and Stouts but these guys are kicking ass. Pureed Ginger & Grapefruit juice. WTF. Everything kind of just hangs out together in harmony. Hops, Ginger and Grapefruit juice. On top of making great beer they provide some of the best bang for the buck in New England. $3.99 for what Maine Beer Co. is charging $6.99. Had MBC's Zoe last night and its a lovely beer but so is this at half the price. Thanks boys.
429 characters
Ginger & Juice from Jack's Abby Brewing
3.96
out of
5
based on
132
ratings.