Ginger & Juice
| Jack's Abby Brewing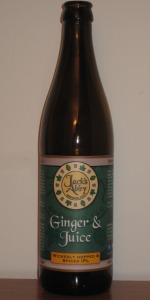 BEER INFO
Brewed by:
Jack's Abby Brewing
Massachusetts
,
United States
jacksabbybrewing.com
Style:
Herbed / Spiced Beer
Alcohol by volume (ABV):
6.00%
Availability:
Rotating
Notes / Commercial Description:
Ginger & Juice combines pureed ginger, grapefruit juice and peel, buckwheat and a secret proprietary hop strain to create an intriguingly spiced and hopped lager. Aromas of citrus, melon, and ginger balance a firm bitterness. Uses locally grown buckwheat from MA. Lay back, sip on Ginger & Juice.
60 IBU
Added by PeterIngemi on 07-26-2012
Reviews: 29 | Ratings: 132

3.88
/5
rDev
-2%
look: 4 | smell: 3.5 | taste: 4 | feel: 4 | overall: 4
Bottled, no date. Poured into a lager glass a hazy golden color with a humongous frothy head the subsided and laced very well. Aroma was a whiff of gingers and not too much else, maybe a bit of breadiness. The taste was therefore a surprise. Just a touch of ginger, but holy grapefruit, Batman! The bitterness from the rind and albedo, yet a fresh grapefruit juice note works underneath and brings some tartness and highlights the sweetness. The ginger comes back on the end with a bit of tingle and dryness. The body is medium, kind of smooth. Overall. It isn't strong enough with the ginger for me to call it a ginger beer, but reminds me more of a grapefruit shandy if I mixed a medium body lager with fresh grapefruit juice. I like this, wish I had paired it with maybe Mexican or BBQ vittles.
The grapefruit and ginger really linger...in a pleasant palate cleansing sort of way. Quite a while after drinking it and still have a faint citrus and ginger taste going on.
975 characters
3.88
/5
rDev
-2%
look: 4 | smell: 3.5 | taste: 4 | feel: 4 | overall: 4
pint bottle served in a snifter.
pours a golden-yellow tone with a touch of haze while yielding a 1"+ foamy white head; decent retention and lacing. nose is headlined by a prevailing ginger presence while flanked by notes of citric hoppiness and a touch of malt.
flavor follows the aroma with ginger leading the way followed by that citrus hoppiness and secondary notes of malt and some herbal hops. medium-light bodied mouthfeel with average carbonation.
overall, not an uber-flavorful world-beater, but relatively tasty and refreshing; very solid beer just nothing that will blow you away. slightly better on paper (what i anticipated) than in practice, but definitely worth a try.
686 characters
3.88
/5
rDev
-2%
look: 4 | smell: 3.5 | taste: 4 | feel: 4 | overall: 4
16oz bottle
Unmarked tulip
A: Somewhat hazy golden, yellow orange color. Tons of fluffy bright head. Lots of carbonation.
S: Grassy malt grain aromas. Some grapefruit hops, but not on an IPA level. You do pull some of that grapefruit note too.
T: Some fruity hop bitterness up front, muted with the sushi I and eating. You do get some of that grapefruit forwardness they mention. Dry finish. Tasty.
M: Light leading to medium bodied.
437 characters
3.85
/5
rDev
-2.8%
look: 3.5 | smell: 3.5 | taste: 4 | feel: 4 | overall: 4
A little suprised at myself that this is my first Jack's Abby review. I've been enjoying their beer quite a bit over the last few months, but I guess this is the first one I've taken the time to review I guess.
Got a growler and spit it with my wife over the afternoon and into the evening on a night off from work. Poured it into 22 oz. Sam Adams perfect pint glass. Comes out golden in color with a nice yellow glow when held up to the light. Looks hazy, not as filtered as many of their other offerings. Nice white colored head that comes up after a reasonably aggressive pour and provides decent lacing. Pretty good looking beer.
I really have a tough time with these beers aromas, this isn't really an exception either. It smells better than I would expect based on the fact that it's a strong wheat aroma (which really isn't my style) but it's not bad, better than the average I would say. Citrus (mostly grapefruit) zest, and hints of ginger and melon as well. Again a strong amount of wheat, a little less and I'd like it more. All the "herbs and spices" kind of overpower everything else.
Taste is better than the smell. Strong amounts of Ginger and hints of grapefruit zest. The grapefruit kind of makes it seem like an overhopped wheat beer, but it's really more than that. There's a generous amounts of fruit in general. The combination of grapefruit and ripe melon really mesh well with the ginger. Again there is a large wheat backbone on it kind of holding it together, I think I'd like it a little better if they went a different route with that, but it's not bad.
Mouthfeel is good, I generally don't like this part in these styles but this one isn't bad. Cleaner and smoother than I would expect. Good carbonation level, and well balanced. The Ginger and grapefruit give this a cleaner than you'd expect finish. Overall a good beer, not one I'd get regularly, but a nice summer dinker.
1,909 characters

3.8
/5
rDev
-4%
look: 4 | smell: 4 | taste: 3.5 | feel: 4 | overall: 4
A fairly clear orange color with a white head. A very nice hop aroma with lots of floral and citrus notes to it. Plenty of fresh ginger, light pine, and some bread and biscuit malts. The flavor has a light bitterness to it, as well as a touch of malt sweetness. Very good ginger flavor, rather plentiful citrus and floral hops, and just a hint of pine.
352 characters

3.71
/5
rDev
-6.3%
look: 4.5 | smell: 3.5 | taste: 3.5 | feel: 4 | overall: 4
500ml bottle served in a nonic. July 2012 indicated on the back label. Pours a light, golden-orange with a four inch, cascading, fluffy, rocky, cream-colored head. Head exhibits excellent retention and thick, textured sheets of lacing are revealed during the tasting. Nose suggests citrus rind, grapefruit, floral aromatics and an earthy/spicy character. Taste is somewhat consistent with the nose - grapefruit rind makes an appearance; however, there's also a suggestion of chamomile, citric acid and a lingering, earthy bitterness at the finish. Ginger is present, but very much subdued (a little bit goes a long way). Mouthfeel is light-medium, but closer to light, with a pleasant, lively carbonation that cleanses the palate and gives a little more depth to the body. Overall, a refreshing and nuanced hoppy lager with a tea-like character. Not bold, but the flavors muddle together nicely with a hops presence falling somewhere between an APA and an IPA.
960 characters

3.61
/5
rDev
-8.8%
look: 4.5 | smell: 3.5 | taste: 3.5 | feel: 4 | overall: 3.5
Appears gold in color. Slight haze to it. Its white head is one-finger in size.
I smell ginger, cracker malt, earthy hops and faint citrus once it warms up.
I taste the cracker-like malt up front with ginger spiciness sitting on top. There's just a kiss of grapefruit on the finish along with a slight bitterness.
Mouthfeel is appropriate.
This is enjoyable, but maybe I've come to expect too much from JA as they usually impress me a ton. I wish the hop profile was more pronounced, especially since the label says "highly hopped!" and I know what they're capable of with H.U.
It's a nice drinker, I just wish the hops came as advertised and the volume was turned up a little. Boy I sound American don't I?
716 characters

3.4
/5
rDev
-14.1%
look: 3.5 | smell: 3.5 | taste: 3.5 | feel: 3.5 | overall: 3
16.9 fl oz brown bottle served in a tumbler.
Pale straw in color with shades of dull copper. Dense, thick foam of a head with very stable retention that leaves an intact, half wall of condensed lacing. Active carbonation, noticeable sediment.
Slightly tart grapefruit, green apple, and orange aroma. Notes of ginger, pepper or clove, over a pretty bland, slightly astringent must.
The ginger and grapefruit qualities come through initially, but quickly fade to a wall of stiff, somewhat clean grains. The grains are joined by some very spicy floral hops and a touch of must prior to a dry finish. Mild lemon and grapefruit return in the aftertaste.
Light bodied; active on the palate. For the most part, a pretty clean texture; however, once the dry finish hits, so does some film on the palate.
Some pretty intense flavors going on for a spiced lager. Unfortunately, the flavors are pretty conflicting and out of balance which make for a few flavor flaws. Not a boring offering in the least, but I would much rather try one of Jack's Abby's other offerings.
1,064 characters
2.99
/5
rDev
-24.5%
look: 3.5 | smell: 2 | taste: 3 | feel: 4 | overall: 3.5
So my quest to find a decent ginger beer continues. I figured Jacks Abby could surely make it happy...I figured wrong.
A - Pours a crystal clear golden hue with a light, fizzy one finger head that faded very quickly resulting in just a thin, faint halo.
S - Smell is just, well, unappealing. Smells like faint ginger and stale beer. Gah, I heard so many people say this just smelled of big, potent ginger...where is it?!
T - The same goes for the taste. So many people said "Oh, its too gingery" yet here I am, looking for it. Sweet malts along with some very faint hops. Theres a light ginger root taste, faintly spicy. Where. Is. The. Ginger.
M - Mouthfeel is nice carbonation as usual for Jack's Abby.
O - Overall this was another mediocre ginger beer for me. I guess my quest continues.
795 characters
Ginger & Juice from Jack's Abby Brewing
3.96
out of
5
based on
132
ratings.