Ginger & Juice
| Jack's Abby Brewing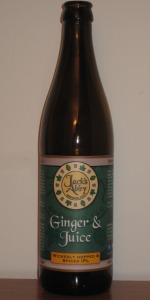 BEER INFO
Brewed by:
Jack's Abby Brewing
Massachusetts
,
United States
jacksabbybrewing.com
Style:
Herbed / Spiced Beer
Alcohol by volume (ABV):
6.00%
Availability:
Rotating
Notes / Commercial Description:
Ginger & Juice combines pureed ginger, grapefruit juice and peel, buckwheat and a secret proprietary hop strain to create an intriguingly spiced and hopped lager. Aromas of citrus, melon, and ginger balance a firm bitterness. Uses locally grown buckwheat from MA. Lay back, sip on Ginger & Juice.
60 IBU
Added by PeterIngemi on 07-26-2012
Reviews: 29 | Ratings: 132

4
/5
rDev
+1%
look: 4 | smell: 4 | taste: 4 | feel: 4 | overall: 4
I generally like IPA's and Stouts but these guys are kicking ass. Pureed Ginger & Grapefruit juice. WTF. Everything kind of just hangs out together in harmony. Hops, Ginger and Grapefruit juice. On top of making great beer they provide some of the best bang for the buck in New England. $3.99 for what Maine Beer Co. is charging $6.99. Had MBC's Zoe last night and its a lovely beer but so is this at half the price. Thanks boys.
429 characters

4.17
/5
rDev
+5.3%
look: 4 | smell: 4.5 | taste: 4 | feel: 4.5 | overall: 4
500ml bottle poured into pint glass. This is pretty much their 1 year anniversary beer which was last week, just hit stores this week. Bottle says July 2012. (Review #200!)
A- Pours a translucent light orange gold with a 2-3 finger very thick bubbly head that has excellent retention. Lots of small rising carbonation bubbles rising from the bottom of the glass, definitely more then your average beer. Thick layered lacing.
S- Grapefruits, ginger, hops, melons, cantaloupe, slightly wheaty and grassy in the background. Slightly above average aroma strength. I definitely enjoyed the smell on this one, it has a nice juicy grapefruit smell without being overly hoppy balanced nicely with the ginger.
T- Grapefruit, light melon, some wheat and light hops, with a bitter gingery finish and a lingering aftertaste of grapefruit juice, spices, hops, and a little bit of ginger. A tiny bit too much ginger on the finish, but other then that everything was nicely balanced.
M- Light, crisp, refreshing, very easy to drink, almost goes down like juice. Slightly above average carbonation, but fits well with bringing out the ginger and other flavors of the beer.
O- I thought this was a very nice offering from Jack's Abby. It was full of nicely balanced flavor and was a pretty unique beer that was definitely easy to drink. At $3/.5 liter I will definitely be buying this again. I think it's definitely right up there with Hoponius Union.
1,439 characters
4.33
/5
rDev
+9.3%
look: 4.5 | smell: 4 | taste: 4.5 | feel: 4 | overall: 4.5
Appearance: Arrives at the bar with a cloudy apricot color capped my a marshmallow foam head that curtains lacing
Smell: As grapefruity as can be; almost smells like the juice itself
Taste: Though the ginger was not detected in the aroma, the flavor profile is clearly affected by it; ginger, grapefruit and melon flavors are all in the mix; the finish is very juicy
Mouthfeel: Medium body with prickly carbonation
Overall: Very juicy for a beer but it sure works for me; always enjoy seeking out the Jack's Abbey beers when I am in Boston
543 characters
4
/5
rDev
+1%
look: 4 | smell: 4 | taste: 4 | feel: 4 | overall: 4
Poured from a .5 liter bottle into a duvel glass.
A: pours a very nice hazy golden orange with a finger and a Hal of white head, that dissapates nicley and leavs some nice lacing... Looks juicy.
S: right off the bat I get citrus hops and grapefruit, then as I delve a bit deeper and the brew warms the ginger starts to step up, along with a citrus peel aroma, I assume from the grapefruit peels.
T: citrus hops front blendin into the grapefruit juice and skins, with the ginger stepping up in the end. I feel like the buckwheat deffinatly makes it self know in the mid palate adding a spicy graininess, this brew is deffinatly spiced, as it says, in fact I wish it was a little less spices, although it is very well done and well rounded, spice just isn't really my thing.
M: medium bodied with medium sharp carbonation and a spicy bitter finish.
O: an interesting beer, and again, very well done, I don't like ginger or grapefruit but instill enjoyed this beer, it may have not been my personal fav, but if you like spiced beers, ginger, grapefruit and hops.... You'd probably love this.
1,095 characters
Ginger & Juice from Jack's Abby Brewing
3.96
out of
5
based on
132
ratings.