Pumpkin Crop Lager
| Jack's Abby Brewing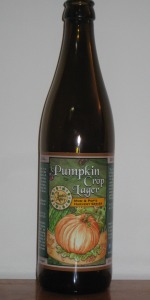 BEER INFO
Brewed by:
Jack's Abby Brewing
Massachusetts
,
United States
jacksabbybrewing.com
Style:
Fruit / Vegetable Beer
Alcohol by volume (ABV):
5.50%
Availability:
Fall
Notes / Commercial Description:
The 2012 harvest on our Mom & Pop's farm was fruitful and this brew uses 100 fresh pumpkins and 40 organic squash. We prepared, cooked, and pureed all the gourds with the help of our friends at Carrie Anne's Modern Diner. A blend of autumn spices adds to the intense pumpkin flavors. Uses locally grown Triticale from MA.
10 IBU
Added by jbertsch on 10-15-2012
Reviews: 30 | Ratings: 172

4.2
/5
rDev
+7.4%
look: 4.5 | smell: 4.5 | taste: 4 | feel: 4.5 | overall: 4
A-Pours a dark and vivid copper. I can see right through the glass. Head is a pinky thick blanket of bubbly froth. The head retains its posture with confidence. Long lacing.
S-Pumpkin bomb! Also getting a ton of sweet potato and squash. Gourd cornucopia. Smells like the right half of a Thanksgiving dinner plate. Also sturdily spiced. All the Fall spices dance across my olfactory glands. Stellar schnozzola.
T-The flavor is surprisingly even more gourdy. Wow. This is excellent. As spicy as the nose seems,the flavor is all about the pumpkin. The spice only acts as armor for the flesh of the various gourdy flavors. I detect some legitimate hoppiness too. I love that. They tuned this liquid guitar perfectly.
M-This is one of the only Pumpkin brews I would define as 'crisp'. Drinkability is remarkable. Sessionable body and feel. Softer bubbles.
O/D-Second best Pump I have had (Rumpkin, which I was enjoyed during the same night as Pumpkin Crop). So tasty. Most Pumpkin Ales mask their shortcomings with an abundance of spice. This one doesn't. Crafted to near perfection. Delectable. And its only $3 for a bottle.
1,125 characters
3.93
/5
rDev
+0.5%
look: 4 | smell: 3.5 | taste: 4 | feel: 4.5 | overall: 4
500 mL bottled poured into a pint glass.
A -- Clear amber with a thin white head. Good lacing.
S -- Ginger, allspice, nutmeg... usual suspects on the nose, plus more squash than most pumpkin beers. Not overly powerful, but pleasant.
T -- Similar to many pumpkin beers out there. More pumpkiny than spicy.
M -- Really good mouthfeel. Not cloying like pumpkin ales that Im used to. The fact that it's a lager I think makes it crisper. Also has good carbonation.
O -- Solid. I like the appearance and mouthfeel. Taste is on par with other good pumpkin beers. Cheers.
568 characters

4.47
/5
rDev
+14.3%
look: 4 | smell: 4.5 | taste: 4.5 | feel: 4.5 | overall: 4.5
October 2012
A: Golden-amber in color with a bubbly, foamy, off-white, slightly yellow head that fades into little lace and retention.
S: Great blend of fresh pumpkin, squash, earth, autumn, spices, roasted malt, and caramelized sugar/caramel.
T: Deliciously fresh pumpkin, gourd/squash, fall spices, roasted malt, with a hint of hops in the finish. Love the smooth, crisp and fresh taste of the lager, which is unique to this style of beer. Balanced with no overpowering or cloying flavors. Very tasty stuff.
M: Clean, fresh, smooth, properly carbonated. Great lager backbone to make this unique to the deluge of pumpkin beers on the market.
O: Maybe I'm biased because I love nearly everything Jack's Abby makes, but this is a fantastic beer. One of the best pumpkin beers I've had. Not only because it's a lager, but because it tastes and feels like beer made with pumpkins and spices rather than pumpkins and spices with a little beer mixed in. This is one of only a few pumpkin beers I could drink more than one of and would gladly have on hand all season.
1,066 characters

4.1
/5
rDev
+4.9%
look: 4 | smell: 4 | taste: 4.25 | feel: 4 | overall: 4
Bottled in October, consumed October 12th. Poured into a small snifter.
Appearance- Small head fades very quickly to nothing. No head ring retention. Color is a surprising deep amber. Looks like a still cider.
Smell- Quite nice. Fairly typical for pumpkin beers, though. Pumpkin, pie spices (cinnamon, nutmeg, allspice), and some yeast.
Taste- First you get hit with authentic pumpkin flavor and a bit of sweet spice, but it's not cloyingly sweet or overpowering like some other pumpkin beers. Some slight bittering hops take over in the middle to balance the profile. There's some bready malts underlying everything. My only complaint is the flavors are a bit "muted" and could have been more prominent.
Mouthfeel- Body is a little thin, but the carbonation level is nice. Together, it makes the beer go down easy. No noticeable alcohol presence.
Overall- Since this is a lager, I'm not surprised my thought halfway this beer was "this is a pumpkin pilsner". Very drinkable and well made. If you're looking for a beer to watch a game with on a Sunday, this would be an excellent choice.
1,109 characters

3.9
/5
rDev
-0.3%
look: 4.5 | smell: 4.5 | taste: 3.5 | feel: 3.5 | overall: 4
Appears dark amber in color. One finger of white head.
Smells great. Raw earthy pumpkin is most prominent. A little added spice is noticeable.
Flavor starts off real nice. Great notes of pumpkin flesh and squash. You can tell it's not just pumpkin carrying this beer. Added spices take a back seat on the flavor profile and let the pumpkin/squash own it...which is fine by me. Flavor drops off fairly quick though and finishes short.
Mouthfeel has decent body.
Overall this has authentic characteristics of real pumpkin and squash and is quite enjoyable. While the flavor is a tad short and thin, it's also quenching and goes down very easy. Worth checking out if you're into pumpkin beers.
697 characters
Pumpkin Crop Lager from Jack's Abby Brewing
3.91
out of
5
based on
172
ratings.