Fire In The Ham
| Jack's Abby Brewing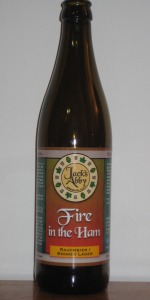 BEER INFO
Brewed by:
Jack's Abby Brewing
Massachusetts
,
United States
jacksabbybrewing.com
Style:
Rauchbier
Alcohol by volume (ABV):
5.40%
Availability:
Rotating
Notes / Commercial Description:
Caution! This is an intensely smokey lager similar to those found in Bamberg, Germany. Most of this brew's malt was dried over flaming beechwood, which ingrains unique smokey flavors. Aromas of campfires, smoked ham, and bacon dominate a soft malt and hop backbone. Although hard to believe, this beer is vegan friendly.
20 IBU
Added by irishevans on 10-17-2012
Reviews: 63 | Ratings: 325
4.21
/5
rDev
+6.3%
look: 3.5 | smell: 5 | taste: 4 | feel: 4 | overall: 4
1 pint .9oz. bottle poured into large Sam Adams Perfect Pint Glass. Comes out a straw light yellow color with perfect clarity. Large huge white head with decent lacing and glass retention. Sticks around quite a bit.
Smell is perfect, literally for the style. Nice fall outside campfire smokey. Smoked ham jerky (if that's a thing) and slightly salted. The smoke malts are the dominant feature but there is still a nice citrus fruity backbone at the end. Super nice and balanced.
Flavor is really good. Smokiness is there again. Not too strong on the smoke front, but it's not overwhelming at all. Slight sweetness to go with the smokiness, bacony and hammy again not too overwhelming. Sort of a dry rub bbq. Super nice balance and again a nice finish from the hops.
Mouthfeel is good. Light bodied, crisp, and a good carbonation level. Digging the balance overall and it's really drinkable. Overally a great smoked beer. A must try if you're into the style.
961 characters
4
/5
rDev
+1%
look: 4 | smell: 4 | taste: 4 | feel: 4 | overall: 4
Poured from a .5 liter bottle into a dfh snifter.
A: pours a slightly hazy golden with half a finger if white head.... Nice amount of lacing...
S: deep smoke and a light toasty grain, defiantly has notes of smoked ham and bacon.
Keeps from being overly campfire like however which is nice.
T: very similar to the nose, lots of smoke here, adding nice smoke ham and bacon notes. There are some light grain flavors here as well but the smoke is deffinatly the major show here.
M: nice medium body creamy medium carbonation and dry.
O: a very good rauch bier, there is pleanty of smoke going on here but it somehow keeps from being overbearing in a way... Some beers of this style infin to be far to much campfire smoke going on, but this is nicley done....
761 characters
3.65
/5
rDev
-7.8%
look: 3.5 | smell: 3.5 | taste: 4 | feel: 3 | overall: 3.5
Decent starting head that settles in a lumpy fashion. Leaves surprisingly little lace. The liquid is straw yellow with a chill haze.
This smells like hickory smoked bacon. Very dry.
Mildly sour with a dry, nearly astringent flavor. The smoke is in the background--I applaud this as most rauchbiers have too much smoke. Starts like a pale ale, with a touch of sweetness. Thin bodied and highly carbonated.
406 characters
3.5
/5
rDev
-11.6%
look: 4 | smell: 4 | taste: 3 | feel: 4 | overall: 3.5
Pours pale yellow with a head that dissipates to a faint ring. No lace.
Nice smoke nose. Close to bacon.
Smoke up front, some ham notes, but not a lot. Expected this to be a real meatball, but it isn't. Moreover, the malt isn't here either. Mild and somewhat dry, it becomes an off balance beer that lacks complexity. Dries out and is smoky and mildly bitter with a slight malt note.
Lighter bodied. Moderate carbonation.
Has alot of hits, and a few big whiffs at the plate.
478 characters
4.09
/5
rDev
+3.3%
look: 3.5 | smell: 4.5 | taste: 4 | feel: 4 | overall: 4
This beer pours a surprisingly crystal clear yellow pale body with a thick white head. If I didn't know any better I'd think it was a typical macro lager.
Nose hits you with the immediate pork/ham/smoke smell of a rauch bier. Big and meaty, but at the same time there's a strong sweet malt flavor that peaks through.
Taste is very similar to the nose. Very very clean and crisp with a great mix of smooth fresh fruity malt and even some floral hops then combined with a nice meaty smokey barbaque flavor. The sweetness really throws you off if you're used to the more traditional German smoked lagers. It's a lot more like JA's normal Jabby Brau but with a massive malting of smoke. Bitterness is kept in check and the smoke is what really shines through in this beer. Ends with a nice smoke finish, but actually subsides quickly and lets the fresh round malt flow through.
Yet again (I'm starting to sound like a broken record) another great beer by Jack's Abby. If you're a fan of Aecht Schlenkerla beers, you'll love having a local American version. A real winner here. I'm glad I picked up 2 growlers. :-)
1,112 characters

4.07
/5
rDev
+2.8%
look: 4 | smell: 4.5 | taste: 4 | feel: 3.5 | overall: 4
Drank from a 1 pint .9 fl. oz./.5 liters bottle purchased at Liquor World, Cambridge, MA
October 2012
Served in a pint glass
Sightly hazed, straw yellow in appearance. A bubbly, one-finger crop of bright white froth topped the liquid. The head dissolved rather quickly, leaving behind drops of lacing.
Aroma-wise, this beer definitely lived up to its name. When I smelled it, the first thing that came to mind was a smoked ham. Perhaps some bacon. The rauchbiers I have sampled in this past have had a very strong beechwood smoked character, but this one was much more meaty. Had the label not stated that this beer is vegan, I definitely would have assumed otherwise.
The taste was similar to the nose, except perhaps less one-dimensional. Bright, crisp, lemony notes melded seamlessly with a smoky, salty, ham-like flavor. Bacon came through as well. Lager yeast notes were apparent along with a grainy malt base. The beer finished crisp and dry with a good dose of earthy and piney hops. Surprisingly refreshing and quaffable.
The mouthfeel was light and crisp with a lively, bubbly effervescence.
This was definitely one of the most "meaty" beer I have ever tried. Quite an interesting take on the style and worth a shot if you can get your hands on a bottle.
1,268 characters
4.95
/5
rDev
+25%
look: 5 | smell: 5 | taste: 5 | feel: 4.5 | overall: 5
Wow. This is a smoky beer!!!
A: Nice and light golden with lots of rising carbonation, and an off-white head that vanishes relatively quickly
S: Smoke and more smoke! A bit hoppy too
T: Heavenly campfire of hops
M: Mild malt backbone with substantial hop bite
O: Excellent brew. I prefer this over the Smoke and Dagger. Almost tastes like a super smoky Hoponius Union in its smootheness. Try this when you get a chance! Its vegan-friendly as well.
447 characters

4.03
/5
rDev
+1.8%
look: 4.5 | smell: 4 | taste: 4 | feel: 4 | overall: 4
A- 500ml bottle poured into a slender cylinder type pint glass. Just a bit of haze to the golden body. A massive, creamy white head forms in the top quarter of the glass and retains very well. Thick lace forms before I begin to sip and seems to coat a majority of the glass.
S- Reminds me of drinking other beers next to the campfire. Edgy smoked malt leads the nose off with hints of fire, bacon and just a bit of Scotch resemblance. Base lager is not smoked out (har-har) completely with notes of light fruit and malts.
T- The first sip reveals that the smoke takes slightly less of a roll than it does in the aroma. The base beer seems to fill the taste buds at first with smoke building in the after-taste. The base beer consists of white grape, apple and light cracker malt notes.
MF- Lighter-end body with a silky overall consistency. The carbonation is on the low-moderate end and helps the smoky complexity linger on the palate.
Balance of smoke and base beer, not an easy thing to do for some brewers. The smoked malts lends some great flavors while not killing the rest of this beer.
1,097 characters
4.2
/5
rDev
+6.1%
look: 4 | smell: 4 | taste: 4.5 | feel: 4 | overall: 4
I have been waiting for these guys to make a proper Franconian Rauch.
Great stuff.
Very light color. You can read the newspaper through this beer. Minimal whispy head.
Not particularly smokey in the aroma. It smells like a typical Helles. Grainy with a touch of european hops in the smell.
Smooth and grainy upfront with a ton of smoke on the back end.
I guess I was expecting a much darker beer like many of the Urbock Rauches that I live. I was very suprised by how light this was.
This is a highly quaffable winner for smoked beer fans. Nice work!
559 characters

3.75
/5
rDev
-5.3%
look: 4 | smell: 4 | taste: 3.5 | feel: 3.5 | overall: 4
A-Crystal clear and the color of hay. Like most of the brews from Jack's Abby, this one is quite a vixen. Huge, sudsy head that doesn't wither away. Armies of bubbles feed the bleached cap in a determined and aggressive fashion. Clumpy lacing scars are left.
S-Smoked, cured, salted meat. Smokiness is pungent. The pig roast aroma soars out of the glass. Further dissection of the aroma yields a very strong Lager yeast component and a well hidden, yet respectable Noble hop dimension. I don't love the Rauch style, but this aroma offers enough secondary elements for me to enjoy and appreciate.
T-The Lager aspect is more easily understood in the flavor. There is plenty of smoke, but the yeast, hop and understated sweetness blossom on the palate. The aftertaste is phenomenally meaty. Roasted ham and bacon. 'Liquid Pig Roast' just keeps popping up in my head.
M-Feels fuller than a 5.4% Lager. Drinkability is moderate. Salt and smoke stick on my tongue. Bubbles are soft but plentiful.
O/D-I am very limited in my Rauch experience. I am limited because I don't really like the style. This is quite cool and super-unique. I did not love it. Well crafted, but not my style. I like their Smoke & Dagger considerably more. It tastes like it should be a beer that is pitch black in color. This brew is a great example of the abundance of talent at Jack's Abby; but this one really isn't for me.
1,400 characters

4.22
/5
rDev
+6.6%
look: 4 | smell: 4.5 | taste: 4 | feel: 4 | overall: 4.5
Bottled in October, consumed October 12th. Poured into a small snifter.
Appearance- Much paler than I expected. Clear golden color. Medium head on pour, with okay retention…very small head ring on top.
Smell- Could smell the smoke from a sitting position. Getting in closer…delicious ham and bacon. The name speaks the truth. Even some of the Schlenkerla beers I've had didn't smell this much like tasty meat.
Taste- Lifelong vegetarians should drink this to experience bacon for the first time. It's all-bacon, all-the-time. As I grow acclimated to the smoke level, a nice crisp lager appears beneath the smoke and bacon.
Mouthfeel- Medium body and medium carbonation. Coats the mouth a bit, but not unreasonably so. Mostly just gets out of the way of the flavors.
Overall- This is a pretty simple beer. Super smoke flavors on top of a solid lager base. I bumped up the overall score because the taste was a 4.25.
933 characters

4.5
/5
rDev
+13.6%
look: 4.5 | smell: 4.5 | taste: 4.5 | feel: 4.5 | overall: 4.5
October 2012
A: Clear, straw golden-yellow in color with a big, fluffy, frothy, white head that leaves behind good lacing and retention. Lighter than most Rauchbiers that I've drank.
S: Roasted, smoked malt, smoked wood, smoked meats, salted/cured meats, but none of this is too strong, which is good, in my opinion.
T: All the characteristics of the nose come out stronger in the flavor. Heavily smoked malt, smoked meat, and wood/earth dominate with a faint hop presence in the finish. The smokiness of this beer is spot on seeing as this isn't straight out of Bamberg. A more focused Rauchbier than the Smoke & Dagger.
M: Smooth, clean, refreshing, and a good bite from the carbonation. Easy to drink and would be a pleasure to put down a few in one sitting.
O: This is a very well-crafted Rauchbier. Almost near the level that Schlenkerla is on. A smoky, tasty, fresh lager that is wonderful for the season. Jack's Abby knows how to make a lager!
955 characters

4.36
/5
rDev
+10.1%
look: 3 | smell: 4.5 | taste: 4.5 | feel: 4 | overall: 4.5
A- Light gold/straw color, the white head pours the proper 2 fingers, but fades to about a quarter finger, and leaves a fairly thick lace.
N- Smoked meat baby, the only way I can think to describe it. sparks memories of Easter suppers.
T- smoke dominates, with a mild hop presance. the good fellas at Jack's weren't messing around with the smoked malts in this one. and I must say, I'm for it!
M- light end of medium bodied. Leathery. and crisp, with a fairly dry, though not cotton-mouth inducing finish.
O- I dig this brew. Smoked malt left home alone to run a muck, in the best possible way. though I liked Blabber & Smoke more, this is a close 2nd in the rauchbier category in my opinion/according to my palate. I will definitely be drinking this one again.
776 characters
Fire In The Ham from Jack's Abby Brewing
3.96
out of
5
based on
325
ratings.