Numb Swagger
| Jack's Abby Brewing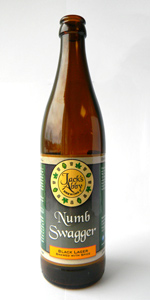 BEER INFO
Brewed by:
Jack's Abby Brewing
Massachusetts
,
United States
jacksabbybrewing.com
Style:
Rauchbier
Alcohol by volume (ABV):
5.80%
Availability:
Rotating
Notes / Commercial Description:
Barrel aged Smoke & Dagger with Szechuan pepper.
Added by Jason on 02-04-2013
This beer is retired; no longer brewed.
Reviews: 10 | Ratings: 125
4.04
/5
rDev
+4.9%
look: 3.75 | smell: 4 | taste: 4 | feel: 4 | overall: 4.25
Glad to finally see this in bottle as I somehow missed all the events this was at.
Pours a nice off-white foamy almost 1 finger fairly bubbled bead that fades at a med pace, just a touch of lacing, quite dark molasses root beer brown colored beer with hint of light sneaking through the the thin parts.
Nose is quite interesting, a definite rauchbier aroma with some light smoke, a bit of a smoked cheese kinda aroma with mild smoking campfire but barely any of that, it's a mild smoke and a creamy like smoke somehow. That with a nice juicy lager like base, it has a mild toasty malt and somehow crisp like lager aroma, as well as hints of allspice and nutmeg clove like baking spices, and a creamy black malt with a little hint of a caramel like toasty brown malt.
Taste starts with more of the baking spices and pumpkin pie like, mild nutmeg clove and allspice like, but mild spices. Then into creamy malts, little caramel and black malt, hint of possibly oats as it's fairly creamy, little milk chocolate even. Then mild smoke, little smoked cheese like flavor with hint of campfire log smoke, but no real bitterness from the smoke or acrid characters. Also a nice crisp lager underneath, juicy lager with nice crisp lager. Hint of bitterness overall, some from spices and a touch of a possible earthy hop. Finish is crisp but not as dry, little sticky, more creamy malts and lactose like sticky feel, little toasty brown malt and caramel, hint mild chocolate cocoa, and mild smoke all lingering, spices are mostly gone but a hint there.
Mouth is med bod, nice creamy feel, nice carb.
Overall pretty nice, all flavors that could potentially go crazy are held in check, smoke, spices, creaminess, black malts, etc. and blend to a nice smooth flavor and feel, nice flavors, aromas, etc, and seem to accentuate each other a little, but best of all is the nice crisp lager under it all.
1,891 characters
4
/5
rDev
+3.9%
look: 4 | smell: 4 | taste: 4 | feel: 4 | overall: 4
Thanks to Kegatron for gifting me with a 500ml bottle of this. Poured into a snifter, the brew appears black in color with dark brown clarity around the edges. A khaki cream head rests atop with a full wall of lace.
The smell includes plenty of roast mingled with licorice and some peppery spice. Lots of earth blends with roast and minor smoked notes.
The taste includes plenty of anise and peppers with a smoked sort of roasty quality and something almost like stale coffee. (But in a good way.) Subtle fruity alcohol and herbal hops also present to balance things out.
This is a medium bodied brew with a modest amount of carbonation. Overall nice and subtle balance and certainly a first for me. Ive never had a sort of spiced smoked black lager before but honestly it all worked together nice.
801 characters
3.9
/5
rDev
+1.3%
look: 4 | smell: 4 | taste: 4 | feel: 3.5 | overall: 3.75
On cask at the Tap and Mallet in Rochester, NY.
Pours a dark black, with no head, or lacing.
Smells and tastes like regular Smoke and Dagger. This is disappointing- not that regular Smoke and Dagger smells or tastes bad, but this does not carry any discernible pepper aromas. It's disappointing, but that doesn't mean I didn't enjoy it, because I like Smoke and Dagger.
Slightly watery, but smooth cask mouthfeel. Little carbonation.
This was surprising, because it tasted no different than the regular Smoke and Dagger, even on cask.
539 characters

4.06
/5
rDev
+5.5%
look: 4 | smell: 4.25 | taste: 4 | feel: 4 | overall: 4
A- Poured from the 500ml bottle to a snifter with a black body, appears a bit thinner than big stouts but pitch black nonetheless. A head just over one finger tall forms with a creamy, frothy texture. Good retention and a thick creamy ring leaves spotty clouds of lace.
S- Fragrant dark lager feel with no shortage of roasted malts and a good smokiness. Cocoa powder, star anise, peppercorn (not quite like black but similar to pink), coffee and cereal grain notes.
T- Szechuan peppercorns add a spicy, somewhat white peppery flavor with an earthiness to the smoky base brew. The malt profile is deep and somewhat complex with flavors ranging from fresh cracked cereal grains, cherry wood smoke and slight sweetness to dark chocolate and roast malt notes.
MF- Lighter end body with a decently dry feel and creamy, silky overall texture. Carbonation between moderate and high level and smooth. Finishes with some roasty bitterness.
A base beer that I already enjoy enhanced just enough by special peppercorns to add some spice and earthiness. A good idea and subtle use of spice, not in your face like many other spiced brews.
1,129 characters

3.34
/5
rDev
-13.2%
look: 3.25 | smell: 3.5 | taste: 3.25 | feel: 3.5 | overall: 3.25
Brownish red with no head, just a thin, tan ring.
Peppery, malty aromas, with a steady stream of smokiness.
Not spicy at all. Some roasted, smoked malts, with a floral taste in there coming from who knows where.
Numb Swagger has a Porter-like start, and a Lager finish. I went into this expecting to have my head blown off but was pleasantly surprised. It's a nice crisp spice, well balanced, providing pepper flavor without much heat.
439 characters

4.06
/5
rDev
+5.5%
look: 4 | smell: 4.25 | taste: 4 | feel: 4 | overall: 4
Numb Swagger pours a dark brown with a small tan head on top. The foam disappears quickly leaving behind spots of lace on the glass.
The aroma is spicy with notes of yarrow, sage and some dark fruit. It almost reminds me of Thanksgiving stuffing.
Each sip of this medium bodied beer is soft and watery with mild carbonation. The flavor is malty with caramel, brown sugar and plum. Spice notes of sage, yarrow and a touch of pepper quickly dominate. It finishes dry with some mint(?) and pine bitterness. When gone the pine and sage lingers on the palate.
An interesting beer. Lots of flavor and easy drinking. Would go great with a hearty stew.
647 characters
3.99
/5
rDev
+3.6%
look: 3.75 | smell: 4 | taste: 4 | feel: 4 | overall: 4
1 pint .9 oz. bottle poured into a Duvel Tulip Style Glass. Comes out dark brown, close to black in color. Close to white, maybe slightly off white in color, but mostly small bubbles. Slightly better than average lacing.
Smell is good. Smokey and some slight sweetness. There's a nice malt backbone, and some nice lager yeast aromas. After that it's pretty much dominated by sichuan pepper, almost like a citrusy finish in the smell.
Taste is on par, maybe a little bit better. I really like the blend of the smoke and the sichuan pepper, meshes together really nicely. A slight vanilla after taste, not bad. Meshes together nicely.
Mouthfeel is nice, the flavor lingers for quite awhile. Nice carbonation level, smooth with a bite at the end. I expected it to be a little hotter considering it's barrel aged as well as over peppers, but to quote Harry from Dumb and Dumber "it's more tingly than hot." Nice sipper but like everything from Jack's Abby, it's super drinkable. Nice approach. Thanks for the bottle JJ!
1,021 characters

3.92
/5
rDev
+1.8%
look: 3.5 | smell: 4 | taste: 4 | feel: 4 | overall: 3.75
Picked this one up from the brewery a couple of weeks back and had it chilling in the fridge. Tonight seemed as good of a night as any to crack it open. Poured chilled into a NEBCO tulip.
Looks pretty black. I poured it a little harder than I normally would by accident and it really built a head fast. It settled and left nice lacing in its wake. Head is a nice beige.
Smells like a mix of the schezuan peppers and Cinnamon Toast Crunch cereal (I mean that in a good way). Seriously, some cinnamon, some malty sweetness and just a touch of vanilla.
Tastes interesting. Very little of the pepper flavor comes through, just a tiny bit at the very end to warm the tongue. Lots of cinnamon, teeny bit of vanilla, maybe a little allspice or cloves in there too. Malt sweetness is present, but not much at all, really just enough to tied the flavors together. Mouthfeel is nice. It's creamier than I would have expected. The carbonation is on point.
Definitely an interesting beer. I was pretty intrigued while drinking it, finding different flavors came out the more I drank.
1,077 characters
3.57
/5
rDev
-7.3%
look: 3 | smell: 3.5 | taste: 3.75 | feel: 3.5 | overall: 3.5
Bottle poured into a Jacks Abby shaker pint.
A - very dark red. Like crimson or garnet. Good head with decent retention. Very clear body with very pretty highlights.
N - smoky and spicy -- fall spices like cloves, cinnamon, maybe vanilla. I don't get much of the promised sechuan peppers but there is a little something there on the nose.
T - tasty. Smoke and spices. Like a smoked pumpkin spice beer. More of thebpepper than on the nose. Really interesting.
M - a little watery maybe. I don't get too much carbonation but it isn't flat.
O - again very interesting and tasty. I thought it would be hotter but it probably isn't supposed to be. Cheers!
655 characters
4.82
/5
rDev
+25.2%
look: 4 | smell: 5 | taste: 5 | feel: 4.25 | overall: 4.75
This beer is really a flavor infused version of Smoke and Dagger [http://beeradvocate.com/beer/profile/26520/71501] that was created for a competition among brewers at Jacks Abby. I had the opportunity to try this and then take a growler home the next day from the brewery.
This beer takes an already strong beer with a distinct burnt smoke flavor and adds an surprisingly complimentary sweet flavor from szechuan peppers. The flavor was familiar to me from infusing vodka with peppers before. From the first smell to the last sip this beer is an experience.
This beer won the contest handedly and rightfully so. I hope they experiment with this flavor component and see if they can release a full brew with a similar awesomeness.
732 characters
Numb Swagger from Jack's Abby Brewing
3.85
out of
5
based on
125
ratings.