Helltown Spiteful Saison
| Helltown Brewing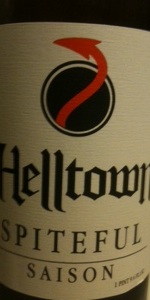 BEER INFO
Brewed by:
Helltown Brewing
Pennsylvania
,
United States
helltownbrewing.com
Style:
Saison / Farmhouse Ale
Alcohol by volume (ABV):
6.25%
Availability:
Rotating
Notes / Commercial Description:
No notes at this time.
Added by EgadBananas on 11-06-2012
Reviews: 6 | Ratings: 21

4.38
/5
rDev
+10.6%
look: 4.5 | smell: 4 | taste: 4.5 | feel: 4.5 | overall: 4.5
Serving Type - 25.4 oz caged and corked bottle
Appearance - Golden fizzy pineapple juice yellow, light, 1/2 fizzy white head and tons of thick foamy lacing.
Smell - Floral hops, fruits, earthy. Plums, apples, cherries, spices, yeasts, everything a saison smells like.
Taste - Crisp and spicy, plenty of floral fruits, apple and lemon is a main flavor. Lots of yeasts add sweetness. Banana and some Plum and rasin also are present. The tartness is balanced very well with fruits and sugars. Malts add a little caramel toffee flavor. Alcohol is masked well and not present clear to the finish. Peppery, midly sour yet sweet and complex.
Mouthfeel - Tounge gets fruits, yeasts and sugars. Palate gets more fruits and yeasts, and a little malt. Aftertaste is dry, sweet and sour, and sweet.
Overall - Balanced, easy to drink, plenty of flavor and alcohol is masked well. Everything you'd want in a saison. Easy for me to say this a top 10 saison for me. Its not as big and bold as alot but its so balanced and has a nice crisp, clean flavor. I hope that since this is bottle that my fellow helltown drinkers will get there hands on this, and even spread around and trade a few and let the craft community know about this gem of a brewery. Cant wait for there ipa's to get bottled, look out hopheads...
1,303 characters

4.05
/5
rDev
+2.3%
look: 4.5 | smell: 3.75 | taste: 4.25 | feel: 3.75 | overall: 4
750ml bottle from which I poured my half in a Duchesse goblet.
Pours a golden straw color with a very rich and sudsy white head that holds strong for quite the while. Laces well, even. A most excellent look.
Pepper, coriander, lemon, and a bodacious farmhouse yeast; all in effect in the nose. Bready tones diffuse the spice and light citrus. Almost counters as a tripel in the nose, minus the strength and estery qualities. Maybe a hint of vanilla and cherry. Simple, but pleasant.
Spicy from the yeast, sure, but there's a unique cherry vanilla element that appears in the taste; something that I picked up in the nose and thought wouldn't be here in the mouth. Cherry blossoms, for sure. Peppery, too, with hints of lemon peel, clove, and saison nuttiness. Very peppery in the finish, in fact. I can't get over this Whitehouse Cherry ice cream note, like maraschino or a cherry-scented candle. Not that it's waxy. It's a really unique and delicious quality of the beer that is unmatched by any other saison I've ever tried.
Drinks with a light-medium body and big carbonation. The busy bubbles accentuate the spiciness of the brew, as it is. Easy to swig.
Better than I thought it'd be. I just love the unique fruit qualities imparted from the yeast. For serious saison drinkers... and, beware! You might love this beer!
1,329 characters
4.03
/5
rDev
+1.8%
look: 4.5 | smell: 4 | taste: 4 | feel: 4 | overall: 4
Helltown Brewing
Spiteful Saison
LOOK: 25 oz corked bottle, opens with a vigorous pop. Pours a clear gold with a huge pillowy froth. Snap crackle pop sound from the head that lasts several minutes, like the cereal with milk added.
SMELL: Powdery yeast upfront which is very expressive. Champagne like nose with a bit of funk. Touches of apple and pearish fruitiness.
TASTE: Mellow flavors of grass, lemony citrus, soft tartness and earthy bitterness. Light funk and mustiness. Belgian yeast is all over this, and the subtle tart, acidic lemon flavor is what really sets this off. Quite refreshing.
FEEL: Light to medium bodied, well but not over carbonated. Semi-dry finish. Very clean and easy drinking.
OVERALL: Helltown shows some diversity with this enjoyable, simple and well executed offering. The Saison flavors are all pronounced, but in excellent balance. I would recommend this to any fan of Belgian style ales.
926 characters
4.03
/5
rDev
+1.8%
look: 4.5 | smell: 4 | taste: 4 | feel: 4 | overall: 4
750ml corked and caged bottle poured into a snifter. The brew appears a clear pale yellow. A big white froth resides with lots of head that persists with about a finger supported by rising bubbles.
The aroma includes notes of clove, pepper and earth with a hint of some corainder-like lemon essence. More whiffs reveal pear and apple skin fruitiness.
The taste is dry and spicy with fruitiness of pear and apple skins. Yeasty suggestions of clove and wheat dryness show the dryer side of this brew with a hoppiness that is somewhat grassy.
This is quite a clean brew with a light feel and modest carbonation. It is easy drinking and something I would visit again if given the opportunity.
691 characters

3.98
/5
rDev
+0.5%
look: 4 | smell: 3.5 | taste: 4 | feel: 4 | overall: 4.5
Corked 750ml bottle served in a 12oz chalice.
A - pours with a healthy, fluffy half inch of loose white foam. active carbonation across a pale golden beer.
S - fruity esters, hints of pear and apple, faint orange zest. slightly peppery.
T - begins with some crisp, crackery grains before opening up to yeasty phenols. pear is dominant before passing some banana, with an ever so faint hint of clove. nicely balanced with some hop bitterness though this flavor palate is all about esters. clean, simple, enjoyable.
M - fairly lightly bodied with sharp, biting carbonation, spot on and really livens up the beer.
O - having talked to Shawn (the brewer), he said he was going for a saison along the lines of DuPont (one of my favorite beers). quite the bold attempt, but pulls it off really nicely. so many breweries seem to take a shot at this style and try to do too much, or just cant pull off the simple things properly.
927 characters

3.81
/5
rDev
-3.8%
look: 4.5 | smell: 3.5 | taste: 3.5 | feel: 4 | overall: 4.5
Pours a sunny, clear colour, slightly fizzy, with a finger of white head. Aroma is beiscuity, crisp, slight hay, and yeasty esters, slight pale maltiness. Slight sweet touch, a bit of funk, yeasty esters. Crisp, light/medium body, good lightly bubbly feel.
Overall, good, drinkable, nicely enjoyable Saison.
309 characters
Helltown Spiteful Saison from Helltown Brewing
3.96
out of
5
based on
21
ratings.