Black & Blue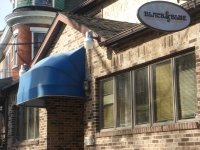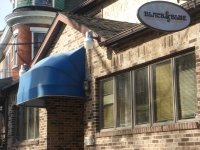 Bar, Eatery, Beer-to-go
683 Walnut St
Easton
,
Pennsylvania
, 18042-4472
United States
(610) 438-3604 |
map
blackandblueeaston.com
Notes:

4.11
/5
rDev
-4.9%
vibe: 4.25 | quality: 4 | service: 4.5 | selection: 3.75 | food: 4.25
Revised this fine established after it closed. Always loved this place. Had a better beer selection under the old management. The atmosphere is still fantastic. Service is top notch. Food is great.
197 characters

4.3
/5
rDev
-0.5%
vibe: 4.75 | quality: 4 | service: 4.25 | selection: 4.5
Stopped in late on Saturday night about 45 minutes before closing. There were just a few people still in there other than the employees. The atmosphere is really quite unique, there is some dim lighting with an interesting dining section. The bar maybe seats about 20 people. There are skulls all over the place, it made me feel like I was there to raise someone from the dead. I found it to be cozy nevertheless. The service was attentive, the bartender spoke to us about how long the place had been open and about how next time we come in we need to order food because its apparently very good. The selection is pretty solid for the area, I very wide variety of beers to choose from whether its bottles or draft. There is also a full bar of liquor as well as a special Absinthe menu which I thought was really cool. The overall experience here was really nice. I can see myself going back here when I'm in the Easton area. Definitely worth checking out!
955 characters
4.91
/5
rDev
+13.7%
vibe: 5 | quality: 5 | service: 5 | selection: 4.75 | food: 4.75
One of my favorite places to be nothing beats the environment or the food. For someone who enjoys a fun and interesting flair to their food this place delivers without overdoing flavors and portion size. As for beer choices their is always something sinister on tap!
266 characters
4.9
/5
rDev
+13.4%
vibe: 5 | quality: 5 | service: 5 | selection: 5 | food: 4
Favorite spot in Easton---and this place has the BEST tap list in the area! Lost Abbey, Bell's, Founders, Weyerbacher, Port Brewing...all the stellar, hard to find beers are at Black and blue. Larry and Kelly Jo have put together a creepy cool place--I always have an incredible time there.
Edit: Food is incredible! One of the best places to get a vegetarian meal in Easton.
The staff is always friendly/respectful and I love the cave-like atmosphere. The prices really can't be beat here and I can't wait to go back!
521 characters
4.25
/5
rDev
-1.6%
vibe: 4.5 | quality: 4.5 | service: 4 | selection: 4 | food: 4.5
That place Mike & Vida took us after we unloaded their crazy kid on her parents. Yes, a haul a half hour in the wrong direction 'cause someone was obsessing about frites, although to be fair, they did came with a Blithering Idiot Barleywine sauce. Such is Easton...
Across from the county courthouse, waaay up the hill. Parked penitentiary side, and headed in. It's a tight little place sectioned; curtained off seating area to the left, and bar & seating to the right. I, will fake left (not fooling anyone), but you know I'm going to the right, right? Seating for a baker's dozen on an "L" shaped, shiny black painted wet looking wood topped bar with a varnished wood lip, panel piece base and a foot box. A center island inside holds a 12 tap bar tower, pint glasses stacked reach through behind, and booze on the end. Glassware of all sizes and shapes spanning 3 shelves below; I can see tulips, snifters, stems, and baby yard glasses, even. Behind it, a triple wide glass front cooler showing bottled selections, wine, absinthe, and bottles atop.
Brick lino tilings, and the walls are painted dark, the ceiling light. That's all I can say. Beyond the bar, wood framed lowers running 5/6 of the way up the walls, with brewery tins above. Framed mirrors, a large 4 x 6 horizontal board with the tap selections printed in alternating colored chalk, and a sign over the kitchen door reading "I have flying monkeys, and I'm not afraid to use them". Spoken like a true witch. Drop bell lamps tracing the bar, spinny 4 prong lights behind there, and single spots & tri-pointers otherwise.
The section behind me holds 5 roundy hightops over a center carpeted piece, and there's something going on behind that front curtained area, look like a small party room. I think there's another one on the other side, someone said they put bands in there but I didn't think it was too big a space, so I can't say for sure. 6 tables on the other side; sectioned by a divider and tied curtains. Framed wood beam ceiling, with flicker bulb chandeliers and lanternishness. And a fireplace on the far wall holding a few items mantled.
12 taps, 2/3 of them are American craft led by a handful from their local (Weyerbacher Verboten, Blithering Idiot Barleywine & Imperial Pumpkin, DogFisHead Chateau Jihu, Pretty Things Jack D'Or, Founders Dirty Bastard, Bells Two Hearted, Bear Republic Red Rocket Ale), the remaining 1/3 are Belgian imports (Tripel Karmeliet, St. Bernardus 12, Blanche de Bruxelles, Lindemans Framboise). Oh yeah, ½ of them come in over 8%. And they have a nice bottled selection, nearly 4 dozen offerings. The list broken out by style, ½ of them Belgian. Some nice offerings (Cantillon Rose de Gambrinus, De Ranke Guldenberg, Haandbryggeret Dark Force, Mikkeller Beer Geek Breakfast & Green Gold, Nogne O Two Captains Double IPA). I drank the Bells Two Hearted & Pretty Things Jack D'Or. And a Verboten shorty. Last time out, I drank a Pretty Things Jack D'Or and a (lovely) Orval, which ran a cool $7; most unusual for this decade, and really, the last one too. Handed me the bottle and a glass and told me to pour it myself, true. Yeah, they don't pour Belgians out as a rule, as they don't know how much of the yeast game you want to play. 5 kinds of absinthe and cocktails, too.
I will need food. Server helped not at all with a chili pick, so I went with the verboten chili, a cup; done with Weyerbacher verboten and oh, hello scallions (king of all onions). The chili was good, but it wouldn't defeat that crazy country club's come super bowl Sunday at Pearly Baker's (that guy rocks). I guess if you're local, you know what I'm talking about. And something else. Was on the fence there, as I wanted at that garlic stuffed chicken sandwich, but instead went with the chiappinelli roast beast sandwich (Herb encrusted tenderloin, romaine lettuce, salsa, and chipotle mayo on a fresh ciabatta roll, hold the brie, please). Hey, accompanying frites, good to see you. Now that was good. It magically disappeared; into my belly. On my return a few weeks later, I went with the veg-head chili, also quite good (but also would not defeat the country club kid), and the sesame ginger wings (can you really go wrong with sesame ginger wings?)
Servers served (and they seem to be learning about beer pretty quickly), although they couldn't help me with the 'which chili' decision. Didn't matter, I got around to both of them, and they were solid, as were my other foodings here. They're playing a whole lot of 80's tonight, judge it as you may. Internal soundtrack reset. It's a good playful crowd. Of grownups, no less. Drinking good beer. Cool little place up on the hill.
4,742 characters
Black & Blue in Easton, PA
Place rating:
4.32
out of
5
with
9
ratings